After four games in 14 days to begin the season, two of them being 'finals' – and one of those being 2,000 miles away in Istanbul, Liverpool now have just two games in 27 days.
Those two fixtures, at home to Arsenal and away to Burnley, each see a week's preparation time, with a two-week international break thereafter before a home match against Newcastle.
It's something that will be most welcomed by Jurgen Klopp, with the manager always speaking of his desire for good preparation time for his players.
And after a somewhat hectic pre-season that saw key players returning just a week before the Community Shield, and, in Sadio Mane's case, just four days before the opening league game, Klopp will relish the opportunity to work with his full squad.
The players too, will be relieved for this lighter schedule. Mohamed Salah has clocked up 379 minutes, plus 45 in his only friendly appearance of the summer against Lyon, just 20 days since returning to pre-season.
Roberto Firmino has played 329 minutes in the same period, while Mane played 209 minutes of competitive action in the 13 days since he returned.
Meanwhile, players who were on the US tour, they went from Notre Dame, to Boston, to New York, one day back in Liverpool with their families, back away to Edinburgh, then directly to Evian in France and straight to London for the Community Shield.
A full week back in their own homes and working at Melwood will be welcomed by all at the club, from staff, players and their families.
Fitness… for some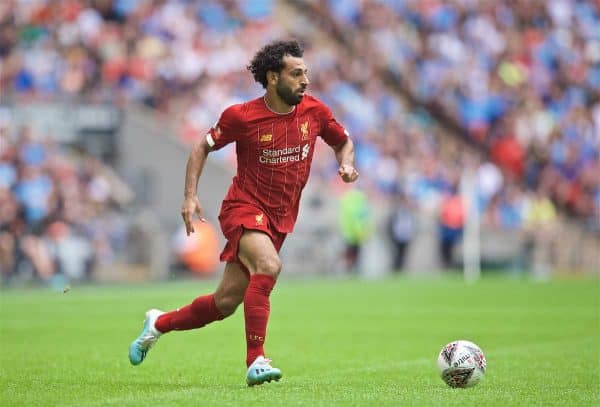 While playing 90 minutes so soon after returning isn't ideal, Klopp does like to typically use early season fixtures to build up full fitness for his key players.
Which could explain why he's used just 16 players in these opening four games – one of them being Adrian, which is only due to Alisson's injury.
It's been the same 14 outfield players used in each league game, with Divock Origi the attacking sub, Joe Gomez and Joel Matip rotating at centre-back, and four centre-midfielders used.
Klopp, though, spoke after the Southampton game of ensuring players weren't playing 50 or 60 games a season – which, at the current rate of involvement the front three certainly would be when including international commitments, and the Club World Cup to come in December.
"No football player should play 50 or 60 games a season, especially not in these intense positions," said Klopp.
But watching on from the sidelines in these opening weeks has been the likes of Xherdan Shaqiri, whose only appearance was in the final 11 minutes of the Community Shield.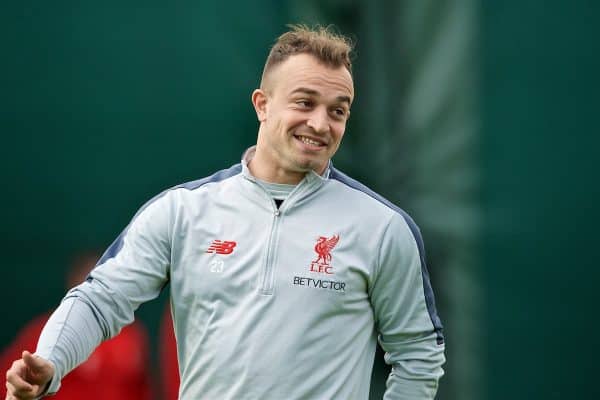 He's been quoted this week speaking of his disappointment at no longer getting playing time, saying that "I need to take a good look at the situation and find a solution."
Whether that means assessing his application in training, or seeking a solution away from Anfield is open to interpretation. But if he isn't getting any involvement against the likes of Norwich and Southampton when the front three are all being pushed to their physical limits, it's hard to see where he comes in.
Last season Klopp was extremely reluctant to use the Swiss international when using the 4-3-3 formation, with one of his rare outings in that shape being the 4-0 win over Barcelona when the manager's hand was forced by injuries.
Shaqiri and Rhian Brewster will be hoping Liverpool get a favourable draw in the League Cup third round next week, giving them chance to play at least.
Improvements to come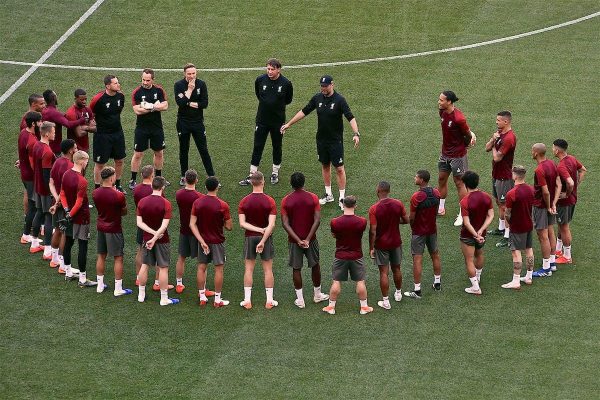 While the Reds have enjoyed two wins from two opening league games, those games plus the 'finals' vs. Man City and Chelsea have seen some concern over the uncharacteristically high amount of chances afforded for opponents.
This next few weeks, then, should give Klopp plenty of time to work on ironing out any such issues.
"We know we have to improve," he acknowledged last week. "We know that we have to do a couple of things but a few things will just come because we are then longer together, in different situations and get used to it again."
Vital time, then, on the training ground should see an improvement in the chances against, whatever the reasons for them so far.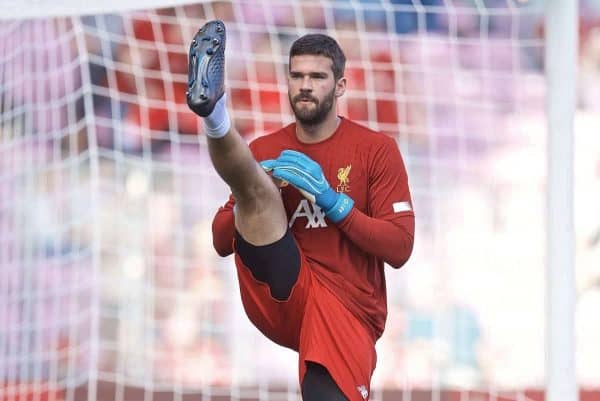 The other good news is that Egypt don't have any competitive fixtures during the September international break so Salah should remain on Merseyside.
And, after the international break, we could well see Alisson back for the visit of Newcastle to Anfield on September 14, which will be over four weeks since he picked up his calf injury.
Two wins before then, against Arsenal and Burnley, would guarantee Liverpool were top of the table going into the first international break.
We also have the Champions League draw to look forward to next Thursday, so the season should be taking shape nicely a month from now.