Liverpool fell to a narrow 5-4 defeat on penalties against Man City in the Community Shield, leaving fans with plenty to discuss post-match.
The Reds made the trip to Wembley in a bid to secure their first piece of silverware for the season, but they were left to rue a lacklustre start to proceedings and a host of missed chances.
Ex-Red Raheem Sterling was the man to put Man City ahead after capitalising on Liverpool's careless defence from a set-piece, while Mohamed Salah struggled to find his golden touch to leave Jurgen Klopp's side with a one-goal deficit at the break.
Liverpool emerged from the interval with renewed intent and were dominant throughout, with Joel Matip's headed finish rightfully restoring the game to level terms before an abundance of goalline and goalpost interventions ensured the meeting was to be decided on penalties.
This Is Anfield's Joanna Durkan (@JoannaDurkan_) spoke to Leanne Prescott (@_lfcleanne) and Nish Veer (@CouchNish) to discuss the highs and lows from the Reds' defeat and to look ahead to the Premier League opener against Norwich.
The good…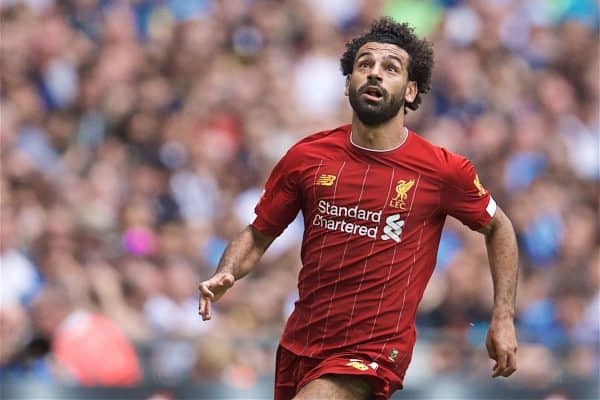 Leanne: You couldn't really have asked for a better response to an erratic first half. Liverpool were all over the shop; the passing was sloppy, pressing laboured, defensive positioning and awareness non-existent.
Yet they beamed out the blocks second-half, showing more of the Liverpool we're used to. There was impetus and energy to the play, aggressively hunting City down in packs and looking the fitter of the two sides.
Salah did just about everything but score, weaving inside a multitude of players and getting shots off on Ederson's goal. Given he's had so few pre-season minutes under the belt having just returned from international duty, it was brilliant to see how sharp he was.
It's rare to see Pep Guardiola's side under so much pressure with no escape hatch so to see Liverpool dominate in such a manner made for incredibly promising viewing for the season ahead.
Goalline clearances and Man City seem to have become a recurrent theme these days, and but for two efforts that cannoned off the woodwork and two last-ditch lunges off the line, Liverpool would've taken the spoils. A disappointing result sure, but Klopp will have been delighted at the performance.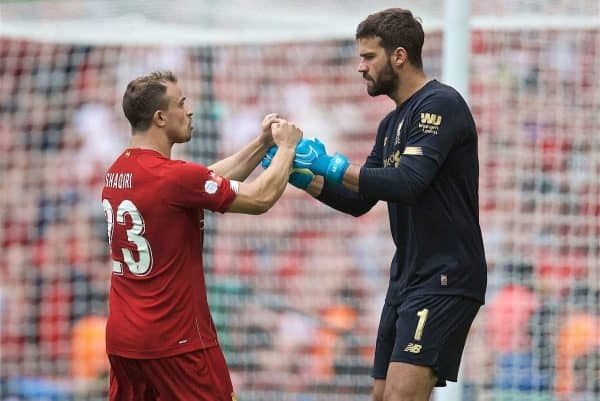 Nish: It was certainly a game of two halves when it came to 'best chances', but the most pleasing aspect for me was that we were really able to take it to City and show them that last year's form and strength was no fluke.
Even in the first half, our team were able to pick massive holes in City's defence, especially with Salah giving Zinchenko and Otamendi nightmares down their left. If Salah had more than half a game of pre-season, I'm sure he would have slotted at least two goals that game.
At the back, Virgil van Dijk was immense as always and while Joe Gomez had some pre-season rustiness, he showed his pace and skill as the game grew and ended up being one of our best.
Finally, it was fantastic having the likes of Keita, Shaqiri, Ox and Lallana jumping off the bench and giving some much-needed thrust going forward. True impact subs and I have no doubt that they will start many games this season.
Matip coming on and scoring the goal was obviously a huge plus; I thought he added some stability to the backline too.
All in all, a solid performance by the squad which only filled me with excitement for the year ahead despite the penalty shoot-out loss.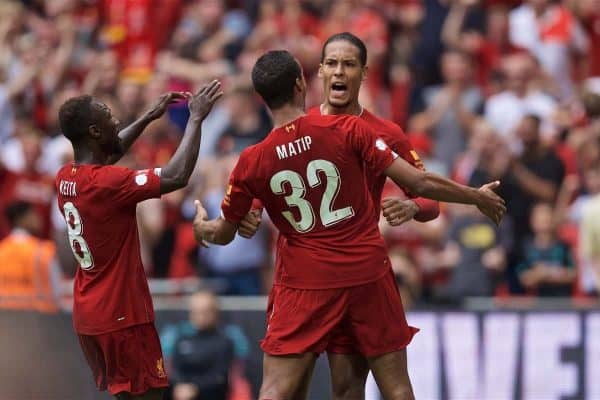 Joanna: For me, it was hard to look beyond how sharp Firmino and Salah looked.
Don't get me wrong the finishing, more so on Salah's part, lacked the required clinical edge but overall the signs all point towards yet another prolific season for the Egyptian.
The pair oozed confidence on Sunday and after worrying about the state of our attack heading into the season, those concerns have now been eased considerably.
Like Leanne mentioned, the second-half response was emphatic and was exactly what was needed to boost the confidence among fans and players alike after a rather disjointed pre-season.
The Reds were all over City like a rash and proved they are not untouchable like some members of the media like to think, and the utterly dominant display was deserving of a victory.
And I have to agree with Nish, Keita and Lallana also deserve a mention after having a notable influence when they were introduced late on – it might be for different reasons but a big season awaits for the pair.
The bad…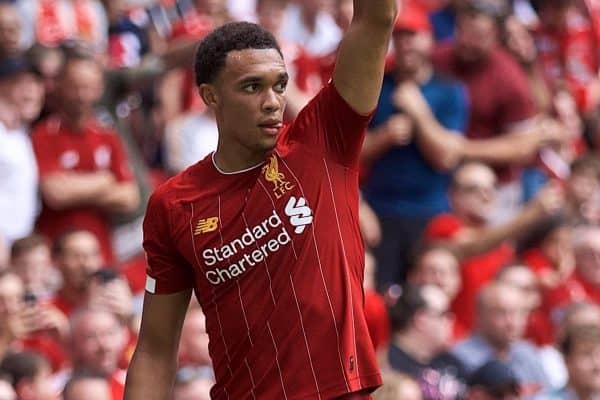 Leanne: A certain degree of rustiness is to be expected in pre-season, especially given some first-team players remain slightly behind in their training, but Liverpool's defending for the opener will be somewhat of a concern.
Switching off at the back has become somewhat of a theme over the last few weeks and City picked off their high-line with ease. Trent was nowhere near his best but it shouldn't be too much of a concern in the long-term.
Elsewhere, the midfield continues to pose questions. It's a testament to the quality of the front three that the midfield doesn't necessarily have to provide a creative spark for Liverpool to get a win, but they were entirely outclassed by their opposite numbers in the first half.
The game passed Wijnaldum by like a flash while Fabinho struggled to offer defensive cover for his full-backs and Henderson was caught in between the two.
As Joanna and Nish pointed out, Lallana, Oxlade-Chamberlain and Keita all made a real difference when they came on, adding a drive and spark that set the tempo for a second-half turnaround, but that will only reinforce the need for balance.
There has to strike a mixture of defensive strength and flair ahead of Friday night's opener, particularly given the number of low-block defences the Reds will face.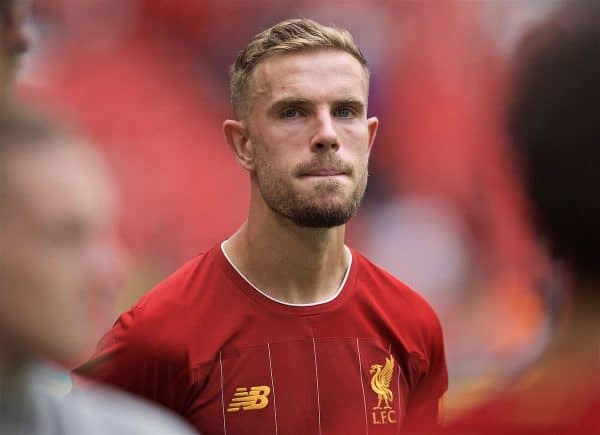 Nish: In the first half, it seemed the game was flying past our midfield at a rate of knots. Henderson was deployed mostly on the left, with Gini roaming on the other side, which was the opposite of what we played most of last season.
When this swapped over in the second half, they both got far more involved and were able to influence the flow much more.
Origi, for all of his running, sadly didn't have a huge impact on the game. He showed flashes of brilliance down the left flank, but probably would have been more effective as a sub running at tired legs.
The lack of an attacking midfielder hurt us in the first half in my opinion.
There seemed to be a lack of connection between the defenders and attack for the most part, and it needed a Keita or Ox type player to run at their defenders and lay it off. When these changes were made in the second half, the balance of the squad felt a lot more solid and connected from back to front.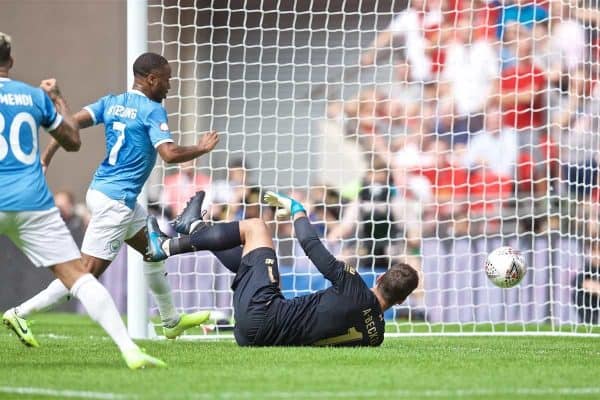 Joanna: Similar to a number of performances throughout the summer, Liverpool's defence left a lot to be desired in the first-half as a lack of cohesion and a multitude of individual mistakes reared their head.
Gomez had his moments but improved considerably as the game wore on, but it was Trent who fared the worst as he again found it tough to work through the opposition's obvious efforts to curtail his influence.
The midfield was not much better in the first 45 with City seemingly bypassing them at every opportunity, where the need for an injection of creativity in the form of Keita or Oxlade-Chamberlain was made abundantly clear.
On the whole, however, no alarm bells should be ringing as the Reds showed signs of improvement and still have a handful of days to iron out any lingering issues.
And your starting XI against Norwich?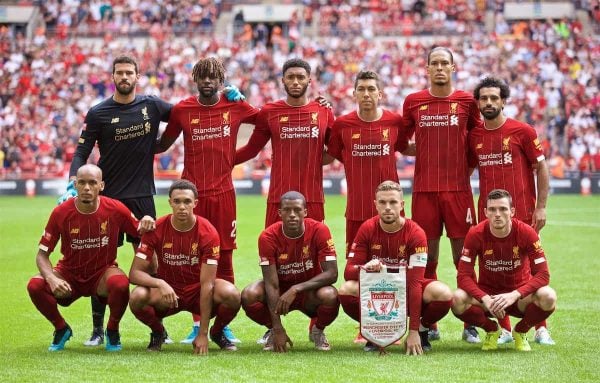 Leanne: Alisson, Robertson and Trent pick themselves despite a few shaky moments in pre-season as they continue to get back up to speed, leaving the main defensive decision at centre-back.
Klopp's decision to start Gomez ahead of Matip in the Community Shield spoke volumes and I'd expect him to get the nod on Friday as well after another strong performance.
In midfield, Fabinho would seem the obvious choice as the No. 6, offering a blanket to the back four while having the confidence to drive forward in possession alongside Henderson, who gets the nod above the leggy-looking Wijnaldum.
Keita made a real difference when he came on and I'd like to see him involved from the off given Liverpool are likely to dominate possession. His eye for a pass will be pivotal in trying to break down the Norwich defence and teeing up chances for Salah and Firmino.
Origi will likely get the nod to complete the front three, bringing a flexibility that could see all three drift into different areas of the pitch.
Oxlade-Chamberlain and Lallana made important impacts on Sunday and will offer an additional spark from the bench should Liverpool need it, while an inclusion for Rhian Brewster would be a nice touch.
Alisson; Trent, Gomez, Van Dijk, Robertson; Fabinho, Henderson, Keita; Salah, Firmino, Origi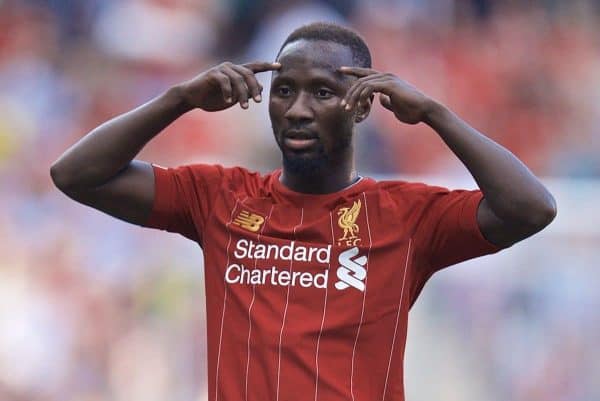 Nish: Notable changes: Matip for Gomez – I just feel that the combination of Virgil and Matip at this point in time is more comfortable than Virgil and Gomez. Give Gomez a few more weeks and I'm sure he'll be right back in the starting XI again.
Keita for Wijnaldum – as mentioned above, there seemed to be a lack of connection between midfield and attack, and Keita is the perfect player to fill that gap.
Mane for Origi – If he's fit, he starts every week. Origi coming off the bench is a far more dangerous than Origi starting at this point in time.
Alisson; Trent, Matip, Van Dijk, Robertson; Fabinho, Henderson, Keita; Salah, Firmino, Mane (if fit)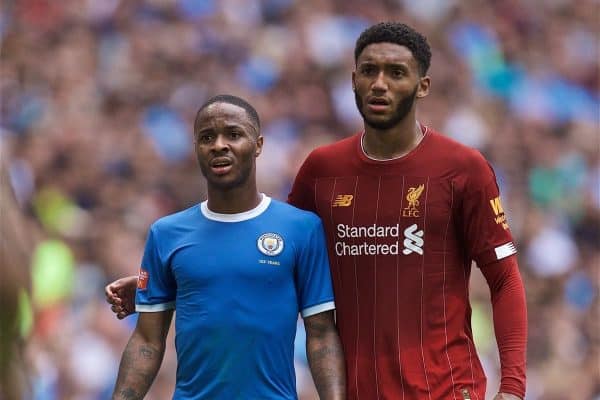 Joanna: I don't see Klopp making too many changes for Norwich's visit with a number of spots already locked up and the desire for consistency and rhythm set to prevail.
In defence, the only decision will be whether Matip makes a return or Gomez holds onto his spot alongside Van Dijk.
I've long been in favour of the England international and feel as though his partnership with the Dutchman has more upside, but I would not be aggrieved either way—it's a privileged position to be in after previously suffering from a lack of depth and quality in the centre of defence.
I agree with Leanne that the showing at Wembley highlighted the need for a spark in midfield and that Keita would be the ideal solution at Anfield, but I believe the manager will stick with the same trio seen against City and instead turn to his more creative outlets later in proceedings.
As much as I would love Mane to come straight into the fold the game is likely to prove too soon to start from the first whistle and, while I have reservations about him, Origi will again be given the nod in his absence.
Alisson; Trent, Gomez, Van Dijk, Robertson; Fabinho, Henderson, Keita; Salah, Firmino, Origi