Jurgen Klopp was pleased with the manner of his side's first-half display in particular as Liverpool secured a 4-1 win over Norwich to open the campaign.
An own goal from Grant Hanley, after just seven minutes, set the tone for the opening 45 minutes at Anfield.
The Norwich defender's comical error was followed up by efforts from Mohamed Salah, Virgil van Dijk and Divock Origi, in a game only let down by Alisson's worrying calf injury.
Teemu Pukki beat the No. 1's replacement Adrian after the break to somewhat vindicated the visitors' continued attacking approach, but overall it was an excellent win for the Reds.
This was reflected in Klopp's post-match words, as he addressed reporters on the opening night of the Premier League.
"If somebody would have told me before the game we would win 4-1, I would have taken it easily," he explained.
"If somebody would have told me we'd play the first 60 minutes like we played tonight, I'd say, 'OK, I take it'.
"It was all good; we played against an opponent who will cause a lot of teams problems with the way they play, it's really good.
"I said to Daniel [Farke] before the game, I liked the analysis, I had real fun because they are cheeky like hell and do what they do no matter what happens around.
"I had a couple of the players [at previous clubs] and I'm proud of what they are doing now.
"They caused us problems in some moments but I'm not surprised about that, it's completely normal.
"We could have cleared everything early in the game, we didn't, that's how it is. Now let's carry on."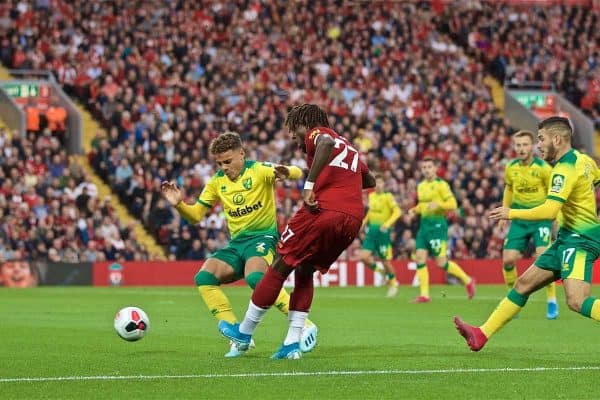 Just over a year ago, Liverpool were fielding offers from the likes of Borussia Dortmund and Wolves for Origi, only turning them down as those interest failed to meet their valuation.
The Belgian is now an integral part of Klopp's squad, signing a new long-term deal this summer as one of many internal solutions the manager has identified for 2019/20.
"We made the decisions we made [in the transfer market] for the reasons we had," he explained.
"I think Div did exceptionally well tonight.
"He made two or three decisions that were not too good and lost the ball here and there, but until then he was really brilliant.
"He was a proper threat all the time. That's all good."
Klopp also provided an update on the fitness of Alisson, who will certainly miss the UEFA Super Cup on Wednesday; and likely a significantly longer period too.