The swift introduction and improvement of Adrian as stand-in to the injured Alisson is credit to Liverpool's goalkeeping department and John Achterberg.
When Adrian signed his initial two-year deal at the beginning of August, he will likely have been eyeing a debut for his new club in the third round of the League Cup.
But as that trip to MK Dons edges closer, he is now expected to be given the night off, after eight consecutive appearances for the club—featuring in every game of the season.
The Spaniard's first outing saw him come in cold, replacing Alisson just four days after his arrival on Merseyside, as a 51st-minute substitute to cover for the No. 1's calf injury in the 4-1 win over Norwich.
Since then, he has played every minute in the Premier League, Champions League and the UEFA Super Cup, and has done so despite spending pre-season training alone in Seville, and not playing for his last club, West Ham, since January.
Adrian was the penalty shootout hero in Istanbul, but there were signs in those early games that he was, indeed, still adjusting.

He arrived with a reputation as an accomplished shot-stopper whose lack of concentration and ability on the ball could prove troublesome, and this was evident against Southampton and Arsenal, with his kicking gifting chances.
Danny Ings was the benefactor of a lapse in Adrian's clearance at St Mary's, but Pierre Emerick-Aubameyang was less fortunate at Anfield, and Klopp stressed there were no concerns over his new stopper.
"No problem with that as long as we win the games," came the message from the manager, and Liverpool kept on winning, with the 3-0 victory at Burnley bringing a first clean sheet for their No. 13.
That served as a watershed moment for Adrian: a symbol of his worth at a top-level club, and a successful end to his non-stop start since joining Liverpool as a free agent.
In a new environment, surrounded by new team-mates, building up his match fitness while contending with an ankle injury picked up in the Super Cup and—as Southampton manager Ralph Hasenhuttl confirmed—made a target by the opposition, Adrian had a number of hurdles to leap before the international break.
But he came out of his first five games with five wins, having conceded just five goals, with his new side top of the Premier League.

Though he was afforded a rare day off to move from London to a new house up north, Adrian spent much of the fortnight's break—while the majority of the squad were either on duty with their national teams or on holiday—with Achterberg at Melwood.
"He needed to adapt to the way we play, with wanting him to play out, but he's done good and picked everything up," the Reds' first-team goalkeeping coach explained.
"We couldn't be any happier with how it's gone."
The Dutchman had already put Adrian through his paces before the trip to Turf Moor with the same physical workout designed to aid Loris Karius' adjustment in 2016, but these sessions were tailored to improve his all-round game.
"Distribution, crosses, speed and reactions, power," Achterberg detailed. "We worked a little bit on everything just to help him and keep him fit and ready."
The coach could arguably have reservations over Adrian's attempt to stop Jetro Willems' strike in his first game back from the break against Newcastle, using his right hand across his body instead of his left, but overall, it was a strong display.

His best performances, however, came in the following two fixtures, and on paper the two toughest challenges Liverpool have faced so far.
Though he conceded twice in the Champions League opener at Napoli, Adrian produced some excellent saves to deny Fabian Ruiz and Dries Mertens, with his miraculous stop keeping out a goal-bound volley from the Belgian.
And in the 2-1 victory at Chelsea on Sunday afternoon, he was called upon to thwart Tammy Abraham in a one-on-one when Liverpool were 1-0 up.
If Cesar Azpilicueta's equaliser had stood, he could have felt aggrieved after making a point-blank save in the buildup.
But this was the goalkeeper many fans were already familiar with, and more encouraging was the way in which Adrian has improved in other aspects of his game beyond shot-stopping.

In his first five appearances in the league for Liverpool, the ex-Hammer failed to make a single claim in the penalty area, but in west London he rose highest to collect a lofted ball from Jorginho, with his decisive jump wiping out Abraham.
Earlier in the game, he beat Andreas Christensen and Fikayo Tomori to a Marcos Alonso cross, punching the ball out of the box and, eventually, to safety.
Adrian also successfully claimed a high ball in Naples, with those hours at the training ground with Achterberg clearly paying off.
His work in possession has improved, too, so much so that Liverpool were able to employ time-wasting tactics at Stamford Bridge, comfortable in his ability to build from the back when Chelsea were set in their formation.

Before that game, Klopp explained that Adrian had now found "a real connection" with his team-mates, having previously had to "take what we got, use Adrian without any match practice, or no match experience for I don't know how long."
Part of the credit for that must go to the player himself, who is universally acknowledged as a strong character and a positive influence off the field, along with the welcoming dressing room at Anfield.
But the work of Achterberg, and his assistant Jack Robinson, should not be overlooked, with the pair now presiding over the strongest group of goalkeepers seen in their time at the club.
Achterberg has been the target of criticism from supporters in recent seasons, with his promotion to first-team goalkeeping coach in 2011 coinciding with the fading of Pepe Reina and the fallow years of Karius, Simon Mignolet, Brad Jones and Adam Bogdan.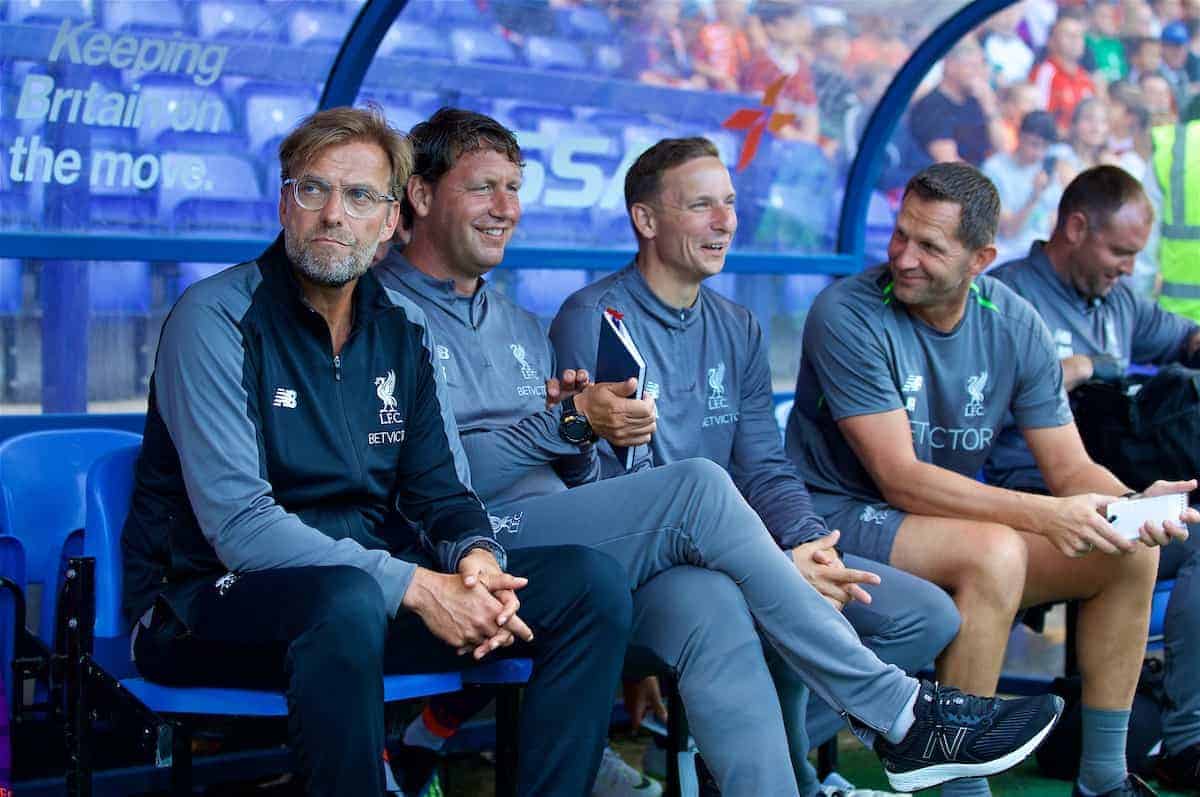 The ex-Tranmere 'keeper himself will no doubt accept that this is part of the territory: the demands at a club the size of Liverpool are immense, and given their misfortune between the sticks prior to 2018, scrutiny was inevitable.
Just as he would have taken the flak with grace at the time, however, Achterberg certainly warrants praise for his role in the identification, introduction and improvement of both Alisson and Adrian.
"John has proved to be not just a great goalkeeping coach but a great guy, a great person. Since I arrived I've noticed he's loved by all here," Alisson said in November.
"He leaves me very calm and relaxed on a day-to-day basis and we learn from each other's work."
Adrian reflected this, praising the "more relaxed" sessions he enjoyed with the 48-year-old during the break, adding that "there was so much great information for me."

Klopp himself is a avid believer in Achterberg's work, and this is now reinforced by the quality he is able to select from in goal; not just his first and second choices, but Caoimhin Kelleher as No. 3 too.
The form of Adrian has quietened the clamour for a speedy return for Alisson, who is not expected back until after the October international break, with fans now content with his backup.
And while there is little disputing Liverpool's best goalkeeper, it is significantly more encouraging that he now has a deputy truly capable to step in and deliver.