Liverpool made a near-perfect start to the season, topping the Premier League and winning the UEFA Super Cup, but who was the Reds' star man in August?
Liverpool's month ended with a commanding 3-0 victory at Burnley on Saturday, making it maximum points in their opening four league games.
Prior to that, Norwich, Southampton and Arsenal had all been seen off with relative ease, with the Super Cup win over Chelsea an added bonus.
Jurgen Klopp's side may have lost to Man City in the Community Shield, but their results since losing at Wembley prove that they will be the champions' closest challengers again in 2019/20.
A host of Liverpool players starred throughout August, but who comes out on top?
Here's how we rank the top 10.
10. Andy Robertson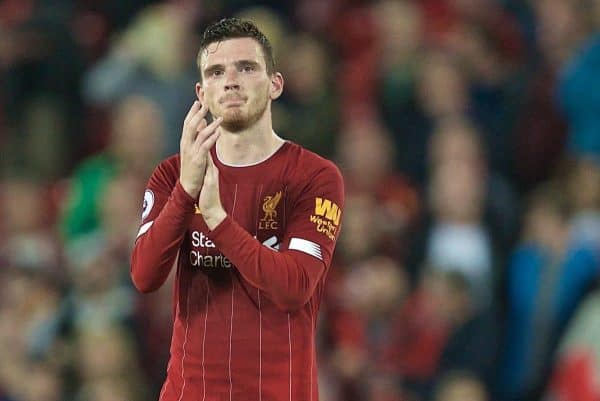 Appearances: 6
Goals: 0
Assists: 0
---
It's worth stressing immediately that Andy Robertson played perfectly well in August, before his 10th-placed ranking suggests otherwise.
That's just the standard these Liverpool players set nowadays.
The Scot hasn't quite found the form that saw him mature into one of Europe's best left-backs last season, with his end product not quite on the money.
A maiden assist of the campaign is still yet to arrive, and while Robertson has impressed defensively, he needs to find another gear in the final third.
9. Gini Wijnaldum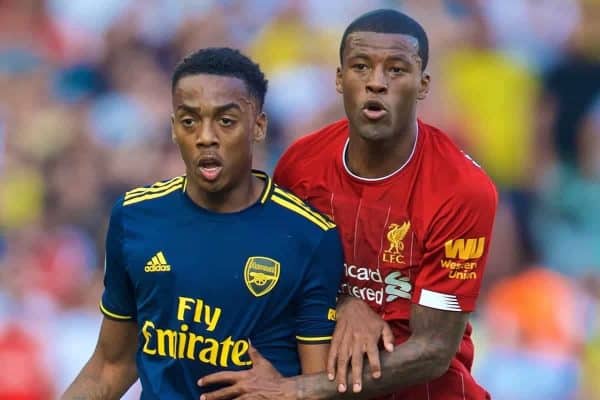 Appearances: 6
Goals: 0
Assists: 0
---
To fully appreciate the efficient brilliance of Gini Wijnaldum, he has to be watched closely.
He will rarely be a midfielder that runs the show and makes the headlines, but when he is missing, his absence is felt.
It was a solid August for the Dutchman, who appeared in all six games and started five of them, rarely putting a foot wrong.
It would be nice to see Wijnaldum enjoy a little more influence in an attacking sense, but he continues to do the job Klopp asks of him in subtle but effective fashion.
8. Jordan Henderson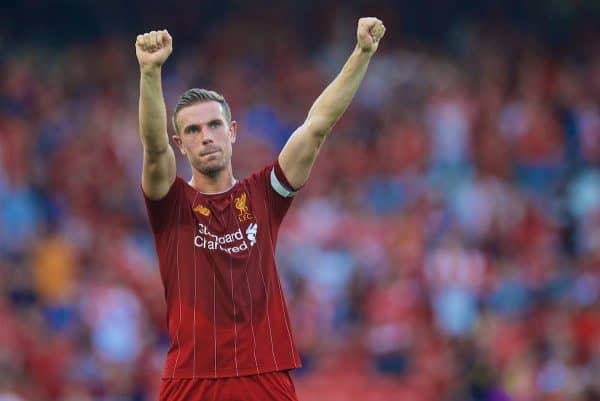 Appearances: 6
Goals: 0
Assists: 0
---
Jordan Henderson enjoyed the finest moment of his career in Madrid, becoming just the fifth captain to lift the European Cup for Liverpool.
The secret behind his upturn in fortunes last season was a change in role and the skipper has carried on impressing with more freedom.
Like Wijnaldum, there needs to be more in terms of end product—no goals or assists as of yet—but Henderson's intensity, intelligence and underrated crossing ability have helped set the tone in a number of matches.
Now an undisputed starter.
7. Trent Alexander-Arnold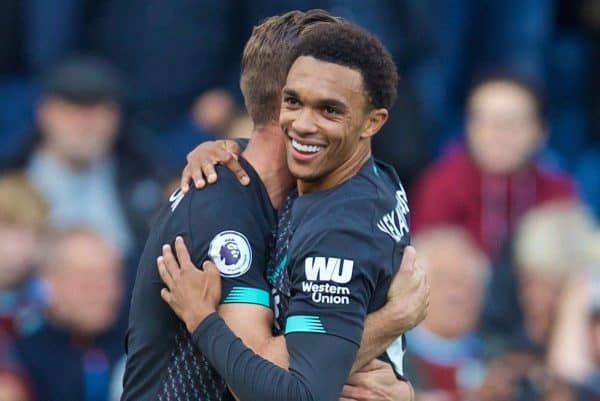 Appearances: 6
Goals: 0
Assists: 3
---
Beginning the season as a European champion at the age of 20, there was no reason for Trent Alexander-Arnold not to be brimming with confidence.
Like so many, he has steadily found his feet as each game has passed, becoming increasingly influential.
A shaky defensive performance at home to Norwich saw the right-back left out of Klopp's Super Cup starting XI, but things have picked up since.
An assist against Arsenal was his second of 2019/20 already—he also teed up Divock Origi in the 4-1 thrashing of the Canaries—before 'scoring' the opener at Burnley.
A relentless outlet down the right-hand side, Alexander-Arnold's technical expertise and energy proved invaluable in August.
6. Fabinho

Appearances: 6
Goals: 0
Assists: 1
---
Remember when Fabinho had a torrid time of things at Arsenal last November? It feels like a lifetime ago now.
The 25-year-old is now one of Europe's most influential midfield destroyers and he has played a big role in Liverpool topping the Premier League.
An imposing physical presence with an ability to bite into tackles, nick the ball away from opponents and use the ball incisively, the Reds have been missing a player of Fabinho's ilk since Javier Mascherano.
His impact was particularly felt at Burnley, with Sean Dyche attempting to bully Liverpool but their midfield general completely bossing matters.
The Brazilian is only going to get better.
5. Mohamed Salah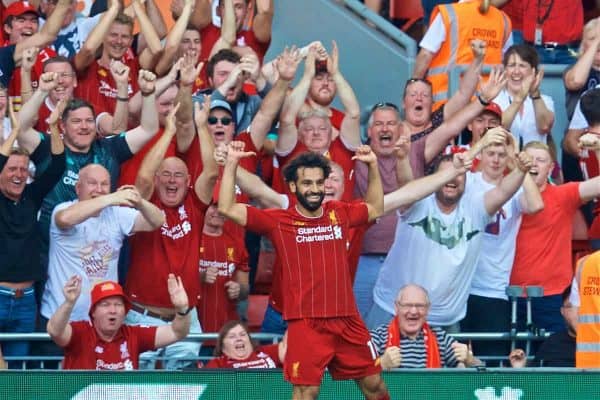 Appearances: 6
Goals: 3
Assists: 2
---
Perhaps it sounds like a ludicrous statement, but do Liverpool supporters still fully appreciate Mohamed Salah?
He continues to break records and tear defenders to shreds at will, but his brilliance does almost feel taken for granted at times.
Admittedly, the Egyptian King has been the least effective of Liverpool's much-lauded front three, but he has still been excellent.
His stunning solo effort at home to Arsenal was an extraordinary show of individual genius and he also bagged a strike against Norwich and scored the Reds' final penalty in the shootout win over Chelsea.
Can he play even better and possibly be less greedy? Yes. But he's still performing better than most attackers in the Premier League.
4. Virgil van Dijk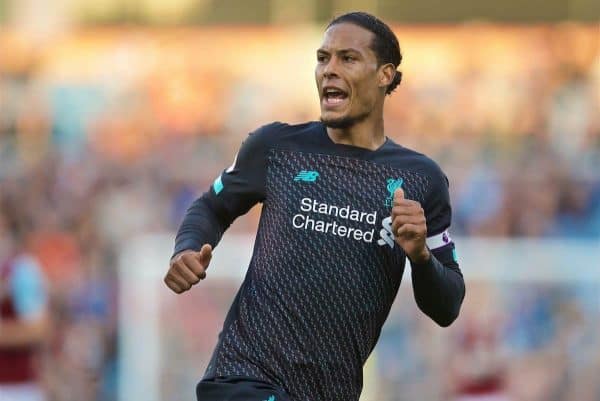 Appearances: 6
Goals: 1
Assists: 1
---
New season, same old immaculate Virgil van Dijk.
Perhaps the reason he isn't higher on this list is because our expectations are so great, but being ultra-critical, he hasn't been quite as faultless as he was in 2018/19.
Then again, Van Dijk has still been outstanding, shining the most in Saturday's victory against Burnley, when he made the supposedly tough Ashley Barnes visibly shrink.
The 28-year-old remains Liverpool's most important player in their quest for Premier League glory and it's a genuine shock if he's anything less than perfect.
3. Joel Matip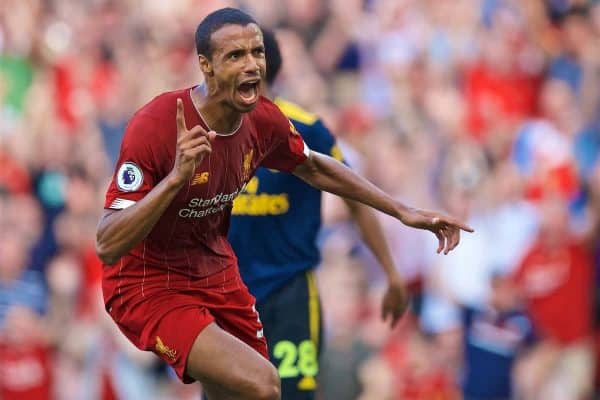 Appearances: 5
Goals: 2
Assists: 0
---
Is there a more improved defender in the Premier League than Joel Matip?
Joe Gomez was tipped to return from injury and get his place back alongside Van Dijk, but Matip is the undisputed stronger option currently.
The Cameroonian has been almost faultless in every game he has played, also notching a well-taken header against Arsenal for good measure.
From being a timid character who divided opinion this time last year, Matip is now a genuinely reliable option playing the best football of his career.
Here's hoping his fantastic August carries on into September.
2. Sadio Mane

Appearances: 5
Goals: 4
Assists: 1
---
The last time we saw Sadio Mane, he was cutting an angry figure on the substitutes' bench at Burnley.
He should be delighted with his impact in August, though, further proving that he has been Liverpool's best attacking player throughout 2019.
Despite concerns surrounding post-Africa Cup of Nations fatigue, he has been phenomenal, with four goals to his name in five appearances this season.
It's no exaggeration to say that a current world XI would arguably feature Mane in it—he is ruthless, brilliantly unpredictable and one of Liverpool's main men.
1. Roberto Firmino

Appearances: 6
Goals: 2
Assists: 3
---
Mane can feel a little hard done by, but what a wonderful start to the season Roberto Firmino has made.
The eccentric South American has had the bit between his teeth from day one, setting the tone for Liverpool and wowing supporters with his genius.
Clinical finishes away to Southampton and Burnley caught the eye, as did three assists overall, and Firmino also turned the Super Cup clash on its head when he came on at half-time.
Whether it be endless hard work, world-class intelligence, inch-perfect passes or goals, he provided the lot during the first month of the campaign.
Firmino takes the crown for August—who will it be this time next month?