Liverpool handed a debut to 16-year-old winger Harvey Elliott on Wednesday and on Thursday morning it has emerged his former club are seeking up to £7m for him.
The Reds signed Elliott this past summer, with the youngster opting against signing a scholarship deal with Fulham.
He is unable to sign a professional deal until turning 17, which he will do on 4 April, 2020, but until then he was allowed to depart elsewhere to continue his career—and chose Liverpool over the likes of Real Madrid and PSG.
With no fee agreed between Liverpool and Fulham at the time of his move, it is likely that a tribunal will decide the cost, similar to when Dominic Solanke traded Chelsea for the Reds in 2017.
The Times' Paul Joyce reports that the Cottagers want around £7 million in compensation for Elliott, with the sale of Ryan Kent this summer to Rangers for £6.5m being noted as a comparison.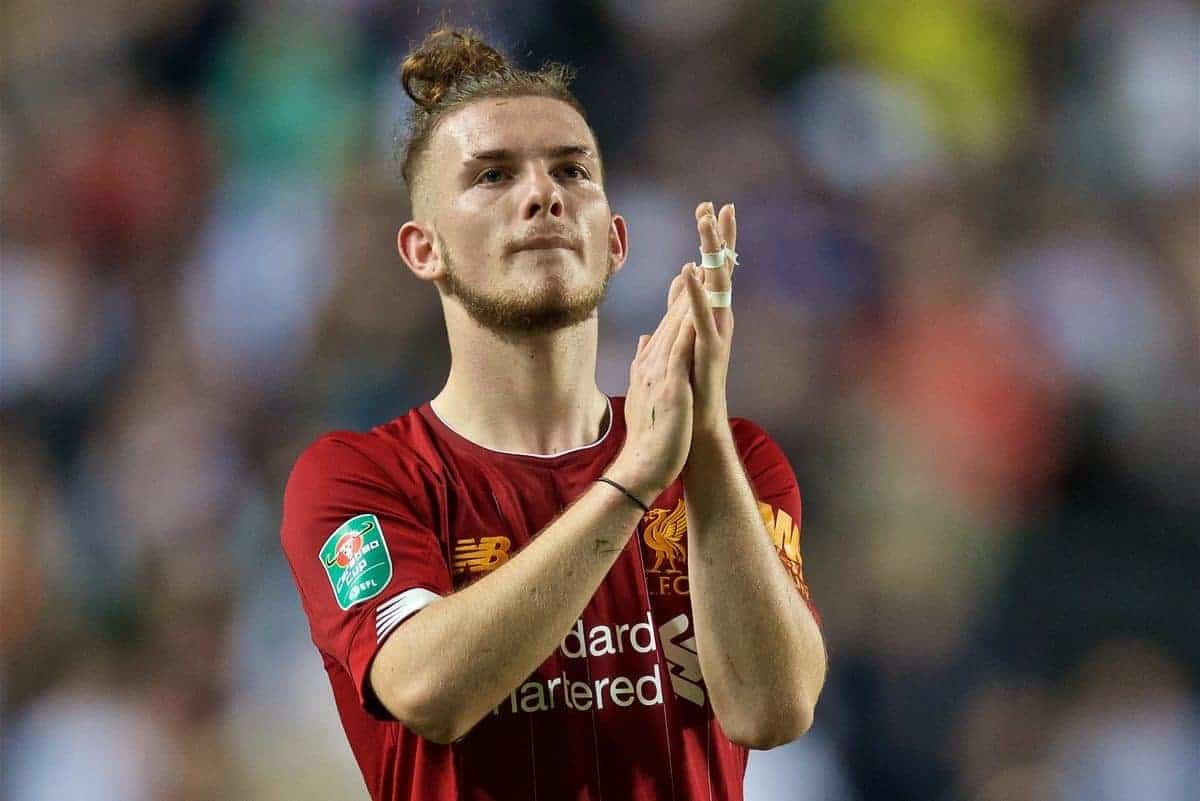 At 16, though, Elliott has already reached the same tally of Liverpool appearances as Kent made before his departure aged 22: one.
The fee is decided based on the players' perceived value and achievements at the time of his move, rather than how he progresses afterward, so Elliott's Reds debut wouldn't be factored into the fee—but the fact he played twice for Fulham in the Premier League would be.
Often, when it comes to tribunal fees being decided, the natural game being played is that the reluctant sellers ask for an inflated amount, the buying club play down the demands and the tribunal decides somewhere in the middle—as was the case with Danny Ings, as well as Solanke.
Even so, given the prices usually attached to talented young (and especially homegrown) players, it's fair to say many fans were completely at ease with the reported request of £7m from the London club and excited by the potential he carries.
Thats a steal…in a few years he will be a 70m plus player…..He was absolutely brilliant last night…..#LFC

— Vishal Sewpersad (@vsewpersad) September 26, 2019
I'm not getting a carried away but I think he's a Messi Regen.

— ? (@kotfxo90) September 26, 2019
Did they forget to add a 0 for the English Rivaldo?

— Dinesh Kumar (@DHardayal) September 26, 2019
https://twitter.com/Ronan99_/status/1176958799527194624
It's of course early days, but I'd say he'll repay that and then some. https://t.co/G6iyTR3JvW

— Rory Greenfield (@RoryGreenfield) September 26, 2019
I accept your offer.

This is £1m more than we paid for Ings under some ruling.

This is less than Arsenal paid for David Luiz, half the amount Wolves paid for Cutrone, less than Everton paid for Delph.

More comparably, it's bit less/similar to Spurs paying for Clarke in summer. https://t.co/w9jWwa8Atm

— Karl Matchett (@karlmatchett) September 26, 2019