Another week, another win, more records broken; more history rewritten.
A solitary defeat now in the last 45 Premier League games. The first team in Premier League history to begin two successive seasons with six straight wins.
Those 45 games include 37 wins and seven draws for a total of 118 points – or a mindboggling average of 2.6 points per game.
A club record 15 consecutive league wins, and at least two goals scored in each of them; another achievement unmatched by any other club.
The best defence in England over the 38 games of last season and the first six of this.
Jurgen Klopp has 92 wins in his first 150 games as the Liverpool manager. In the entire Premier League era, only Mourinho in his first stint at Chelsea can beat that total.
When you consider the rich and glorious history of our Club, it puts into perspective the scope of achievement of this current, magnificent team.
Fifteen successive wins, achieved in a variety of ways. Champagne football, all hands to the pump, clinical efficiency; dogged determination; blood and sweat; blood and thunder – we've experienced it all during this remarkable run.
Let's take a trip down memory lane and relive each one:
Liverpool 4 Burnley 2 Mar 10th 2019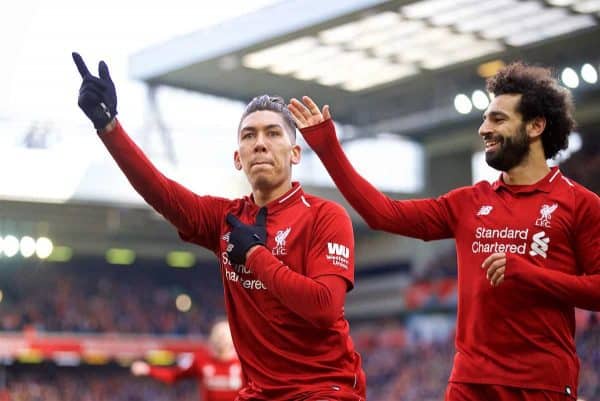 The record-breaking run actually got off to the shakiest of starts.
With less than six minutes on the clock, Ashley Westwood scored directly from a corner while Alisson was being assaulted on his line by a Burnley hit squad. There were no complaints, of course, from Sean Dyche.
13 minutes later, Salah crosses, the Burnley defender and goalkeeper collide and thankfully Firmino equalizes.
On 28 minutes, Adam Lallana busts a gut to make a sensational sliding tackle in the Burnley final third. Salah is tackled (possibly illegally) but Mane curls in the loose ball to put Liverpool ahead.
On 67 minutes, Heaton's poor goal kick is pounced on by Salah. Again, he is tackled and again the balls runs loose for Bobby Firmino to grab his second and Liverpool's third.
On cruise control and the clock ticking past 90 minutes, Gudmonson profits from Liverpool's lethargy by slotting home after some pin-balling in the box. It's now squeaky bum time, but two minutes later, Daniel Sturridge plays the pass of the game into the path of Mane who skips past Heaton and seals the game.
Fulham 1 Liverpool 2 Mar 17th 2019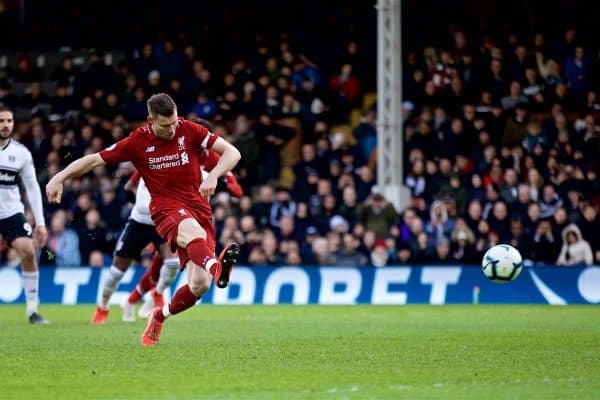 A tentative start at Craven Cottage saw the Reds gradually take control. On 25 minutes, a typically lightning sequence of play – Mane to Firmino – back to Mane; Goal! A strike of brilliant simplicity.
63 minutes and Fulham are giving it their all. A spirited attack sees Floyd Ayite seemingly head in the equalizer…. but it's rightly disallowed for offside.
Ten minutes later and substitute Milner's calamitous mis-kick falls between Van Dyke and Alisson, who both make a balls of it, allowing the ex-Red with the bright red head, Ryan Babbel, to walk the ball into the empty net. Cue pandemonium at The Cottage.
With Liverpool struggling and time running out, Mo Salah tries a speculative pot shot from the right. The goalkeeper, Sergio Rico, flaps, loses both the ball and the plot, and his rush of blood causes him to haul down Sadio Mane close to goal. Up steps 'Mr Reliable' James Milner who shimmies then blasts in to the left-hand corner of the goal, more than making up for his earlier faux pas for the Fulham equalizer.
Win number two had been navigated, just.

Liverpool 2 Tottenham 1 Mar 31st 2019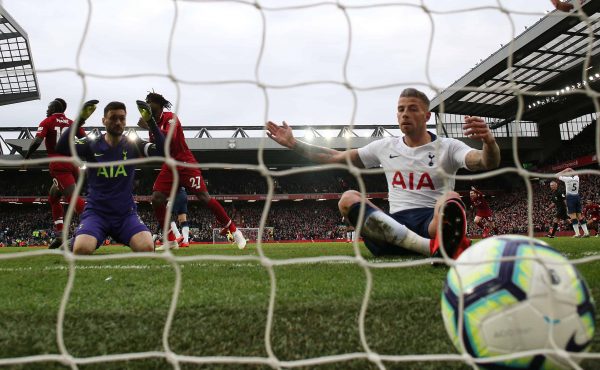 I know it's fun to poke fun at Spurs for being so 'Spursy', but this was always going to be a stern test against an in-form Tottenham team.
Fifteen minutes in and a sumptuous curling cross by Andy Robertson is headed into the bottom corner by an on-rushing Bobby Firmino, with three Spurs central defenders trailing in his wake.
On 55 minutes a Kane shot is parried, and as Ericksen come storming in looking certain to score, Andy Robertson adds a world-class block to his world-class assist. It was end to end stuff at this point.
Mo Salah, who at this point had just one goal in his last ten games, was wasteful in his desperation to find the target. On 69 minutes, that wastefulness came back to haunt us as
Tripper found Ericksen who scuffed a cross to Lucas Moura to score. 1-1.
Back came Liverpool. A Trent looping shot was tipped over; a corner was scrambled into Lloris's arms. Time was almost up.
In the 85th minute, with Liverpool pressing, Spurs broke clear. Sissoko and Son versus Virgil Van Dijk. What happened next was likely the defensive moment of the season as Van Dijk blocked off the path to Son while at the same time ushering Sissoko on to his weak left foo; he blasted over; it was a watershed moment.
On 89 mins and 26 secs, a speculative cross found Salah's head. His weak header was straight at Hugo Lloris who chose to parry rather than catch. In doing so, he inadvertently parried the ball onto the leg of the backtracking Toby Alderweireld who watched in horror as the ball trickled over the line for a dramatic Liverpool win.

Southampton 1 Liverpool 3 Apr 5th 2019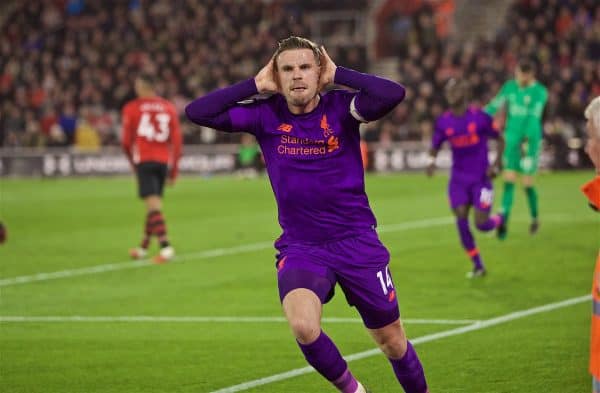 Kitted out in the purple strip, Liverpool found themselves behind after only eight minutes when 'goal machine' Shane Long slotted home unmarked from eight yards. Ten minutes later, the real Shane Long appeared and fluffed his lines from the same distance when scoring seemed easier.
Things weren't going to plan. Then, with 35 minutes on the clock, a cross by Trent saw Naby Keita grab his first goal for Liverpool with a well-placed downward header.
In the second half, The Saints had us on the rack for long periods. Down the other end Naby Keita was denied the most blatant of penalties.
79 minutes in and Saints are continuing to turn the screw. We're hanging on a bit.
It's a corner, there's panic, the ball ricochets to Jordan Henderson who heads powerfully into the path of Mo Salah who races 70 yards to expertly clip the ball past the goalkeeper. Salah's drought was over, his shirt came off and the travelling Kop went berserk.
85 minutes and the game was finally safe. Bobby Firmino cuts the ball back to our own goal-machine Jordan Henderson who bags his first goal in 65 games. Another major test had been safely navigated.

Liverpool 2 Chelsea 0 Apr 14th 2019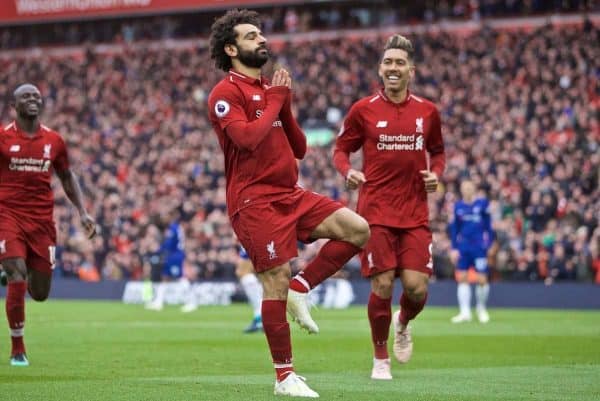 An emotional day as the 30th anniversary of Hillsborough took centre stage at a sombre Anfield. A '30 Years' mosaic accompanied the minute's silence.
Liverpool reacted by taking the game to Chelsea only for chance after chance to go begging. A nervous 0-0 was the half time score.
The nerves were settled just 5 minutes into the second half as a clipped Henderson cross was nodded home by an unmarked Sadio Mane. 142 seconds later and with the stadium rocking, the unshackled Mo Salah unleashes an absolute rocket into the top corner. Cue, Anfield pandemonium.
Hazard then contrived to hit the post when clean through on 58 minutes and missed an absolute sitter on 59. Chelsea were having a go, but it was too little too late. It was now five in a row for Liverpool.

Cardiff 0 Liverpool 2 Apr 21st 2019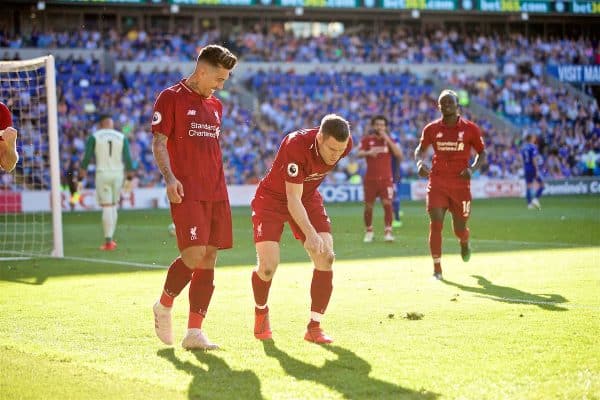 After Bobby Firmino had blazed a glorious opportunity over the bar in the 22nd minute, Mane did the same in the 30th and Mo Salah hit the goalkeeper instead of the net when clean through in the 33rd.
On 43 minutes it almost got worse when Omar Niasse, on loan from Everton forced a good save from Alisson. The game was more end to end than it should have been.
Then, in minute 56 we saw the first of the now legendary Trent low corners. Just as he did against Barcelona a couple of month later, he whipped an almost identical ball into the near post where Wijnaldum smashed it home.
On 63 minutes, Alisson flaps and Morrison heads a golden opportunity from two yards towards the corner flag instead of in to the net. It was a huge let off. To compound his miserable afternoon, the same player misplaces a pass, races back and wrestles Mo Salah to the floor inside the box. Up steps 'old man' James Milner to bury his sixth penalty from six attempts. The 'walking stick' celebration followed. It was game over.

Liverpool 5 Huddersfield 0 Apr 26th 2019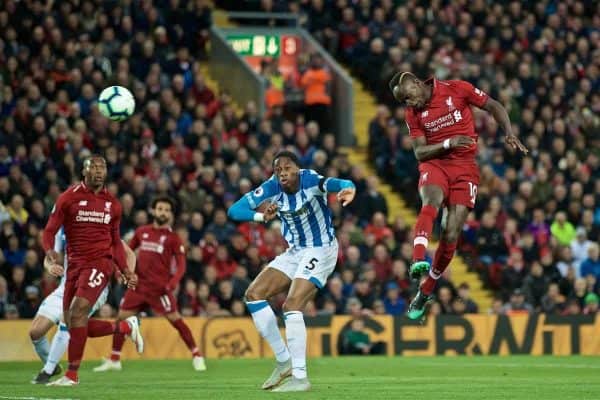 With Liverpool now attaining an air of invincibility after six straight wins, cannon-fodder Huddersfield Town rolled into town. The talk of a 'banana skin' from a side desperate for points was dispelled after exactly 14 seconds when the Terrier's defender was mugged by Naby Keita, who fed Salah, who fed Keita to scuff it home. 1-0
It took until 22 minutes for classic Robertson cross to be headed home by Sadio Mane. Not to be outdone, in first-half injury time Trent clipped the ball over the top to Salah who clipped it over the onrushing keeper for a comfortable 3-0 half time lead.
Huddersfield came out fighting in the second half but to no avail. In the 65th minute, Henderson bent in a right-wing cross for Mane to head home. It was his 20th of an outstanding season.
The Ox came on to join the party for his first appearance since his long-term injury and almost scored with his first touch. He could afford a smile.
Mane header a hat-trick sitter on to a post, so it was left to Mo Salah to tap home the fifth after yet another pinpoint Robertson cross. This was the assist that equalled the best ever total by a defender. He would go on to beat it.
Newcastle 2 Liverpool 3 May 4th 2019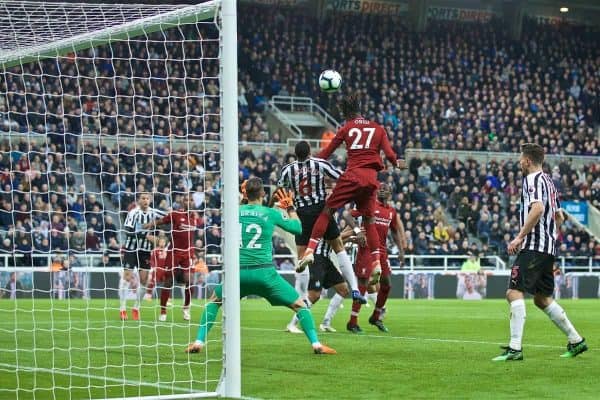 Anyone who thought Rafa might give us a helping hand could not have been more off the mark. Newcastle approached this game as if their very lives depended on it.
In the beginning, it all seemed so easy as Van Dijk was given the freedom of St James's Park to head home after 12 minutes. It was to be nothing of the sort.
Seven minutes later Christian Atsu scored his first goal since December 2017 after Trent had handled on the line. It was a massive stroke of fortune because had Atsu missed the rebound, Trent was heading for an early bath. Newcastle were flying; Liverpool were rattled.
As world class players so often do, Mo Salah stepped up when things were looking precarious. Yet another superb Trent cross was guided home expertly from eight yards.
That goal knocked the stuffing out of Newcastle, but Liverpool's new-found dominance deteriorated into complacency. Mane and Sturridge missed golden opportunities to put the game to bed more through sloppiness than anything else.
It was a costly approach. On 53 minutes, Rondon lashed home to send the Toon Army into naked euphoria in the stands. The stadium, and Liverpool, were rocking.
Salah was then floored and knocked for six by the goalkeeper; on came Everton crossbar hero Divock Origi who was to write the latest chapter in his extraordinary season as he nodded home an 85th minute winner.
It had been Liverpool's biggest test for many weeks, outshot and outfought for long periods. Newcastle ended the game with seven shots on target to our four. But once again, and after eight excruciating minutes of added time, class prevailed, our four shots on target had resulted in one goal more than theirs and the winning was up to eight.

Liverpool 2 Wolves 0 May 12th 2019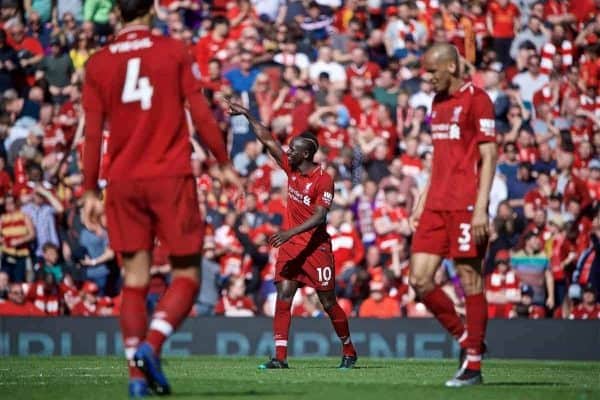 It's the final game of the season, and Liverpool are aiming to make it nine in a row and possibly pip City for the title. It came just days after the heroics against Barcelona.
It took just 16 minutes for the party to really get started. Trent, yet again, crossed for Mane to blast home. Wolves responded; Matt Doherty hit the crossbar just before half time to up the Anfield nerves a little.
An Origi blast deflected off Coady's back from eight yards in the 62nd minute; Alisson saved a one-on-one with Diogo Jota in the 68th. The same player headed into Alisson's grateful hands three minutes later from point-blank range. It was too close for comfort.
In the 80th minute, another sensational Trent cross was headed home by a stooping Mane to earn him a share of the Golden Boot along with Mo Salah.
Van Dijk then hit the crossbar as the game was played out to noisy celebrations. The ninth successive win had been accomplished; 97 points had been achieved.
Now it was on to Madrid where a Sixth European Cup would crown a magnificent season.
Liverpool 4 Norwich 1 Aug 9th 2019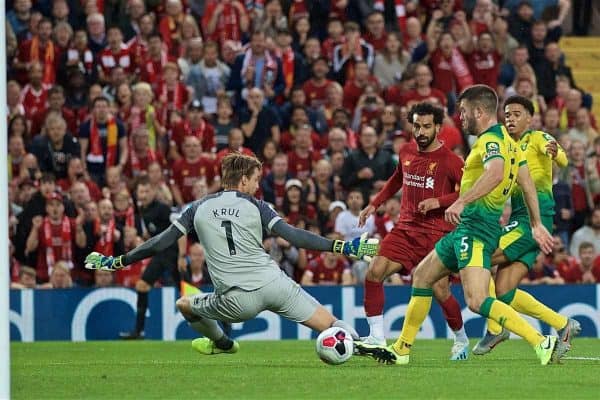 The European Champions stepped out for the new season to the adoration of the Anfield faithful, and the newly promoted Canaries standing in the way of ten successive wins.
A spirited and classy Norwich side shot themselves in the foot with a seventh-minute own goal from Grant Hanley. Naivety on the visitor's part then took centre stage as Salah, Van Dijk and Origi each helped themselves to a goal each before half time.
At 4-0 by half time the game was all but over. Norwich earned themselves a touch of respectability with a 63rd minute Teemu Pukki goal, but the result, and the tenth successive victory, was never in doubt.

Southampton 1 Liverpool 2 Aug 17th 2019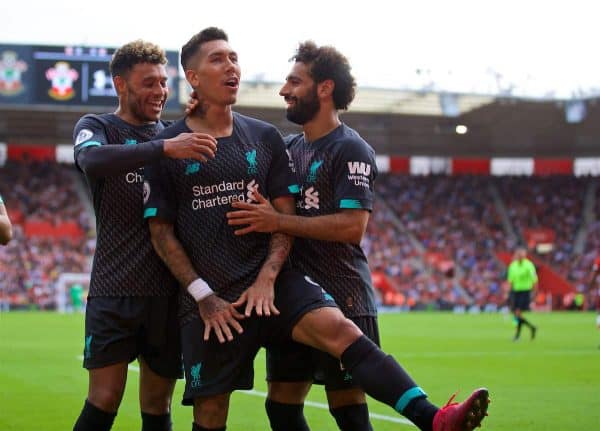 Just days after being crowned European Super Cup Champions, Southampton away saw the welcome sight of The Ox take his place as a starter in the midfield trio. With Alisson injured against Norwich, Adrian was brought in from the professional wilderness to take over goalkeeping duties.
The new 'keeper was unsurprisingly nervous and was almost caught out early as he kicked the ball against the onrushing attacker after just seven minutes.
He redeemed himself with a point-blank save after 22 minutes as Southampton posed all sorts of threat. Liverpool, in the new black & turquoise kit, were at sixes and sevens at this stage. Che Adams headed over a glorious opportunity on 37 mins as Liverpool toiled; the exertions of the late-night game, extra time and penalties in Istanbul clearly taking its toll.
Then, as great teams do, Liverpool took the lead in first-half stoppage time with their first real chance. Sadio Mane, fed by the bandaged James Milner, curled a cracker in to the far corner. Class told.
The second half saw a more confident Liverpool as Southampton's adrenalin rush started to visibly subside.
Still, after Firmino hit a golden chance wide, ex-Red Danny Ings curled a wicked shot just past the post. It still wasn't plain sailing.
On 70 minutes, a Southampton giveaway saw Mane feed Firmino to clinically fire home. With the home side deflated, Liverpool finally started to turn on the style. The game was over; or so it seemed.
Then, on 82 minutes, a routine back pass from Van Dijk saw Adrian with acres of room to do as he wished. Instead, possibly overthinking due to his earlier error, he dithered and inexplicably blasted the ball straight at Danny Ings and saw it fly into the net. From complete domination in the final stages of the game, it was suddenly 2-1 and panic stations ensued.
One final glorious, virtually unmissable Ings chance was, thankfully, missed and Liverpool's incredible winning run was now at 11.
Liverpool 3 Arsenal 1 Aug 24th 2019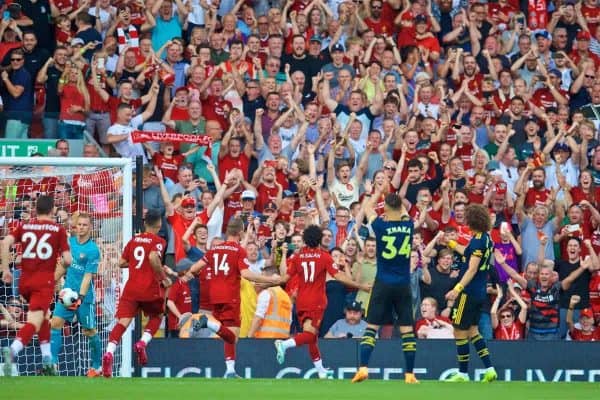 After the relentless, unforgiving schedule to date, how refreshing was it to have cannon-fodder Arsenal roll into town?
Their last six visits to Anfield prior to this particular game had seen them concede 22 times. Their previous two trips had seen them beaten 5-1 and 4-0.
Unusually, we didn't have it quite all our own way early on. An Adrian miskick saw Aubameyang loop a long chip fractionally wide. The game was fast and quite even at this stage, but thankfully Arsenal's insistence on playing out from the back – which they are patently incapable of doing – helped us out immensely. Unai Emery also decided to allow Robertson and Trent the freedom of Anfield was a good idea. It wasn't.
It was Arsenal who almost took the lead as Jordan Henderson carelessly gave the ball away and Pepe raced through. He fluffed his lines.
Finally, on 40 minutes, another set-piece proved to be the ace in the pack. Matip rose gloriously to power home Trent's out-swinging corner.
That was all it took for Arsenal's renowned soft underbelly to be exposed. Newly acquired comedic defender David Luiz inexplicably pulled Mo Salah back in the box, before being bamboozled by the same player minutes later. Salah bagged a quickfire brace, and from 1-0, suddenly it was 3-0 and a typical Arsenal implosion was in full effect.
Lucas Torreira pulled back a late consolation, but consecutive win number 12 – a new club record – was achieved with the minimum of fuss while Liverpool's unbeaten league run at home now stood to 42.

Burnley 0 Liverpool 3 Aug 31st 2019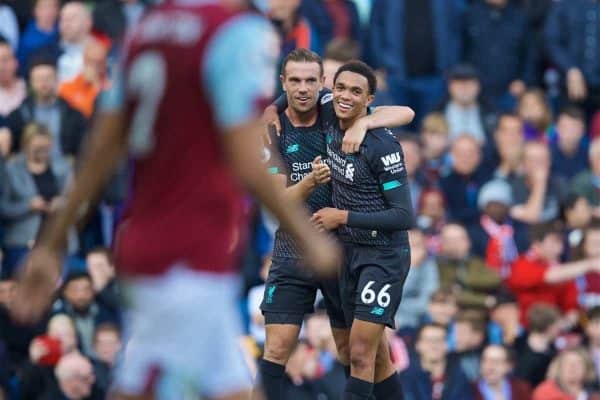 Next was a visit to the stadium I believe should simply be renamed 'It's a hard place to go' and be done with it.
Burnley; tough, physical, elbows, rough treatment mixed with barely legal tackles. It's renowned and notorious so you'd better be ready.
Boy, were Liverpool ready! I can't actually remember a game were Liverpool had it so easy at Turf Moor; where we had the opposition literally chasing shadows and where Burnley barely laid a glove, never mind a stud, on us.
They started well to be fair, with a good Chris Wood chance in the very first minute. But that shot on target, well saved by a by now more confident Adrian, was about all they had to muster all game.
Salah then smashed one against the post on four minutes; he went almost as close from a Henderson through ball on 21 mins but the ball ricocheted off him and rolled just wide.
The opening goal was one of those glorious freak moments as a Trent cross flicked off Chris Woods and curled wonderfully over the keeper from around 30 yards.
Minutes later, Mee made the cardinal footballing sin of passing straight to Bobby Firmino. With Mane one side and Salah the other, there was only going to be one outcome. Mane was Bobby's choice and he calmly slotted home.
Win number 12 was complete and Liverpool looked rather ominous in the process. Burnley, so often, so dangerous at home, had just two shots on target.

Liverpool 3 Newcastle 1 Sept 14th 2019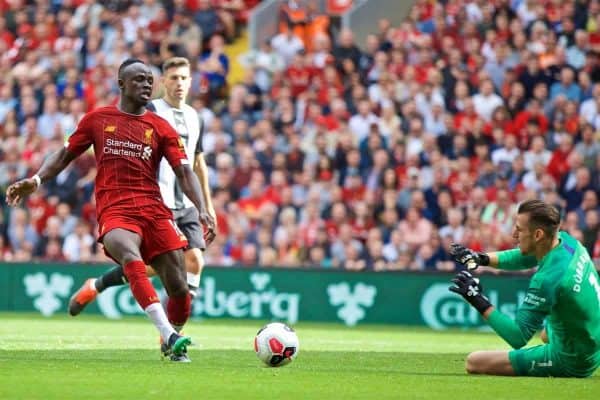 With Rafa replaced by the hapless Steve Bruce, Newcastle were always unlikely to repeat the blood and thunder performance of four months prior, and so it proved.
It didn't exactly start that way though as Jetro Willems blasted a beauty into the top corner of Adrian's net, causing a frenzy of wobbly topless Geordie men seen breakdancing in the Anfield Road end.
Liverpool with Origi in place of Bobby Firmino, lacked their usual fluency, but then on 27 minutes Sadio Mane pounced on an Andy Robertson pass and brought us level with yet another brilliant curled finish.
Origi then went off with an unfortunate injury, replaced by Firmino, who was to go on to have one of the greatest cameo displays of recent times.
He was simply breathtaking and Newcastle not only lacked answers to his brilliance, they didn't even know what questions to ask.
It was his through ball on 39 minutes that saw Sadio Mane dink us in front, and his world-class double flick to Mo Salah that put the game beyond any reasonable doubt.
In between, Wijnaldum almost scored goal of the season, and Emil Krafth blasted over an excellent opportunity to make it 2-2.
Liverpool excelled, Firmino was astonishing and it was 14 wins out of 14.

Chelsea 1 Liverpool 2 Sept 22nd 2019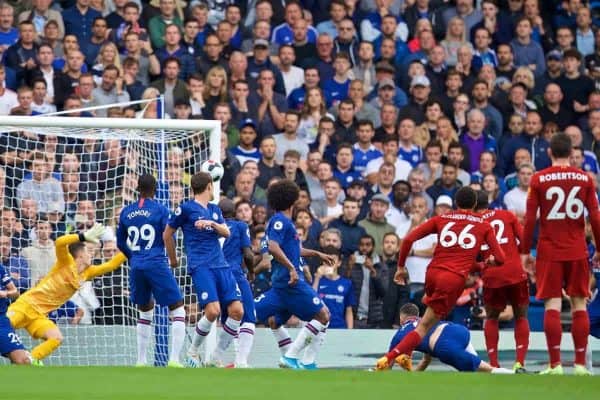 Of all the games in this amazing run, I think it's safe to say this one, away at Stamford Bridge, was the most difficult. The previous six away games were all against teams outside the established big six, so a win against Chelsea on their own patch would be hugely significant.
For all Jurgen Klopp's fantastic achievements, his record in away games against the other 'big six' teams has room for improvement.
And so it proved; Chelsea went toe to toe with us for the entire 90 minutes. Trent's brilliant free kick, and a second set-piece header by Firmino the difference.
In between, Chelsea had a goal ruled out by VAR for a marginal offside decision, but offside it was.
It was a battle and proved to be the biggest threat to the unbeaten run since the Rafa Newcastle game. Chelsea, in all honesty, were probably good value for a point, but just like the 14 that came before them, they left with nothing.
Such is the caliber of this Liverpool team, such is the resilience of this Liverpool team, that the winning run goes on and on and on.
It has resulted in the biggest lead any club has ever had after five games of a season, and remains a five-point lead now after six games played.
No other team in England has a 100% unbeaten start to the season, in any division and it has us in prime position at the summit of the Premier League. It is the greatest sequence of results in Liverpool's entire history.
Long may it continue.