Liverpool progressed to the fourth round of the League Cup after a 2-0 win at MK Dons and the presence of a handful of youngsters proved a key talking point.
A Liverpool lineup boasting a wealth of young talent which featured five debutants, three from the start, secured progression to the fourth round for the first time since 2016/17.
Harvey Elliott, Rhian Brewster, Caoimhin Kelleher, Herbie Kane and Sepp van den Berg all earned their first appearance for the Reds, the latter two off the bench, as James Milner's strike and Ki-Jane Hoever's first senior goal ensured the night ended on a winning note.
This Is Anfield's Joanna Durkan (@JoannaDurkan_) and Jack Lusby (@jacklusby_) were joined by Sebastian Palmer (@Tino_LFC) to delve into the positives and negatives from the clash and discuss the emerging youth and their first-team potential.
The good…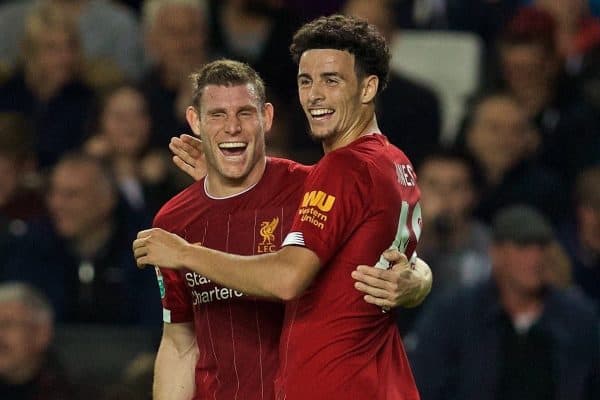 SEBASTIAN: With 11 changes made, it was always going to be a slightly disjointed Liverpool side.
I wasn't expecting to see the seamless fluidity and attacking flair we usually show and yet I was incredibly pleased and excited with what I watched.
Jurgen always manages to find the sweet spot, the balance between hungry, eager youth players and those well-established in the first team. Having the likes of Naby Keita and Alex Oxlade-Chamberlain put in rather solid performances was a lovely sight.
We were shown glimmers and flashes from both men, a first step on the ladder to unlocking their best form, something I am certain could be key to our title challenge this season.
This, coupled with the flair and maturity shown by both Elliot and Jones, suggests the potential for an electric season ahead.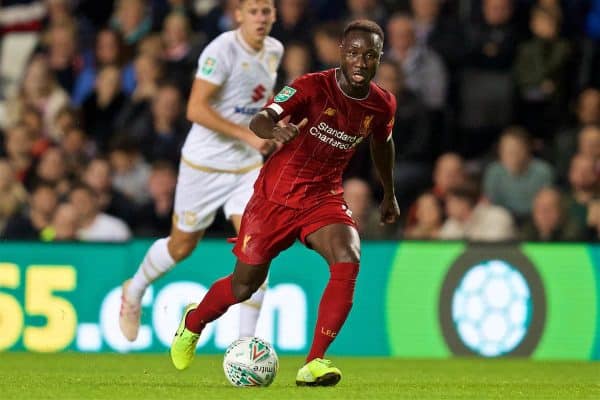 JOANNA: It's hard to look past the youngsters for this one.
I have to agree with Sebastian on the point that there was a strong enough senior contingent in the starting XI to enable the youngsters to flourish without too much expectation and they seized their opportunity—hopefully paving the way for another run out against Arsenal in the next round.
Kelleher looked unfazed by the occasion and matched it in confidence and while Curtis Jones can often go unnoticed, it was not the case this time around as he looked physically up for the challenge.
As for Elliott, well, he's certainly a rising star.
At the other end of the age spectrum, Milner has to get a mention for another tireless display at left-back.
He's proven a bit hit-and-miss so far this season in midfield, but you couldn't have asked more from him defensively or in attack after ending the night with a goal and an assist to his name.
Passing the first hurdle is a nice change and will be important for the fringe players as well as the youngsters.

JACK: The League Cup isn't my favourite competition, but I was looking forward to going to Stadium MK and seeing the young players given their first taste of senior football.
It certainly lived up to expectations: Kelleher and Elliott, as mentioned, were both excellent, while Jones has grown dramatically since his debut in January—and even in the two months since pre-season.
Milner was outstanding, Brewster showed his quality in flashes and while he was criticised by some, I thought Ox executed the 'senior protector' role outlined by Pep Lijnders before the game very well.
Ox was a constant out-ball for Elliott and Brewster, and his influence will have been crucial.
It was also great to see Chirivella back after three-and-a-half years out of the first-team frame—he's had a really difficult spell of late and deserves the platform—while I had a real sense of pride seeing a Bristolian make his debut in Kane.
A word of praise should go to the Dons fans. Their support was tremendous, really capturing the sense of occasion; and the setup at Stadium MK was really impressive, too.
The bad…

SEBASTIAN: Quite simply, two words. Dejan Lovren.
Now, it's fair to say I am not usually one for 'outing' players or singling out individuals' bad performance; however, for this I am making an exception.
Despite being one of the more senior players on the pitch, he highlighted today how far behind he is from Joel Matip and Joe Gomez.
It was quite frankly an awful performance; he was a liability at times and caused us some issues. His performances had me thankful that this wasn't a league game.
Any half-decent Premier League side would have capitalised comfortably on his abundance of errors.
Now it wasn't all bad, there was a vital clearance off the line along with a few good recovery tackles but, overall, he highlighted why he is currently fourth-choice centre-back.
JOANNA: Not to add insult to injury, but Dejan was the standout for me on this one as well.
It was little mistakes and moments of carelessness once again and it's just become so apparent how vast the gulf in quality is between himself and Gomez, not to mention Matip and Virgil van Dijk.
Injury and games such as these remain, rightfully, as his only route back into the starting lineup, but there's certainly even an argument for Van den Berg or Hoever to be given valuable experience instead.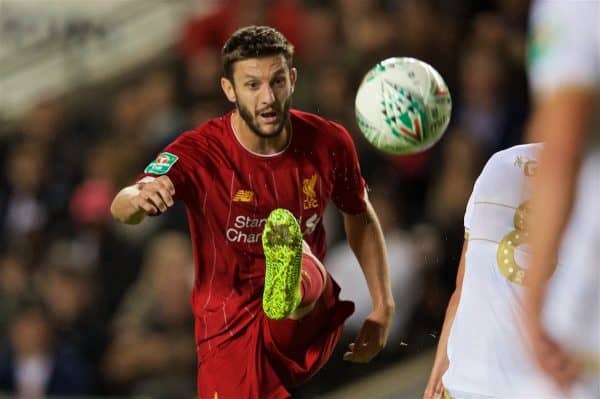 JACK: I would offer a counter-argument for Lovren as he has barely played football this season, but he was particularly poor.
The amount of times he either misjudged the flight of the ball or allowed himself to be outsmarted by the Dons forwards was worrying, and it brought me back to my return to 11-a-side football in Islington after years out.
Lallana was similarly off-colour, too, and I'm not convinced there are genuine plans for him in the No. 6 role.
Hoever had a very difficult night, punctuated by a real positive moment, and as Klopp explained after the game, it will take time before he is considered a regular first-team option.
There can be few genuine negatives after that result, particularly as it appears there were no injury problems to arise from the game—chiefly for the returning Keita.
And which youngster shone the most for you and showed the capabilities they can soon step into the first team?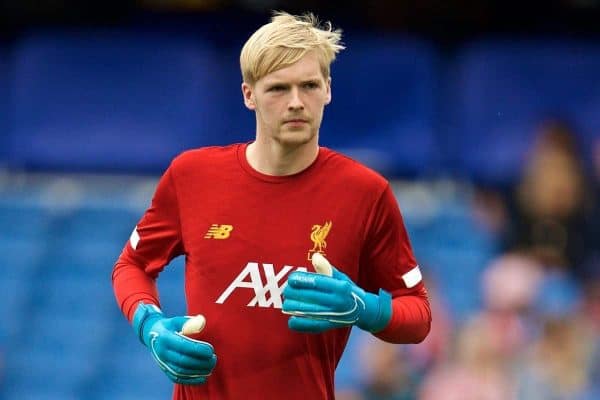 SEBASTIAN: I could talk for days about Jones and Elliot, who were outstanding for much of the game but for me, Kelleher had an unbelievable game all things considered.
I'm not saying he can comfortably come in and overtake Alisson as our No. 1 and the best goalkeeper in world football…yet.
What I am saying is his game has developed significantly as of late and his overall performance for me has given me confidence in his ability to step up as a number two.
Even though he did appear flustered at a cross or two, as the game went on, he made some vital saves to keep out MK Dons who created some very good chances.
He seemed relaxed and calm on the ball when playing it out from the back, almost playing as a sweeper as times and this was one of what I hope to be many outings for Liverpool.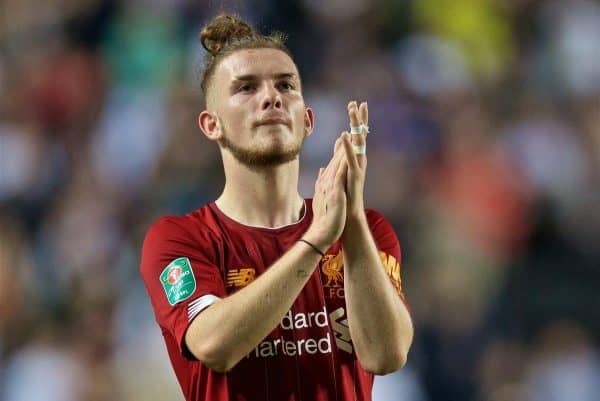 JOANNA: Elliott. He has that pizzazz and level of confidence and conviction which makes you stand up and take notice.
He looked at home in the senior set-up, was poised and had not only the ability to see a pass but to pick it out as well—the one for Milner which was stunningly inch-perfect—and for a 16-year-old that is simply incredible.
Moreover, he did not let the fact that he hit the crossbar faze him; instead he kept offering himself as an option, driving at the opposition and in the end was incredibly unlucky not to score on his debut.
I wouldn't be against him taking Xherdan Shaqiri's place in the side as he's now set to be on the sidelines through injury, and so I wouldn't bet against Elliott's name being on the team sheet in the near future.
You don't want expectations to rise beyond a level a young player should have on his shoulders, but he has the X-factor and who knows how high his star will rise.

JACK: I was close to agreeing with Sebastian and opting for Kelleher: his performance looked particularly likely to translate to a higher standard of first-team football.
But, for me, the most well-rounded display came from Jones, who has matured both physically and mentally in recent months.
It should be remembered he is still only 18, despite his prolonged exposure to the first-team environment, and now he appears capable of grasping his opportunities and actively challenging the likes of Lallana and Shaqiri for a role.
I'd love to see him given a chance in the Premier League, but clearly there should still be patience in his development.
Elliott was a clear standout, but I feel expectations should be kept low for a player who only turned 16 in April.