We round up the latest Liverpool news and transfer rumours on Wednesday, including a minor update on expansion plans for the Anfield Road End.
Anfield Train Station Could Aid New Stand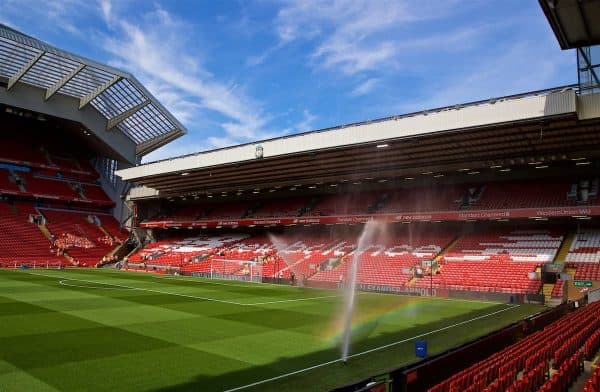 Last month saw the existing planning application for the new Anfield Road End expire, and a new application isn't expected to be submitted until next year.
We've long known that this will be the case, with FSG revising initial plans for the stand and ensuring the new overall capacity is over 60,000.
One thing that could aid the redevelopment is a new train station near to the famous stadium, something that the city council are looking into.
Regarding the new stand itself, The Athletic's James Pearce reports that "having it completed for the 2022/23 season is understood to be the best-case scenario."
Pearce adds that "a number of potential designs [are] still under consideration."
Fresh planning application will be submitted to Liverpool City Council at some point next year, as the club try and make Anfield an even more intimidating place to visit.
---
Wijnaldum Eyes Real Madrid-like Dominance

Gini Wijnaldum continues to be a key man for Liverpool—a vital cog in the machine who goes about his work in subtle-but-effective fashion.
The Dutchman now has a Champions League winners' medal to his name, but in an interview with De Volkskrant, he said he wants to replicate Real Madrid and win numerous European titles:
"I really wanted to win the Champions League once. Now I want it more often.

"Look at Real Madrid: three times in a row. I would like something like that.

"Especially since we have seen what it does with the city, with your career and with the club. That is addictive."
Madrid won a remarkable three Champions League crowns in four seasons between 2014 and 2018, but this Liverpool side are arguably just as good, if not better, than the Spanish giants.
They fear nobody in Europe and many will see them as the team to beat once again in 2019/20.
---
Abraham Hails "Annoying" Van Dijk

Virgil van Dijk isn't exactly struggling for praise at the minute, with the masses lauding his brilliance as a centre-back.
It speak volumes that so many opponents come out and say how tough he is to play against, and Chelsea striker Tammy Abraham is the latest to laud him.
"He's a beast. He's just good at what he does," Abraham told the Mirror.
"He's experienced. I try to do a little…I try to use my tricks in my head but his understanding of the game is top drawer.
"It is to do with little things. Movement. My movement in the box, some defenders don't pay attention to me—they are only focused on the ball.
"With him, it's kind of both, he's paying attention to me and the ball, knows where I am, knows where I want to go, follows me.
"It's quite annoying for a striker—just leave me alone!"
If Van Dijk can keep up this level of form for another four or five years, winning trophies along the way, he will go down as a true great of the game.
---
Achterberg on Identifying Goalkeeping Targets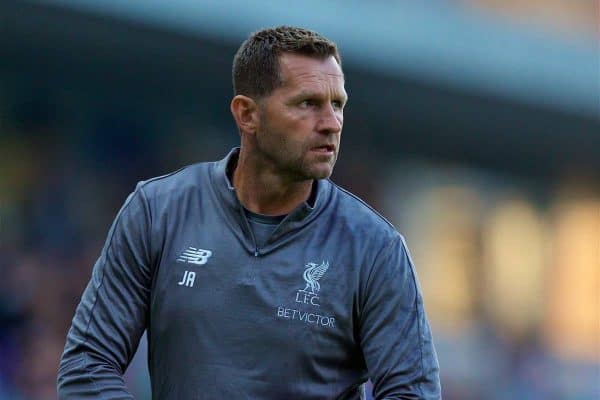 John Achterberg has now been at Liverpool for a decade, having joined Rafa Benitez's staff as goalkeeping coach in the summer of 2009.
The 48-year-old is thought of fondly by Jurgen Klopp, despite some criticism from fans in the past, and he has revealed the depth that he goes into when it comes to identifying potential new goalkeepers.
"I have about four of five thousand reports from some keepers you watch 10 or 15 times and then you stay on top of it," Achterberg told the Liverpool Echo.
"If you think they can be OK for us then you have to keep following them and you always have to prepare for a No. 1, 2 or 3. And then in between you try to find keepers who are younger.
"You try to find out about 14, 15 or 16-year-olds. Do we need one? Can we bring them in? And that is obviously in combination with the academy there. So I suggest them to them and they have a look."
The Reds are expected to sign Polish goalkeeper Fabian Mrozek from the FC Wroclaw Academy when he turns 16 next year.
---
Gerrard Could Face Reds for the First Time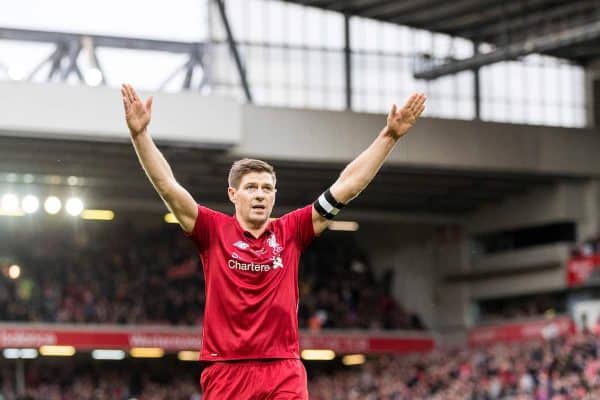 Liverpool Legends take on Rangers Legends at Ibrox on Saturday afternoon (3pm BST).
The two squads have been announced ahead of the game, with the likes of Jamie Carragher, Luis Garcia and Dirk Kuyt representing the Reds.
Steven Gerrard will be donning the kit he wore in such legendary fashion for 17 years, but he may also play for Rangers, considering he is their manager.
"I'm going to play for Liverpool and who knows, there might be a little cameo in a blue shirt as well we'll have to see," Gerrard said.
Should that happen, it will be the first time the 39-year-old has played against Liverpool—it will seem odd, won't it?
Liverpool Legends squad: Dudek, Kirkland, Johnson, Carragher, Enrique, McAteer, Warnock, Pennant, Gerrard, Berger, Smicer, Garcia, Kuyt, Heskey