It's four years since Brendan Rodgers left Liverpool and clearly a lot has changed.
For instance, Bobby Firmino now plays alongside Mo Salah and Sadio Mane instead of Mario Balotelli and Rickie Lambert. And the Reds are European champions.
The only people who think replacing Rodgers with Jurgen Klopp was a bad move are Evertonians and probably Joe Allen, but as Brendan returns to Anfield this weekend for the first time since he left I'm not the only one who'll be writing about his Liverpool legacy. So here goes.
Brendan Rodgers bridged a gap. He was a stepping-stone manager, a necessary appointment who brought Liverpool Football Club back up a cliff, but then dropped off it himself.
He still polarises opinion now. I know Kopites who call him a fraud, who believe he hadn't done enough elsewhere to justify being brought in to replace Kenny Dalglish after he took Liverpool to two cup finals in 2011/12, and that it was two players he inherited – Steven Gerrard and Luis Suarez – who led the Reds' title challenge in 2013/14, not Brendan Rodgers.

But I also know Kopites who feel Rodgers did a brilliant job at Anfield which is completely underappreciated as he turned a team that had Gerrard and Suarez in it from complete also-rans in 2011/12 (Liverpool finished 8th, level on points with Fulham) into a vibrant, attacking side that should really have won the Premier League only for defensive deficiencies to prove costly.
The truth lies somewhere in-between.
Rodgers was a bold appointment by FSG, the biggest change of direction by a Liverpool board since Gerard Houllier replaced Roy Evans in 1998. Yet the feeling that he got the job because he was willing to be part of their new transfer committee, rather than a figurehead with the final say, is inescapable.
Ultimately the transfer set-up didn't work and Liverpool ended up with a hung-Parliament transfer structure with the committee bringing some players in they wanted and giving Rodgers concessions to sign some he wanted but they didn't (Christian Benteke, for instance) to keep the peace.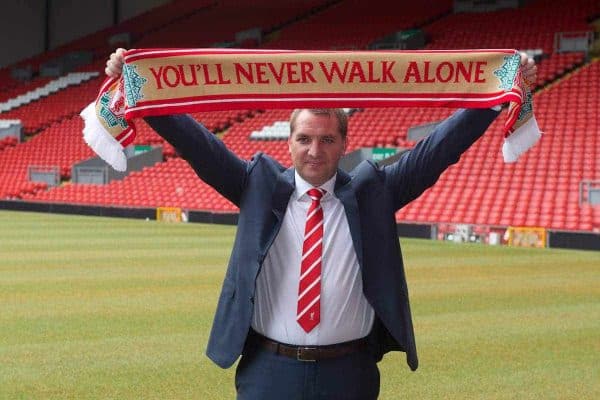 The 'taking a punt on Balotelli' move because he was 'only' going to cost £16 million, but blatantly wouldn't fit into Rodgers' style of play, was the type of poor, confused, doomed strategy that Manchester United have now thankfully adopted.
For me, that mismatched squad undermined Rodgers reign and meant it would always end in failure. 2014/15 was dreadful and he should have gone after the 6-1 defeat at Stoke, and for allowing his mate Colin Pascoe to be sacrificed as assistant manager so that Sean O'Driscoll could come in.
That went well, eh? But anyone who thinks Rodgers didn't bring Liverpool on between 2012 and 2014 is living in denial. Possibly with a Labrador.
Liverpool isn't a club for glorious failures. You won't find 'runners-up' years in our honours list. We're in it to win it, so however rose-tinted you view the 2013/14 campaign the reality is that the Reds didn't win the league, or anything else, under Brendan Rodgers.
That said, some of the football his team played when they built momentum from New Year's Day onward was the best I'd ever seen. Suarez, Sturridge, Sterling, Coutinho, Gerrard, Henderson. The whole emphasis was on attack, attack, attack, but that left the back five of Mignolet, Johnson, Flanagan, Skrtel and Sakho exposed.

Put Liverpool's current back five in there and I suspect that 2014 Liverpool team would have won the league by a mile, but a combination of defensive frailties and Rodgers' inability to change a game from the bench prevented that team from being champions.
Former Kop Magazine readers will remember this being a huge debate at the time as it was difficult to decide whether a lack of quality on the bench, or Rodgers' 'if plan A doesn't work do plan A better' philosophy was to blame, but the stats show that 21 goals were scored by Liverpool substitutes during his four years as manager.
In the four years that have followed under Jurgen Klopp, 50 goals have been scored by Liverpool substitutes. That's more than double, and four of them in the Champions League last season (Firmino v PSG, Gini Wijnaldum twice v Barcelona and Divock Origi v Tottenham) were absolutely crucial in the Reds becoming champions of Europe.
It's too simplistic to compare managers on one aspect of their managerial ability, but I'd say that particular statistic highlights perfectly where Liverpool were under Brendan Rodgers compared to where we are now under Jurgen Klopp.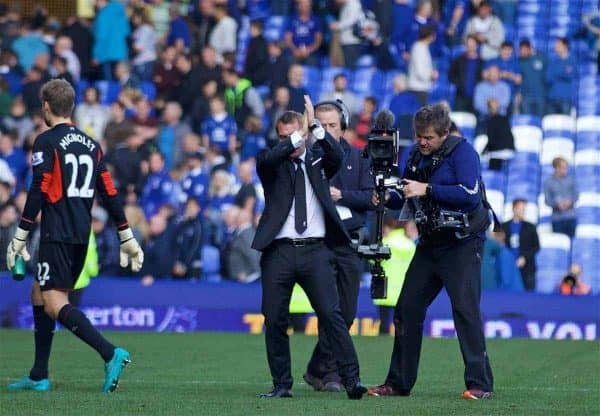 I'm not sure what kind of reception Rodgers will get at Anfield on Saturday. He may, just like Roy Hodgson when he returned with West Brom, get no reception at all, but the Leicester team he'll bring with him are very good and pose an obvious threat to Liverpool's 100% record.
That the Foxes are third in the Premier League and playing such good football is testament to how Rodgers can transform a team, but ultimately he'll go down as a good Liverpool manager, not a great one like the man who replaced him is.
---
* Chris McLoughlin writes for This Is Anfield each week; he's also senior writer for the Official LFC Matchday Programme and LFC Magazine, both available here.