Liverpool journalist Chris McLoughlin tells the story of how the Reds' players went from spectators at the Nou Camp, to thrashing Barcelona 4-0 en-route to becoming European Champions..
I knew that Luis Suarez was planning to leave Liverpool FC before he had even made his debut for the club. It's not what you want to hear when the Reds have just paid £22.8 million to sign a player, but it was the truth.
Suarez arrived at Anfield on Sir Kenny Dalglish's watch on the last day of January 2011. He'd been with Ajax for four years, scoring over 100 goals, but was serving a seven-match suspension for biting PSV's Otman Bakkal on the shoulder. Ajax decided it was time to cash in. Liverpool paid up.
I was editing and writing The Kop Magazine at the time and contributing to LFC Magazine, the old weekly publication that ran from 2002-2012. As part of our research into the Uruguayan's background, a colleague spoke to a Dutch journalist and some of the coaches who had worked with Suarez at Groningen, his first European club.
They all said the same thing, albeit off the record; he wants to play for Barcelona. Liverpool is a career move, just like Ajax was. His aim is Spain.
It's well documented now as to why that was. His wife Sofia had moved to Barca from Uruguay as a teenager with her parents. They remained in Spain so it was where the Suarez family wanted to settle and bring up their kids.
On the plus side, if Suarez was to get his dream move to Camp Nou he'd have to perform at the highest level for Liverpool FC to catch their attention. Which is precisely what he did.
Disciplinary issues and the related £40,000,001 Arsenal transfer debacle aside, Suarez gave his all in a red shirt. He didn't miss a single game through injury – not one – and his win-at-all-costs attitude and desire to score was the same whether Liverpool were playing Exeter or Everton.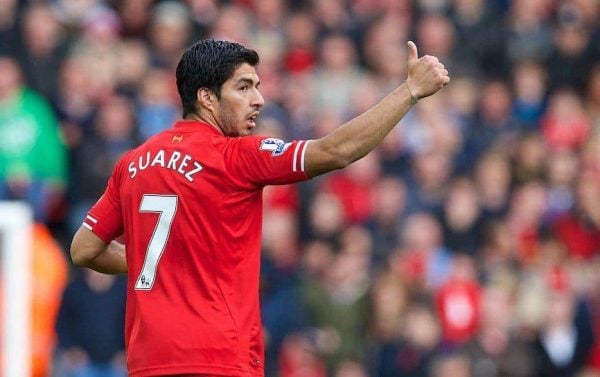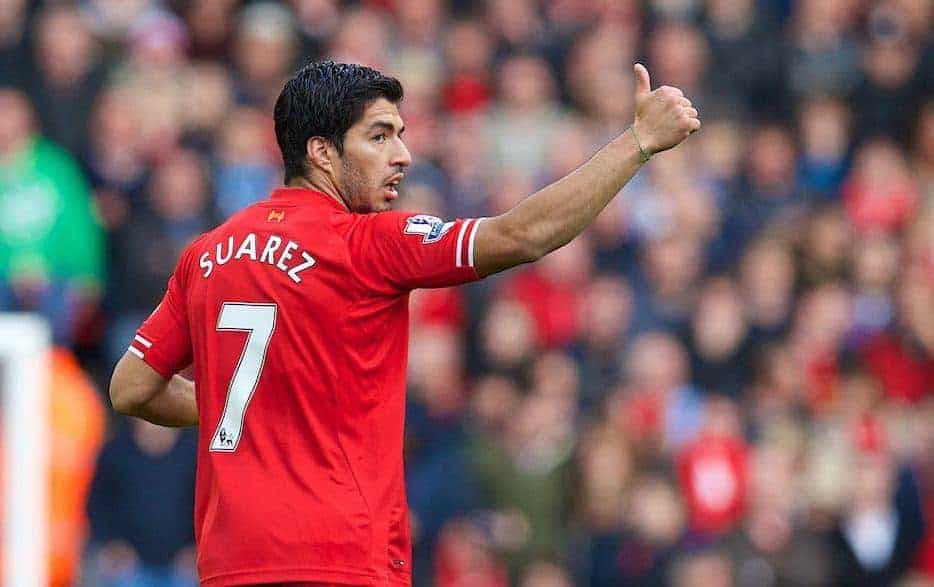 Suarez' Liverpool career culminated with him leading the failed Premier League title bid in 2013/14, scoring 31 goals in 31 games and playing some of the best football ever produced by an individual player.
And then he left for Barcelona. Which completely fucked Liverpool up in 2014/15 as he wasn't replaced. And ultimately triggered a chain of events that led to what we have now; Jürgen Klopp and the European Cup.
It would be over a year before Klopp became Liverpool manager, but El Pistolero fired the starting gun.
I first became aware of Jürgen Klopp in 2010/11. His young Borussia Dortmund team had seemingly come from nowhere to challenge and ultimately win their first Bundesliga title since 2002. There was a lot to like.
They were the youngest ever German side to be champions. They played high-octane football. They scored goals. They harried opponents. And the first thing their manager had done when appointed at the Westfalenstadion back in 2008 was to not stop the injury-prone Philipp Degen signing for Liverpool on a free transfer. Clearly he was a good judge of player.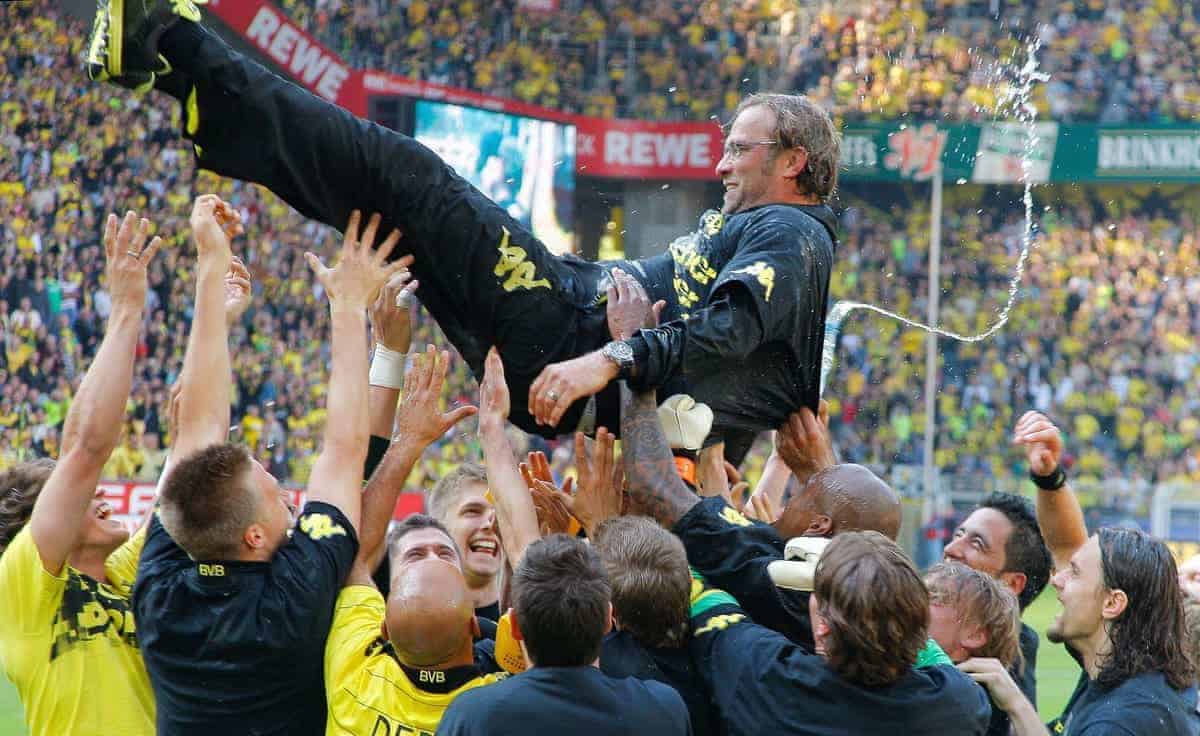 Part of the reason I also saw a fair bit of BVB that season was I was scouring the European leagues to write about strikers who could potentially replace Liverpool's want-away centre-forward Fernando Torres.
Robert Lewandowski scored nine goals for Borussia Dortmund that season, but it was Paraguay international striker Lucas Barrios I liked the look of. Klopp had bought him for less than £4 million from Colo-Colo in 2009 and turned him into a goalscoring machine, netting 23 goals in 2009/10 and 21 en-route to the title in 2010/11.
Big, strong and very effective in the penalty area, I thought the 26-year-old would be ideal for what Liverpool needed at the time and the word from Germany was that Dortmund would want between £9-£11 million for his services. Damien Comolli didn't agree. He paid £35 million for Andy Carroll instead, although nobody can argue with the £22.8 million deal for Suarez.
The upshot of that rather convoluted tale of transfer talk is that I continued to follow Klopp's Dortmund over the years that followed and came to the conclusion that he had the potential to be the next manager of Liverpool, but with the Reds progressing nicely under Brendan Rodgers we didn't need a new manager. Then Suarez left in 2014 and the house of cards came tumbling down.
On 15th April 2015, the 26th anniversary of the Hillsborough disaster, Borussia Dortmund announced that, after seven years in charge, Klopp would step down as manager. They'd had a poor season – even being bottom of the Bundesliga in February 2015 – but it was still something of a shock that he was to leave.
"I always said in that moment where I believe I am not the perfect coach anymore for this extraordinary club I will say so," he announced. "I really think the decision is the right one. This club deserves to be coached from the 100% right manager."
Four days later Liverpool played the worst Aston Villa side I've ever seen in the FA Cup semi-final at Wembley. It was a gimme, an easy passage to the final. Liverpool lost 2-1 on a day when Emre Can played in four different positions, Lazar Markovic was substituted at half-time for a club-record fourth time in one season, and his replacement, Mario Balotelli, was our best player.

Bringing Glen Johnson on for Joe Allen, and waiting until the 90th minute to replace Alberto Moreno with Rickie Lambert, backed up my long-held opinion that Brendan Rodgers was incapable of positively changing a game from the bench. It encapsulated a shambolic, embarrassing day in what had become a dreadfully depressing season.
I walked out of Wembley that grim evening with my mind made up. Rodgers had to go, Liverpool need to see if they can get Klopp. So I put the Borussia Dortmund manager on the front cover of the next edition of The Kop Magazine and wrote a 3,789-word article on the managerial situation which – and I've paraphrased here – included the following.
"If you're after a complete history into the life and times of 47-year-old Jürgen Norbert Klopp and a 5,000-word tactical analysis of his 14-year managerial career with Mainz 05 and Borussia Dortmund then you're barking up die falschen baum.
"But this is a unique opportunity. A rare situation in that a manager who has unequivocally proved that he can turn a sleeping giant into a trophy-winning machine, despite being in direct competition with arguably the strongest Bayern Munich side since they won three European Cups between 1974 and 1976 (who was it that ended Bayern's run of success again?), is available.
"What if Klopp fancied it? What if he was prepared to jib off the Champions League clubs who are courting him and accept one of the biggest challenges in world football?
"What if he thought he could be the man who finally ends the 25-year wait to make English football's most successful club champions again? What if he thought he could end up even more revered than he is in Dortmund?
"What if FSG – who aren't shy of sacking managers – decided to abandon the Rodgers project and offer Klopp the Kop job knowing he's highly unlikely to be available in 12 months' time should another disappointing campaign follow?
"Sometimes you've got to be brave. Foresee that something might not work out as you'd hoped and act decisively to see if you can and improve things.
"Cards on the table. Hands on hearts. It feels like Aston Villa 2 Liverpool 1 was a watershed moment for Brendan Rodgers. A turning point. A line in the sand that makes it feels legitimate – indeed necessary – to see who else is out there. To establish if the credible alternative option out there could be a man who galvanizes our club. Who makes things better. Who lifts us back up to where we believe we belong.
"Are Brendan Rodgers' Liverpool still on their way to glory? Or does 'we are the famous, the famous Klopites' have a nicer ring to it? Over to you, John W Henry. If you don't ask you don't get…"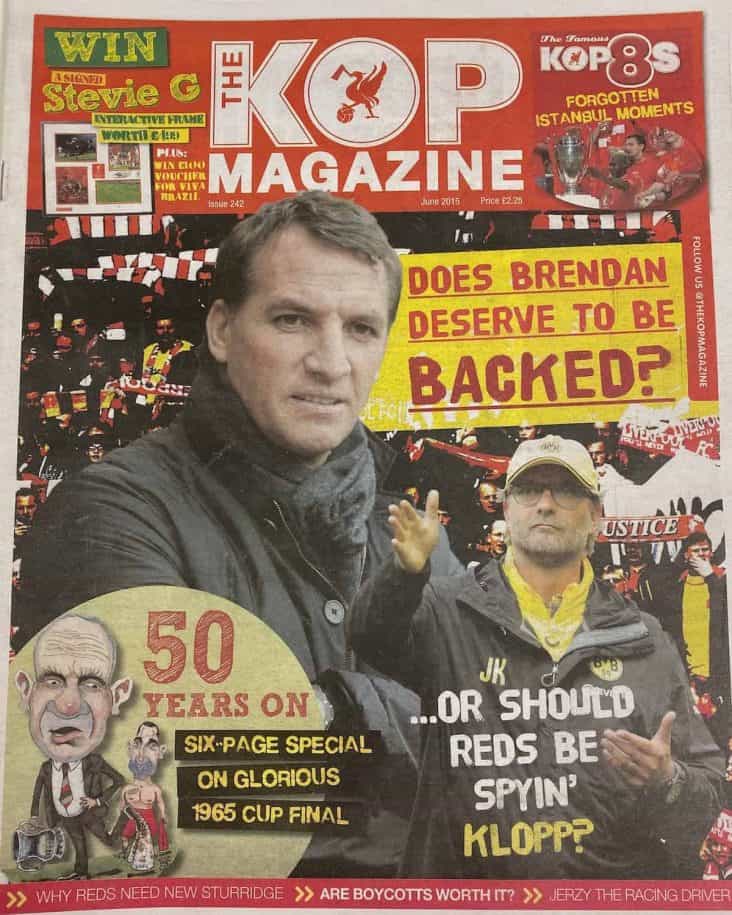 I then, as I did every month in the 15 years I edited The Kop, sent a copy of it to the manager of Liverpool Football Club. I never did hear back from Rodgers – not once – but I wasn't the only one thinking the same way.
"To have a charismatic figurehead managing the club again with the vast majority of supporters buying into him would be no bad thing," concluded an article about Klopp on The Anfield Wrap. While an Anfield Rap lead vocalist was also on board.
"If Liverpool are to get back to where they belong in English football, they need to be ruthless," said Steve McMahon. "That's why they must go all out to bring in Jürgen Klopp as manager. There is no doubt that Klopp, given the chance, would bring silverware to Merseyside."
What none of us knew at the time was that Klopp didn't just want a break, he wanted to take the whole of the 2015/16 season off. A family holiday to the Caribbean was planned, an educational trip to the USA to see how coaches in other sports operate was scheduled. He was even trying to to get tickets for Superbowl 50 in Santa Clara, California, in February 2016.
He certainly wasn't planning to take charge of Liverpool FC, but in October 2016, after a hardly surprising poor start to the season, Rodgers was sacked and Klopp was offered the opportunity.
To this day I still don't know if Fenway Sports Group got lucky, or if they shrewdly waited until they thought they could get Klopp before sacking Rodgers. I've heard stories that suggest both, but let's just say spending £93 million in the summer of 2015 on Christian Benteke, Roberto Firmino, Nathaniel Clyne, Danny Ings and Joe Gomez wasn't the behaviour of a club not backing their manager, even if most (but not all) of those players were signed by the transfer committee.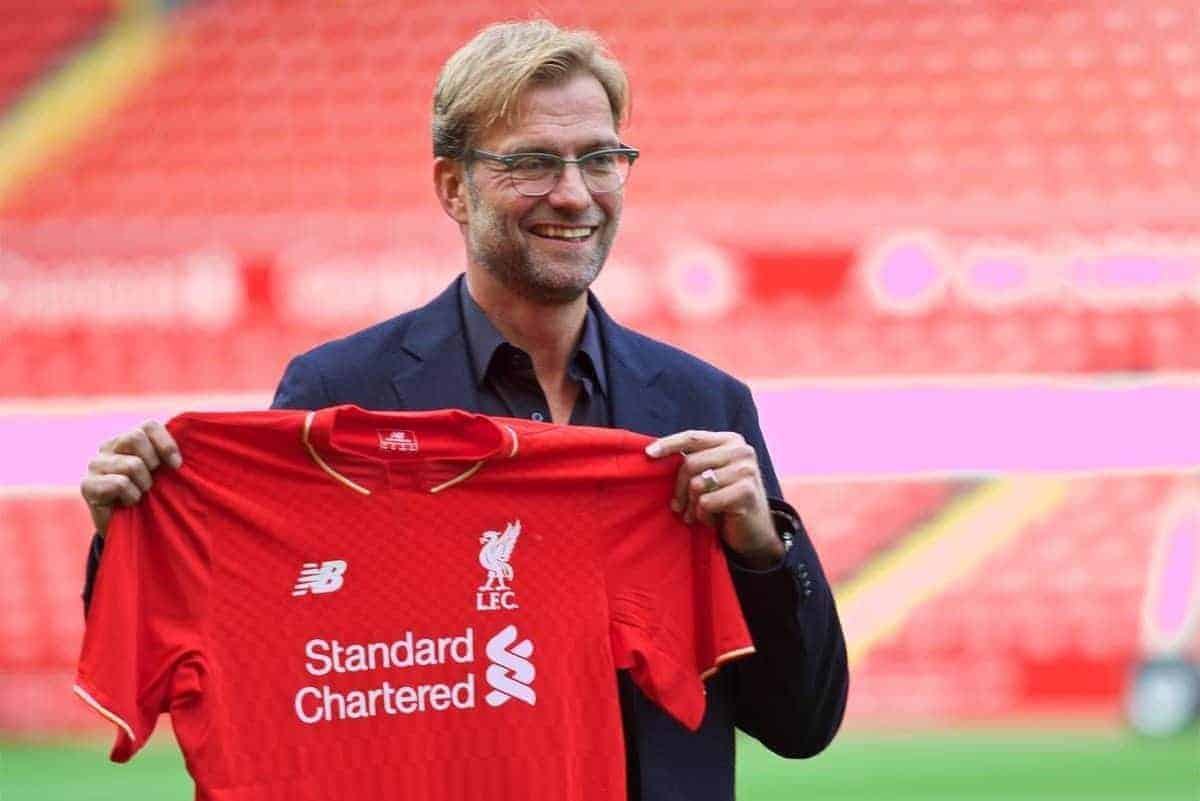 Rodgers should have been long gone. Sixth in the Premier League, a 6-1 defeat at Stoke and allowing his trusted coaches Colin Pascoe and Mike Marsh to be sacrificial scapegoats to save his own arse were all good enough reasons, never mind that FA Cup defeat to Aston Villa.
Yet he stayed at Liverpool and Klopp got on with his life away from football until a 1-1 draw with Everton at Goodison Park on 4th October left the Reds 10th in the Premier League, with a -2 goal-difference, going into the October international break. Rodgers met the Spanish archer that night, Klopp got the call to take over. Thank fuck he said yes.
"I'm a football romantic," he admitted during an interview with Sky Sports in early 2018. "I like these stories. I'm confident, but not as confident maybe as other managers, thinking this club will call, that club will call. A lot of clubs called and I said 'No, no chance, I need to make a break now'.
"I knew always and even my wife knew, if Liverpool is calling, I go. That's really difficult to explain. Yes, there was interest from Manchester United one year or one year-and-a-half before, but it didn't feel right. I couldn't say in these times Manchester is not my club, it didn't feel right. That's how it was.
"When Liverpool called, I had no chance. It was actually too early for my plans. I said, 'Wow, come on!' But then coming here and feeling the spirit immediately, it was just, for me, a match in heaven.
"The club would have found another manager, and I would have found another job — maybe an easier job. But I liked this club before I came here. It wasn't a big decision for me. It was the only club that could have broken up my holiday.
"I had enough offers, I was saying, 'No, no, sorry, not now…', and then came Liverpool. And I know how this sounds, and what people will say, but I fell in love. I felt responsible really quickly. It's like if you are in my inner circle, my family, my friends. I felt Liverpool was both: family and friends."
Even in this month's FourFourTwo magazine, in a chat with John Bishop, his sense of belonging at Liverpool remains evident.
"I knew Liverpool had this incredible history of winning trophies both in Europe and at home. To be honest with you, I really wanted to bring that glory back to the club. It was clear to me that the heart of the club was brilliant; it was like a garden that needed a bit of work to bring the flowers back again.
"I really wanted the job. I can't explain why, but it felt right. I knew that if they came for me, I'd really want to do it. I only hoped it would be at the right time, because I needed a holiday after managing Mainz and Dortmund. In the end I had four months off."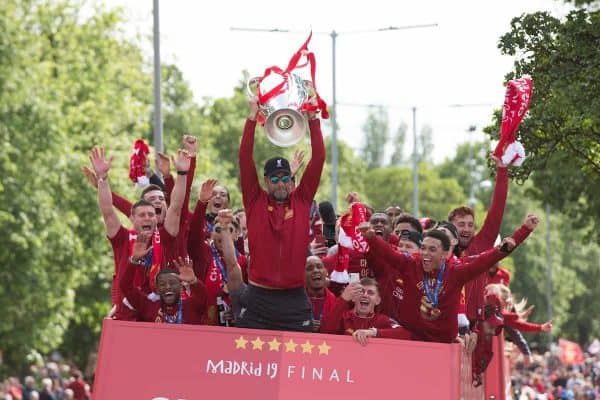 A lot has been said and written during the last four years, not least around the recent fourth anniversary of his appointment, about how Jürgen Klopp brought that glory back to the club. It can be symbolised by referring back to Luis Suarez.
In December 2016, following a 4-3 defeat at Bournemouth after the Reds had led 3-1, Klopp took his players to Spain for warm(er) weather training. They had a free midweek, having failed to qualify to play European football after finishing 8th in the Premier League, behind Southampton and West Ham. Leicester City were champions of England.
As part of that trip, Klopp, his staff and players went to the Camp Nou to watch Barcelona play Borussia Moenchengladbach in the Champions League. Inevitably they were spotted by the cameras and their images, including Lucas taking a photo on a smartphone which had a Lucas cover on it, were beamed around the world. Social media piss-taking followed. 'It's the only Champions League football Liverpool will see under Klopp' was an open goal.
Klopp, of course, knew what would be said, but that trip served a purpose. It reminded the players what they were missing out on. What they were striving to achieve. Barca won 4-0 and did so by leaving Suarez on the bench for the entire game. Liverpool went home and drew with West Ham.
In May 2019, Barcelona's players were at Anfield to watch Jürgen Klopp's Liverpool thrash them 4-0 to reach the final of the Champions League, although ironically they weren't watching Trent Alexander-Arnold closely enough from a corner for Divock Origi's decisive goal.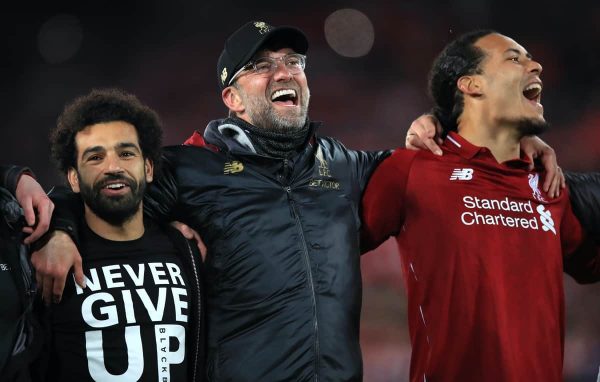 It had taken Klopp two-and-a-half years to transform Liverpool from a team watching Barcelona beat a team 4-0 in the Champions League into a side capable of beating Barcelona 4-0 to reach a Champions League final. And they did so without Mo Salah and Bobby Firmino.
That Suarez, whose departure from Liverpool removed the foundation the Rodgers era was built upon and paved the way for Jürgen Klopp's arrival, was on the Anfield pitch that night, looking utterly perplexed at his side's capitulation, was beautifully symbolic.
The Liverpool Luis Suarez left was a team built around him. The Liverpool we have now is a team built by Jürgen Klopp. That's the difference.