Andy Robertson has said he is feeling "fresh" despite an ongoing ankle injury, which he revealed requires extra attention to prevent stiffness from striking.
The Scot has been troubled by the injury for a number of weeks, resulting in him withdrawing from international duty while also seeing his ability to train impaired as a result.
Robertson is a crucial member of Jurgen Klopp's side acting as a defensive and attacking pillar, where he has featured in 18 of a possible 20 games.
And he was under an injury cloud prior to Liverpool's win over Crystal Palace over the weekend, but when speaking ahead of Napoli's Champions League visit, the left-back conceded his ankle "feels the best" during games as he has had a chance to warm-up for a sustained period.
"It's been better, to be fair. A bit stiff after matches and it's something I can manage and something I am quite happy with," he told reporters.
"It's slightly painful but if you don't have any pain with the number of games we've played, then I suppose you're doing something wrong.
"All the lads are managing stuff and we're all good. But I feel good and I feel fresh.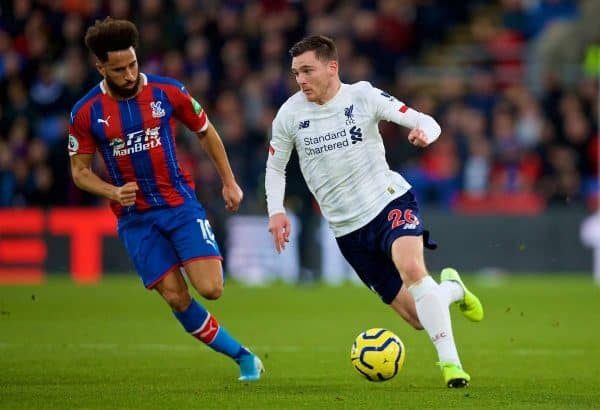 "The lads will probably say I've been in the treatment room too much, I think the physios are sick of treating me," he joked.
"It's about trying to get it going and it just takes a wee bit longer to loosen up in training – so an extensive warm-up and things like that gets it going and then it feels okay.
"It's just stiffness unfortunately as there is not enough time to rest it, but in games, it feels the best because you get about half an hour to warm up."
Robertson also touched on the fact that while he is carrying an injury, he is still desperate to never miss a game.
But when the decision is taken out of his hands he simply has to "respect" it, as he did when he started from the bench in the last European outing against Genk.
"I get paid to train and play games and I don't want to miss any training session or games, Genk is the best example for me, I wanted to play but the manager made his mind up and he chose Aston Villa as the game I played," he continued.
"We all want to play games and sometimes it's just not possible. You have to respect that.
"We know we have a top-quality squad and everyone that's not playing as much can easily come into the squad and so it's not quite a fear [of someone taking his place] it's just a case of not wanting to miss games."