Liverpool yet again had to come from behind in a game—and yet again did exactly that, to beat Aston Villa 2-1 with a late, late turnaround.
Aston Villa 1-2 Liverpool
Premier League, Villa Park
November 2, 2019
Goals: Trezeguet 21′; Robertson 87′, Mane 90+4′
---
Midfield selection dilemma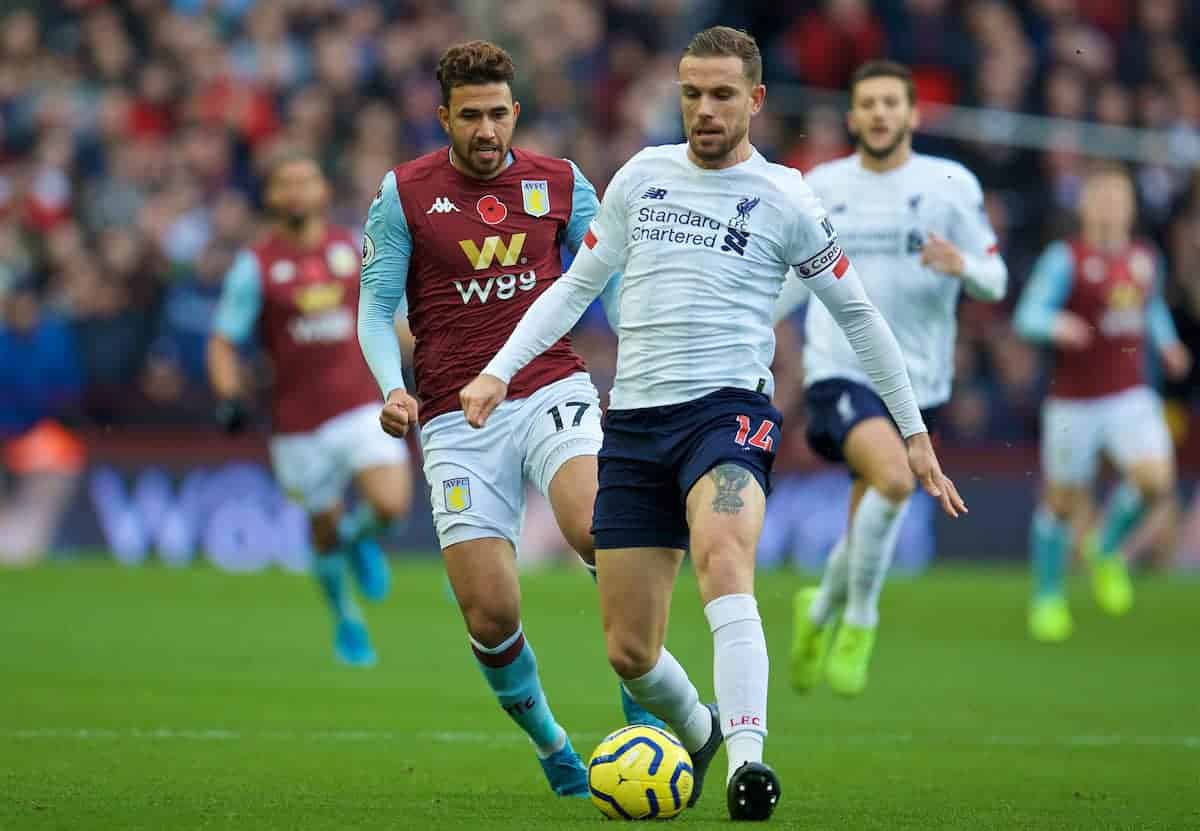 Lots of fans wanted Fabinho rested for this game to keep him available for Man City—and so too decided Jurgen Klopp the same way, leaving his Brazilian on the bench.
Perhaps the unexpected outcome of that, though, was to have Adam Lallana installed as the deepest midfielder, behind Gini Wijnaldum and Jordan Henderson—both of whom have far more experience playing that No. 6 position.
The first half saw the Reds dominate a lot of the play, with 75 percent possession at half-time, but they still had fewer shots on target than Villa at the same stage.
Henderson was the only one of the trio to create a shooting chance—a lofted ball into the box seeing Sadio Mane head wide—and there was little aggressive (and accurate) movement and passing from the three in the centre.
After the break, Lallana deserves credit for being the man who ran, pressed and drove the team on more from the centre, but it was really only after Alex Oxlade-Chamberlain came on that the midfield became a true part of the attack.
Within a minute of his entrance he'd gotten into the box twice and had three shots, compared to the one shot and very little penalty-box play from the other three combined in an hour.
VAFarce

Ok, Villa's goal counted. Difficult to see, considering there was a line of about a dozen players from the free-kick, but Trezeguet at least looked to be behind a few of the gaggle from either team.
But Roberto Firmino's effort? The Brazilian ran in to tap home from close range, with the flag immediately going up, and a cursory check stuck with the initial decision.
Perhaps there has been an angle or viewing which wasn't shown on television by the time of writing, but by live viewing, by slow-mo replays and by the VAR-view of millimetre movements, with all their dotted lines and angles, he still looked onside.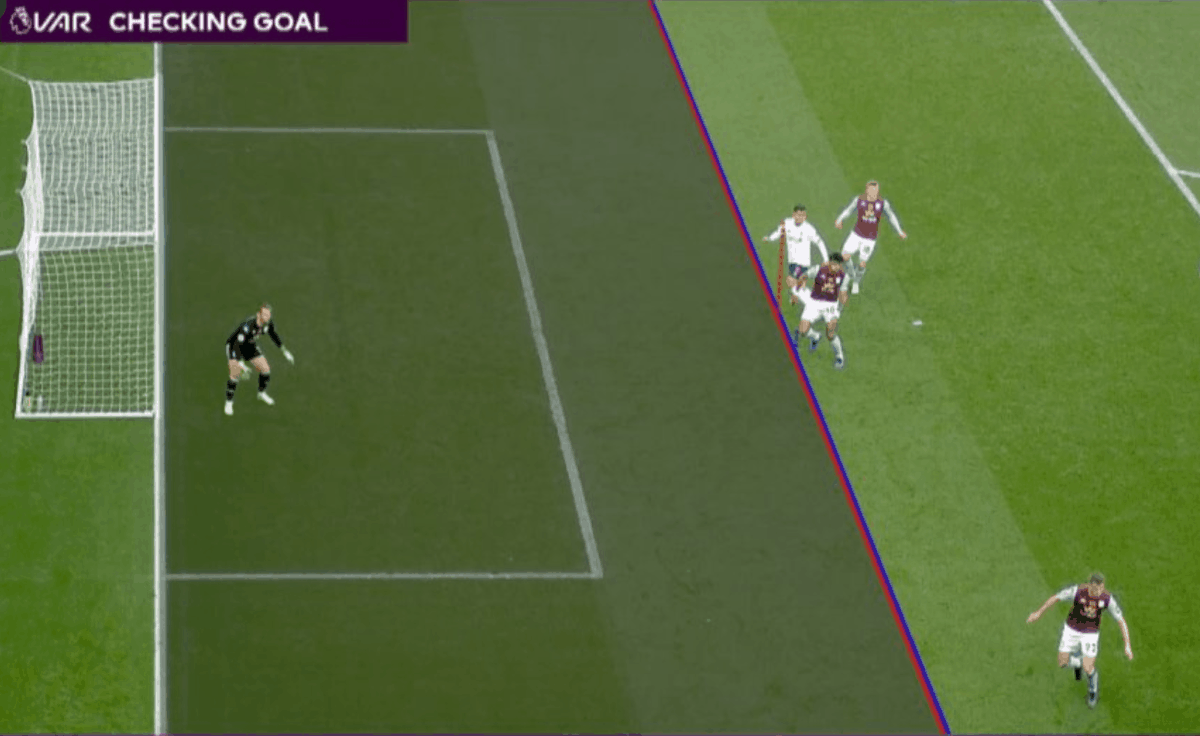 Mane, too, wanted a penalty but got a yellow card for diving—despite replays suggesting there was at least some contact.
Again, the proviso here is that there may have been another angle which conclusively showed no contact, similar to that involving Adrian in the UEFA Super Cup.
It would help quite a lot, though, if we were able to simply see the definitive visuals used.
https://twitter.com/kloppoynwa/status/1190669937926389763
Another handball shout went against the Reds with 15 minutes to go, with Bjorn Engels' arm blocking a shot—though it was much less of a protest than for the aforementioned instances.
Salah form concerns

Heading into this fixture, Mo Salah had one goal in four Premier League games: that a penalty, albeit a crucial winning one against Spurs.
There's no denying that he is well below his best level right now.
Quite aside from goals, he hasn't been the usual relentless outlet down the channel or in behind, he isn't taking on players as much as he can do and his finishing is wayward—woefully so, at Villa Park.
A close-range header flew over just before he was subbed after 65 minutes—an unthinkable scenario with the Reds needing a goal in previous months or seasons; though it may have been due to his ongoing injury.
Before that he wafted a wild shot miles over the bar under no pressure at all, hitting only one of his four efforts on target.
He's not entirely responsible for it; very little midfield supply goes his way and, inevitably, Trent Alexander-Arnold's crosses go deeper, toward the left-sided or central attackers.
But Salah is still capable of so much more, and we'll need more from him going forward.
Coming from behind, again and again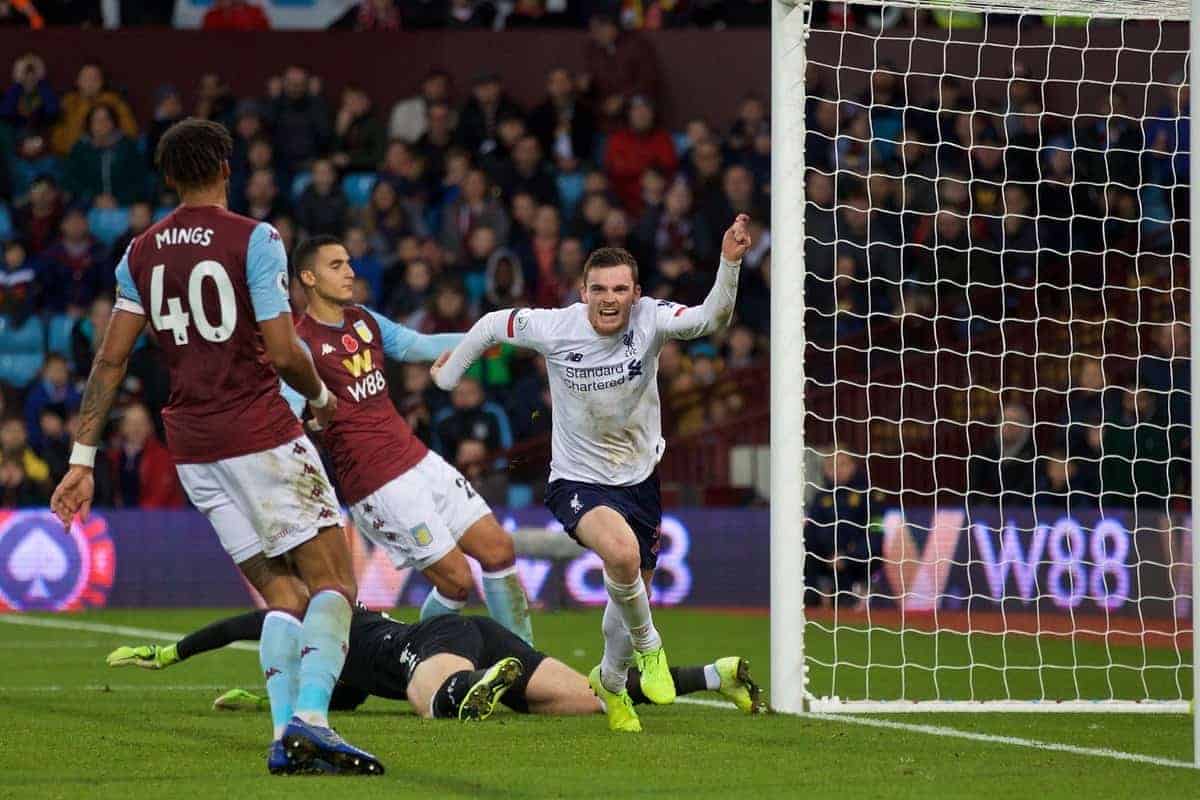 We've left it late a few times this season already, and on many more occasions than we'd like we've fallen behind in matches.
The stats are great when that happens, with so many points won from losing positions, but Liverpool haven't really started too many games at full tempo.
That, perhaps, is contributing to needing the comeback impact on so many occasions.
Liverpool's resilience, the incredible mentality and desire to not be beaten, is an invaluable trait. It would just be great if we didn't need to rely on it quite so often.
Even so, this was something special…and critical.
After 86 minutes, Liverpool were losing—City had just come from behind to take the lead in their own game. Fast-forward to full-time, same result for the Reds.
Villa defended brilliantly, Villa defended with determination. But Liverpool found something more.
Onto Genk…and then Man City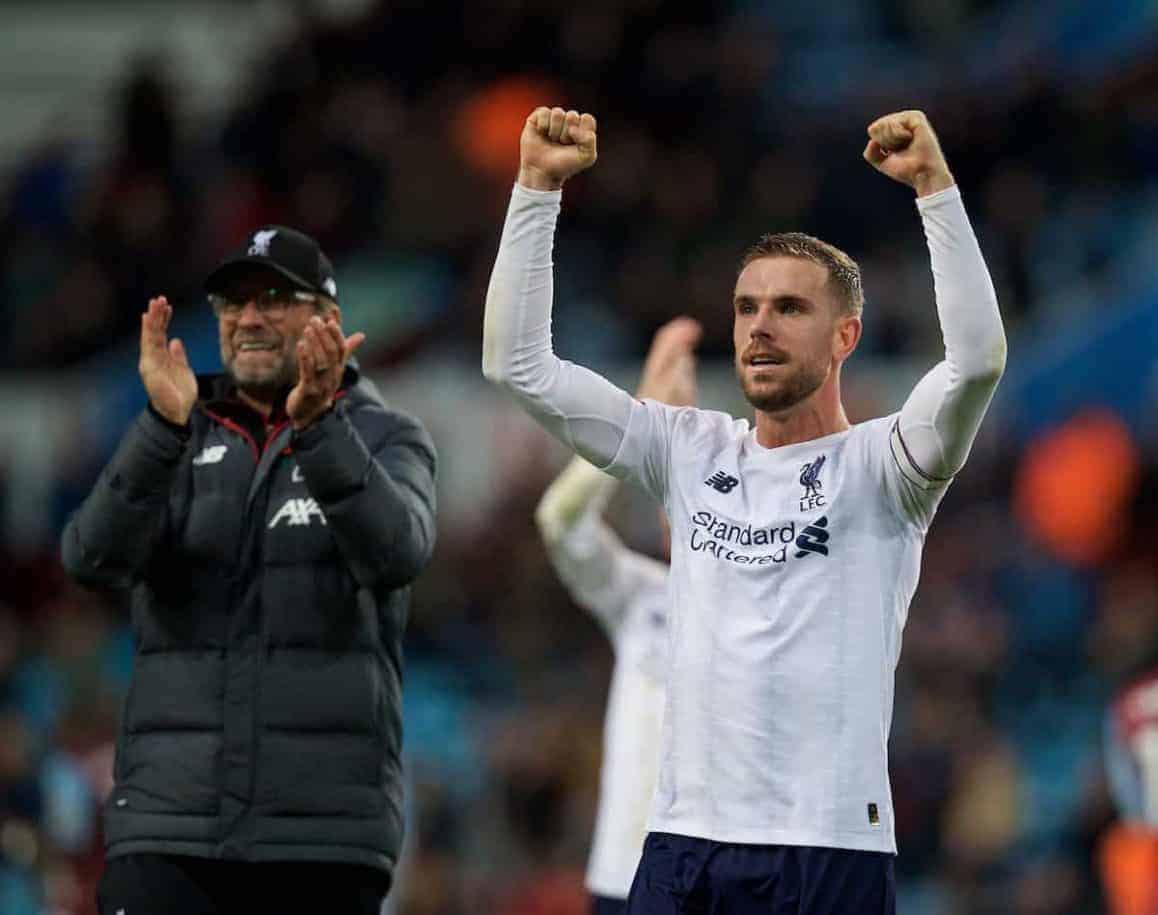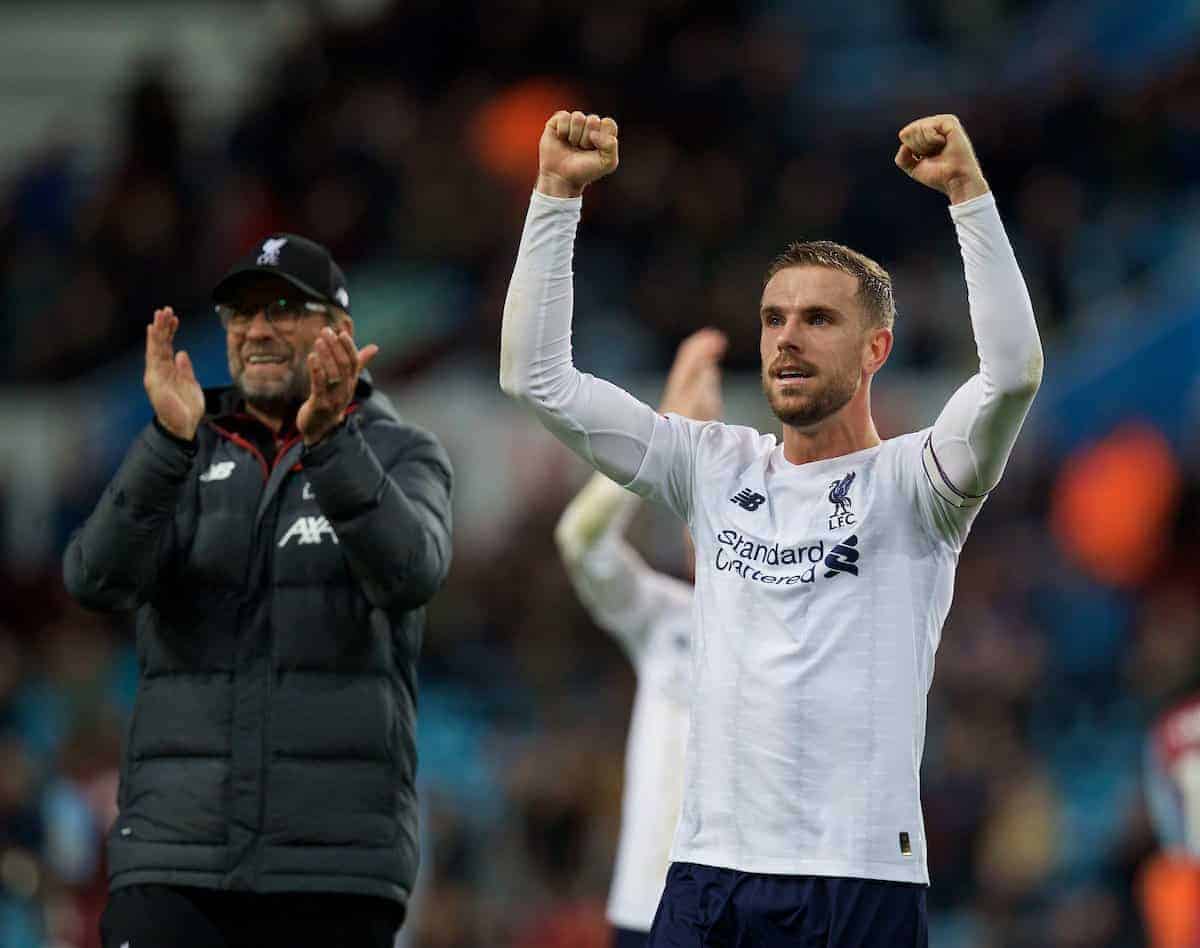 Regardless of the result, the games don't slow down: Liverpool have two big games now across the next week, both of which have different pressures.
Genk, in the Champions League, is a must-win game for the Reds: a home match against the group's weakest side, where three points would put us in a strong position for reaching the last 16.
That one simply cannot afford anything less than a win, though of course the Reds are a far stronger side than Genk and, in the ordinary course of events, we'd always expect victory.
After that, it's the Premier League again and City at Anfield.
At the very least, that fixture is must-not-lose, even though there's such a long way to go in the title fight.
The gap remains six points, so we'll be top in the international break whatever happens—but this recent run of refusing to let go, refusing to not win, must give the players real confidence they can inflict a damaging defeat of their own on City.