Gini Wijnaldum has urged authorities to inflict "severe punishments" for racist abuse after an incident in his native Holland.
The incident saw Excelsior player Ahmad Mendes Moreira suffer racist abuse from the stands during his side's 3-3 draw with Den Bosch in the Dutch second division.
Moreira left the field of play with half an hour on the clock, with the referee taking the remainder of the players off the field and temporarily halting the game.
Play would later resume and Moreira would go on to score and celebrated in front of the home fans by cupping his hands to ears.
It is the latest in a string of incidents across European football, with England's match in Bulgaria marred by monkey taunts and Nazi salutes while Mario Balotelli also threatened to walk from the pitch after being targeted during his side's game at Verona earlier this month.
And speaking ahead of Holland's meeting with Estonia on Tuesday, Wijnaldum called for more action from politicians and "severe punishments" for perpetrators.
"It really hit me on a personal level," Wijnaldum told reporters.
"I never expected anything like this to happen in the Netherlands. I'm really shocked. It did happen, unfortunately, and the way people have talked about the incident really hurt me.
I'm sick and tired to see these images over and over! When is it going to stop!!? #SayNoToRacism @KNVB @OnsOranje @UEFA what we going to do? Specially with the upcoming @EURO2020 pic.twitter.com/DUt0y2h8IA

— Memphis Depay (@Memphis) November 17, 2019
"It's a problem in society. As a player, you can't really change anything about it. But I still think that players should try and support each other. It's a problem in society and a problem that should be solved by our politicians.
"I hope that there will be severe punishments. This really can't happen again. It's not just the racism to the player from Excelsior, but I also saw someone doing the Nazi salute in the stands. When I saw that, I thought, 'What is wrong with you if you do something like that?'
"Our ancestors fought for us so we can live freely. If people still perform the Nazi salute, that's utterly disrespectful. That just can't happen. We can't allow that in the Netherlands. That's what I think. There have to be severe punishments.
"I think we need to see very high fines. I heard that they want to install cameras to find out who the culprits are. The punishments need to be so severe that nobody even thinks of doing something like this ever again. We want to play football to enjoy ourselves, we want to entertain our supporters. We don't want to see things like this happening."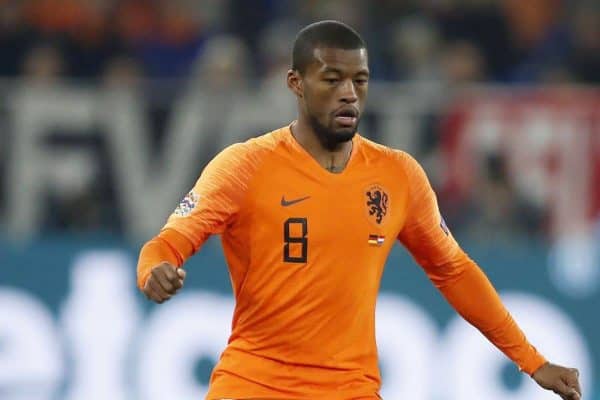 There have been numerous debates over how players should handle racism, and when asked what he would do if something similar unfolded while he was on the field, Wijnaldum was quick to admit he would walk off and not return.
"I walk off the pitch. I'm going for sure. I'll never accept that.

"You shouldn't come back on the pitch. What is the point in coming back? What has changed? Everything just stays the same.

"We talked about it with our guys. Look at our squad. We are one. We don't look at skin colour. We play for the Dutch team, we play for this shirt, we play for the people. We play so we can entertain the people; we play so we can be at a big tournament such as the Euros again.

"We are so happy about qualifying and then this happens a day later. It's so surreal because those people that did this will be cheering for us if we perform well at the Euros."
The Netherlands successfully qualified for Euro 2020 after a draw at Northern Ireland on Saturday and will have the opportunity to push for first place in their group against Estonia – but they will be without Virgil van Dijk after he withdrew from the squad for "personal reasons."