Having long been considered lacking in their supply of goals, Liverpool's midfielders are beginning to step up and lighten the load this season.
The moment Fabinho blasted a 25-yard shot beyond Claudio Bravo to open the scoring just six minutes into the Reds' 3-1 victory over Man City, his eyes lit up.
After notching a crucial goal in one of the biggest games of the season, the Brazilian tore away pointing to his wrist, mouthing "it's about time."
"This wonderful finish from Fabinho, I loved it," Jurgen Klopp told Sky Sports after the game.
"Somebody told me he pointed to his watch, it was time for him to score, eh? He did it, and it was a really good goal!"

It was only the 26-year-old's second goal for the club since joining from Monaco in 2018, having scored 31 times in 233 appearances for the French side previously—albeit the majority being penalties.
His role at Liverpool is largely to defend, but Fabinho's outstanding all-round ability allows him to influence the game in all areas, such as in his metronomic, deep-lying playmaker role against Tottenham in October.
There is little expectation on the No. 3 to score, but in becoming the 15th different player to find the back of the net for the Reds this season, he fulfilled a familiar demand from among those outside the club.
Last season, Liverpool had the same number of unique goalscorers throughout the entirety of the campaign as they do at this stage just three-and-a-half months in.

Mohamed Salah (27), Sadio Mane (26) and Roberto Firmino (16) scored a combined 69 of the Reds' 115 goals last term, or 60 percent.
And despite this phenomenal record cementing them as one of world football's most devastating front threes, if not the best, in many games there was a sense that if they weren't scoring, Liverpool would struggle to find goals from elsewhere.
Divock Origi (seven) contributed big goals, James Milner (seven) was ever-reliable from penalty spot, Virgil van Dijk (six) found his scoring boots late on and Xherdan Shaqiri (six) provided when called upon, but the only other player to net five or more goals was Gini Wijnaldum (five).
Only 17 goals came from the midfield (14.8%), with Naby Keita (three) the most prolific behind Milner and Wijnaldum, while Fabinho and Jordan Henderson only scored once each.
This season so far, there has been something of a shift: while Mane (11) and Salah (nine) are still scoring regularly, Firmino (three) has dropped out of the top three, overtaken by Alex Oxlade-Chamberlain (four).

The England international's return to the fold is still being carefully managed, but he has provided Liverpool with the type of outlet they otherwise can't call upon.
His first two goals of the campaign came away to Genk in the Champions League—his first back from injury and, as he explained after the game, the fruits of hours of work on and off the pitch, and the encouragement of his manager:
"I've been trying to get that feeling of being in those pockets around the goal, getting the feeling of when to shoot, where to shoot and when's the right time and that stuff doesn't just come straight away.

"I've been trying to work on that the last couple of months, the manager's been having a go at me to shoot more in the right areas so I'm glad I managed to do that tonight!"
Oxlade-Chamberlain followed that up a week later with a stunning effort against Arsenal in the League Cup, and after that incredible win revealed he had been given "license to shoot from outside the box."
Of players to make five or more appearances for Liverpool in the Premier League so far this season, Oxlade-Chamberlain and Milner (both 1.7) are averaging the most shots from outside the box per 90 minutes.
Salah (3.8) is the only player to average more shots from any situation than Oxlade-Chamberlain (3.7), whose shoot-on-sight remit is clearly relished by Klopp, and gives the Reds a different edge.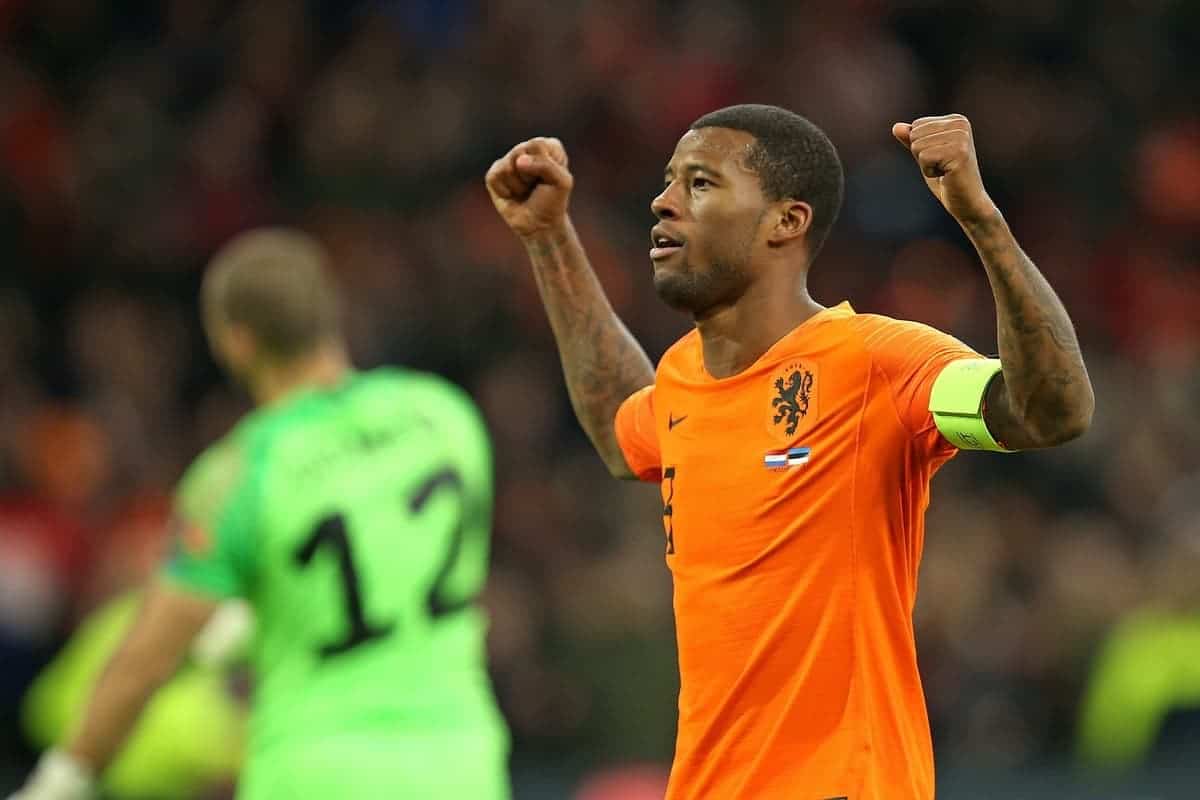 Strangely, it is an ability Wijnaldum showcased for the Netherlands during the international break, with a thunderbolt from range in their 2-1 win over Belarus, but is one largely unseen by the No. 5 for his club.
The narrative of disparity between Wijnaldum's goalscoring record for club and country is well-tread, but was hammered home as he struck a hat-trick on his first night as captain as the Dutch thrashed Estonia 5-0.
The 29-year-old has now scored seven times in his last five games for the Netherlands, and while his role for Klopp paints a different picture, that brings his season's tally in all competitions to nine.
His two goals for the Reds in 2019/20 have both been important: the first a late and certainly lucky winner from outside the box against Sheffield United, and the second an instinctive finish when let off the leash against Genk at Anfield.
Wijnaldum is one of nine players to score two or more goals for Liverpool already this season which, remarkably, is only one fewer than in the entirety of 2018/19.

Henderson and Fabinho (both one) have already equalled their tallies from last season, with the captain's approach now considerably more progressive.
And though no longer a regular contributor, Adam Lallana's goal against Man United in October was his first for the club since the end of 2016/17.
While their roles are tailored to specific games, and typically focused more on structure and defensive solidity than creativity and goal threat, that Klopp's midfielders are now lightening the load on Salah, Mane and Firmino is crucial.
This season, the front three have scored a combined 23 of the Reds' 48 goals which, at 48 percent, is a significant drop-off from the previous campaign's 60 percent.

An early increase in productivity, and the return of Oxlade-Chamberlain, has brought Liverpool's number of goals from midfield to 12 already.
This is only five fewer than the whole of last season and, at 25 percent, again significantly higher than 2018/19's 14.8 percent in terms of the overall tally.
Whether this is a short-term trend or a long-term plan remains to be seen.
But given the increased demands on Salah, Mane and Firmino to score, it is refreshing that those behind them are able to take responsibility too.