'My Liverpool Life' is a series which delves into the colourful lives of Liverpool supporters. Steven Scragg shares his story of following the Reds.
I started supporting Liverpool because…
Inherited behaviour I suppose. I know not everybody follows the team their dad does, but it wasn't something that was ever in question at our house.
I didn't live under the same roof as any Everton fans, but plenty of my friends growing up were blues and as a child of the 1970s and 80s, the only thing I ever knew back then was Liverpool collecting silverware.
Football was always there; Liverpool were always there and I was hypnotised by the all-red of the club. The goals, the wins, the trophies and the way they seemed to love doing it, I was hooked from a very early age.
Football and Liverpool FC are at the centre of my earliest memories. I can vaguely remember the celebrations surrounding Rome '77 and then came Kenny Dalglish. There was no looking back from then.
My first game was…
December 6, 1977. The European Super Cup second leg against SV Hamburg and the return of Kevin Keegan, just a short few months after he had departed Anfield.
All I can recall is how cold it was, being scared by the crowds of people outside the ground, the loud click of the ominous looking turnstiles, how bright and green the pitch was, some utterly rank black peas in a polystyrene cup and how uncomfortable the wooden seats were in the Main Stand.
Liverpool won 6-0, but I remember nothing of the game apart from the footage I've since watched. It must have made an impression on me though, as Terry McDermott scored a hat-trick and he was my favourite player for years.
My favourite season supporting the Reds was…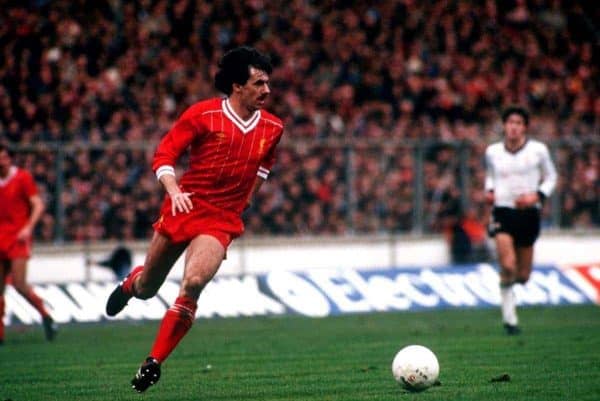 Old enough to remember the 1978/79 side, but too young to appreciate them at the time, it was the 1981/82 season where football completely clicked for me.
At an age to be able to work out the league tables and study the fixture lists, a couple of years into collecting the Panini stickers and with the emergence of Ian Rush and Ronnie Whelan, I was fully absorbed by now.
If it wasn't trips to Anfield, it was radio commentaries, Football Focus, Match of the Day, The Big Match, Kick Off and Sportsnight. Liverpool were everything and they started the season badly. Ray Clemence had been sold and Bruce Grobbelaar was proving to be erratic, Jimmy Case had gone and soon Ray Kennedy would be too. McDermott and David Johnson were also drifting out and all these inedible names were vanishing, but in came Rush and Whelan, while Craig Johnston and Mark Lawrenson had arrived as well.
We were 12th on Boxing Day, after losing at Anfield to Manchester City. Yes, it really was that bad… But, then we flicked a switch somewhere and we stormed through to take the title and the League Cup with it, clinching both with wins against a fine Tottenham team that were on the way to retaining the FA Cup.
It was the last season we wore the classic v-necked Umbro kit, which I had a tattered replica of. I properly resented that new shiny pinstriped effort that came in for the following season.
Nowadays, I follow the club…
With a season ticket, from my seat in the Main Stand Upper. I've had one season ticket or another for the last 20 years or so, just going on a match ticket or pay on the gate basis prior to that.
There aren't many English grounds I've not visited and I'm a 'veteran' of Istanbul, Athens, Kyiv and Madrid. The Upper Main Stand has a life of its own, especially on European nights and you can let loose in a way that was frowned upon when I was down in the old Paddock.
I was talking to Jeff Goulding a few weeks back who said he and his mates referred to us as "The Main Stand Upper Ultras", which made me laugh.
Liverpool is a unique club because of…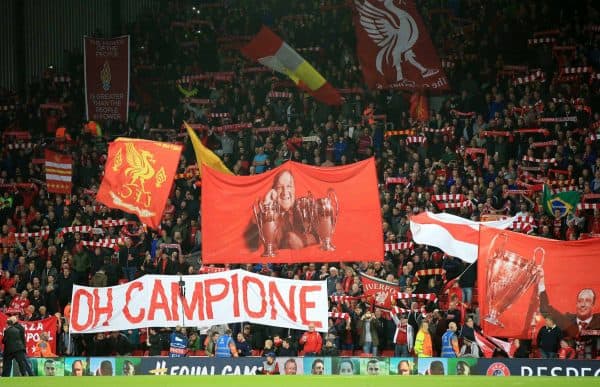 We are in England, but not of England. We are almost South American or Latin European in our approach to supporting the club. There really is no other set of supporters who could successfully copy what we do.
We love our team in the same way dog lovers love their dogs. We will put them first at times, we idolise them, making what appear to outsiders as mad sacrifices. We tip up, we plug ourselves in and the team feeds off the passion. There is a wonderful symbiosis at play.
I can remember the French sports magazine Le Equipe claiming that the club was "eternal" after Dortmund in 2001, while one Everton fan, who will remain anonymous, once confessed that when Liverpool are at home the city is electric, that it wasn't a football match, it was an event.
My best story involving the Reds is…
On the way to the Ataturk Stadium, we were on one of these decrepit green buses, going up the incline of a mountain road at around 8mph when the back window fell out along with the Liverpool supporter who was leaning on it. His mates helped him back in, as the bus was travelling that slowly he could have overtaken it on foot.
The driver pulled over to check the damage, so I got off to answer the very loud call of nature, only to see the bus going off into the distance with me 'mid-flow'. Marooned on the cusp of Asia, with my passport and flight ticket still on the bus, I was just happy that I had my match ticket in my pocket.
Thanks to a taxi driver who saw all this unfold, he crammed me into his overloaded vehicle and got me to the ground just ahead of the bus. As they tumbled off the bus, my mates were stunned to see me sat on a stone wall, in "what took you so long?" mode.
I once met…
I'm not one for accosting my heroes, but I did pounce on Howard Gayle a couple of years ago, after a game against Middlesbrough, to tell him how important a part in Liverpool's history he was.
I got involved with This Is Anfield…
I started out by writing for the fanzines back in the 1990s and then belatedly embraced the digital world around a decade ago.
I used to write for The Anfield Wrap, and spotted This Is Anfield via Neil Poole, so put a few articles to Matt and it grew from there, eventually being invited to write regular after-match pieces, which readers seem to either like, or be confused by.
If I could have dinner with three people from Liverpool's history I'd choose…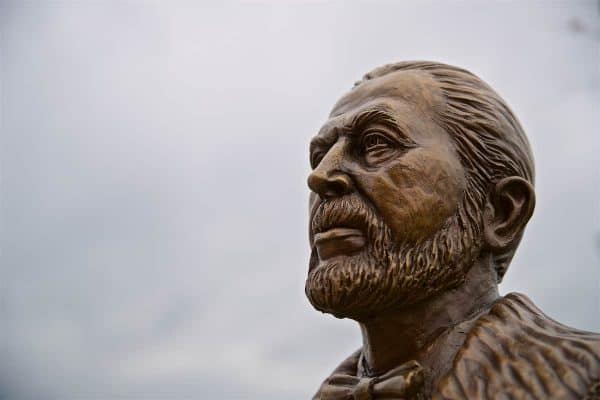 John Houlding – to find out the dirt about Everton's rent dodging ways of the 1890s.
Joe Fagan – because he saw it all and had a personality to carry the stories brilliantly.
Bobby Firmino – because it would surely be the night to end all nights.
---
* Thanks to Steven for sharing his 'Liverpool Life' – look out for more from this series on This Is Anfield. Follow Steven on Twitter @Scraggy_74.