Jurgen Klopp has insisted his side are "completely relaxed" over their position in the topflight, but it is not the only competition he has his eye on.
The Reds are in a strong position both domestically and in Europe having established an eight point buffer at the Premier League summit, while having also moved to within one win of the last 16 of the Champions League.
Klopp, who was speaking at the Football Writers' Association Awards Dinner on Sunday – where Liverpool's sixth European Cup was on display, touched on his relationship with the media before casting any eye towards the "very difficult job" which lies in wait in the continent's premier competition.
A tournament which led to Klopp's highest point as Liverpool manager, with the stunning comeback over Barcelona preceding the ultimate glory in Madrid.
"I'm not greedy – but if we can go for it again we will try it," he said.
"We have a very difficult job to do. First and foremost we have to play at home against Napoli, which is difficult enough, and then we have to go to Salzburg which will 100 percent be very difficult.
"We're in a good position, hopefully, we can stay in the competition and if we do we will try everything of course.
"For a game point of view [the highest point] was for sure the semi-final against Barcelona, 100 percent, people still talk about that game so it's a nicer memory because we finished the job in Madrid."
While the Reds can secure their passage to the knockouts with a win against Napoli on Wednesday, domestically Klopp's men maintained their stranglehold on top position with a win over Crystal Place last time out.
And while fans and media alike continue to debate how Liverpool's season will pan out having amassed a strong lead in the early stages, Klopp and his chargers are relaxed about the situation as they look to simply focus on the next game – which in the league comes against Brighton:
"I don't really think about it. We're 'only' eight points [ahead of] Leicester so we should not forget them, they were champions a few years ago, and Chelsea has played an incredible season.

"So if we had lost against Crystal Palace then all of a sudden it's only five points and people would be talking differently.

"We are completely relaxed about that, we don't think about the gap or the points, we just think about the next game.

"It's worked really well so far and hopefully it can stay like this.

"Three home games in a row now which I enjoy a lot, a wonderful stadium we cannot play in often enough.

"But one game after the other, first we play Napoli and then Brighton – they played really well against Leicester and are doing well this season, so that will be difficult as well – and then Everton is always difficult and big."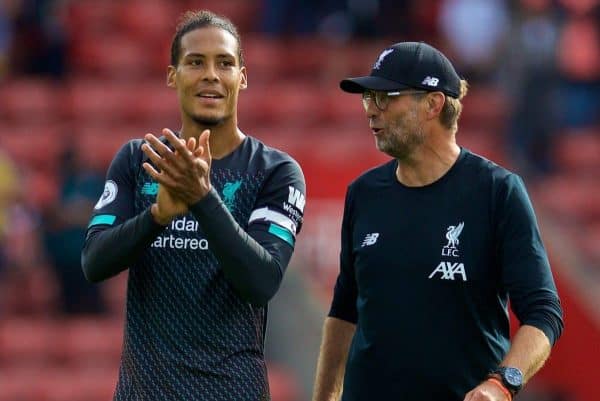 With awards dominating the evening's discussions, attention soon turned towards the game's most prestigious individual honour – the Ballon d'Or.
Seven Reds have been named on the 30-man shortlist ahead of the ceremony next Monday, where Virgil van Dijk's exceptional 2018/19 season has catapulted him into a leading candidate.
And the boss was not shy about sharing whose mantlepiece the award should occupy come next week.
"If you give the Ballon d'Or to the best player of this generation then you should give it always to Lionel Messi. That's how it is" Klopp continued.
"But if you give it to the best player of last season, then it was Virgil van Dijk. I don't know exactly how it will work but that is how I see it.
"The best player of all? That's Lionel. Best player of last season? That's Virgil. We will see."