Liverpool take on Man City on Sunday in a clash between two sides with the same ambitions, but also two managers with very different approaches.
I've no idea if Man City's team coach has curtains on board, but if you see one near the front twitching as it snakes down Anfield Road on Sunday then that's where Pep Guardiola is sat.
When it comes to Liverpool FC, the Man City manager is a classic curtain-twitcher; a voyeur who spends his time watching the Reds and fretting about them. He just can't help himself.
In March 2018, with the Amazon Prime cameras filming, he was pacing around the away dressing room at Goodison Park while his players warmed up on the pitch before a crucial Premier League game.
Perhaps Guardiola was suffering from a touch of Evertonianism—in incurable affliction that sees suffers obsess about 'the red shite'—due to his surroundings, but it was Liverpool Football Club that was occupying the City manager's mind.
"The forwards for Liverpool are so good," he mused in Spanish. "Sorry?" replied a surprised member of staff. "Those three up front. They scare me. They're dangerous. I have a feeling that Salah will play as striker."

What followed was a detailed tactical discussion about the positioning of Salah and Firmino, and if City's full-backs could cope with Liverpool's full-backs, in Everton's dressing room, a full four days before Guardiola's side were due at Anfield for the first leg of the Champions League quarter-final.
So much for the cliched 'one game at a time, we only focus on what's in front of us' soundbites, eh?
It didn't do them much good, either. City were 3-0 down by half-time—Salah, Alex Oxlade-Chamberlain and Sadio Mane doing the damage in the opening 31 minutes—and just for good measure the Reds beat them 2-1 in the second leg at the Etihad too.
Since then, Guardiola has regularly chuntered away about Liverpool.
Sometimes he praises us, calling the Reds one of "the best two sides I've faced" last season and "an opponent who are unstoppable" last month, but now that his team are due at Anfield the focus has changed.

After City came back to beat Southampton 2-1 last weekend, Guardiola was asked by Match of the Day if he knew what had happened with Liverpool at Villa Park (for once both sides played at 3pm on a Saturday).
"I'm sure the players knew on the pitch with what was happening in the stadium," said the interviewer. "Everybody seemed to be tuned with what was happening in the Aston Villa-Liverpool game as well. How aware where you with what was happening elsewhere?"
"No, it is not our business," he began to reply, trying to feign indifference before the true Guardiola emerged one second later.
"We arrive in the locker room and it was 1-1 and after 2-1, and it has happened many times, what Liverpool has done, in the last years.
"It is because he is a special talent. Sometimes he is diving, sometimes it is this talent to score incredible goals in the last minute."
Hang on a minute there Josep old boy, nobody asked you about Sadio Mane.

Yet in the blink of an eye he went from saying Liverpool's result is "not our business" to magically knowing who scored the winning goal and, in a pure stroke of coincidence, set the agenda to diving on a day when Mane just happened to be (harshly) booked for simulation. What luck!
He can pretend all he likes not to care, but it wouldn't surprise me if Guardiola had sent a staff member to Villa Park to watch the Reds and was getting a live commentary on a hidden earpiece.
Either that or he subscribed to our goal alerts on his phone.
Guardiola blatantly knew exactly what had happened at Villa Park as soon as it happened and swiftly scrambled to use it to kick off some pre-match mind games, directed towards referee Michael Oliver, eight days before he was due at Anfield and with a Champions League match in Italy to play first.
In another coincidence, Mane is Liverpool's in-form forward and leading goalscorer this season, plus a member of the front three that "scare" the less-than-subtle City manager.

You don't need x-ray specs to see through him, although I fully expect them to be introduced by VAR to rule goals out for an offside malleus or incus.
Last season it was Salah getting targeted with the 'diving' jibes because teams couldn't stop him, now Guardiola is trying the same tactic on Mane; chuck some mud, hope it sticks.
It's the same with the sensationalised 'City fear new bus attack' headlines that emerged on Friday following a social media post calling for Liverpool supporters to greet our team bus (there was no mention of theirs) on Anfield Road before the game.
Inevitably that was spun to focus on the incident before the 2018 Champions League game at Anfield when the City bus was inexcusably struck with flying objects, whereas every other incident-free coach greeting on the Annie Road (including the one before Liverpool vs. City during the 2013/14 Premier League title run-in) was conveniently ignored.

Again, the message from Manchester—even if it's subliminal—is clear: 'Look what City are up against at Anfield, Liverpool supporters are hooligans and their players are cheats'.
Victims of it all, anyone?
Of course this means that photographers and journalist will now be lining Anfield Road themselves on Sunday looking for the slightest bit of hostility.
If anyone dressed in red as much as farts within 20 foot of the City coach we'll all be reading 'Guardiola gassed' headlines to fit the narrative.
Thankfully, Jurgen Klopp responded brilliantly to Guardiola's obsessive tendencies with his "I promise not to mention tactical fouls," quip, a verbal counter-attack of the highest order.
He also accused Guardiola of being fixated with the Reds without using that particular F word.

"When I came into the interview after the game [at Villa] I really had no clue what the other Premier League results were. That is the truth," he said.
"I didn't ask anybody, It was 45 minutes after the game when I heard the results of the other games.
"When I come into the dressing room I don't say: 'What's the result of the other games?'. I had to speak to players, I had to speak to a lot of people and then I went into interviews. I didn't think for one second about the other games.
"Then, after the interviews: 'how did the other teams play?'. Then someone told me City won in the 86th minute and all this happened. I don't understand these types of things. My brain is not big enough to think about another team as well."
It's that type of attitude from the Liverpool manager that convinces me that both he and his players will brush aside all of Guardiola's pre-match posturing to focus on what they have to do on Sunday; namely, get stuck into and win a match that isn't a title decider, but will have a significant bearing on the 2019/20 Premier League title race outcome.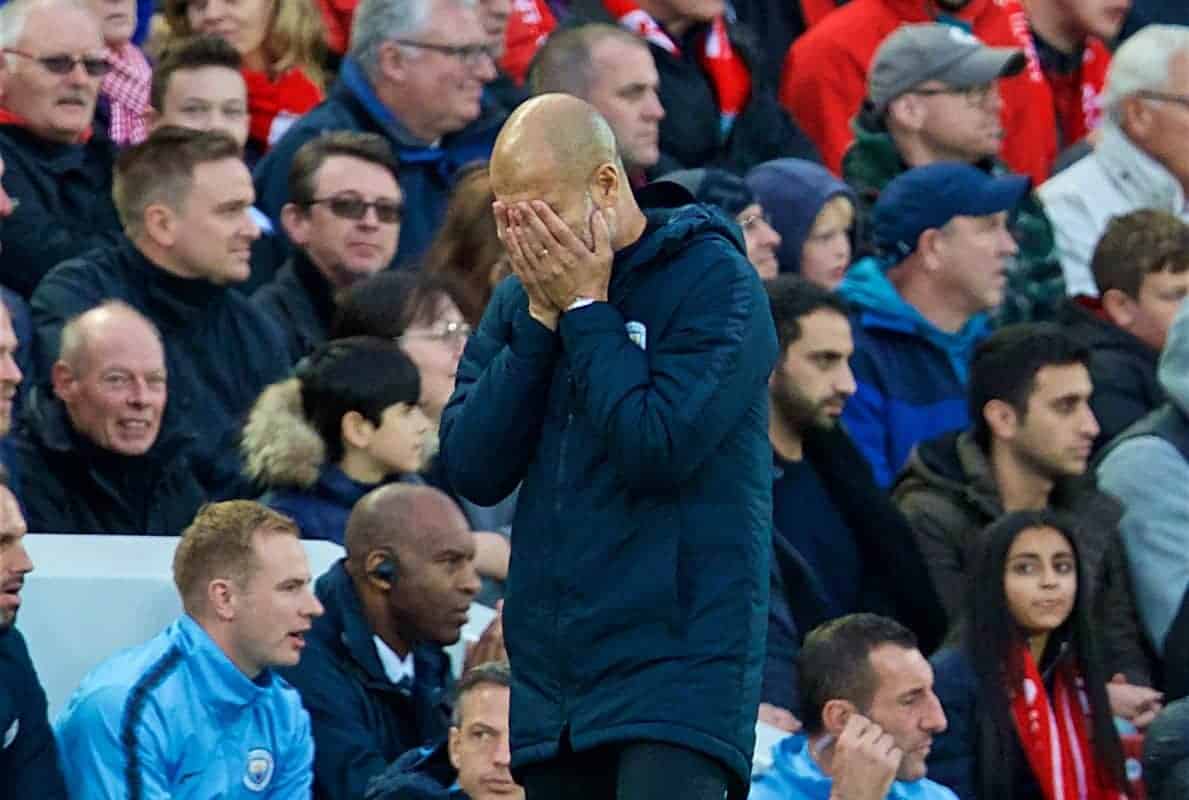 Whatever happens, on and off the pitch, it won't stop Pep Guardiola from talking about Liverpool afterwards.
His Anfield obsession is ingrained and will remain for as long as the Reds are a threat to his aims and ambitions. Which means it will never, ever go away.
---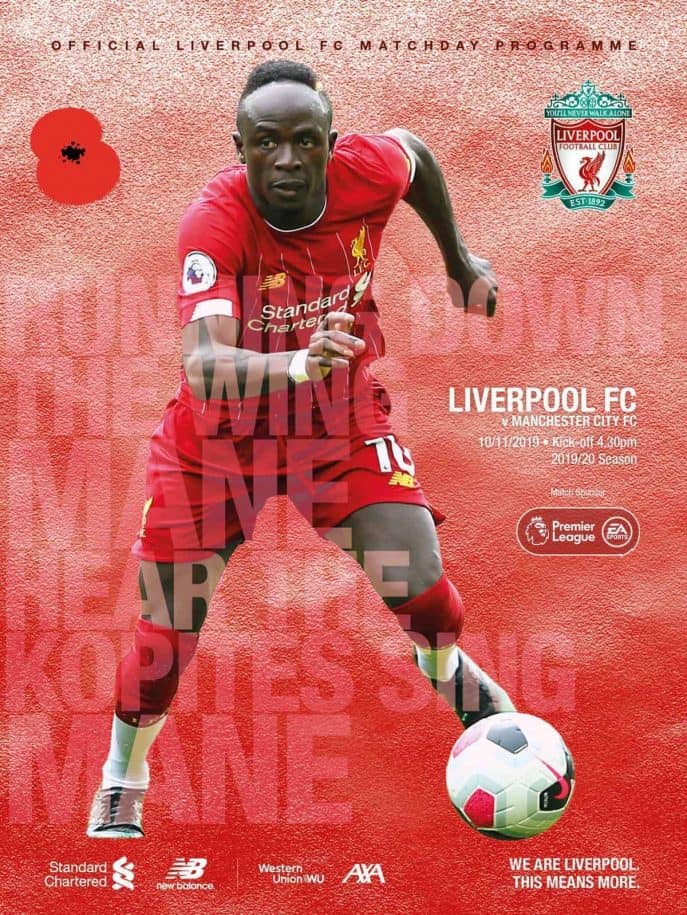 Chris McLoughlin writes for This Is Anfield each week; he's also senior writer for the Official LFC Matchday Programme and LFC Magazine. You can order both here.