The media were in awe of Liverpool's performance in the 3-1 win over Man City and feel they are now favourites to win the Premier League title.
What a performance, what a result, what a football team.
The champions of Europe struck the first blow in the title race, romping to a deserved victory against Pep Guardiola's side at Anfield.
A Fabinho rocket and Mohamed Salah header gave the Reds a commanding half-time lead, before Sadio Mane put the game out of City's reach despite Bernardo Silva's consolation.
It was just about the perfect afternoon for Liverpool and this result will undoubtedly provide a huge confidence boost that this is now their time.
Here's how the media reflected on a massive win for the Reds.
Reporters assessed it was a performance of champions and a clear indication of readiness for title glory…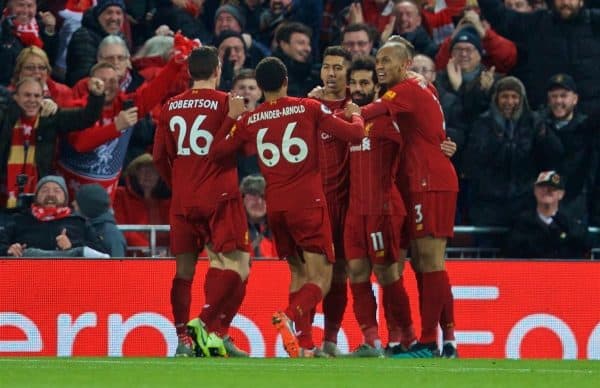 Writing for The National, Richard Jolly labelled the performance "the display of champions":
"Liverpool played with pace and penetration, intensity and inspiration.

"Their goals each contained something memorable in creation or execution. Theirs was the display of champions."
Neil Jones, for Goal, declared the victory Liverpool's best of the season and feels that the Reds have already taken "the biggest step" towards winning the title:
"For Liverpool, the biggest of three points, and the biggest step towards ending that long wait for a Premier League title.

[…]

"Their 11th league win of the season was by far their best, a triumph of grit, aggression and clinical finishing."
The Mail's Martin Samuel praised Liverpool for sensing the opportunity to claim a statement win and taking it in a ruthless manner:
"Sometimes a team gets into such a good place it is almost as if they forget how to lose. That is where Liverpool are right now.

"It is more than the old cliché about winning without playing well. It is making the absolute most of opportunity, about riding a little luck, about summoning the resilience to see out a storm."
The watching journalists discussed where and how Liverpool won the game…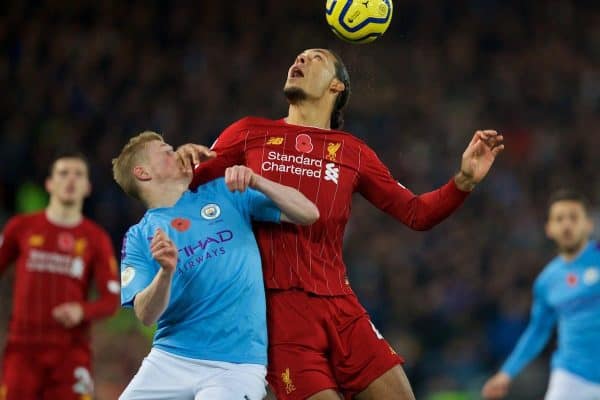 An "outstanding defensive performance from front to back" provided the catalyst for the win, in the view of the Liverpool Echo's Ian Doyle:
"The reason was an outstanding defensive performance from front to back from Liverpool, Sadio Mane harassing the unsure City backline, Alisson Becker excellent in dealing with a constant stream of set-pieces during the second half as the visitors knocked loudly."
The Independent's Lawrence Ostlere thought Liverpool's speed on the transition was the key aspect that City couldn't deal with:
"They say football is all about transitions these days, and never has that mantra been more clearly displayed than at Anfield here.

[…]

"Over the balance of general play there was little to choose between the two sides, but in those fast moments when the ball changed hands and the game suddenly shifted gear, Liverpool proved too good."
Samuel thought Liverpool were "perfect" on the counter-attack and assessed that City were simply overrun by the Reds' power in those moments:
"While City found themselves thwarted and smothered, so Liverpool's counter-attacks were little moments of perfection. When they got a chance, they took it. When they got a sniff, they took that, too."

Matt Stead, for Football365, was most impressed by the way Liverpool simply brushed aside City's early pressure and took control by racing into a commanding lead:
"Liverpool have weathered storms and emerged from the other side unscathed before, but to stroll out of a City typhoon with barely ruffled hair and a slightly untucked shirt is almost other-worldly.

"Against a side that drives opponents into submission, Liverpool forced a rope break then applied an unbreakable hold of their own."
And Doyle thought the Reds did an excellent job in controlling proceedings so well after moving into the lead:
"This was more about the manner of victory and how Klopp's side coped with City's tails being tweaked, most notably by their grievance at Liverpool's opener. That was the real statement.

[…]

"This was a win very much in the mould of the current Liverpool vintage – controlled, composed, mentally tough and, having made hard work of recent victories, finally recalling their ruthless streak in front of goal."
The media discussed Guardiola's Anfield struggles and praised Liverpool for punishing an under-strength City…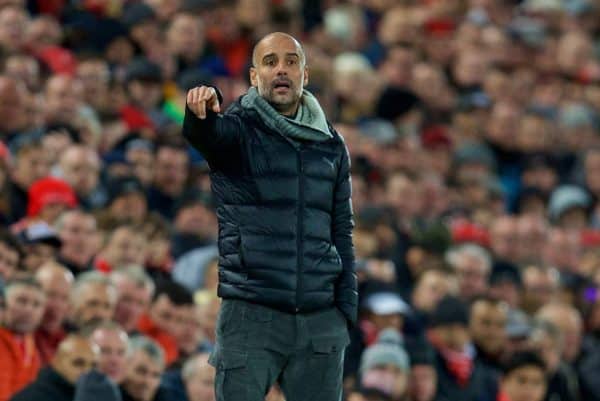 The Mirror's Matt Maltby praised Liverpool for taking full advantage of City's weakened defence, labelling the visitors' back line "no match" for the Reds' front three:
"A quick glance at City's starting XI at Anfield and it's clear to see that Guardiola was forced to field an under-strength side against their title rivals.

[…]

"Guardiola's makeshift defence – which saw midfielder Fernandinho play in central defence alongside John Stones – was also no match for the Reds' frightening attack and it ultimately proved crucial in this clash of the titans."
Jolly commented on how City once again came unstuck in one of Liverpool's "devastating bursts":
"They demonstrated that, as City know to their cost, they can score in devastating bursts. When they acquire momentum, they can feel unstoppable. They scored three goals in nine and 19 minutes respectively two seasons ago.

"They got two in eight first-half minutes yesterday. It made for a chastening first league start in 18 months for the beleaguered Claudio Bravo."
The Mail's Ian Ladyman explained how playing against Liverpool is "unique" as the Reds can rip apart a good performance from opponents in an instant—as City experienced:
"Playing against this Liverpool team can be a unique experience in that even when much of what you do is right, things can still go horribly wrong. That is how it was for City here."

BBC Sport's Phil McNulty noted how Liverpool's ability to "score from anywhere at any time" makes them almost impossible to stop:
"Liverpool's defence was actually seriously troubled by City, but Klopp's side can score from anywhere at any time makes them so dangerous – as it proved here.

[…]

"They have game-changers in all areas of the pitch and carry an ominous threat even when under pressure."
Ostlere stated that this victory proved that Anfield is now the most difficult ground in Europe to visit, because "if City can't beat them here, who can?":
"We knew this before kick-off, but this game underlined that Anfield is the most difficult ground in Europe to visit right now.

"Liverpool are 45 league games unbeaten at home, the best current run of any major European team by some distance, and the question is: if City can't beat them, who can?"
Several reporters raved about Salah's performance and singled out other Reds for praise…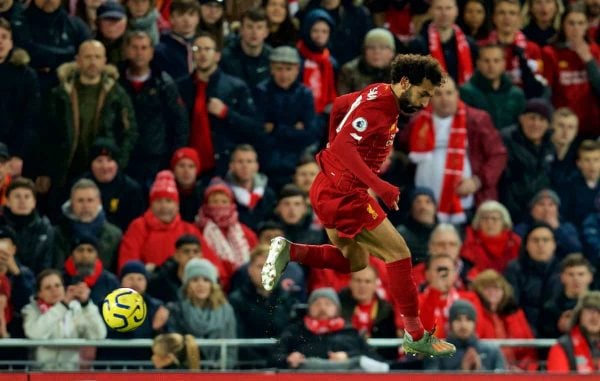 ESPN's Tom Fenton lauded Salah's performance and assessed that the Egyptian is now "back to his frightening best":
"The Egyptian was the brightest of Liverpool's front three, scoring a wonderful header for the side's second, while also linking up terrifically with Henderson and Alexander-Arnold on the right-hand side.

"He was a persistent thorn in the side of Angelino, and on today's evidence, Salah is back to his frightening best."
Jones commented on how Salah's big-game impact was welcome as it provided a reminder as to just how important he remains to the Reds:
"That's 38 goals in just 44 Anfield appearances in the Premier League for Salah, a remarkable record.

"He may not quite be smashing in the numbers of that incredible, record-toppling first season on Merseyside, but he's no less important to Klopp and his team. This was a big goal in a big game."
Elsewhere, The Evening Standard's David Lynch thought Dejan Lovren produced his best showing of the season and thinks the Croatian has been so good that Joel Matip has a battle on to get his place back:
"The 30-year-old saved his best performance since returning to the starting XI for today, shutting down Sergio Aguero with an impressive showing of front-foot defending.

"Matip is scheduled to return following the upcoming international break but, with Lovren playing like this, he may well face a battle to earn his place back."
Liverpool's unsung midfield trio received plenty of plaudits for a dominant display…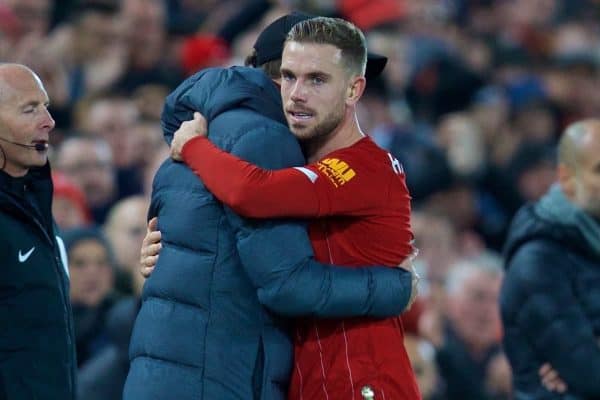 Fenton wrote that the trio were all "sensational" in their respective roles:
"We are all well accustomed to majestic performances from Liverpool's front three, but today, the sides often maligned midfield was sensational.

"Georginio Wijnaldum was crucial in linking the midfield and attack, Henderson ran Angelino ragged alongside Salah, while Fabinho put in a MOTM performance on the biggest stage of all."
Lynch felt the Reds won the midfield battle through "sheer intelligence" with clever pressing and forward movement that City couldn't deal with:
"Here, the Reds' less glamorous trio of Georginio Wijnaldum, Fabinho and Jordan Henderson dominated, not through possession – as City might have – but sheer intelligence.

"The visitors simply could not cope with Liverpool's press, or their midfield triumvirate's underrated knack of getting the ball into advanced positions through either driving runs or fizzed passes."
The Mirror's John Cross assessed Fabinho as the Man of the Match:
"Fabinho was man of the match as he ran midfield and arguably the game."
As expected, the title race was heavily discussed and the media believe that it is Liverpool's to lose…

McNulty says that the title will finally arrive at Anfield as the Reds simply won't drop enough points to give anyone else a sniff:
"Such is their form this season, with 11 wins from 12 league games, that it is surely their title to lose now.

"This is a team who have lost one of their past 51 league games – where will the numerous slips needed for them to lose this lead come from?"
The Telegraph's Jason Burt thinks only "something catastrophic" happening will stop the Reds going on to win the league from this position:
"Liverpool have a nine-point lead over City, an eight-point advantage over Leicester City and Chelsea and although it sounds dramatic to say so it already feels – with 26 games to go – that it may have to take something catastrophic for them not to triumph from here."
However, Cross thinks that "something catastrophic" could be the ridiculously congested fixture list:
"The biggest danger to Liverpool will be themselves, the fixture backlog with the Club World Cup and Carabao Cup fiasco next month, but it is hard to see anyone else stopping them now."
And finally, Lynch, making a big statement, thinks City lack belief that they can claw back the nine-point deficit:
"City were second best in most areas of the pitch throughout, and they did not look like a team capable of turning around a now nine-point deficit at the top in the coming months."