Events beyond his control stripped Liverpool of a rare clean sheet, but Virgil van Dijk again performed at Ballon d'Or standards against Brighton.
The trophy is already engraved, it's claimed, with Lionel Messi expected to pick up a record sixth Ballon d'Or award on Monday night in Paris.
In doing so, he will move clear of Cristiano Ronaldo in the history books, and on the evidence of another outstanding performance from Liverpool's No. 4 on Saturday, deny one of the most convincing runners-up in recent memory.
Van Dijk headed to Anfield for the visit of Brighton under the scrutiny of a frustrating clean sheet record—one which Jordan Henderson highlighted in the buildup, writing in his captain's column for the matchday programme that "we want to be as hard to beat as possible."
A spanner was thrown into the works days before, of course, with the long-term injury to Fabinho, and the focus ahead of the game was on how Jurgen Klopp would replace his No. 3.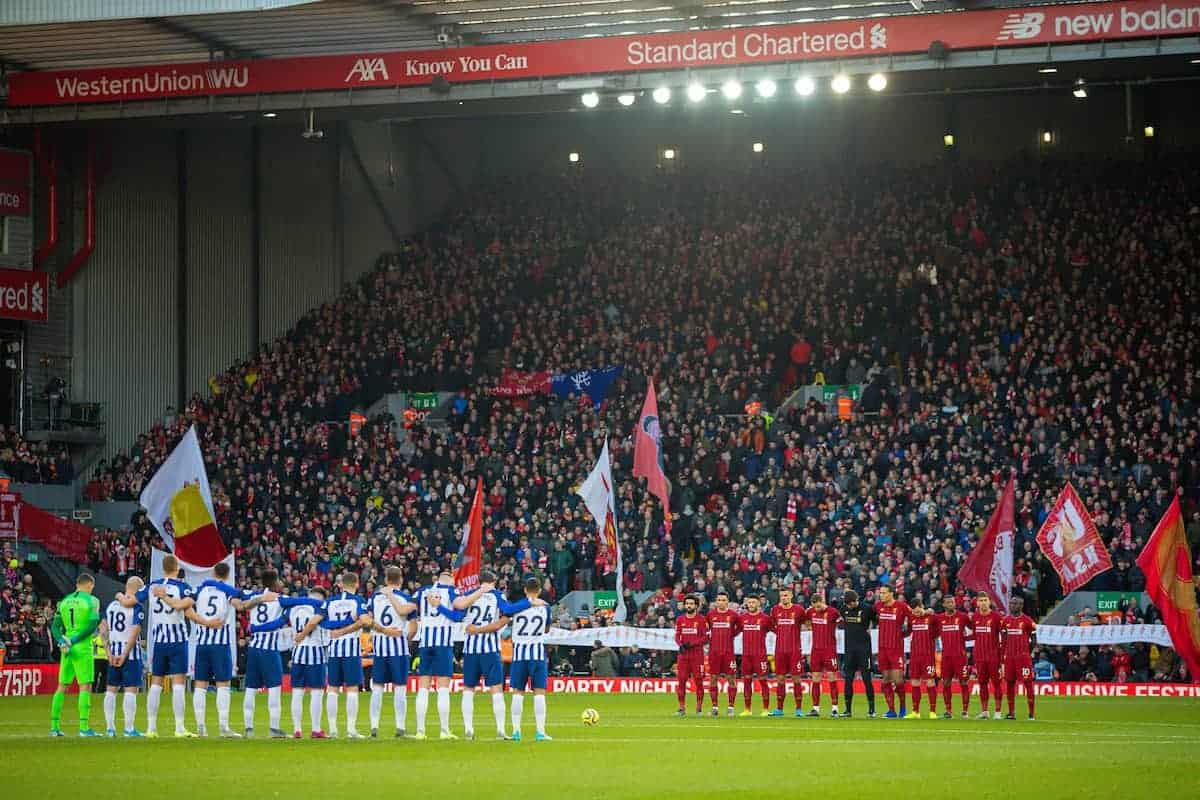 He reverted to the man wearing the armband, with Henderson the nominal deep-lying midfielder as he, Gini Wijnaldum and Alex Oxlade-Chamberlain operated in a collegiate effort to balance defence and attack.
"It's not about individuals and it's not solely about the defence, it's about every single one of us doing our jobs when we haven't got the ball," Henderson wrote in his programme notes, though without Fabinho, the onus to restore the clean sheet record fell heavier on two marquee names.
One of those was, undoubtedly, Van Dijk, and behind him Alisson, who recorded 27 shutouts in 51 appearances last season but prior to Saturday had only succeeded in not conceding in one outing—that being his 39-minute showing before injury against Norwich on the Premier League's opening night.
Alisson, Van Dijk and Fabinho have been equally instrumental in transforming Liverpool's defensive efforts, but as the £75 million centre-back and winner of a plethora of individual awards, the Dutchman stands as the figurehead.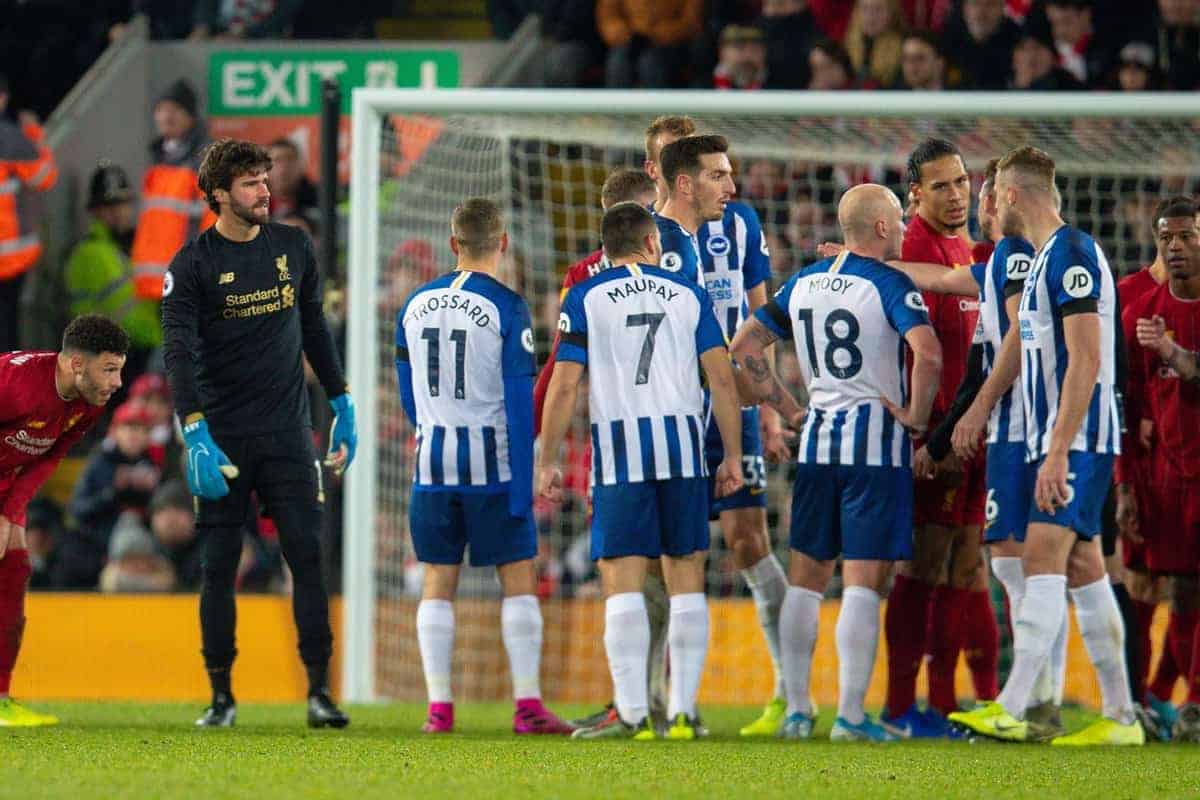 This was hammered home by a warranted red card for Alisson after his reflexes saw him handle outside the box, and a clear lack of sharpness from his replacement, Adrian, punished by the whistle-happy Martin Atkinson as he conceded a swift effort from Lewis Dunk from the resulting free-kick—another clean sheet denied, in manic fashion.
But it was pleasing, nonetheless, that Van Dijk responded to the disappointment of a 1-1 draw with Napoli in midweek—in which he was lying prone as Dries Mertens scored the away side's opener—with another excellent all-round showing in the league.
He was near-unbeatable at Crystal Palace the previous weekend, and facing a much different challenge in the form of the energetic Aaron Connolly on Saturday he shone once again.
At Selhurst Park he made a squad-high 10 clearances as the Reds weathered the storm, and though he only produced half that amount against Brighton, it was again more than any other Liverpool player.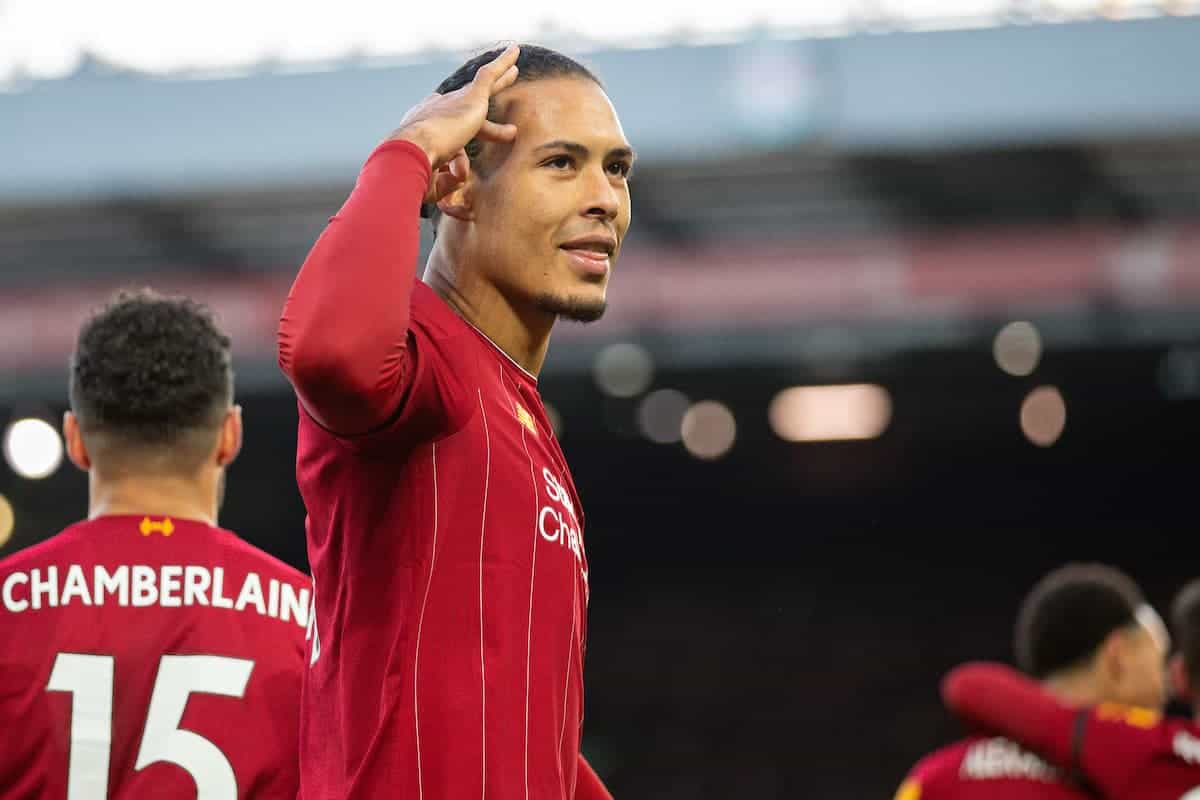 He kept his composure, calm as you like, with the highest passing accuracy for the Reds in both games—92.9 percent vs. Palace and 89.8 percent vs. Brighton—and beyond statistical evaluation, made a series of vital interventions to thwart dangerous moves before they could materialise.
Along with Dejan Lovren, he served as a crucial rearguard as the Seagulls mounted an assault on the penalty area after Dunk's deficit-reducer, complimenting his earlier impact at the other end with a more fundamental display of his natural duties.
Goals are clearly currency for those presiding over the individual accolades, with the last defender to win the Ballon d'Or being Fabio Cannavaro back in 2006, but on Saturday, Van Dijk equalled Messi's tally for open-play league goals this campaign in the space of six minutes.
His two headers in the first half proved to be the difference, showcasing his power on the run-up, and Brighton's inability to pick him up particularly for his second was negligent to say the least.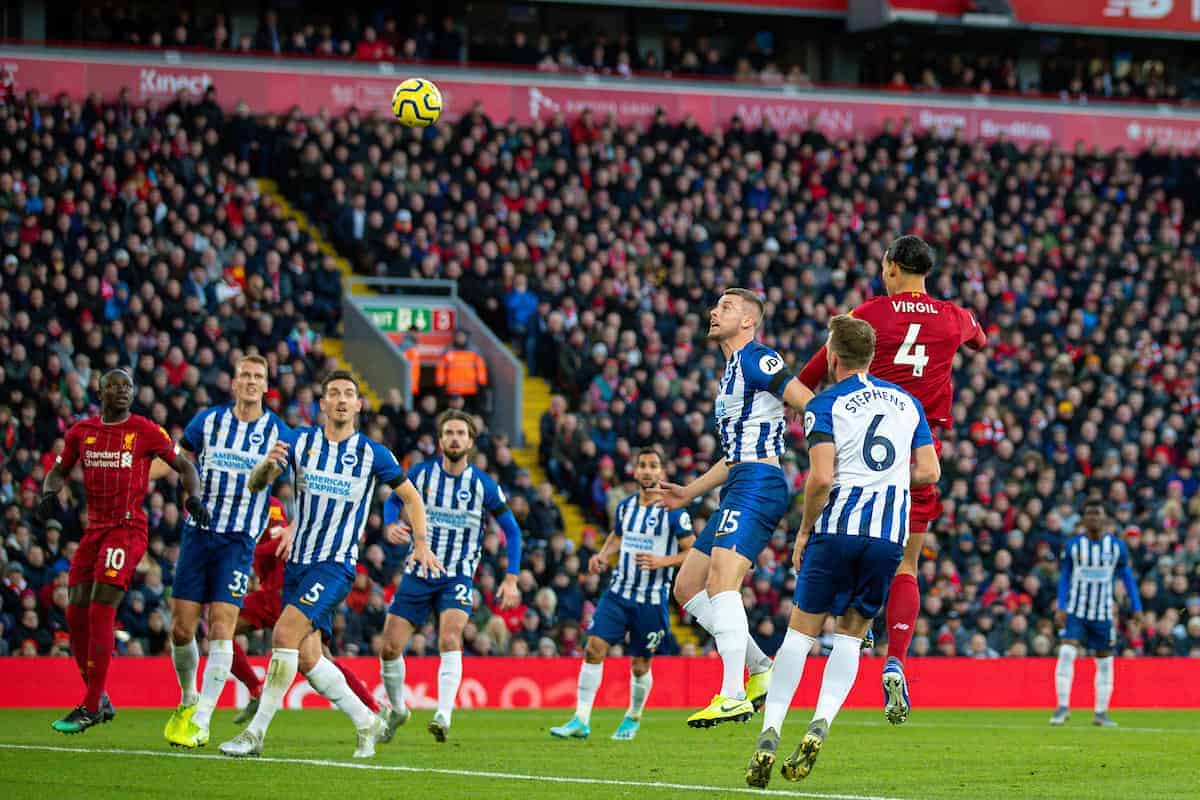 Van Dijk became the first player to score two headers in a single game in this season's Premier League, and brought the Reds' tally of headed goals since the start of last term to 29—a full 10 more than any other side and a product of Klopp's dedication to marginal gains.
The combination of Alisson, Adrian and Atkinson may deprive Van Dijk of the headlines, but despite the drama his was a performance of top-level quality and remarkable assurance.
If claims from Spain are to be believed, this will come too late, and the 28-year-old will no doubt accept the decision with more grace than Ronaldo, as the emphasis at Liverpool is on the team—and that is how they are surging closer than ever to an elusive first Premier League title.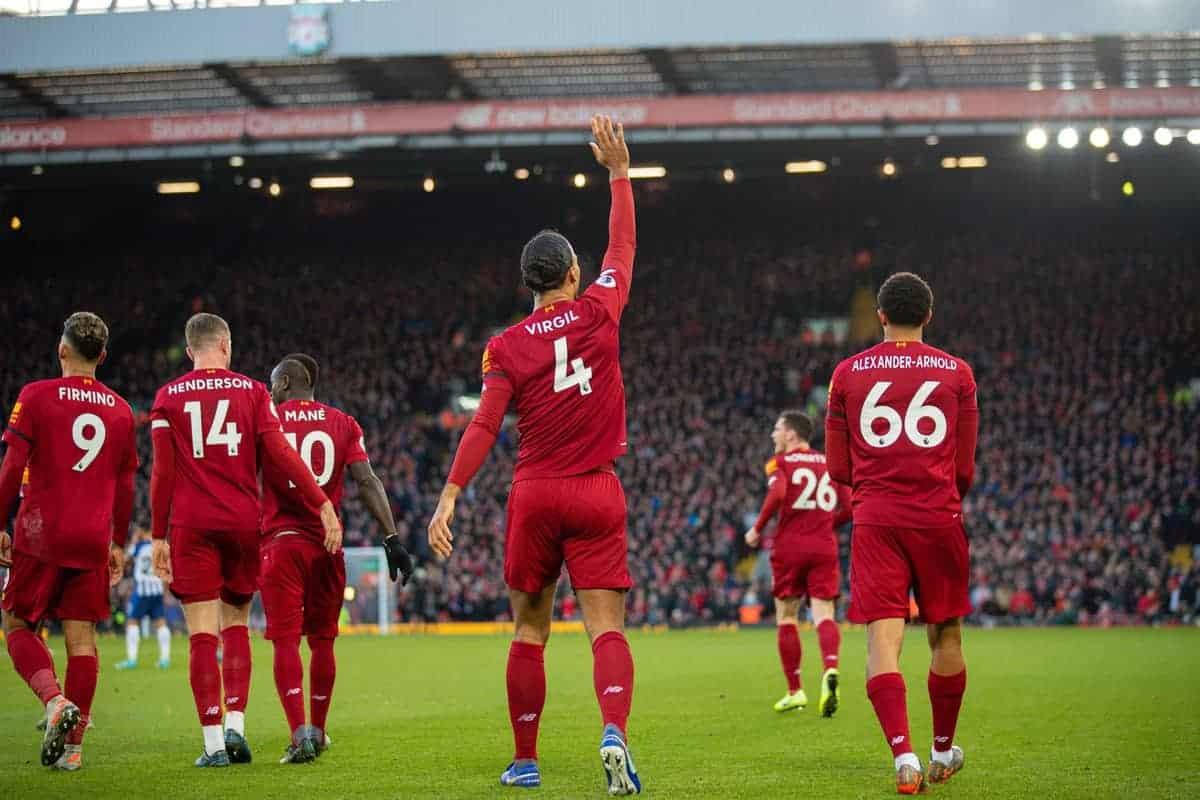 Van Dijk won't be the man to lift that trophy if it is Liverpool's come May, with Henderson the deserving captain, but our No. 4 is a standard bearer for the club, their success and their remarkable transformation under Klopp.