Dejan Lovren was forced from the field early in the 3-0 win over Bournemouth and Jurgen Klopp has provided a welcome update on the defender.
With Joel Matip sidelined for an ongoing knee complaint since mid-October, Liverpool have had three fit senior centre-backs to call upon.
The manager has readily turned to Lovren and Virgil van Dijk in Matip's absence, with Joe Gomez primarily utilised at right-back and sporadically in the heart of defence as part of the squad's rotation.
However, amid the club's most congested period of the season with eight games awaiting in 23 days starting from the crucial European tie with Salzburg on Tuesday, the Reds were left to sweat over the fitness of their No. 6.
Lovren was withdrawn with 40 minutes on the clock on the south coast with a suspected injury, which left fans hoping for the best.
But after the game, Klopp was not overly concerned as he revealed "it looks like a little cramp."
"It doesn't look too serious, it looks like a little cramp," he told reporters.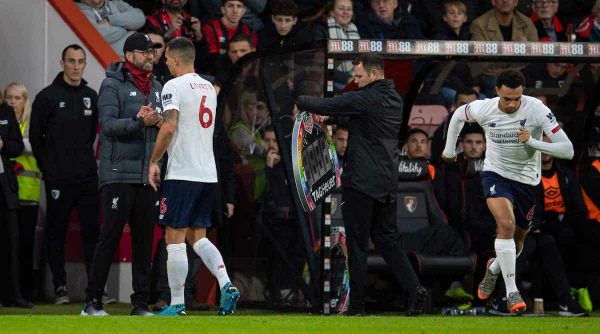 "[He] felt something and told us. That's the status quo, you have these kinds of things in these moments of the season.
"It similar to what Gini and Lallana had, two days [to recover]. So we now have two days before he can go again."
The initial suggestions come as a major boost for the Reds who will remain without Matip for the rest of December as he continues his recovery, where his introduction back into the team will take another two weeks at the earliest.
"Everything in our life is all under pressure. All the little things have to heal as quickly as possible, but here it is taking the normal amount of time," Klopp told the club's website.
"It was not like after four weeks or so that it was already as we wished, so we have to wait another two weeks I would think and then we will see.
"But then he will have been out for six weeks or so, if it is perfect, fine, but he might need to rebuild his physical things as well, which is not too cool, but it is nothing serious."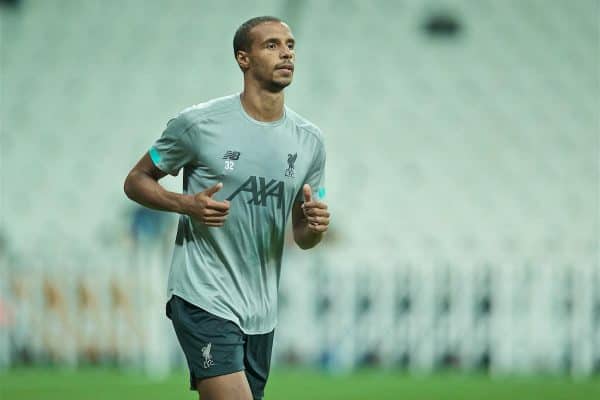 With Matip sidelined and the initial prognosis on Lovren a positive one, the Reds should not be forced to look elsewhere for the considerable future.
But Ki-Jana Hoever and Gini Wijnaldum remain as potential options at the heart of defence should they be required to step in.