Liverpool produced one of the most one-sided victories in the Premier League this season, beating Bournemouth 3-0 to extend the lead at the top.
Bournemouth 0-3 Liverpool
Premier League, Dean Court
December 7, 2019
Goals: Oxlade-Chamberlain 35′, Keita 44′, Salah 54′
---
More rotations, more options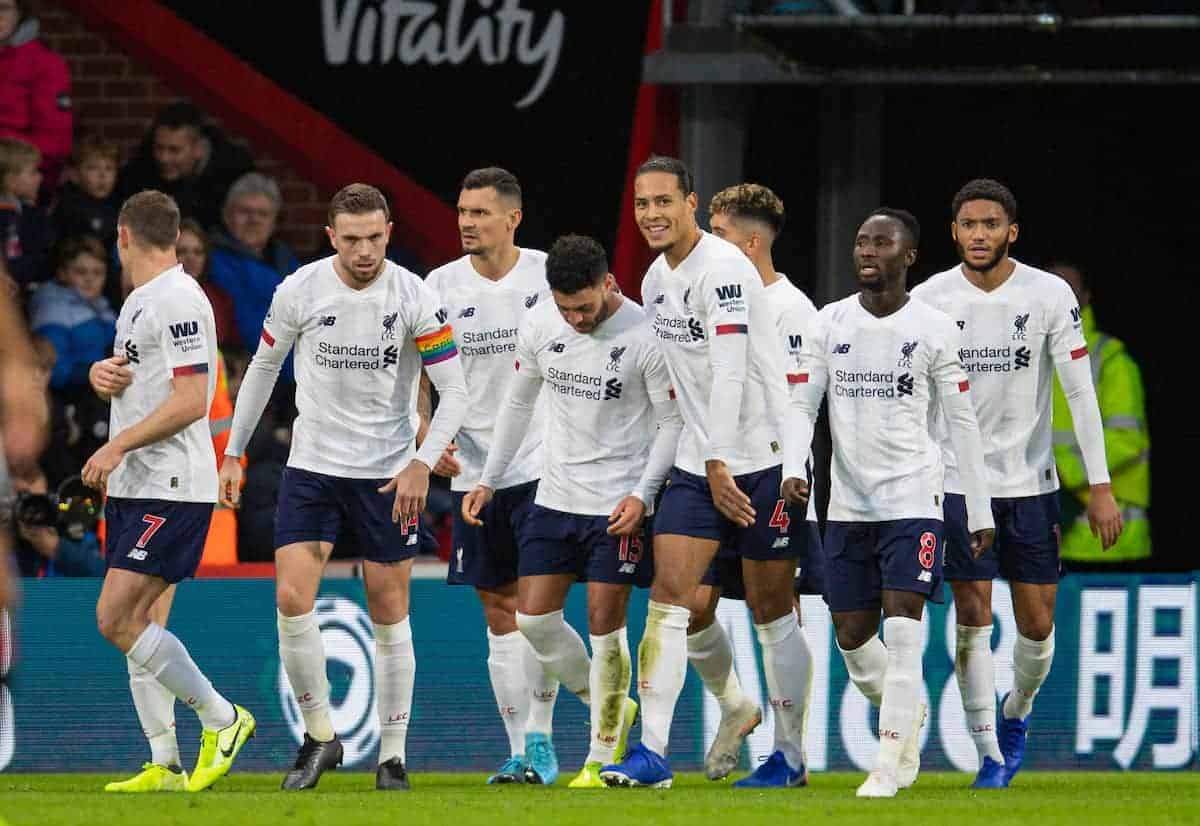 Five changes in the derby! Five! Is it too many, the people wondered? Are these the right moves from a manager at the top of the league?
Jurgen Klopp and his team answered that question so emphatically in midweek, there didn't appear to be too many raised eyebrows when here he opted for seven more.
The great thing about this particular lineup was its unpredictability, its scope for invention, changes and rotation-within-rotation.
It could have been a flat four, with Naby and Ox wide. It could have been a diamond, with either one at the tip and Jordan Henderson at the base.
A 4-2-3-1 was plausible, with James Milner partnering anybody at all in the pivot and Mo Salah perhaps leading the line. And two versions of 4-3-3 were possible: Ox on the right, or either himself or Naby on the left.
Changes within changes, wrapped in unpredictability, and offering plenty of scope for movement on the pitch.
Naby needed a kickstart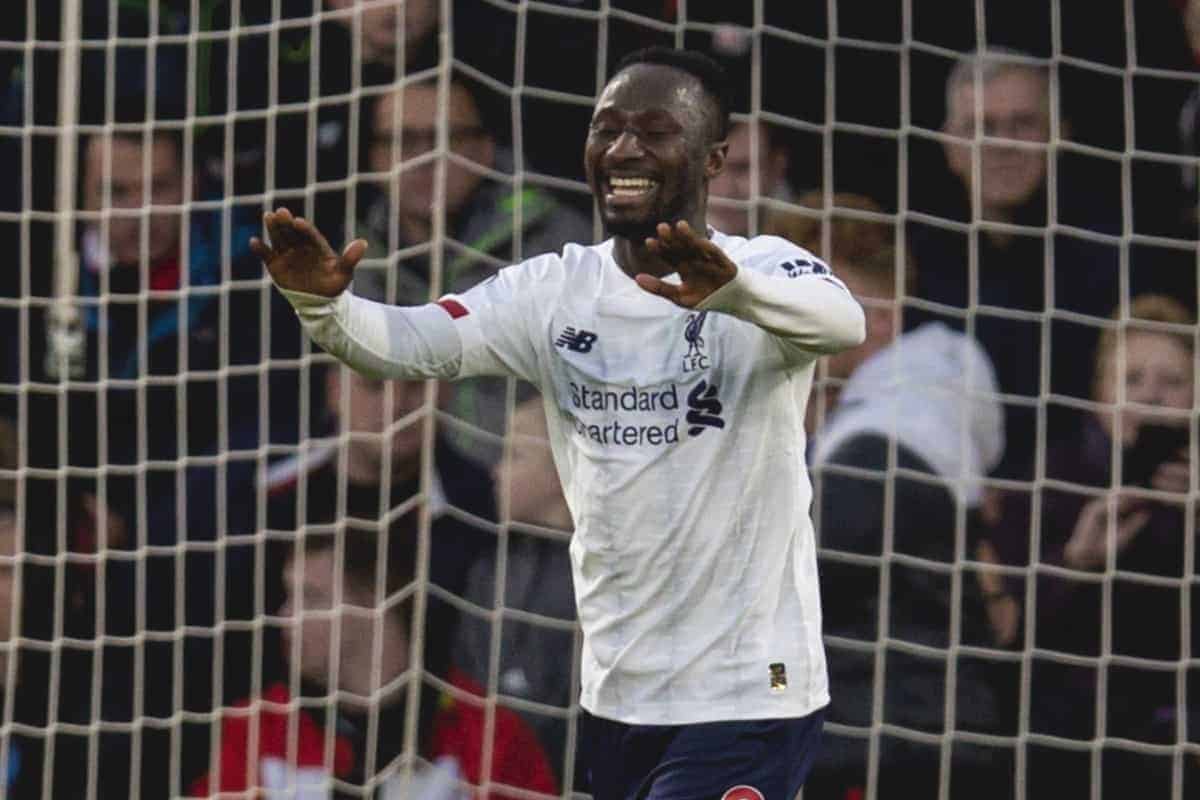 Injuries and inconsistency at inopportune moments have hampered Naby Keita's chances of settling in at Anfield and making himself a first-team player.
He's obviously talented, he's clearly rated—but he needed to take a chance and make a case for his own regular inclusion, or risk being left behind by a team which is relentless in its near-perfectionism.
We're not talking here about fans not rating him, not being good enough or any other such vague irrelevance; just a truthful note that this Liverpool team is exceptional, and any player offering less than a full contribution to that simply won't be included on a regular basis. There wouldn't be a need for it.
For 40-odd minutes at Dean Court, our No. 8 was showing signs of not having seen much league action this season, not having featured in this precise right-sided role, not having much of rhythm or intensity to his game.
Then, in a five-minute burst, he got himself involved in two or three good moments and areas, made one driving run, fed Mo Salah and kept running into the box.
A goal can do monstrous, wondrous things for a player's confidence.
Within 10 minutes of the second half starting, Keita had attempted a 25-yard volley and claimed an assist too, setting up Salah to all-but guarantee the win.
Return to form and attacking talk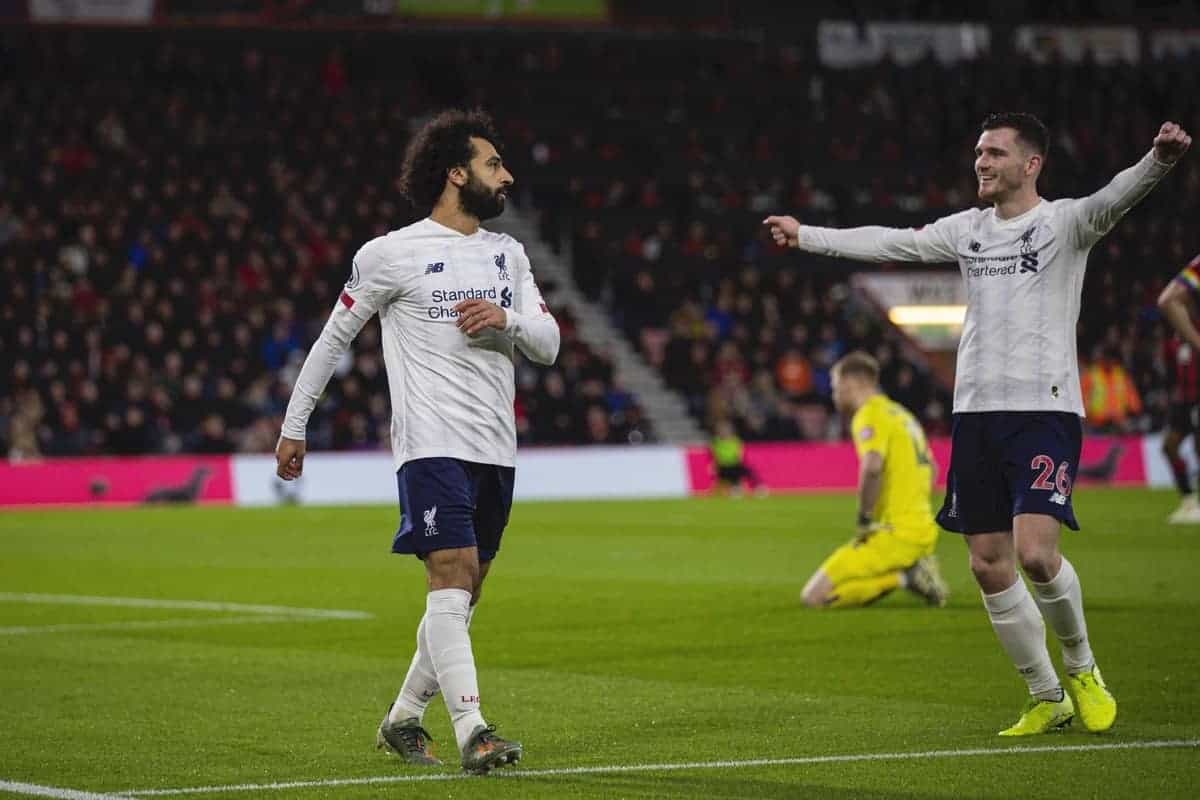 Speaking of Salah, we hadn't always seen the best of him over the past month, though there were a handful of games (like Man City, helpfully) where he really did produce.
Here we saw if not Salah in top form, then certainly his deadly ability to find productive moments in the final third and the danger he possesses to teams without confidence or structure.
A brilliant back-heeled assist and a very nice run-and-finish for the Reds' third goal saw him play a key role in the win, while there were also a couple of other dribbles and shots which might have seen him score another.
Later in the game Curtis Jones came on for his Premier League debut, a very big moment for him and a satisfactory one for Critchley, Inglethorpe, Lijnders, Klopp and everyone else interested in the academy-to-first-team pathway.
Given Klopp's comments about attacking options and January, it's a good time for Jones to have seized his first chance with a positive, confident 20 minutes on the pitch.
Chance for Gomez to re-stake his claim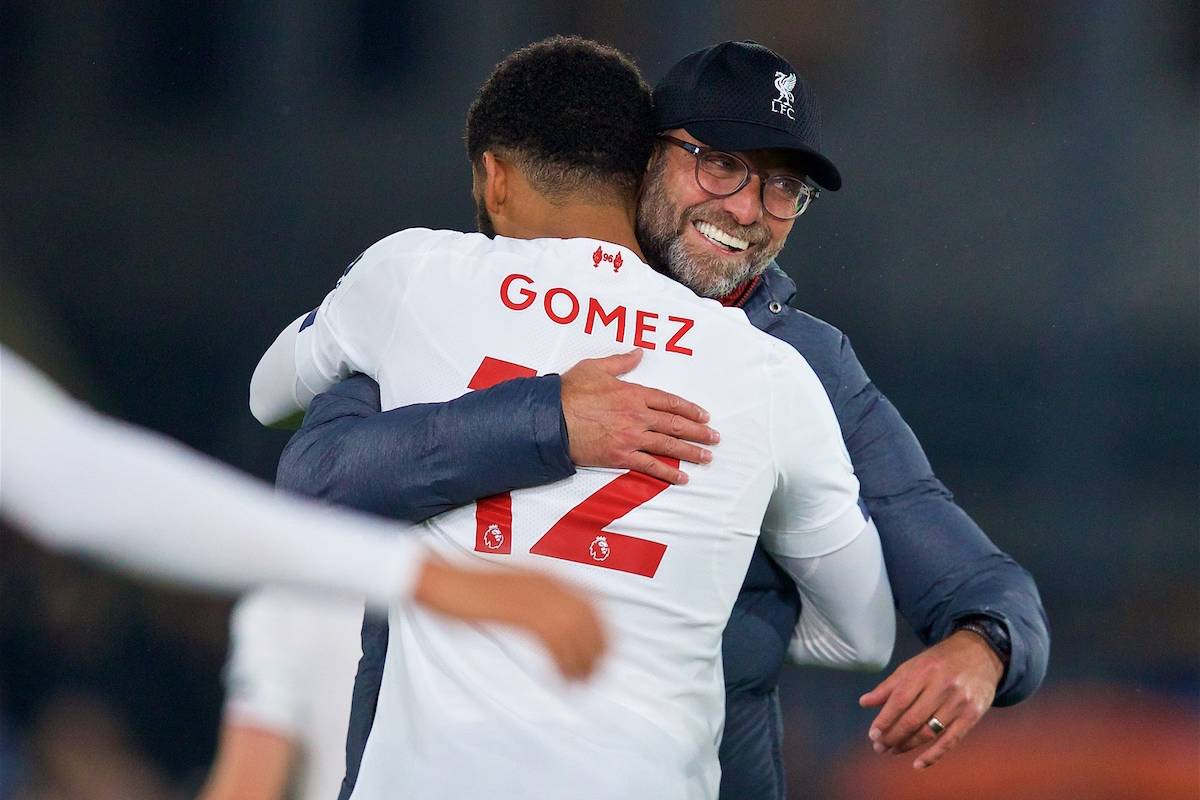 Around 15 months ago, Joe Gomez was emerging as the first-choice partner for Virgil van Dijk and looking like a real long-term option for the Reds.
Injury struck, he lost his place and Joel Matip took his chance—but now the fortunes have reversed and opportunity has rolled around once more.
Matip, already injured; Dejan Lovren, injured in this game. Gomez switched from right-back to the middle and impressed for an hour, albeit against the lowest amount of pressure imaginable in a Premier League game.
We await to see the level of damage sustained by Lovren, but all the back-to-back games for him were always likely to inflict some type of hurt sooner or later.
So Gomez will likely have a big chance of his own, in a big, important game that the Reds need a result in—and a strong display could propel him back from third choice to first in the race to partner big Virg.
Meanwhile, it was unlucky 13 for Bournemouth: that was the number of games the Reds hit against Everton without keeping a clean sheet, and here we finally ended the streak.
Alisson was barely tested, but it's nice to end the conversation for now about whether it's a worry.
Players rested, Salzburg challenge ahead

Wijnaldum and Lallana weren't in the squad due to knocks, neither full-back played the full game, Mane enjoyed a well-deserved rest for the entire 90 minutes and, equally as important as all those getting a break, several more squad players saw minutes on the pitch.
Now it's off to Austria and a different type of challenge: a free-scoring, forward-thinking, all-out-attack opponent who have no choice but to go for the win.
That type of open game might play into Liverpool's hands to an extent, but only if we do the business in the defensive half of the pitch too.
Jurgen's Reds look relentless right now; get the job done, seal a last-16 spot, box off Europe until February and then it's all the focus on the league and, in the shorter term, the Club World Cup.
With every passing match, this looks like being a more and more memorable campaign.