The media admired Liverpool's relentlessness in the vital 2-0 win at Salzburg and felt the Reds' winning know-how on the European stage shone through.
Liverpool's quest for European Cup No.7 is alive and kicking thanks to a clinical second-half display which brought the points back to Merseyside.
Two goals in 100 seconds – courtesy of Naby Keita's header and an astonishing finish from Mohamed Salah – ensured the Reds progressed as Group E winners.
Klopp will be delighted with the way his side delivered such a professional performance, which featured some fantastic attacking football and two great goals.
It was a thrilling contest in which both teams played their part, and this is how the media assessed the victory.
Members of the media applauded the way Liverpool continue to pass every challenge in front of them…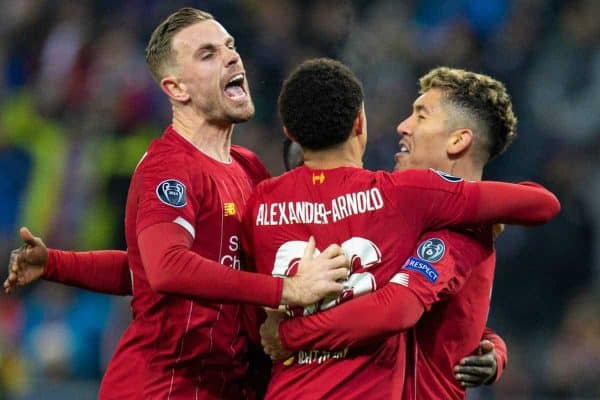 Writing for Goal.com, Neil Jones was in awe of the way Klopp's team continue to pass every test, noting that this victory showed why the Reds are European champions:
Never doubt this team.

[…]

Give them a test and they'll pass it. They showed why they're European champions here.
The Independent's Melissa Reddy labelled Liverpool "a relentless machine" and lauded the way that the Reds are so headstrong in refusing to be knocked off track:
They were excellent, but they were also up against a relentless machine that refuse to countenance not achieving their ambitions.
The Telegraph's Chris Bascombe labelled the victory "one of the best of Klopp's reign":
By the end, this away win was one of the best of Klopp's reign – put it alongside those in Hoffenheim, Porto and Munich.
It's such characteristics that make Liverpool the team every potential opponent will want to avoid in the last 16, in the view of the Liverpool Echo's Paul Gorst:
No one across the continent will want Liverpool in that draw. Absolutely none of them.
It was a night in which Liverpool's big-game experience & European football know-how shone…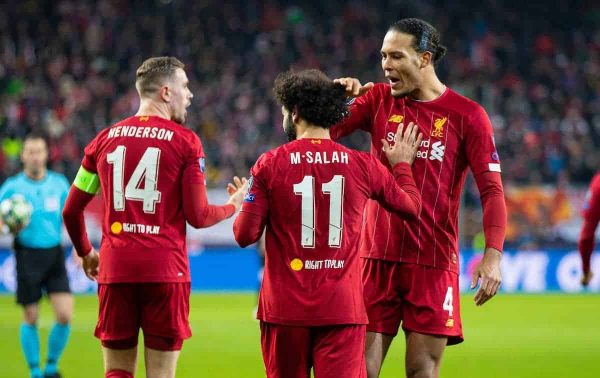 Standard Sport's David Lynch reflected how the Reds' "knowledge of how to win by any means necessary" was the key factor behind the victory:
It is that quality – a knowledge of how to win by any means necessary – that ensured the Reds came out on top of a similarly tricky fixture here.
Gorst assessed that Liverpool's superior experience of coming through pressurised occasions made the telling difference:
For so long, Jesse Marsch's upwardly mobile and likeable outfit matched their exalted visitors, but when the pressure was on and the game was in balance, the European champions bared their teeth here.
The Mirror's David Maddock explained how the Reds' "professionalism" and knowledge of how to excel on the European stage overpowered Salzburg:
It was then the professionalism of Liverpool shone through. They really do know how to play in Europe, and their threat on the break was outstanding, with skipper Jordan Henderson setting a tempo picked up by the bold front three.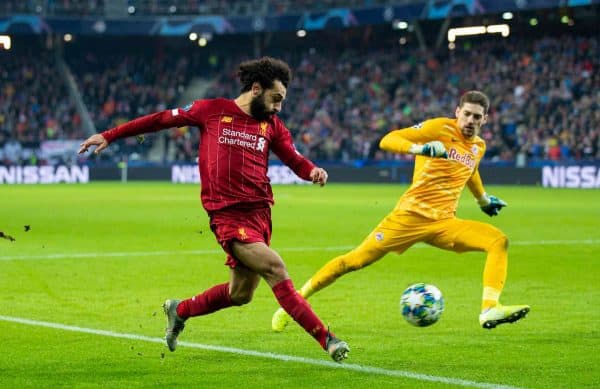 Reddy labelled it "a prime Liverpool performance", impressed with how the Reds ruthlessly punished the Austrian side:
It was a prime Liverpool performance – nullifying dangerous opponents before knocking them out – much to the chagrin of the rest of the teams still in the Champions League.
Bascombe wrote how the Reds schooled the hosts, "making Salzburg look like upstarts rather than the finished product":
This was an evening when Liverpool showed why they are champions of Europe – striding majestically into the Red Bull Arena and making Salzburg look like upstarts rather than the finished product.

[…]

In the event, Haaland left his big night early, subbed after one tantrum too many, his legs losing contact with his head. This was a lesson learned by the young man, his brashness serving only to provoke Virgil Van Dijk into his best work.
The Mail's Martin Samuel highlighted how the Reds have done a fantastic job of learning along the way and using those experiences to become the polished side we now see:
Ultimately, though, Liverpool's experience showed. Think back to their first Champions League final under Klopp, and the differences that night against Real Madrid. Liverpool have been through it all in this competition now. They know how it works, and how to work it.
Reporters thought the Reds provided a nice reminder of their ability to win via an 'old fashioned' blitzing…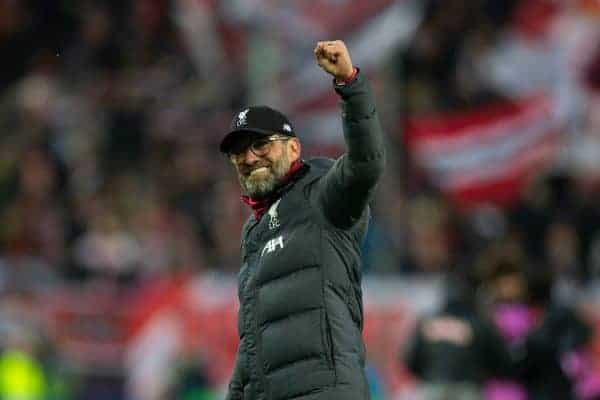 Gorst explained how it was a "throwback" performance of bygone seasons under Klopp as the Reds engaged in an all-out-attack, end-to-end contest:
As manager of Liverpool, though, he will have worried about how open and stretched the game was. This was a throwback to the fly-by-the-seat-your-pants style favoured by the Reds in season's gone by.
Matching Salzburg's approach – in particular their intensity – and maintaining a high tempo even after moving into the lead was key to the victory, in the view of ESPN's Harry Kettle:
The Reds reacted positively to the growing pace of the game and were able to match Salzburg's intensity. Whenever they were able to string a few passes together, they cut through the hosts time after time, and upon scoring the opener, they didn't let their foot off the gas.

Their ability to keep pushing and maintain a high tempo will continue to bode well for them throughout the remainder of the season.

Gorst was impressed by the way Klopp's side grabbed the game by the scruff of the neck and seized the chance to punish Salzburg:
How Liverpool grasped the collar of this game was so impressive given the near 60 minutes that had preceded it. It is why they are European champions and into the last 16 once more.

When Salzburg thought they had equalled the effort and skill of their opponents, a turbo-burst of quality took it beyond the Austrians in their own backyard.
Analysing the tactical battle, the Mirror's Alex Richards thought Salzburg boss Jesse Marsch got his set up wrong, with the narrow 4-4-2 diamond playing straight into Liverpool's hands:
What is it about teams setting up with tight midfield diamonds and two strikers against Liverpool, even when it offers space to their fullbacks, who are such massive attacking weapons and arguably the side's most potent creators?

[…]

However, the hosts' sense of adventure, allied to their youthful nature also gave them their own issues when play broke down and Liverpool countered.
There was more glowing praise for Keita…

Jones assessed the Guinean as the star man on the night delivering a "high-class display", and praised the No.8 for stepping up when needed:
It was reward for a confident, enterprising performance from Keita, who is coming to prominence just when Liverpool need him.

This was a high-stakes game, and a high-class display from the 24-year-old. It was his best performance in a red shirt, you'd have to say.
Lynch commended Keita for repaying Klopp's faith with a 'coming-of-age' performance which has relaunched his Anfield career:
For that reason, Klopp's selection of his No.8 for this must-not-lose fixture at a tough place to come was about as big of a show of faith as he could ask for. And, fortunately for every Liverpudlian, Keita delivered in style.

[…]

Liverpool fans have seen quite a few false dawns with Keita, but this felt like a significant moment in his Anfield career.
Gorst loved Keita's display and feels the next challenge for him is to produce such classy displays with greater consistency:
This was the all-singing, all-dancing £52m midfielder Liverpool thought they were getting.

The big task now is to merely make this type of display the norm in Liverpool red. The talent is there, just the consistency is needed. More starts will now be demanded from his manager.
Several other Reds at both ends of the pitch were praised for impressive performances…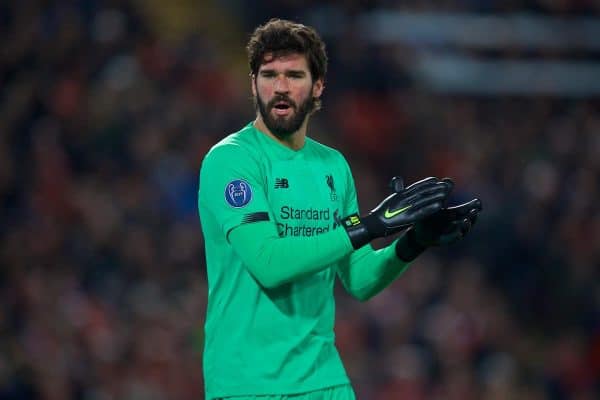 Richards lauded Alisson and Virgil van Dijk's dominant and calm defensive work:
But on a night where they were faced an incisive, creative opponent, two of their big names really stood tall.

In goal, Alisson was calmness and poise personified, his decision making spot on throughout. And at the heart of defence Van Dijk was at his dominant best, leading by example and constantly organising those around him.
Lynch thought Joe Gomez did a great job after coming on in difficult circumstances for the injured Dejan Lovren:
But, despite coming in cold, he shone in helping Virgil van Dijk snuff out a dangerous frontline and secure another hugely welcome clean sheet.
Finally, the Liverpool Echo's Ian Doyle reserved a word or praise for Salah, commending the way the Egyptian retained belief and refused to shy away in his pursuit of a goal:
It was a moment of genius and the reason why, for all those misses – and the Egyptian does spurn a fair few opportunities – he remains such a threat, such a danger for Liverpool.