Liverpool emerged victorious at Bournemouth off the back of seven changes, a seamless performance and Naby Keita's show of amuse-bouche, writes Steven Scragg.
An elusive clean sheet obtained, three more points banked, stylistic shapes thrown out without being made to earn them, favours being done by our two traditional rivals and all of it embraced after Jurgen Klopp made no less than seven changes.
Saturday was largely a dream day for Liverpool.
Imagine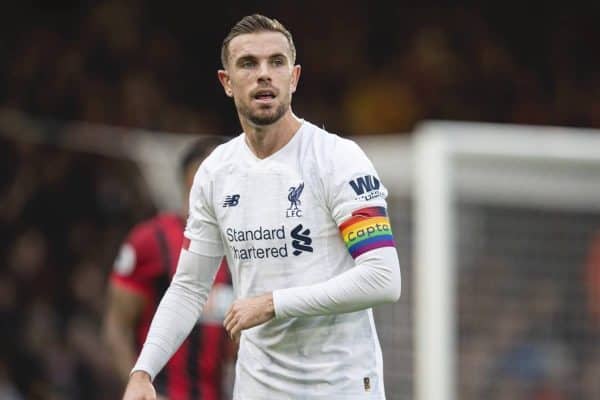 Imagine being able to say that on any other December day in history when both Everton and Manchester United have picked up wins, that Liverpool have only been deemed newsworthy enough to be put fourth on Match of the Day running order?
Even that can be taken as an encouraging sign. A title race being viewed by seen it all, done it all television producers as one which is populated by just the one horse.
"Yes, yes, Liverpool have won with beautifully crafted goals, outrageous movement and incredulously brilliant passing, but before all of that is Ole Gunner Solskjær's latest false dawn, Duncan Ferguson running down the touchline like he's Jurgen Klopp and the new and improved, jovial Jose Mourinho."
Gary Lineker and his mates have already started to look for other Premier League stories to get their Saturday night kicks, before paying homage to Jurgen's lovely long ball reds.
Up the Long Ball Reds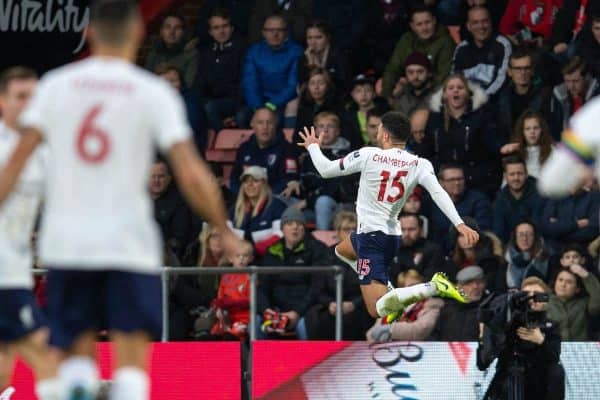 That Jordan Henderson long pass from deep, which picked out Alex Oxlade-Chamberlain for the opening goal at the Vitality Stadium was a measured work of art, just as Dejan Lovren's was against Everton on Wednesday for Divock Origi to score his second.
It is an addition to Liverpool's repertoire that will strike fear in opposing teams.
Yes, while we can pass the ball around you like your road cones, when you try to press against us we'll ping it from deep and finish it off within one or two touches.
Amuse-Bouche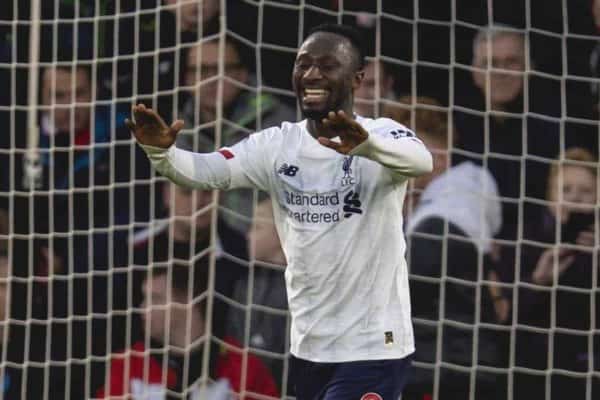 Naby Keita showed an amuse-bouche – there just aren't enough gastronomic terms used in football – of his potential in this one. His positional sense, spatial awareness and his eye for a pass or late run are wondrous.
This was the RB Leipzig Keita. He's bubbled and simmered before, but this was a sighting of the real deal.
The frustration is that it has taken two-and-a-half years to see it. Yes, the first year was spent in the Bundesliga, but the appetite had been whetted as soon as Keita was photographed in a Liverpool shirt. The last season and a half has been an annoying tease of what he should be able to add to our midfield.
At Bournemouth, it felt like a movie trailer of substance. 'Keita'. Coming Soon…
I'd like to class him as unique, and he is in a collective respect, but Keita has the ingredients of many Liverpool midfielders of the past. There is a tablespoon of Michael Thomas, a dash of Xabi Alonso and a pinch of Steve McMahon.
Quick in terms of thought and movement, blessed with that ability to move swiftly, almost undetected, born with the 'third eye' to see a scenario unfold half a second or so before everyone else, not one to shirk the physical side of the game and infused with an appetite for goals.
Keita should be the perfect Liverpool midfielder and an absolute nightmare for opposing sides to face. He is a phenomenon-in-waiting. While he has had some Liverpool fans tearing their hair out in frustration, I'm happy to err on the side of patience. I'd rather Liverpool harvest the still to be tapped Premier League potential of Keita than anyone else.

If we can have the Bournemouth version of Keita between now and May, then this Liverpool can only get better and better and the title will be ours by Easter.
Keita wasn't alone in dominating the midfield on Saturday. James Milner was industrious, while Henderson was quite empirical. He would have been wholly deserving of that late free-kick arcing in.
According to some, Mohamed Salah is out of sorts?
That set up for Keita's goal, that wonderful rolled finish for the third, stinging the hands of Bournemouth keeper. Not bad for a man who isn't finding his highest gears eh? We all know there is more to come.
Oxlade-Chamberlain showed his value, in pushing up into the front three. Another goal for a player who has now blown away the after-effects of serious injury.
Seven changes were made for this one, on the back of the five that were made against Everton. Yet, it all seemed so seamless.
There was also the bonus of Curtis Jones being handed his first 20 minutes of Premier League football, all topped off with an elusive clean sheet.
Next Up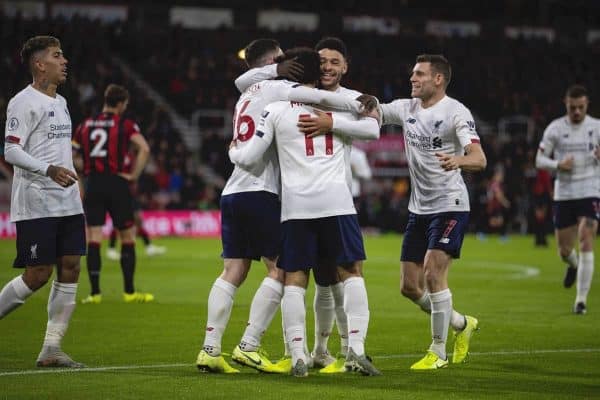 To Salzburg we go next, then we face the visit of Watford before the kids set off for Villa Park and Jurgen takes the lads off to Qatar.
No room for complacency or error. An off-night in Austria could be enough to put us out of the Champions League, while Watford might be marooned at the foot of the Premier League clutching only one win so far this season, but they will arrive with new manager smell which is always something to be wary about.
Ask Frank Lampard.
We must remain relentless in our approach to every game.