The media felt Liverpool's pragmatic approach inspired the Reds' 2-0 win over Watford and lauded Mohamed Salah's "genius" performance.
The Egyptian King's brilliant brace—featuring two of the best finishes you will see this season—ensured the Reds collected all three points.
Liverpool were far from their blistering best, but Klopp will be delighted with the way his side once again found a way to get over the line to move 10 points clear at the top.
The record-breaking start rolls on, and here is all the key analysis from the media on another victorious afternoon at Anfield.
Members of the media discussed how Liverpool's pragmatic approach was key to securing the victory…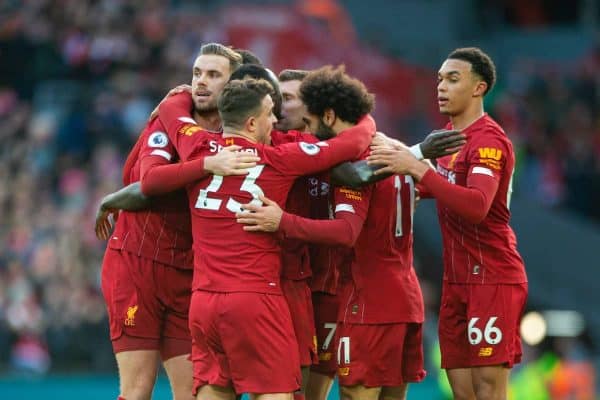 The Mirror's David Maddock noted how the Reds' pragmatism in being able to win ugly as well as produce the spectacular shone through, and makes Liverpool so difficult to play against:
"That is the thing with this Liverpool team. They can be pragmatic, as this grinding, foot off the gas performance showed.

"But give them a sniff of an opening, and they can be ruthless. And joyful."
The Liverpool Echo's Ian Doyle commended the Reds for adapting their game to the demands of the relentless schedule, which is impacting the ability to play with the usual intensity every game:
"Both [Salzburg and Watford] ended in identical 2-0 victories. And that, Klopp will rightly contend, is all that matters, pragmatism the overriding watchword of this winning Liverpool machine.

"In the midst of such a hectic schedule, still competing on five fronts, the Reds cannot play with the same intensity as midweek in every game."
And Maddock admired Liverpool's ability to win regardless of the level of performance produced and feels this makes the Reds overwhelming title favourites:
"No wonder Liverpool are now overwhelming favourites for the title. They were able to play at half pace with an eye on their World Club Cup ambitions, and still extend their incredible winning run here."
Reporters felt Liverpool's game management shone through in the pragmatic display…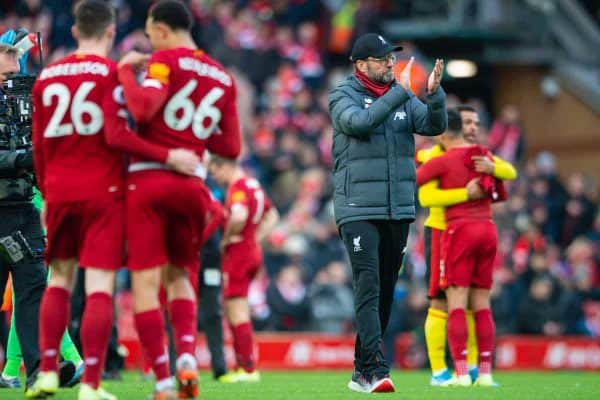 First of all, Doyle applauded the Reds for finding a way to get the job done despite delivering one the "least impressive" displays of the campaign:
"But Liverpool got the job done. They did what they had to do.

"And that has been the case throughout this season, following arguably their best performance of the campaign at Red Bull Salzburg to progress to the Champions League knockout stages with one of their least impressive displays."
Maddock was among the journalists impressed by how the Reds saw the game out, also assessing that Klopp's team "have the look of champions":
"Liverpool have the look of champions about them in the way they can manage games now, producing enough class to lead, and then enough measure to close out games without exertion."
ESPN's Harry Kettle was impressed with the composure of Liverpool's display, and feels this ability to keep calm heads under pressure may prove decisive in the title surge:
"There's a certain composure to this Liverpool team that allows them to remain calm even under immense scrutiny. That gets them out of a lot of tricky situations and could be the key to their title surge."
The Guardian's Andy Hunter labelled Liverpool's performance "sluggish" but thought this was not surprising and was only due to the big effort produced in Salzburg in midweek:
"Liverpool never got into their stride defensively or in attack.

"It was to be expected after the effort required to subdue Salzburg in a vital Champions League win in midweek yet they produced the flashes of ingenuity and quality to turn a difficult afternoon into another decisive step towards the title."
There was glowing praise for Salah after his match-winning performance…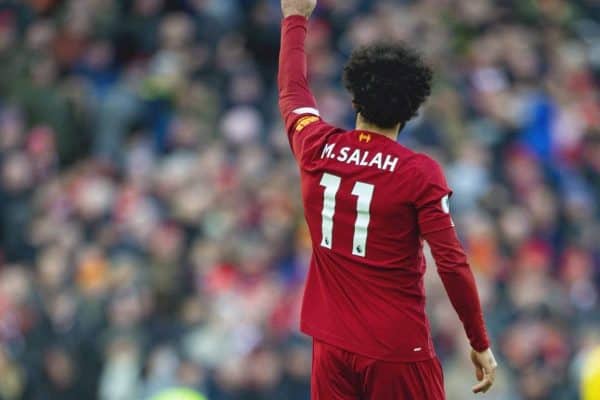 Maddock was in awe of Salah's two moments of "sheer genius" and praised the Egyptian King for making the difference on a mediocre outing for the Reds:
"If Jurgen Klopp's pet hate—those interminable gusts off the Mersey—reduced his relentless side to a more mortal pragmatism, then the outcome was still the same, thanks to two moments of sheer genius from Mo Salah.

"He showed in midweek against Salzburg he has an eye for the spectacular, and here there were two more moments to lift the contest above the whirlwind of mediocrity."
Writing for Goal, Neil Jones assessed that Salah is finding his best form at the ideal moment:
"That's four in three now for him, he's finding his scoring touch at exactly the right time."
The Mirror's Andy Dunn distributed the plaudits among the entirety of Liverpool's traditional front three, lauding how the trio continue to transform games in the blink of an eye:
"It took just five touches—and probably about five seconds—from the three lithe men to make the crucial breakthrough in this contest and keep Liverpool's record-breaking dial turning. That is what they can do. Turn a game in the blink of an eye.

[…]

"Klopp's team still needed to find the win while not being on song. And that way was paved by Firmino and Mane for Salah."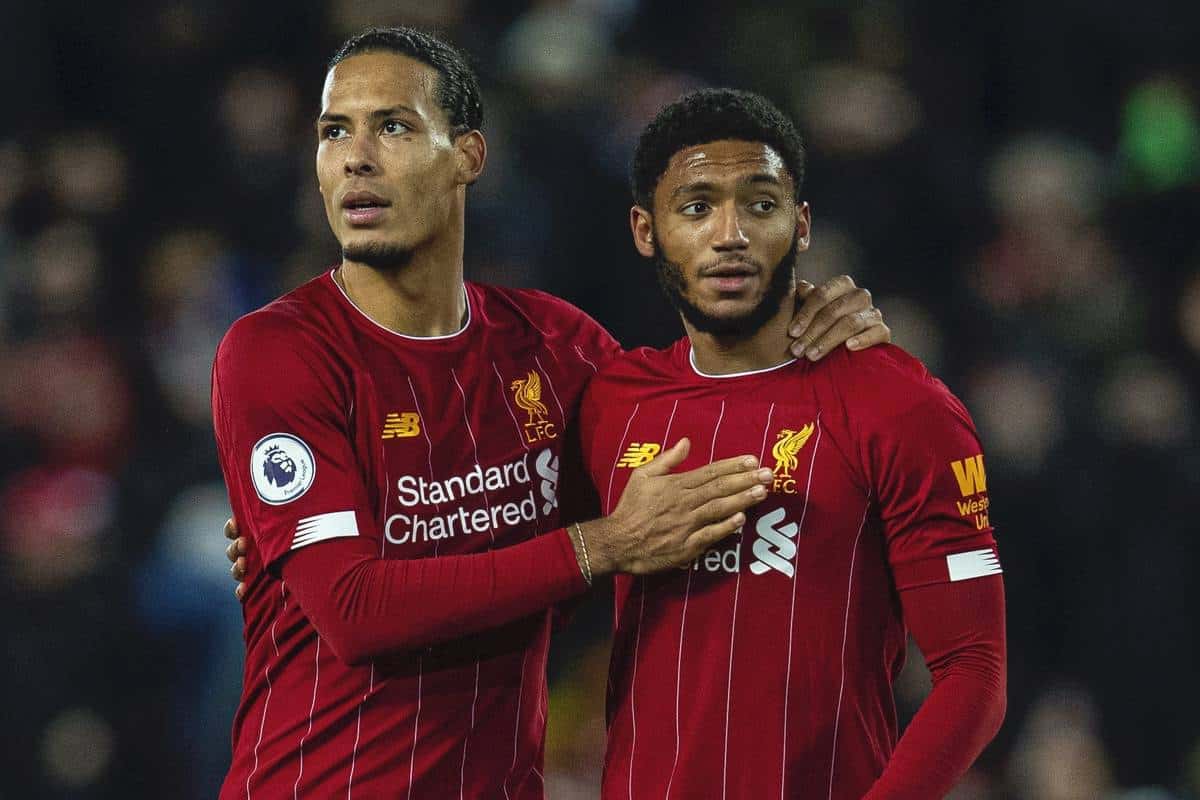 Meanwhile, the Mail's Dominic King was also impressed with Joe Gomez and assessed that the centre-back showed signs that he is on the road to rediscovering his best form:
"The process of getting back to his peak has been slow over the last five weeks but an injury to Lovren in Salzburg last Tuesday has catapulted Gomez back into Liverpool's team at the most frenzied point of the campaign. The way he played against Watford suggests he will grasp the chance.

[…]

"He always knew it would be a case of staying prepared for when the big opportunity arrived: now Gomez is ready to make up for lost time."
The Mirror's Alex Richards followed suit with praise for another decisive defensive performance, delivered by Alisson:
"[Watford] also prised apart Liverpool's defence, only to be denied by the Kop No. 1, with Alisson coming to his side's rescue.

"Just as in midweek, when called upon, the Brazilian answered."
Interestingly, the Evening Standard's David Lynch thought that it was also a day that saw the absence of a key player felt—that being Fabinho:
"Even as his team-mates made it five on the bounce here, the Brazilian's importance could not have been made clearer.

[…]

"Unlike others, the Hornets continually picked the first pass out of defence to find a hold-up man who could start a speedy break—something Fabinho typically mops up."
Liverpool's Premier League pause prompted journalists to discuss the title race and the upcoming Club World Cup…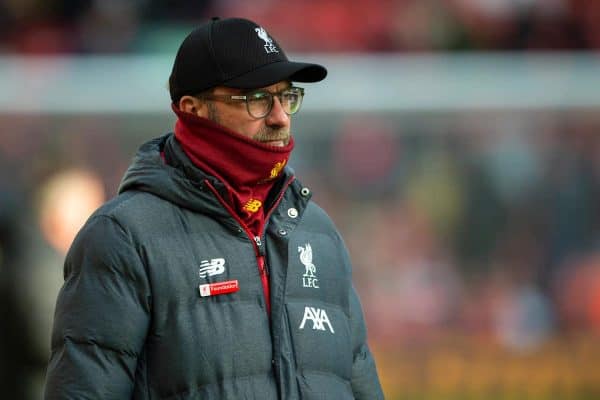 First-off the Mail's Oliver Holt felt the nervousness of the display showed why it is vital that the Reds continue to build as big a cushion as possible ahead of the run-in:
"They want the title so much here that the nerves in the crowd are already palpable. They dare not countenance a setback lest it leads to another. The pressure will get so heavy that Liverpool will need a cushion going in to the run-in.

"So far, there is every sign they will have one."
Jones felt the victory was somewhat tainted by the withdrawal of Gini Wijnaldum, as the mounting injury list is now the only factor that could derail the Reds' ambitions:
"Just as important for Klopp, perhaps, is that they return with no new fitness problems.

"Because right now if anything is to get between Liverpool and that coveted league title, it won't be Leicester or Manchester City or VAR, it'll be injuries and fatigue."
The Liverpool Echo's Paul Gorst believes the current on-pitch performance is not just the result of an excellent team—but the rewards of a club that is excelling in all areas:
"What a week it has been for this football club.

[…]

"It is hard finding areas of this famous institution that aren't thriving right now as we edge towards the end of a wild decade at Anfield."
Meanwhile, Lynch thinks the Club World Cup will provide a welcome break from the intensity of the title charge, and should allow the Reds a chance to recharge mentally:
"Fortunately for the Reds and their fans, their next two games—Club World Cup fixtures in the warm weather of Qatar—should be far less intense by comparison.

[…]

"This could be the perfect time for everyone concerned with Liverpool to recharge their batteries."

A nice note to end on…Gorst reflected on the journey to this point, four years on from the show of unity against West Brom which has paid dividends in the Reds' "transformation":
"Four years ago this weekend, Jurgen Klopp and his Liverpool squad were the laughing stock of football. Applauding the Kop for sticking with them until full-time as they grabbed a last-gasp equaliser to draw 2-2 with West Brom, they quickly became the butt of the joke.

[…]

"No-one outside of Anfield is laughing right now, however, as Klopp bookmarked a fantastic week for him, the club and its worldwide fanbase with another cleared hurdle on the path to immortality. Now, Liverpool are the most feared teams in Europe. It has been some transformation."