The media praised Liverpool for punishing Man City's slip-up and lauded Virgil van Dijk's performance in the 2-1 win against Brighton.
The Reds made hard work of it but just did enough to get over the line and secure a priceless three points at Anfield.
Two imperious headers from Van Dijk – both from pin-point Trent Alexander-Arnold deliveries – won the game, despite Brighton's late rally with Lewis Dunk's cheeky free-kick.
Victory was everything on a day Man City dropped points, and full credit must go to the Reds for getting over the line despite a tense finish after going down to 10 men when Alisson saw red.
Here's how the media assessed the dramatic win at Anfield.
Reporters praised Liverpool for holding their nerve on a potentially significant weekend in the title race…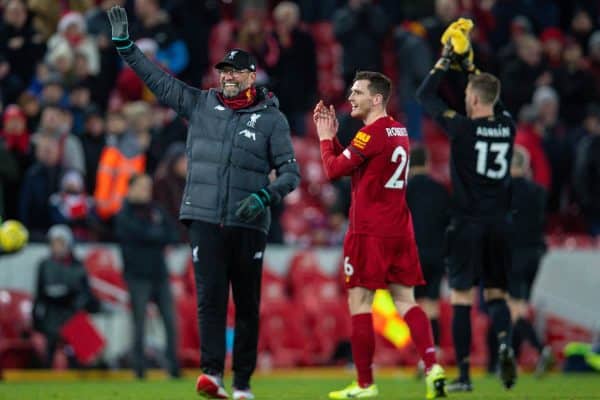 The Liverpool Echo's Paul Gorst commended the Reds for "keeping their heads" to punish Man City's slip up at Newcastle:
Crucially, on a day when Manchester City and Chelsea lost theirs, Liverpool – Alisson's aberration aside – kept their heads to extend an advantage that might now look impregnable from those looking up at it.
The Independent's new signing, Melissa Reddy, praised Liverpool for showing the right level of determination to ensure City's slip at Newcastle was fully punished this time around:
Pep Guardiola's charges had lost 2-1 in Tyneside last season, but Liverpool then failed to capitalise in a 1-1 home draw with Leicester.

There was a determination not to have such a repeat this time around and by the 25th minute, Brighton found themselves 2-0 down […]
The Guardian's Andy Hunter admired Liverpool's business-as-usual approach despite what was at stake, and assessed that playing with such cold emotion was crucial to securing the win:
Admirably, and as always, Liverpool's players stayed focused on the task. Klopp has identified his team's refusal to be distracted by title talk or unbeaten runs or hectic schedules as important as their outstanding talent.

It was evident once more as they parked the emotion in the stands and brushed aside the absence of the injured Fabinho to establish a commanding lead.
Writing for The National, Richard Jolly expressed his admiration for the way that Liverpool just know how to get over the line and win regardless of the level of performance produced:
Perhaps it was winning ugly; it certainly was not triumphing beautifully. But winning is an art and Liverpool have mastered it.
Turning focus to the title race, the Mail's Rob Draper spelled out just how remarkably the Reds are performing, noting how Liverpool have a bigger lead than City did at this stage of their 100-point season:
We have barely opened up the advent calendars and Liverpool are eleven points clear. That is a gigantic lead. They may need it given the quality of Manchester City.

[…]

At this stage in their record-breaking 2017-18 season, where they accumulated 100 points, Manchester City also had 40 points, as Liverpool have now but an eight-point lead. That is the scale of what Liverpool are doing at present.
Members of the media were in awe of Liverpool's match-winning set-piece prowess…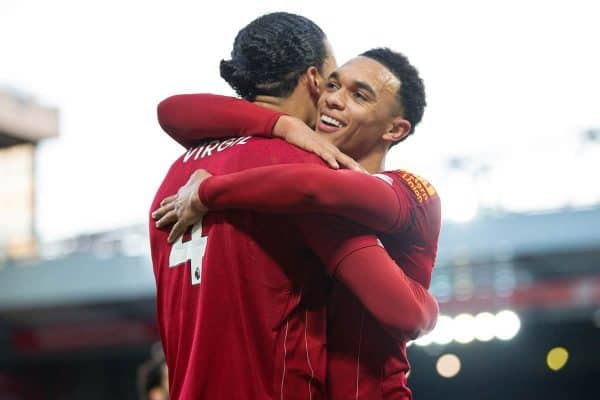 The Mirror's David Maddock admired the Reds quality of the set-pieces and praised the work Jurgen Klopp has done in turning his side into such a threat from those situations:
Jurgen Klopp realised it gave footballing teams a real advantage and introduced changes at Melwood.

He brought in set piece experts including a throw in coach, and used stats and meticulous planning to improve output. And it's worked – those goals have won tight games and have underpinned Liverpool's title challenges over the two seasons.
Gorst reflected on how Alexander-Arnold was brilliant on his return to the team and lauded the quality of his crossing ability which twice supplied Van Dijk:
The 21-year-old has few equals in his position from an attacking sense, and he wasted little time proving that once more as he sent in a number of teasing and tantalising crosses for Liverpool to attack.

What a gem of a player the Reds have on their hands in this young man from West Derby.
Maddock also noted how Van Dijk's prowess at set-pieces gives Liverpool an additional attacking weapon, and feels the No4 is capable of scoring more goals from such situations:
Van Dijk is something of a set piece expert himself. Since the start of last season, no Premier League defender has scored more goals, and again it's no co-incidence.

[…]

But improvement has come, and now he has 10 Liverpool goals. Klopp will demand more though, because they are crucial against sides who park the bus like Brighton did here – and did well.
The watching journalists eulogised over Van Dijk's match-winning performance…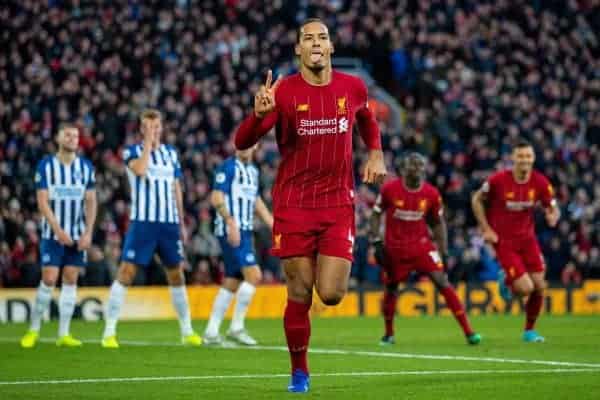 Mark Doyle, writing Goal.com, thought the Dutchman was back to his "brilliant best" and praised him for producing a complete performance when it was needed most:
This was vintage Van Dijk: commanding at the back, supremely comfortable on the ball when stepping into midfield and deadly in the opposition box. It was a timely return to his brilliant best, too.

[…]

This was a massive performance from Van Dijk when the Reds needed it most. It might not win him the Ballon d'Or but no matter, the Premier League is the trophy that he craves above all others.
The Mirror's Andy Dunn assessed Van Dijk was "head and shoulders" – literally – above anyone else on the pitch and raved about the influence he has had since arriving at Anfield:
One man stood head and shoulders above this contest, one team stands head and shoulders above the Premier League competition. Virgil van Dijk and Liverpool, giants of English domestic football.

[…]

But it is hard to identify another player who has had such a positive influence on one elite club as Van Dijk has.
Following this, Gorst believes that Van Dijk has been the biggest driving force behind Liverpool's transformation to becoming a domestic and European powerhouse:
For all the impact that the likes of Roberto Firmino, Sadio Mane, Mohamed Salah and Alisson Becker have had on Klopp's team, it is Van Dijk whose instant transformation of Liverpool's fortunes has been the most stark. Reds fans are lucky to witness him in his pomp every week.
The media offered further analysis, discussing individual performances, support for the 96 and more…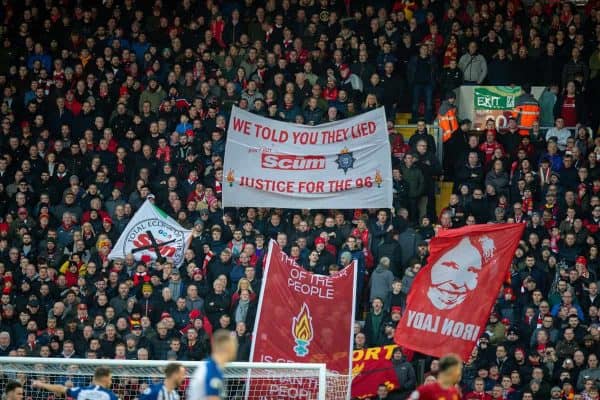 Starting with the most important, Maddock praised Anfield's "touching moment" showing support for the 96 Hillsborough victims, and rightly stated that the fight for justice will not be given up:
Before the game, there was a touching moment as the Kop showed their support for the Hillsborough families – and their belief that justice must still be done over that terrible, preventable tragedy.

[…]

They will not forget though, and will not give up – and that was perhaps the most important message to take from an afternoon where Liverpool's title chances grew stronger.
Gorst thought Alex Oxlade-Chamberlain impressed in his more comfortable midfield position, and says that the No.15 should be handed an extended run while Fabinho is out:
Oxlade-Chamberlain gave a promising audition for the vacant slot left by the injured Fabinho.

[…]

On this evidence, Oxlade-Chamberlain can expect to fill it with regularity.
Maddock gave an interesting insight into a potential reason behind Salah's struggles – that being the Egyptian's reduced training time as he attempts to manage his on-going ankle issue:
Mo Salah is struggling for his usual form at the minute after six weeks of managing an ankle injury, but reducing his training time.

He has hardly trained during the week over that period, just on the Friday before a weekend game, and that seems to have affected his rhythm and fluency.
And looking ahead to December's hectic schedule, the Liverpool Echo's Ian Doyle stated that we all need to strap for a rollercoaster month as Liverpool just cannot do things the easy way:
But clearly there is no chance of Jurgen Klopp's doing things the easy way. Strap in, folks. That hectic December hasn't even started yet.