Liverpool had to dig deep and calm the nerves as they endured a tough afternoon to come away with a 2-0 win over Watford on Saturday.
Liverpool 2-0 Watford
Premier League, Anfield
14 December 2019
Goals: Salah 38′, 90′
---
Liverpool find yet another way to win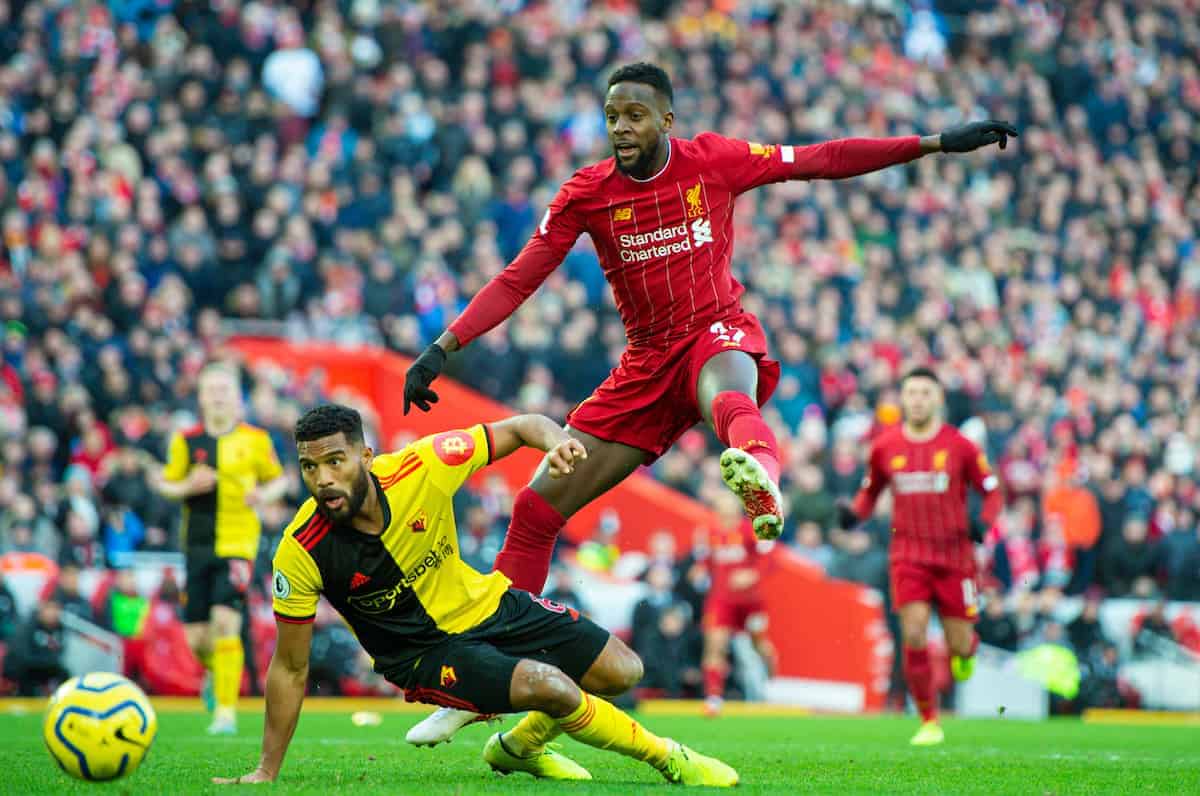 We've won by taking teams to the cleaners, we've showed grit, steel and determination, we've dug deep and we've passed teams to death this season.
We can now add 'won scrappy' to the list.
Middday games often breed lethargy, and this game was no exception. If the first half was sloppy, the second was a bit of a comedy of errors at times, not helped by a swirling wind which played tricks on both sides.
Watford's desperation and a touch of Liverpool nervousness—both on the field and in the stands—played their part too.
Two standout moments of class from Mo Salah saw two more right-footed goals win the game. That's three in a week for him, and every one of them a thing of beauty.
Yes, it was scrappy at times, it was nervy for a while, but it was job done yet again.
That's 76 points from the last 78 now and the unbeaten run rolls on to 34 games. It's also 16 straight league wins at Anfield and almost a year now since our last league defeat.
Let that sink in.
Rotation's effect on the team shape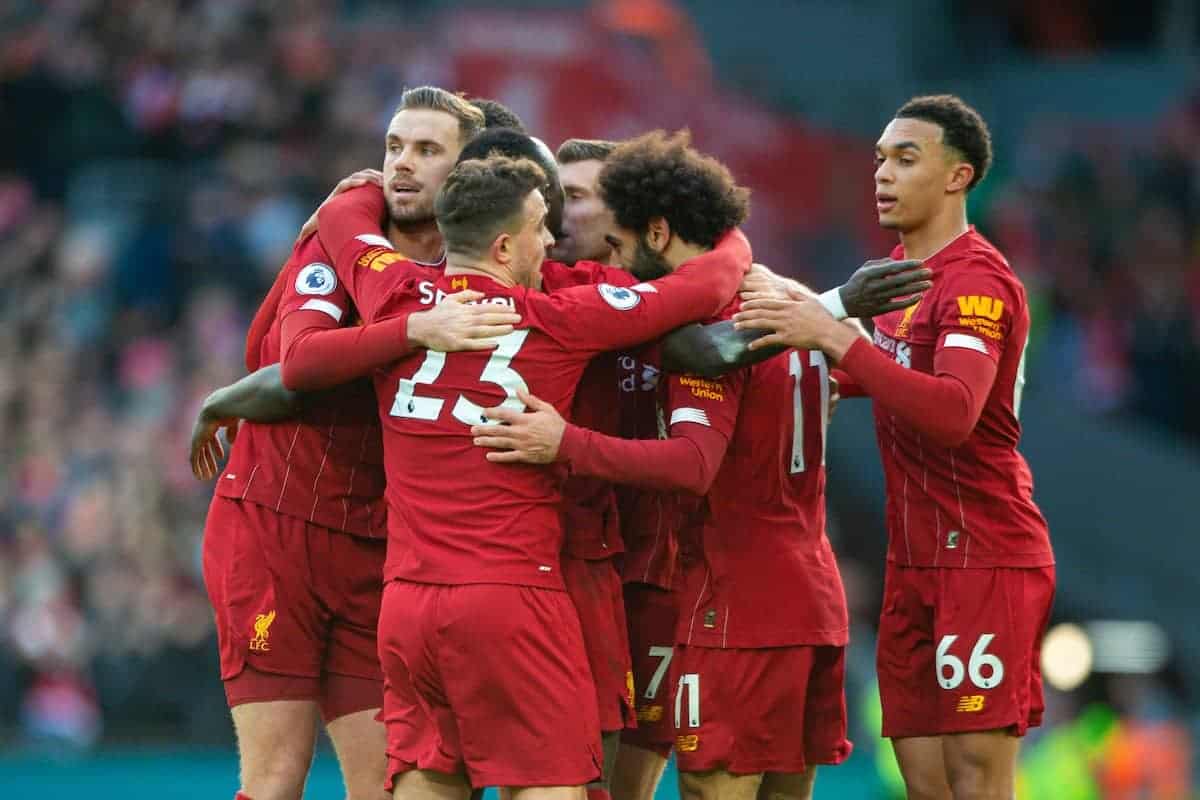 The ridiculous December schedule has meant that rotation has been the name of the game of late.
With Andy Robertson rested, and Dejan Lovren and Joel Matip injured, it was yet another back five combination, with Alisson behind Trent Alexander-Arnold, Joe Gomez, Virgil van Dijk and James Milner.
Ahead of them, Xherdan Shaqiri came in which, while adding creativity, meant that some of the usual midfield control was lost as Jurgen Klopp shifted to a 4-2-3-1.
The second half, with the unfortunate injury to Gini Wijnaldum, saw the introduction of Robertson as Milner moved back into midfield.
The team shape and balance improved as a result, resulting in lesser threat from the opposition.
The introduction of Alex Oxlade-Chamberlain shored things up further, while a late switch to a 4-5-1 ultimately ensured the three points.
It showcased Klopp's ability to adapt, and how the different combinations within the squad can help overcome a number of different obstacles.
Hit and miss from the front three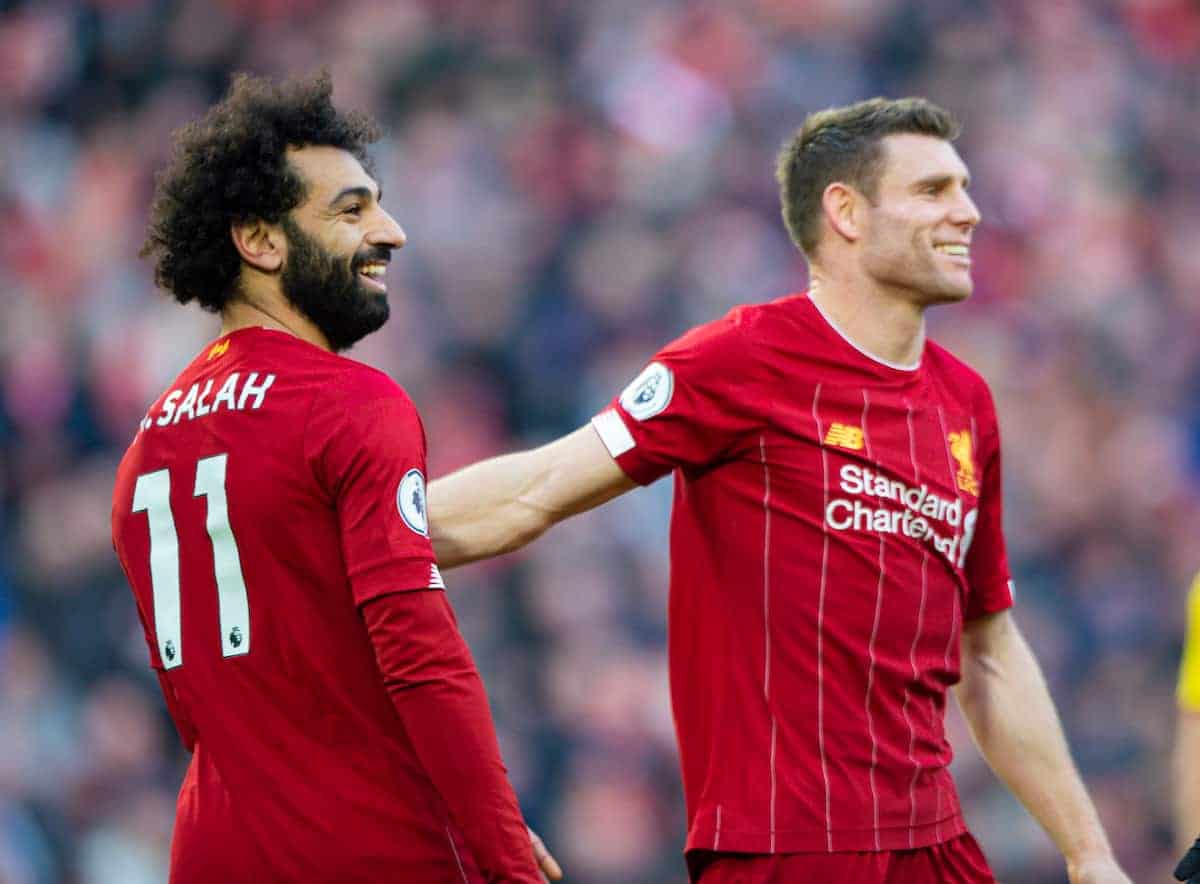 Salah's brilliant double means he now has 57 goals and assists in 52 Anfield games.
Sadio Mane is unbeaten in 57 appearances at Anfield and was about three millimetres from adding to his impressive tally this season and calendar year.
The one slight—and I do mean slight—concern, is that Bobby Firmino remains without a goal at Anfield this season and his general play is reflecting it.
It's just not happening for him at the moment in front of goal, but we should never underestimate his importance.
His fabulous overhead pass led directly to Salah's first goal, and even though he passed up some presentable opportunities again, it's always worth remembering: form is temporary, class is permanent.
Meanwhile, Origi can do no wrong can he?
After his superb display against Everton, Divock has since had to spend most of his time back on the bench. But within minutes of coming on, even his mis-kick turns to gold.
After his heroics last season, he's continued to show his importance in key moments this season.
Clean sheets, like buses

After craving one for most of the season, that's now three in a row.
It's fair to say Watford's inadequacies played a big part in that. A team that has only scored nine goals all season showed us why with a series of mishits and poor decisions while in promising positions.
But there is another reason, and that is the superb Alisson.
Big goalkeepers come up with big moments at crucial times, and once again, the opposition could not find a way past him.
His positioning and shot-stopping are world class.
Squad depth shines through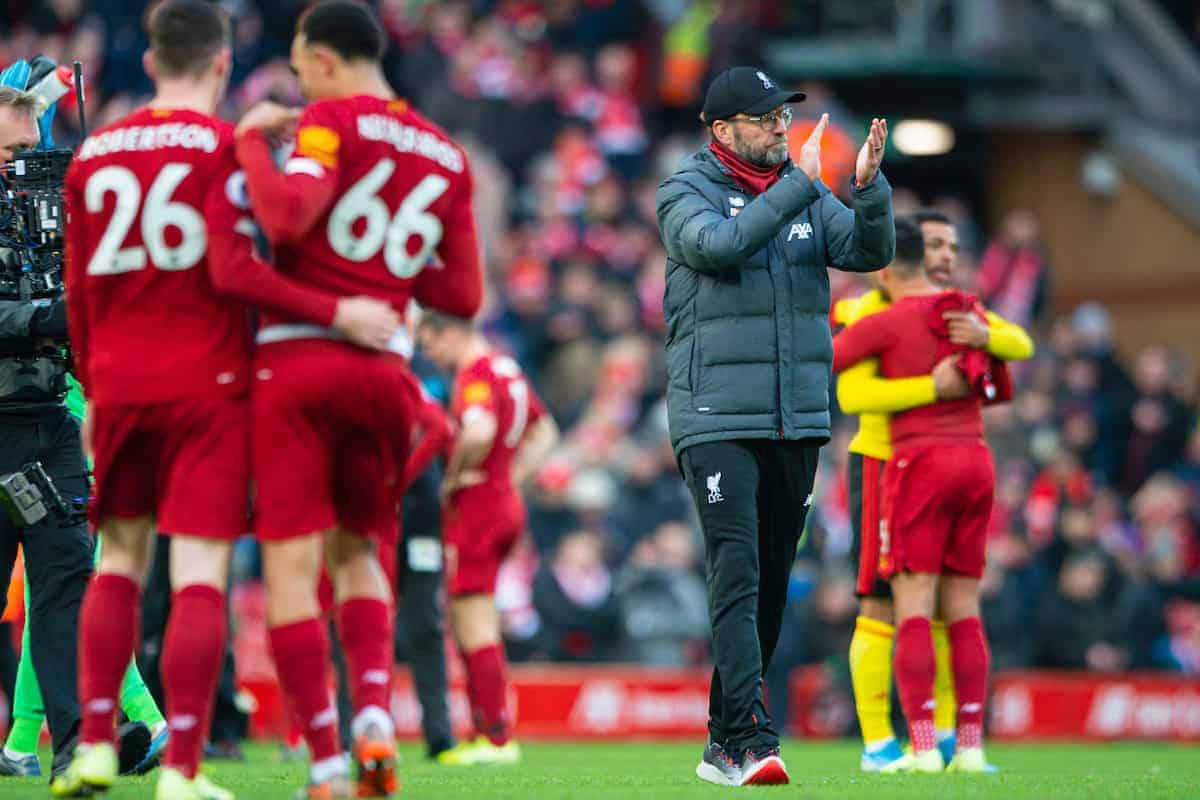 Klopp, thankfully our manager now at least another four years, has put together a fantastic squad.
And it is times like this when that this meticulous 'building' of a squad pays such huge dividends.
While much has been made of Man City's injuries, little has been made of Liverpool's as we have continued to win regardless.
It's now our second and third choice centre-halves, our most important defensive midfielder, and one of our most influential midfielders all injured.
Alisson was out for a large chunk of the season too, and Salah has had to be managed due to an ankle injury.
It all shows just how incredibly well-tuned this squad is, and how important each and every player is. Shaq, Gomez, Origi, Lallana, Ox etc. have each filled in admirably and, as a result, the wins keep on coming.
That was our final league game before Christmas, and given our league position and form, it's a very happy Christmas for everyone associated with Liverpool Football Club.