Liverpool cruised to a comfortable 3-0 win at Bournemouth on Saturday, where there were plenty of positives to discuss after the final whistle.
Jurgen Klopp's Reds were back to their commanding best on the south coast on Saturday, with three unanswered goals paving the way for the 15th win from 16 Premier League games.
Alex Oxlade-Chamberlain and Naby Keita found themselves on the end of two scintillating deliveries prior to the half-time break, before Mohamed Salah joined the party with one of his own on his 100th topflight appearance.
Unlike recent weeks, there was to be no dramatic finish as the Reds kept their foot on Bournemouth's throats to record their fourth clean sheet of the season.
The three points sees Liverpool take their season's tally to 46, simultaneously establishing a 14 point buffer over reigning champions Man City following their defeat to Man United.
Here, This Is Anfield's Joanna Durkan (@JoannaDurkan_) is joined by Scott Groom (@ScottCGroom) and Salim (@saaalim32) to delve into the positives and negatives from the victory and discuss the Reds' impressive squad depth.
The good…

Scott: Well where do you start?
It was an all-round professional and clinical performance yesterday, and I loved how from minute one snuffed out any hope Bournemouth might have had of even having a spell of pressure in the game.
Joe Gomez impressed me both at right-back and when he moved next to Van Dijk, and Oxlade-Chamberlain looked far better as part of the front three than he has when used there recently.
Naby Keita was brilliant too, and I sat watching thinking that he'd proved a few people wrong – so my loudest cheer of the afternoon came when he found the back of the net!
It was great to see Salah back firing on all cylinders and oozing class, especially with that backheeled assist to Keita, as well as seeing Curtis Jones make his league debut.
More of that please Jurgen!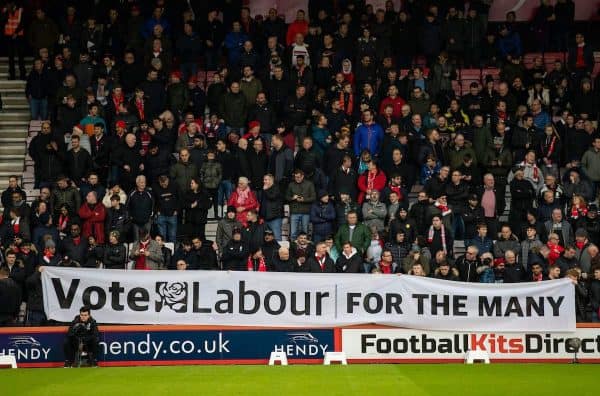 Salim: The atmosphere yesterday afternoon at the ground was fantastic.
The fans were electric and continued to play a huge role in the victories Liverpool have worked for throughout the season – and when our players made unforced errors we only encouraged them, which was pleasing to see.
The banner of 'vote for Labour' was a class act and symbolises what we as the supporters represent.
On the field, players like Naby really stepped up their game – I thought he was key in setting the rhythm and tempo to the game and it was clear the opposition was aware of his abilities on the ball which made them hesitate to press him.
Jordan Henderson was amazing in breaking up their counter-attacks and dispatching some brilliant direct balls.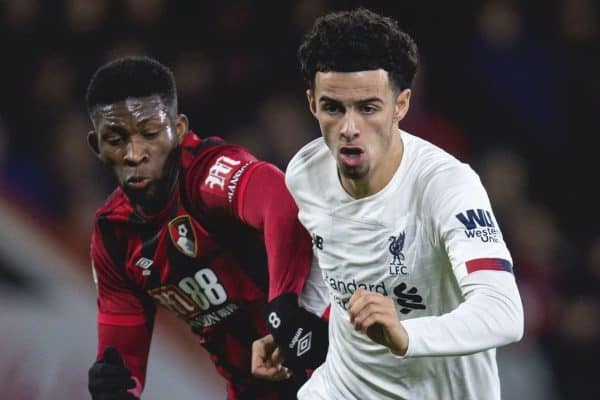 Joanna: Firstly, we finally kept a clean sheet! It's a welcome confidence boost ahead of the vital trip to Salzburg as we did not even give Bournemouth a sniff – and it also came as a big boost to my emotional well-being.
I have to agree with the view on Keita's performance, while he started slowly he soon came to life and it was a welcome sight to see him score as he has watched on from the outside for the large part of the season to date.
The two greatest pleasing notes of the afternoon, however, was seeing the 'vote for Labour' banner proudly displayed and Jones handed his league bow – just rewards for his incredible rise through the ranks.
I'm still looking at the table in disbelief though, 46 points and 14 clear of Man City – not to mention we have now gone 33 games unbeaten, astonishing numbers which I feel I'm not giving Liverpool enough credit for.
The bad…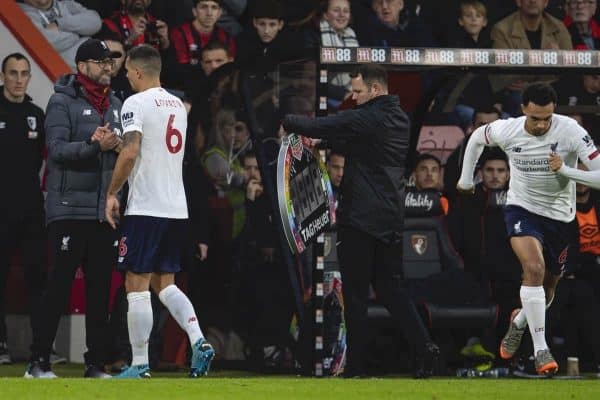 Scott: Aside from Lovren's injury, were there any negatives?
Lovren's been ace recently, and with Matip still a few weeks away from a return, we need him. So that put a bit of sour note on the whole afternoon for me.
The only other thing, and it didn't really matter, is that I thought Firmino was very quiet, and in a game like that I'd usually expect him to be a menace – but maybe he didn't need to be so he just went into power saving mode?
Very little to complain about again though, what a privilege it is to watch this side at present.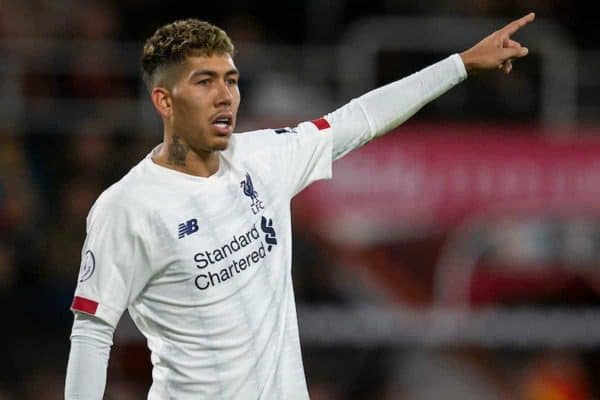 Salim: There aren't many negatives to point out, to be honest, although some of the stadium officials tried to get the 'vote for labour' banner taken down.
I thought Gomez had a tough time at right-back but proved in the second half why he can play a crucial role in Liverpool's success at centre half alongside Virgil.
There were a few moments where Joe would lose possession of the ball forcing the direct balls into feet but you have to give credit where it is due as he learned from his mistakes and decided to recycle the ball more often.
The referee gave a few soft decisions where Liverpool had the chance to counter, but overall there isn't too much to complain about.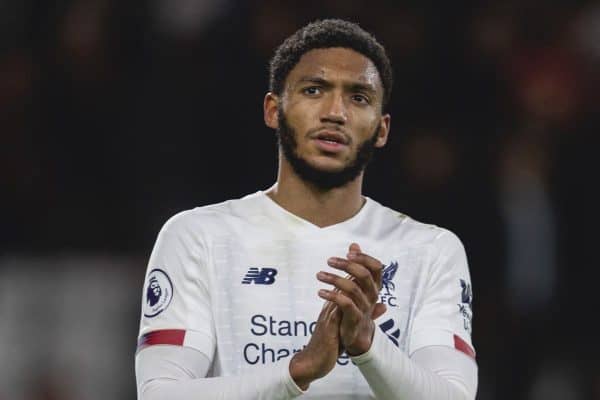 Joanna: I understand what Salim is saying about Gomez's performance, but I thought he looked a lot more assured – in both positions – than he has in recent games.
And it comes as a positive because, as Scott mentions, the uncertainty over Lovren could see him thrown into the mix again on Tuesday.
Klopp did say Lovren had suffered cramp, but with his previous injury record the club are likely to opt for caution amid a flurry of games – and we can ill afford another casualty at the back.
All in all, very little to report on the negative front as the Reds juggernaut continues to roll on.
And how impressed have you been by Liverpool's fringe players and our strength in depth?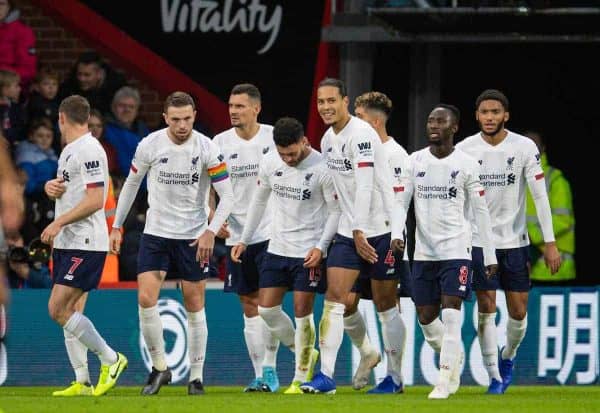 Scott: Extremely impressed. The real test was the derby in midweek and I was blown away with how seamlessly everyone slotted into the first team.
Origi, Shaqiri, Lallana in particular as they haven't had much game time this season. But this is what Klopp's been working towards for his whole career at Anfield; a harmonious squad that has each others back and who he can wholeheartedly trust to come in and do any job.
It's just a joy to watch, and we shouldn't take it for granted.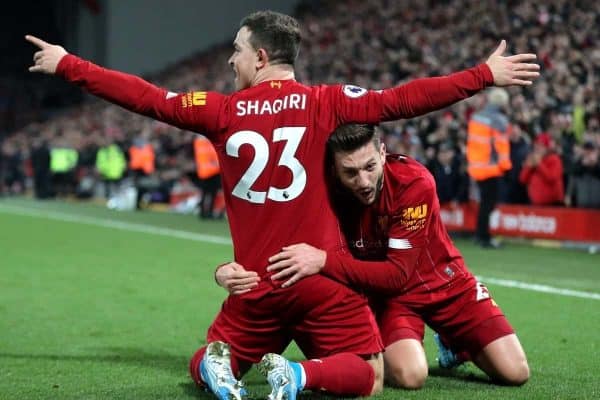 Salim: There's over 60 games Liverpool must play this season and it would inhumane for players to play every game.
As Klopp said it's not a video game, they will all need a rest.
Players like Ox, Naby and Milly all have experience and sheer determination to win games for this club, and Klopp and the fans all have faith in them to do so.
The squad depth is excellent and having Ox back is like a new signing. He's able to pick up the ball in and around the midfield and drive with the ball quickly towards the front three, an element of our game which we were missing on outings against the likes of West Ham last season.
But, overall it's a positive to have him back and a welcome sight for the relentless schedule ahead that Sadio and Mo have been getting rest and will now be 100 percent ready for Salzburg.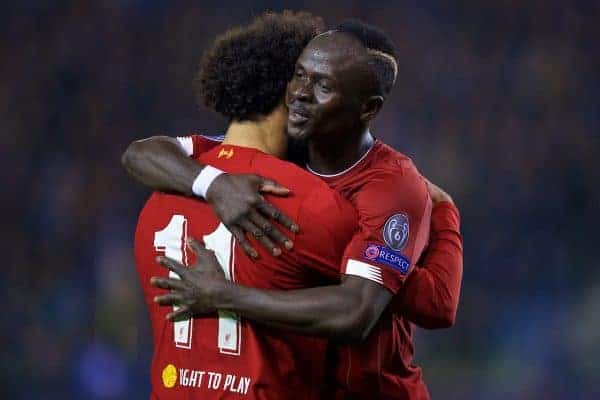 Joanna: At the start of the season there were concerns over Liverpool's squad depth and some of those worries remain in various positions, notably at the back.
But over the last two games, the Reds' supporting cast has come to the fore and proved decisive in maintaining the momentum and Liverpool's winning record.
The fact that 16 different players have scored in the league so far this season is a testament to the squad Klopp has built, a collection of players who know their role and can step in and out without too much disruption.
After a number of years experiencing the relentless festive fixture list, Klopp is now well-versed in what is needed to successfully get through it and with key players afforded a timely rest without too great of a drop off, the January blues may now be a thing of the past.