If there's one guy who is completely absolved of all blame when it comes to the car-crash era of Tom Hicks and George Gillett, it's definitely Hicks himself.
It's pretty clear that the co-owner of the club did nothing wrong at all during his tenure as steward. Absolutely nothing. He even says so himself, and has done many times over.
The blame lies elsewhere: the banks, George Gillett, Rick Parry, the banks, the fans, the courts, the club website, Rafa Benitez and the banks.
Poor old Tom, a harmless, doddering old chap who wanted nothing more than to invest at least twenty quid of his own money into making Liverpool Football Club a bastion of dollar-bill printing for his own pockets.
And now, nine years after he was originally forced out and the club sold to FSG (then NESV), Hicks has gone and shown the fans who binned him and his partner off that he has taken precisely zero lessons on board about his conduct, his approach, what he got wrong and what was his fault, with a rambling, contradictory interview with Sky Sports.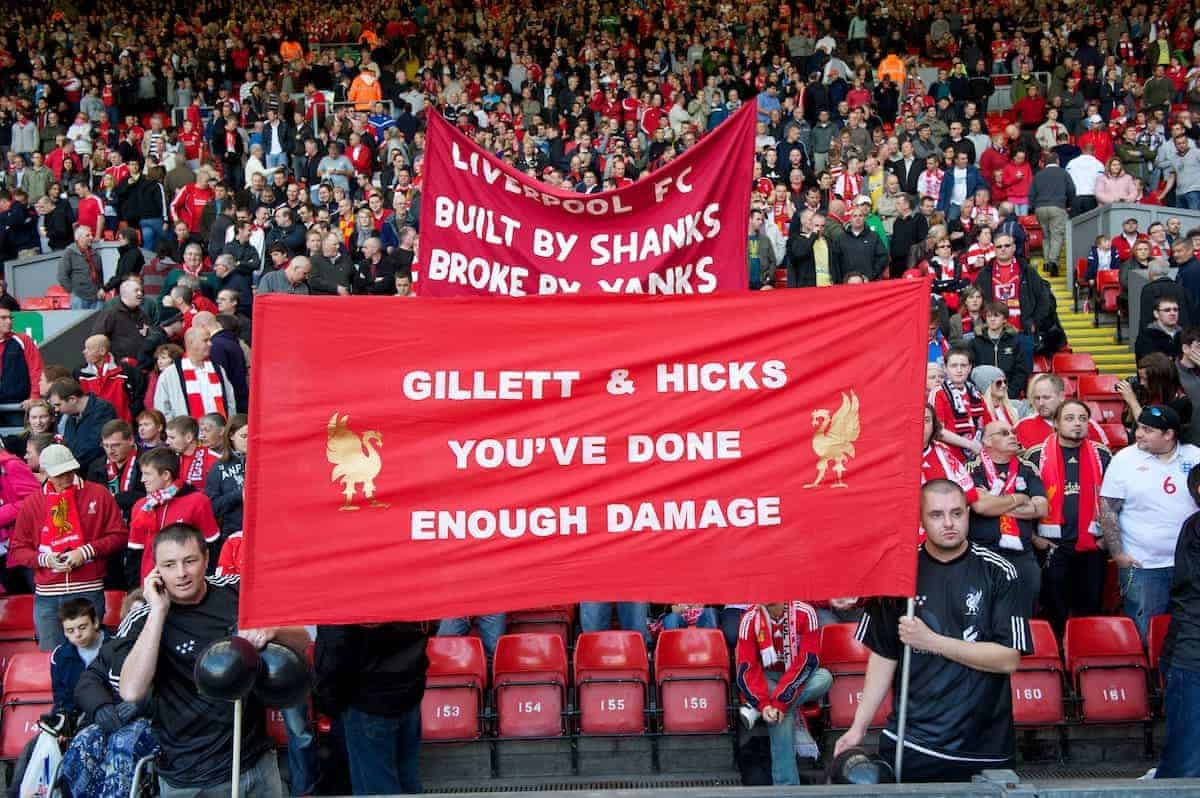 In truth, the interview itself comes across as a bit of a sham; littered with references to Hicks' success and good-guy personality—"50th floor of an impressive skyscraper…", "Do you think supporters got the wrong impression of Tom Hicks…"—it's a series of softball questions designed to allow Hicks to bat them out of the park.
He still fumbles around with his answers, but let's look through the most ludicrous anyway—which largely revolve around laying the blame for what went wrong anywhere but at his own feet.
"Absolutely I made some mistakes, I did some things that were very good also but the biggest problem I had was, I picked the wrong partner!

"I should've known better, I knew George Gillett from previous business deals that we'd ventured into together, where my firm owned 85 per cent and his 15, and he was impossible to deal with.

"So why would I then go and do a fifty-fifty deal with the guy? Well shame on me!"
How to simultaneously pretend you made an error and insinuate it had nothing at all to do with you: Lesson 101.
Ignoring the fact Hicks didn't have the funds to do the deal himself, ignoring the fact he chose a partner making himself entirely culpable, ignoring the fact his own judgement showed itself to be horrendous in his own view and ignoring the fact he failed thereafter, multiple times, to buy out his own partner (again not having the finance required)…what a nice guy Hicks comes across here.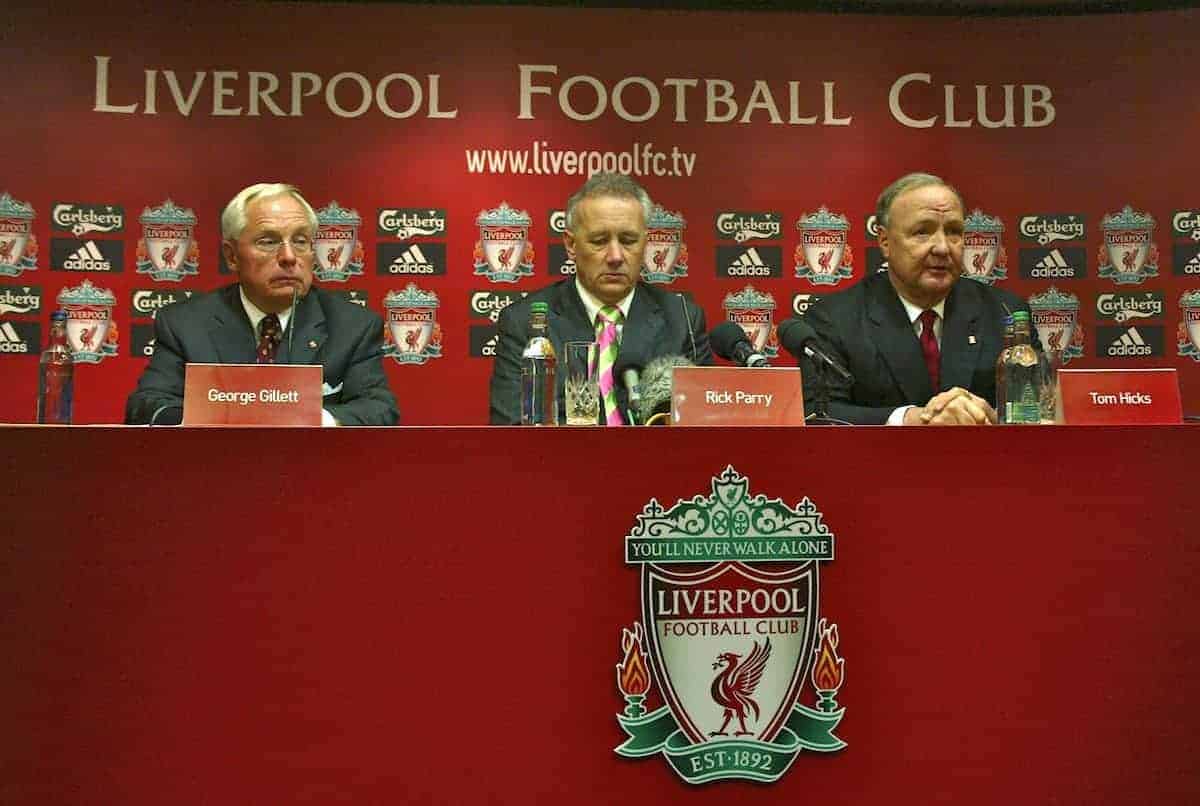 References to Gillett's "personal financial issues" and poor business ventures and decisions are a pretty reprehensible way for a businessman to publically behave. How do you say "threw him under the bus" in Texan?
Anyway, moving on.
"Did you put too much debt on the club?"

"Not really. That was more an emotional problem with the fans, when our loan became due the lender wouldn't let us re-finance it.

"We had lots of options to do that but they clearly wanted us out because the supporters wanted us out. It cost me $200m so it was an expensive lesson."
Ahhh, the real crux of the issues: the money Tom Hicks lost. This, and only this, is quite clearly Hicks' only regret.
Let's be clear, even from a business instead of football perspective: if the very customers you rely on for income are angry about an approach, you've done it wrong. If the fans are angry with debt loaded onto club, it's too much.
If the banks won't let you re-finance, it's too much. You can't afford it. It's too much. Pretty simple, really—but let's just remember that $200m lesson for a moment.
"If you look at the market capitalisation of Manchester United today its over $3bn and that's all driven by the global media markets and the strength of the Premier League. I could see that happening.

"I knew Liverpool would be worth $3bn as well, and my half of that was a lot of money to lose."
There we go.
Regrets? Yes, a few…billion.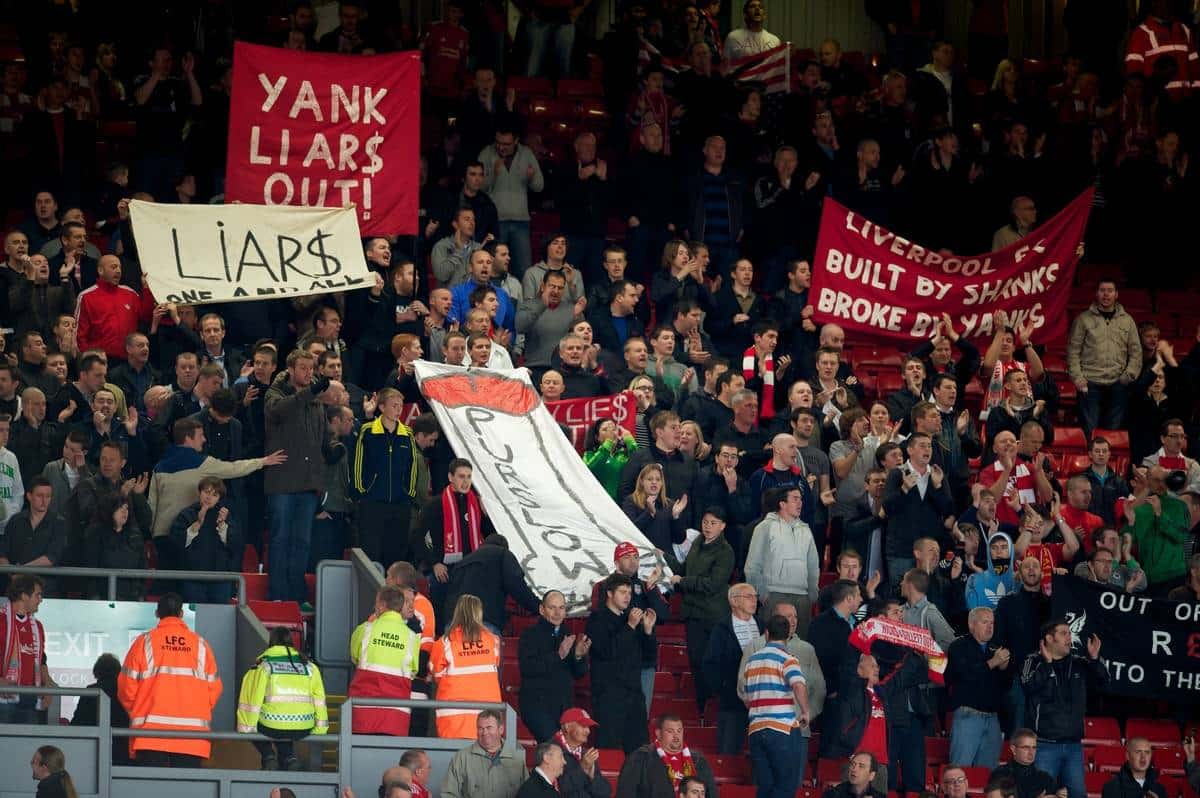 Hicks has no qualms about his abject failure in a sporting sense, only that he missed out on half a billion quid or more.
Of course, we should also point out that his crap running of the club made it more likely that we'd head in the direction of a Sunderland or Leeds than a Man United or Chelsea, becoming worth ever more with each passing year and trophy challenge.
"The club was making a lot of money, it was a commercial success," he goes on, in a mind-numbingly stupid state of ignorance—as detailed next.
On and on it goes.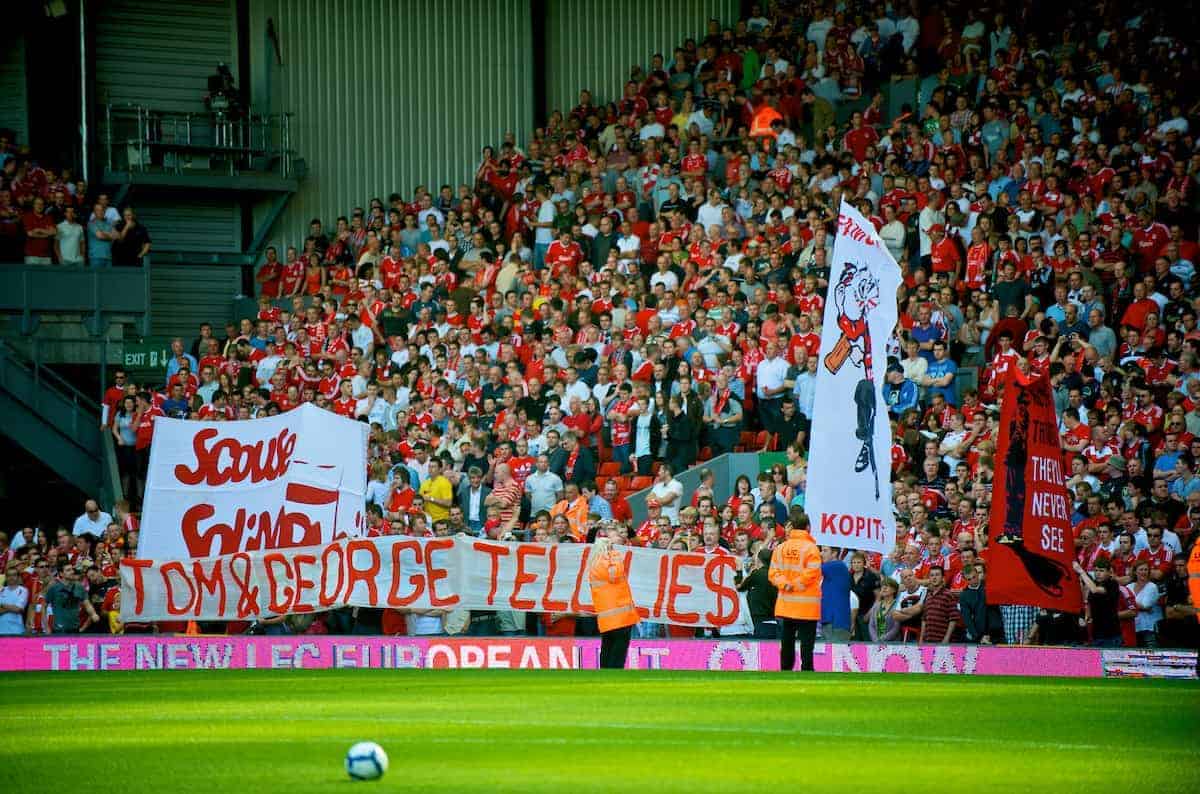 What about the positive aspects he mentioned, the "good things" he did at the club?
"We modernised things (including) the approach to the commercial side of the club," he said.
Well, revenue was £170 million in 2009, the last full year Hicks was co-owner for, and £250m in 2015, after five years with FSG. Debt when Hicks was kicked out was £237m, and by 2015 was only £57m.
Modernised it? Maybe. Doesn't mean they did a good job with it.
"We designed a fantastic stadium that should have gone in Stanley Park – that was a victim of the financial crisis too but it would have been the best stadium in world football."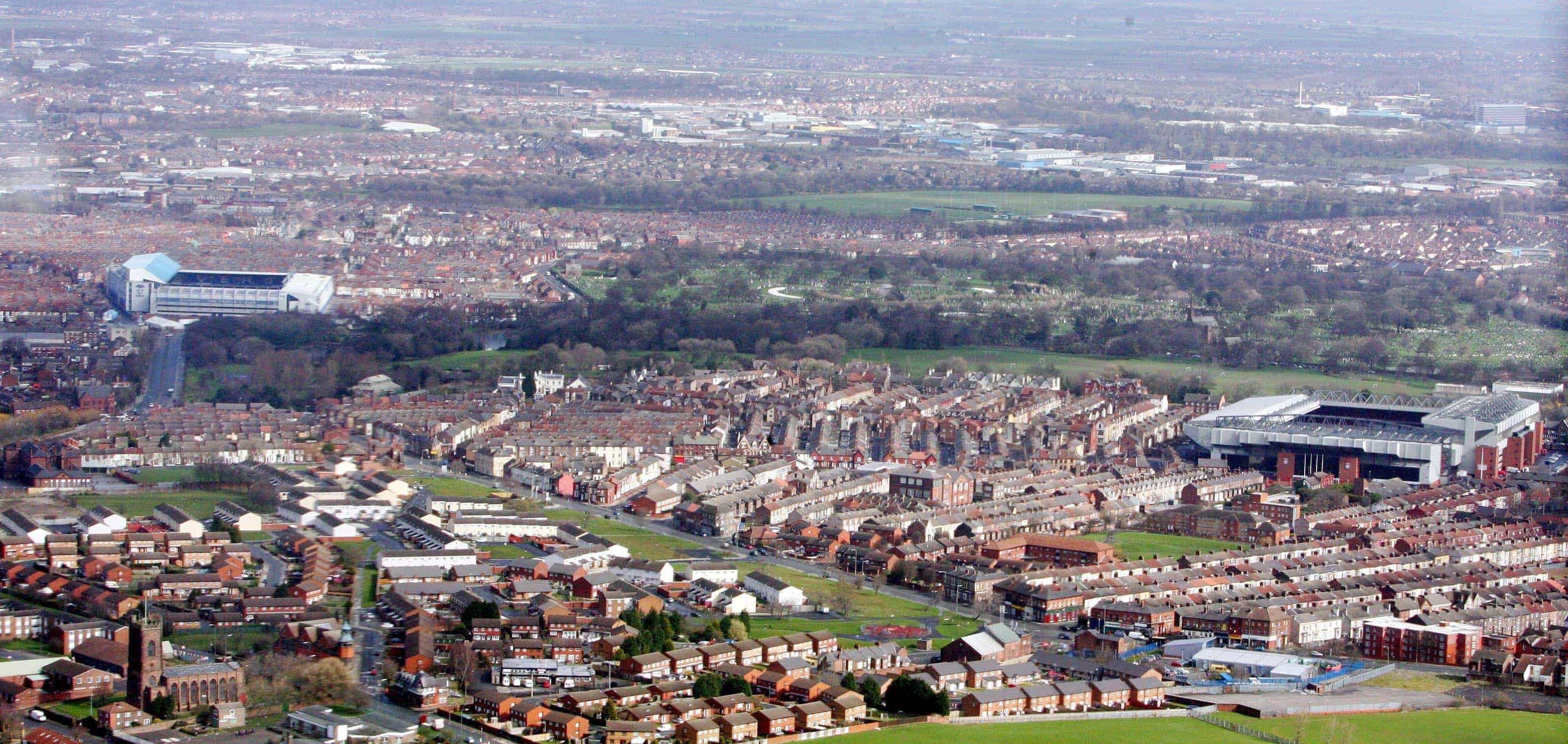 Congratulations for hiring people to design something you did absolutely nothing for, toward or with.
But if it didn't take the best part of a year to really start acting on the intentions to build the stadium, the GFC may not have been such an easy blame, since it didn't impact most areas until mid-to-late 2008, well over 12 months after Hicks and Gillett gave their infamous spade-in-60-days comment.
There's more: outright contradictions of Benitez.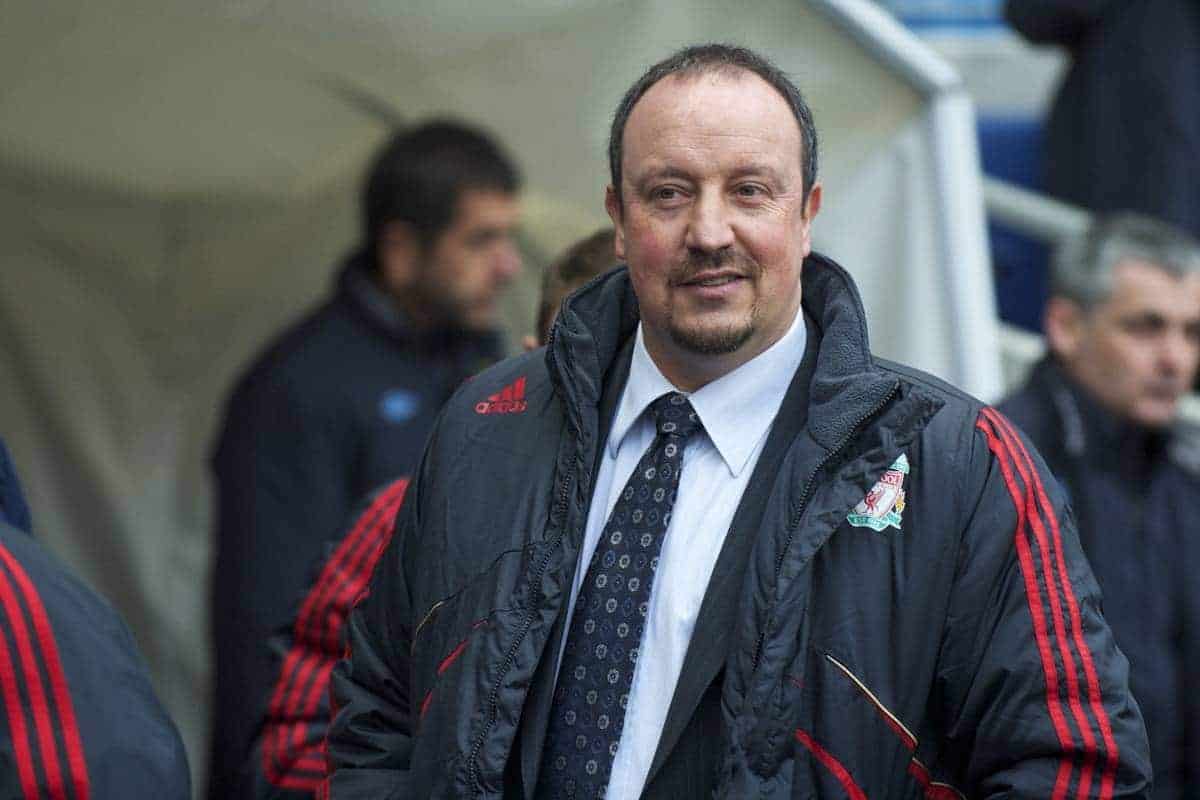 "The fans loved Rafa Benitez when we bought the club, they turned on Rafa later when he wasn't winning because it's all about winning," Hicks said.
"Next thing I know [meeting Klinsmann is] leaked out to the press and the fans leapt to the defence of poor Rafa."
And perhaps most absurdly of all, explaining how difficult it was on his son, Tommy Jr, who now works for President Trump—which should help the family image enormously with most reasonably-thinking humans, we're sure.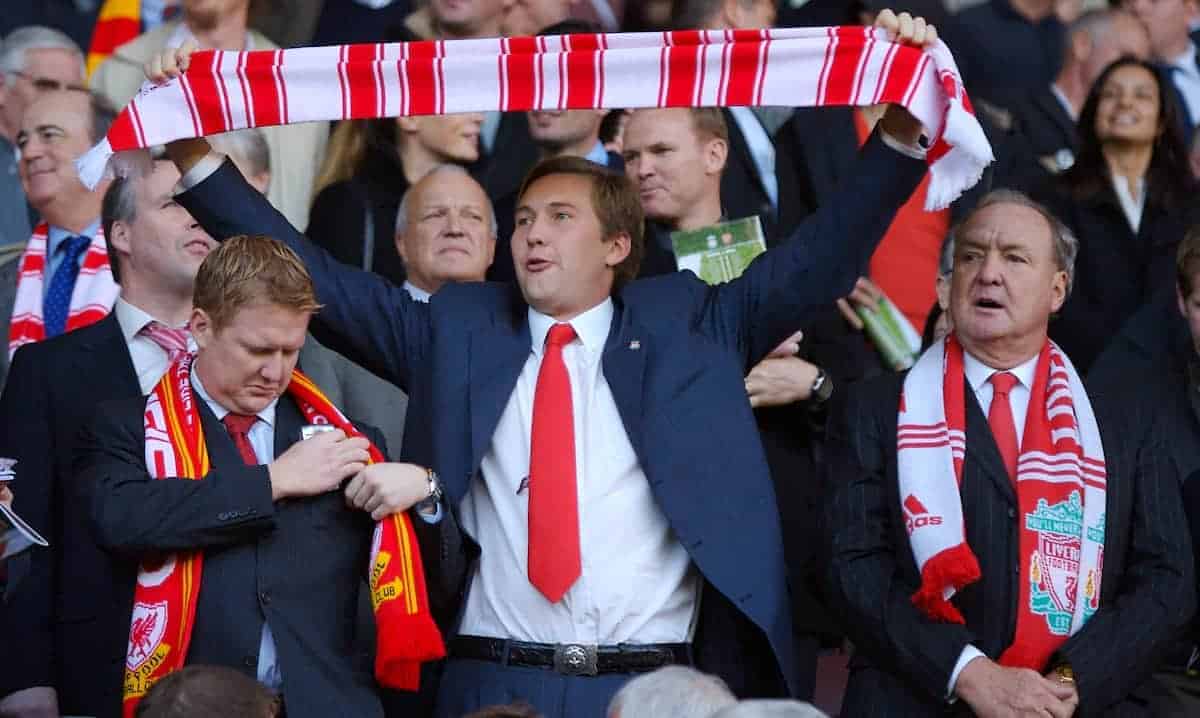 "It was a difficult time for Tommy especially, he learned some painful lessons himself, it made him part of who he is."
Yes, indeed. And 'who he is' is the board member who emailed a supporter "Blow me, f**k face. Go to hell. I'm sick of you."
Hicks is right, there, at least: it probably is a painful lesson to learn you're a complete and utter c***.
And we'll end it on the most appropriate note of all, the mix of pure greed and incredible ignorance, which largely sums up the entirely failed tenure of Hicks. Asked if he still follows Liverpool, his reply is Perfectly Him:
"A little bit, and with mixed feelings. I'd like to have been the half owner when it was worth $3bn but I'm not."
Because that was ever, ever, ever on the cards, mate.