A clinical second-half performance in the 2-0 win at Salzburg paved the way for Liverpool's progression to the last 16 of the Champions League on Tuesday.
The Reds and Salzburg went toe-to-toe in the search for a place in the knockout stages on Tuesday evening.
A frantic opening term somehow failed to see either side land on the scoresheet, but the European champions would flex their muscles in the second and land the decisive blow through sumptuous goals from Naby Keita and Mohamed Salah.
Liverpool would go on to shut Salzburg out and finish their campaign as Group E winners, where a date with the last 16 now awaits after the new year.
Here are five key stats from Liverpool's victory in Austria.
Two Up in 100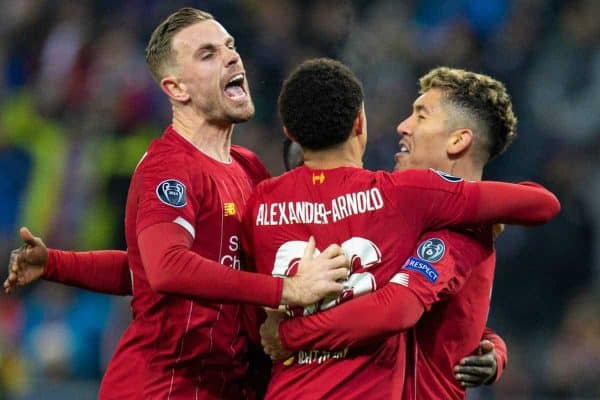 With the tie precariously placed as both needed to avoid defeat to progress, a tight and frenetic opening saw both sides come close to breaking the deadlock.
But despite their best attempts, Liverpool were made to wait until after the interval to truly take flight.
Sadio Mane, who had continually threatened to burst the game wide open, created the opening for Naby Keita to head the Reds into the lead with 57 minutes on the clock.
A decisive blow and one which ensured relief flowed through the veins of all those of the Liverpool persuasion.
But that was not all she wrote as merely 100 seconds later the ball was back in the net after Salah sensationally finished the narrowest of angles:
100 – There were exactly 100 seconds between Naby Keita giving Liverpool the lead and Mo Salah doubling the score against FC Red Bull Salzburg. Smash. #SALLIV pic.twitter.com/WU9B1IgCpU

— OptaJoe (@OptaJoe) December 10, 2019
From palpable tension to cruise control, a knockout blow which ensured there was to be no comeback from the hosts as there was at Anfield.
Salah Continues to Shine on the Continent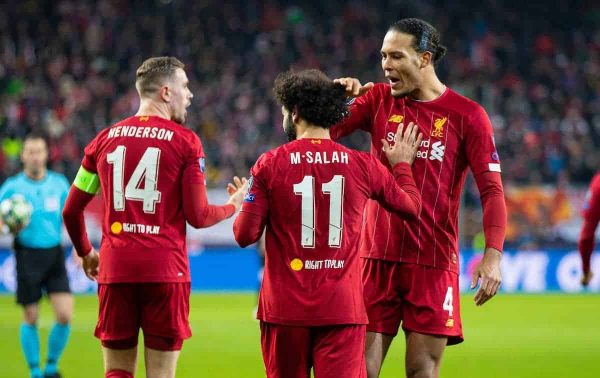 And that very goal which created the two-goal buffer was a finish that one needed to see to believe.
The Egyptian had missed a plethora of clear cut chances to pull Liverpool away earlier on, but more than made up for it with his 27th goal involvement for the Reds in Europe's premier competition.
A figure, which since his arrival at Anfield, is bettered only by Lionel Messi (28). Not bad company to keep.
27 – Mohamed Salah has been involved in 27 Champions League goals for Liverpool (19 goals, 8 assists) – only Lionel Messi (28) has been involved in more since the Egyptian joined the Reds. Masterful. #SALLIV #UCL pic.twitter.com/ngAkELcckq

— OptaJoe (@OptaJoe) December 10, 2019
While Salah has been hit and miss in recent times, his numbers simply leave you in awe and his tally of 19 goals and eight assists has been instrumental in Liverpool reaching two successive Champions League finals, with a chance at a third now well and truly on the cards.
Moreover, his goal in Austria saw him move one step closer to Steven Gerrard's club record of 30 in Europe – is 11 a realistic target before the season is out?
A European Shutout to Savour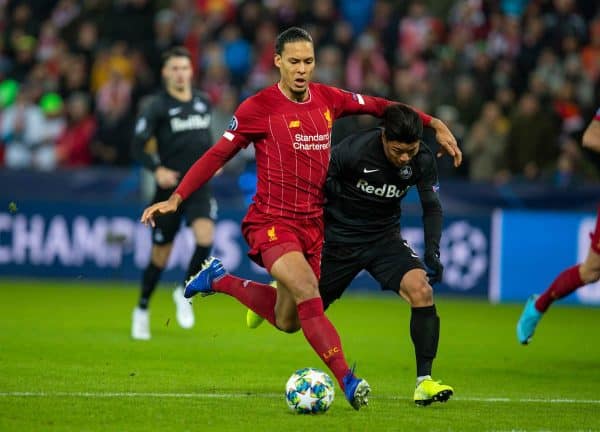 The Reds ended their barren run of clean sheets against Bournemouth over the weekend, bringing a close to a stretch of 13 games without a shutout.
And they continued their defensive turnaround in Austria having effectively nullified a free-scoring Salzburg outfit.
A clean sheet was key to Liverpool's hopes of progressing into the next round and through defensive discipline from front to back and imperious displays from the likes of Alisson and Virgil van Dijk, Salzburg were left with little joy in front of goal.
In fact, it was the Reds' first clean sheet on the road in a Champions League fixture for 11 games, having conceded 18 in their previous ten – with the last coming against Porto in the last 16 in 2017/18.
Notably, the shutout is more impressive when you consider that the Austrian side had also scored in each of their previous 24 games this season – not to mention that in seven of their last 12 they found the net three or more times.
With Liverpool fighting on a number of fronts and currently in the midst of a relentless fixture pile-up, the return to clean sheets is certainly a welcome one.
The Dawn of Keita

For the second game in succession Keita was hitting all the right notes and against his former side, the midfielder duly impressed.
Liverpool's No. 8 has experienced a tumultuous start to his Anfield career, with a plethora of injury setbacks restricting his ability to consistently shine for the Reds.
But at Salzburg, Keita burst into life, displaying the level of composure, vision and dynamism that Liverpool fans were desperate to see in action once it was clear he was Merseyside bound.
And on Tuesday, Keita was everywhere. Five recoveries, a 100 percent take-on rate and an all-important goal which sent Liverpool on their way to victory and continued to inject confidence into the midfield maestro:
Naby Keita's game by numbers vs. RB Salzburg:

100% take-ons won
83% pass accuracy
61 touches
5 recoveries
4/4 take-ons
3 tackles
3 shots
2 shots on target
2 chances created
1 foul won
1 goal

He was simply everywhere tonight. ?? pic.twitter.com/TeZCOZvXRM

— Squawka Football (@Squawka) December 10, 2019
It was a high-stakes affair and Keita duly delivered at a time when Liverpool needed him the most, and with a flurry of games on the horizon, his rise to prominence could not have come at a better time.
Three Is a Magic Number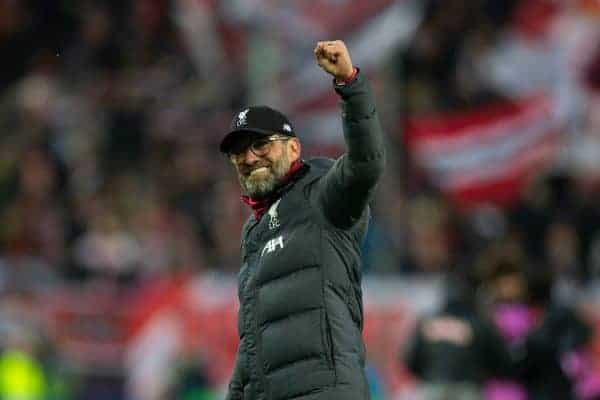 Prior to Jurgen Klopp's arrival, the Reds were languishing outside of the European places and had failed to progress beyond the group stages of the Champions League since 2008/09.
The Reds were twice knocked out at the first possible stage in their two previous Champions League campaigns prior to the German's arrival, first under Rafa Benitez in 2009/10 before Brendan Rodgers' infamous 2014/15 season.
Klopp, however, has pulled Liverpool back towards their perch and has ensured the club is a feared member of Europe's elite having progressed from all three group stages since.
A sixth European Cup, two Champions League finals and undefeated record in two-legged European ties has ensured that every club is left fearing the Reds.
And with two successful runs to the final in the bank, will a third in a place symbolic with Liverpool Football Club await come the end of May? You would not bet against it.