With 33-year-old Jay Spearing returning to Liverpool in a new player-coach role this summer, those within the club believe he can "make a real difference."
Spearing has signed a new deal with the Reds following the expiry of his contract with Tranmere, but he has not arrived as an addition to the first-team squad.
Instead the veteran midfielder, who played 55 times for Liverpool before joining Bolton in 2013, will take up duties as a coach within the academy, while also offering his services as an over-age player for the under-21s.
It is not a unique position, with Man United and Brighton both employing coaches in similar roles in recent years, but academy director Alex Inglethorpe believes there is "[no one] else who has done this within the under-18s."
Speaking to The Athletic alongside the latest addition to the coaching staff, Inglethorpe explained that Spearing will join the U18s squad and coach from within.
"In essence, he's not finishing his career," the 50-year-old said, though there is an understanding that Liverpool's old No. 20 will not be a regular for the U21s.
Instead, he will focus on his job with the U18s and fill in when required, such as during the EFL Trophy clashes with senior sides from Accrington Stanley, Rochdale and Salford City.
"There will be other times when the first team need players, the under-21s are short and it's not the right time for some of the under-18s to step up," Inglethorpe said.
"There will be opportunities, I have no doubt."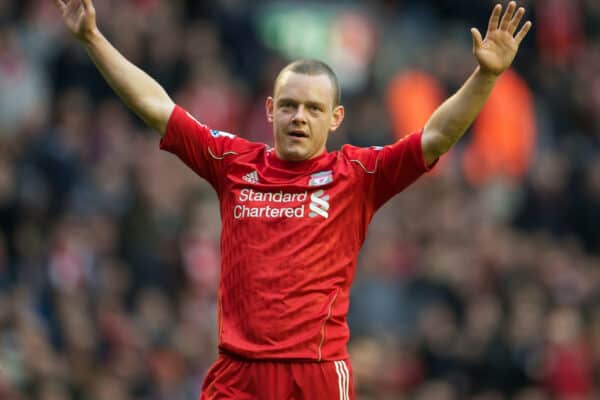 Though Inglethorpe believes that "in essence, he's not finishing his career as he's still available to play," Spearing himself is focusing on the main task at hand.
"I'm concentrating on the next couple of years and being a sponge, learning everything I need to know about how Alex and the academy want things done," he said.
"If any of the boys need any advice on anything, I'm an open book for them to have a chat.
"It's my job to guide them and help them progress to the first team.
"Long term, my aim is to take my own team like Stevie [Gerrard] did and ultimately become a first-team coach but that's for way down the line."
Spearing added: "It was a no-brainer. I'm delighted that Alex and the club believed in me and I'm determined to repay that faith.
"Three days into the job, I'd say this is the best decision I've ever made."