Darwin Nunez is set to experience his first real day as a Liverpool player later this week, and capped the end of his time at Benfica with Portugal's MVP award.
Owing to his interrupted summer with Uruguay and the workings of his deal to join the Reds, Nunez was not part of the first group back for pre-season training.
Instead, the £85 million striker will join up with his new team-mates for the first time this weekend, when Liverpool make their flight to Thailand for a Far East tour.
It will be a nerve-wracking moment for the 23-year-old, but he certainly has the talent to back it up, as he proved with 34 goals in 41 games for Benfica last season.
Twenty-six of those came in 28 appearances in the Primeira Liga, along with four assists, and though Benfica finished third in the league they also reached the quarter-finals of the Champions League, where they were knocked out by Liverpool.
Se restam dúvidas, o seu nome esclarece: DAR??? ?

Foi o melhor marcador, conquistou um lugar no onze do ano e, agora, ocupa o trono como MVP da #LigaPortugalbwin ??

Tragam a ?, por favor!#LigaPortugal #criatalento #futebolcomtalento #marcaomundo #kickoff pic.twitter.com/r29fRslrww

— Liga Portugal (@ligaportugal) July 5, 2022
Nunez's star-making form in Portugal last term has now been recognised as melhor jogador – in English, Player of the Year – with the top-flight MVP award.
The striker received his prize, voted for by managers and captains of the 18 Primeira Liga clubs, via video link during a ceremony in Porto on Tuesday.
"I want to thank all the coaches and captains of the Liga Portugal bwin teams and also my team-mates and SL Benfica supporters," he said.
"Without them nothing would have been possible.
"I am very happy to have been named the best player of a competition where I learned a lot because of its competitiveness.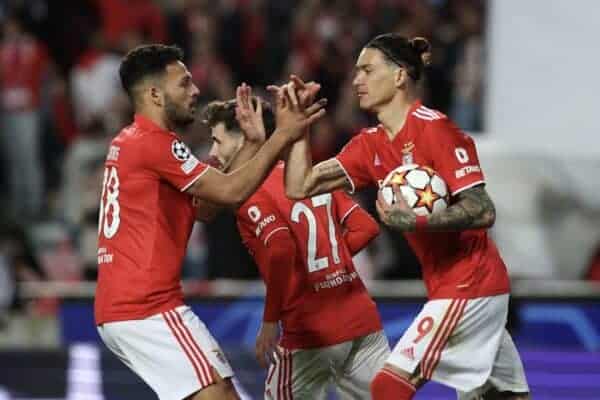 "It's a league that also allows the evolution of young players, especially to gain experience, as happened to me.
"Thank you all very much and good luck for 2022/23!"
Nunez is the second Uruguayan to win the award, with ex-Liverpool centre-back Sebastian Coates picking up the Player of the Year trophy following his excellent campaign with Sporting CP in 2020/21.
Previous winners include Bruno Fernandes, Nemanja Matic, David Luiz and Hulk.
Liverpool's new No. 27 also picked up the top goalscorer trophy this week, having netted at least eight more than any other player in the Primeira Liga.