After eight years at Liverpool, Divock Origi traded one legendary football club for another, and his recent experience at the home of his new club proved significant in his move.
With his deal reaching its end this summer, the 27-year-old was long destined for pastures new after eight trophy-laden years at Liverpool and countless legendary moments.
Jurgen Klopp heralded Origi as "one of the most important players I ever had," but his time had come to seek a new club and AC Milan was long tipped to be his destination.
The move was confirmed on Tuesday, with Origi excited about the "vision" of the Italian side after their Serie A triumph.
But while his next run out at his new home will be in AC Milan colours, Origi got a taste of what was to come when Liverpool met the Rossoneri in the Champions League group stage last season.
Origi scored in the 2-1 win at the San Siro, an experience that opened his eyes to the possibility of what would await with a summer move.
"My first impression was the stadium. You could feel the history and how mythical it was to be able to play there," Origi told the club's official website.
"Grateful and excited": @DivockOrigi's first words as a Rossonero ???

?? "Orgoglioso e carico": la prima intervista in rossonero del nostro nuovo acquisto ???#ReadyToLeaveAMark #SempreMilan pic.twitter.com/oHCNSz1xIC

— AC Milan (@acmilan) July 5, 2022
"Even at the time, for us, we played at a special stadium as well, but coming there, you could see all the players looking and admiring. And you could feel the football culture, small details like the fans, the way they know the club, and you could feel the energy.
"So those are things that I really love: they care a lot about the club and that spoke to me. Also the style of football, very energetic, very attacking, a lot of quality, these are all things that I really love."
AC Milan is Origi's fourth club in his professional career, each has been in a different country and with a different language, experiences that the forward thrives off.
"When I was 15, I went from Belgium to France and I didn't speak any French," Origi said of his journey.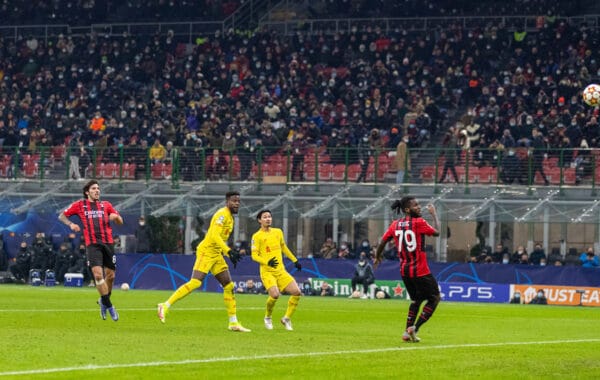 "So that was the first adaptation. I wanted to learn as quick as possible, and same with here. I enjoy being able to speak different languages and experience different cultures.
"I love travelling, I love experiencing new cultures. So 100 percent, being a student of the game, being a student of the culture, enjoying the time here, knowing more, I'm sure the life experiences will help me grow as a man as well.
"Being able to give the best version of myself as well, that involves learning the language. But for me, that's a joyful experience, getting better every day and improving."
There's no doubt Liverpool fans will watch his journey closely, this year and well into the future.