Kevin Keegan's legacy at Liverpool is not without complication, from the 'King of the Kop' to 'mercenary', but there can be no escaping his astonishing achievements at Anfield.
In the summer of 1971, Liverpool were preparing for another season in the top flight. Bill Shankly had restored pride to the red half of Merseyside, but the steady flow of silverware had dried up.
The Anfield trophy cabinet had not welcomed a new addition since the league title had been secured in 1966. The great Scot was rebuilding and he secured the services of Kevin Keegan from Scunthorpe United for £33,000.
The 20-year-old would have been a virtual unknown to the Liverpool faithful, having played his football in the Fourth Division, but the Reds scouts were well aware of his potential. The story goes that Keegan was initially brought in as an eventual replacement for Ian Callaghan.
He wouldn't even feature in Liverpool's pre-season tour. However, it would take one practice match at Melwood, just days before the season was to begin, to convince Shankly that the youngster belonged in the first team.
He would later describe the fee paid to the Lincolnshire side as "robbery with violence." He also talked of his unshakable belief in his new signing, saying this:
"I was just as sure of Keegan as I was of Denis Law and I never had cause to think again about Denis. These two players are so much alike in many ways. Keegan is an exciting boy all right."
In truth, though, Keegan must have been signed with an eye on the future. That he would have such an immediate impact and go on to play such a pivotal role in the success of the early '70s says everything about his quality as a player. It must have been some performance in that practice match because the manager would plunge Keegan straight into the first team in the opening league game against Nottingham Forest. It proved to be an eventful debut indeed.
Shankly makes his choice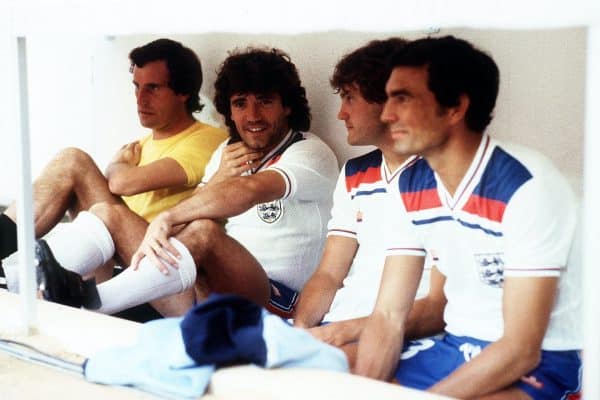 The youngster almost incurred the wrath of his boss and faced a race against time to make it to the game on time. Keegan had been used to leaving his home in Scunthorpe at the last possible moment and making the drive to the ground in leisurely circumstances. He hadn't banked on the huge crowds synonymous with Anfield and in no time found himself wedged in the pre-game traffic jam. Fortunately, though, he made it in the nick of time, narrowly avoiding a fine and probably much worse from Shankly.
Despite his less than stellar reputation, Keegan – wearing the famous No. 7 – was afforded a hero's welcome as he took to the pitch. A supporter leapt from the Kop, ran onto the pitch and made a beeline for Keegan. In what was an accepted ritual welcome for new players at Anfield, the fan planted a kiss on the player's cheek. Even the police turned a blind eye. Keegan remembers the event with some amusement:
"The self-appointed representative of the Kop came on the field to greet me. He gave me a kiss, and the smell of booze on his breath almost knocked me off my feet. He needed a shave as well as his beard was rough…This Kopite was a nice old fellow with no harm in him. He kissed me, then kissed the grass in front of the Kop and went back to join his mates in the crowd."
It would take the 20-year-old just 12 minutes to justify such an emotional welcome, and the press would declare that a star had been born. Reading over contemporaneous match reports, I'm struck by how a common word used to describe his performance was "explosive." It accurately sums up the dynamism of his later performances in a Liverpool shirt and is a word that seems to brilliantly capture his essence.
The step-up for the youngster was undeniable, this was the First Division of English football, and the crowd of 51,000 was a far cry from those he was used to. Nevertheless, he was undaunted, possessing the "natural enthusiasm" Shankly sought in all his players.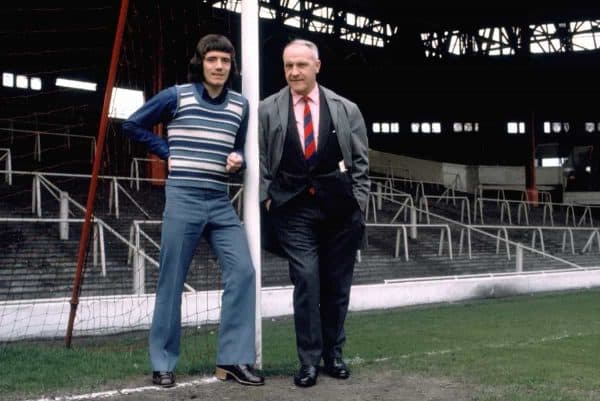 In front of that huge and exultant crowd, Keegan would grab the first and create the second in a mesmerising three-minute spell. His debut strike came from a John Toshack cross and just moments later he was fouled in the box, grabbing a penalty. Tommy Smith smashed home the resultant spot-kick.
Forest hadn't even had time to settle. However, they would pull one back thanks to a penalty gifted by Ray Clemence, halving the deficit five minutes before half-time.
Liverpool weren't messing around, though, and Emlyn Hughes finished Forest off. The Kop were in raptures and began singing "we're going to win the league." The league had barely got underway, and already Kopites were believers. Keegan would admit he hadn't been prepared for the power and pace of Anfield, "I had to take the occasional two-minute breather," he would admit after the game.
At full time, Shankly was glowing. His faith had been repaid in spades. He would tell the assembled media:
"What wonderful entertainment this was for the fans. And what a performance by Keegan. This lad's got all the confidence in the world. With such a busy bee buzzing about, someone's bound to get stung."
Seeing red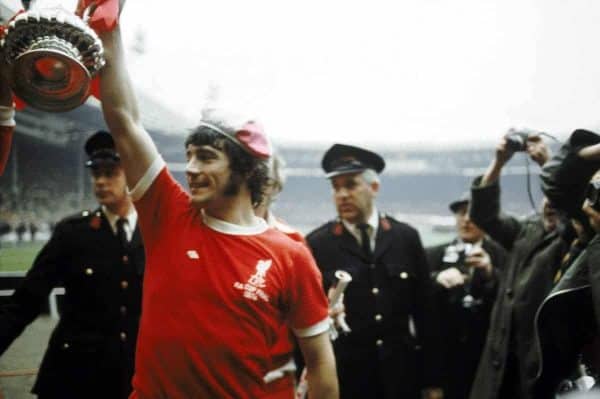 The great man would have no idea how prophetic those words would be. After winning the league title and UEFA Cup in 1973, Keegan's rampaging display in the 1974 FA Cup final victory over Newcastle set up a titanic tussle for the Charity Shield with Leeds, who had ended the '74 season as champions.
The game was played at Wembley for the first time, and it would pit two of the country's most bitter rivals in a fixture intended to be a showpiece affair, a display of sportsmanship and intended to raise money for good causes. There would, however, be no charity on display, and it would prove a low point in Keegan's Liverpool career.
Leeds had a fierce reputation for what they called 'hard tacklin'. The rest of football just called them 'Dirty Leeds'. And, in 1974, they would do nothing to dispel that reputation. Although it must be acknowledged that Liverpool gave as good as they got.
With both sides in the throes of revolution, Shankly had shocked Liverpool and the football world by announcing his retirement months earlier, it would be a move that completely devastated Keegan and he would later say that Liverpool lost some of its magic for him after that day. Of course, Bob Paisley succeeded Shanks but it would be the Scot that led the team out for one last time at Wembley.
Similarly, Don Revie had left Leeds, to be replaced by Brian Clough, who had also wanted Revie to lead Leeds out. Revie didn't fancy it and so the young pretender would join Shankly in leading the two teams out that day.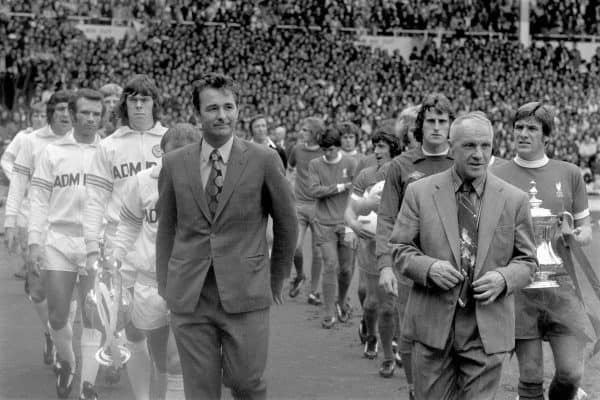 This was a game in which no quarter would be given, and none expected. Leeds were at it from the off, despite dire warnings from Clough to behave, they seemed unable to help themselves. Within sixty seconds of the kick-off, Alan Clarke left Phil Thompson writhing on the turf. According to the Daily Mirror, Tommy Smith exacted brutal revenge by "hacking Clarke off his feet," while Liverpool's Alec Lindsay joined in, leaving the Leeds man sprawled on the deck.
The tone was set for an encounter that would have more in common with a boxing match than a football game. Despite that, Liverpool took the early lead through Phil Boersma and held onto it until half-time.
Leeds huffed and puffed while continuing their attempts to kick the Reds' house down, but they couldn't break through Liverpool's rearguard. They did succeed in lighting a fuse under Keegan though and in the 58th minute the game exploded.
Keegan had been like a man possessed after the restart. He went charging into Billy Bremner and then Johnny Giles. From a resulting free-kick, Bremner charged after Keegan and punched him in the kidneys. In that moment, the red mist descended and the Liverpool man retaliated. The tussle ended with Keegan punching Bremner, before ending up in a Norman Hunter headlock.
Both Keegan and Bremner were sent off. According to the Leeds man, who was consoled in the tunnel by fellow Scot Shankly, Keegan and he shook on it and shared a beer after the game. Clough, furious with his own players, had this to say about the incident:
"Keegan was a victim, not a culprit, that day at Wembley. The double dismissal was all down to Bremner. Keegan was an innocent party who had been pushed beyond the limit by an opponent who appeared determined to eliminate him from the match, one way or another. I told Bremner afterwards that he had been responsible for the confrontation. He should have been made to pay compensation for the lengthy period Keegan was suspended."
However, the FA saw it differently and both players were suspended for 11 games and fined £500. There were calls from Fleet Street for both teams to be kicked out of the First Division, such was the hysteria around the incident. Thankfully calmer heads prevailed.
The drama didn't end in the 58th minute though. Leeds, against the run of play, equalised through Trevor Cherry, with 20 minutes left. The game was destined for a nail-biting shoot-out.
After five successful spot-kicks, the teams remained deadlocked. David Harvey missed Leeds' sixth and it was left to legend Callaghan – the man who Keegan was bought to succeed – to bring the Charity Shield home. He didn't disappoint, sending the travelling Kop home with smiles on their faces and plenty to talk about in the days and weeks to come.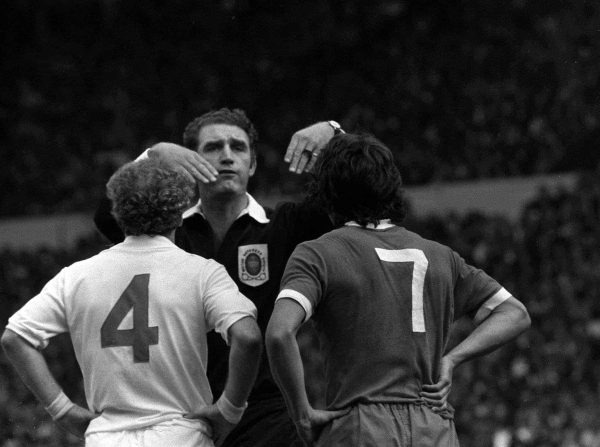 Keegan recovered from the incident and would go on to win another two league titles in 1976 and 1977. In both those seasons, he would help secure domestic and European glory for the Reds, winning the UEFA Cup in '76 and the European Cup in '77. In just six years, he had amassed seven major honours.
Keegan was now a superstar, a true celebrity and a darling of the Kop. Many Reds could not imagine Liverpool without him, and long before Newcastle United fans worshipped him, he was already 'King Kevin' to Kopites. His teammates would dub him 'Mighty Mouse', a reference to the powerful displays that belied his diminutive stature.
His partnership with Toshack prompted claims that the pair had a telepathic ability and a local television station actually conducted an on-screen experiment. Of course, there was nothing supernatural about their record in front of goal, their brilliance was down to sheer talent, not magic. Toshack agreed, saying this of his teammate:
"Myself and Kevin Keegan worked up a good understanding and as a partnership, we flourished. We seemed to hit it off from almost day one and then got better and better as time went by."
Keegan also relished feeding of his Welsh international strike partner. The phrase, "Toshack – Keegan – goal" would trip off the lips of every commentator, and 'Mighty Mouse' had this to say:
"Toshack was a wonderful player to play alongside. His aerial ability was fantastic and I always knew that he was going to win the high balls. From then on it was just a question of me reading which way the ball was going to go and from those situations we created many chances. I always admired Tosh's honesty as a player. He was a nice approachable lad and he did a really great job for the club during his time here."
A complicated legacy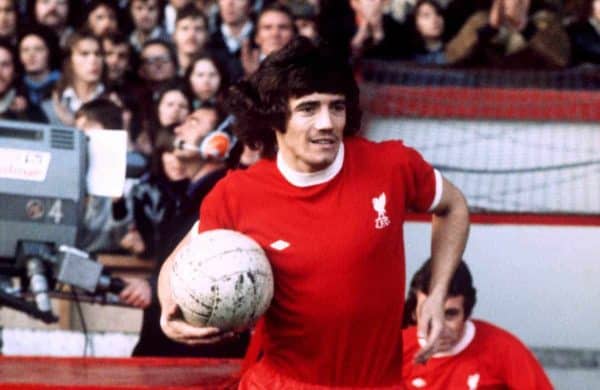 However, all good things must come to an end as the saying goes, and Keegan would break supporters' hearts at the end of the 1977 season. He would depart for SV Hamburg for a British transfer record of £500,000. Many could scarcely believe it and others claimed he was a mercenary off in search of riches. Liverpool supporters felt betrayed and some couldn't see a way to success without him. Thankfully the club could, and the purchase of Kenny Dalglish from Celtic would ensure that Reds would quickly find a new hero to worship.
The success of Dalglish, coupled with Keegan's lengthy post-Anfield top-flight career, which took in Hamburg, Southampton and, of course, Newcastle, has left the former Liverpool great with a complicated legacy. It is perhaps muddied further by the fact that Paisley had actually considered re-signing Keegan when it became clear he was ready to leave Germany and return to England. The Reds had first option on the player. However, Keegan wasn't keen on the move. Paisley would say:
"If he does not want to play for Liverpool then we can forego the option. If he had been keen to come back to Liverpool then we would have thought about it."
Leaving Liverpool is one thing, but turning down the chance to return is quite another and Keegan had now gone from undisputed King of the Kop to 'traitor' and 'mercenary' in the eyes of many. That's a terrible shame but such is the harsh reality of football. Kevin would later reflect philosophically on those days, but his pragmatism has found little favour with those who once worshipped him:
"I'm not a Scouser and I've never pretended to be. I've never made out to feel as passionate about, for example, derby matches as true Scousers do but at the same time, I still hold the club very close to my heart. The fans are brilliant, they always supported me and even when I decided to move abroad I think they understood my reasons for doing so.

"Shankly had gone and I just felt there was another mountain for me to climb somewhere. As it happens they didn't do too badly out of it because they went out and bought Kenny Dalglish. Having sold me for £500,000 and then paying £440,000 for Kenny. They banked £60,000 which was a great piece of business."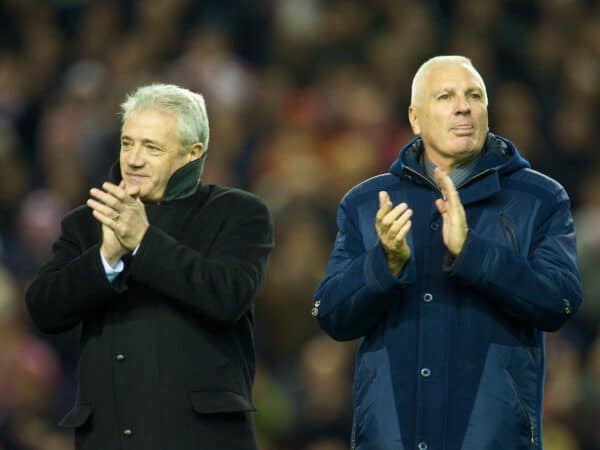 For the modern football supporter, Keegan is the man who, as manager at St James' Park, once bottled a title race with Man United. His epic "I would love it…" rant has now been replayed ad nauseam. He is the victim of an epic see-saw fixture at Anfield that saw his Newcastle side succumb to a late Liverpool winner, and he is a former England manager. He is rarely, if ever, spoken of as an Anfield legend.
Despite playing 323 times for the Reds, scoring 100 times and winning three league titles, an FA Cup, two UEFA Cups and a European Cup, tragically his legacy has been subsumed by Dalglish and everything else that followed, at least from a Liverpool-centric perspective. That's a shame.
For all of that, what Keegan achieved with the Reds was astonishing. His energy and skill in a Liverpool shirt, as much as the silverware he helped to win, is certainly worthy of the title 'legend'.
When he walked away from his first big club, he moved on. Liverpool moved on. And, as Keegan himself later acknowledged, the Reds did pretty well without him. They would do so after benefiting from his best years in football.