You may have heard, Liverpool could do with reinforcements in midfield. But with no clear signs of any movement this January, how concerning is it for fans?
Jurgen Klopp is not living in a "dreamland" and does not expect to see any further arrivals this January, despite the growing clamour to address the obvious need.
The Liverpool manager recently cut a prickly figure when discussing transfers, and with movement on any new midfielder having all but gone cold, fans have plenty to say.
Here, John O'Sullivan (@NotoriousJOS), Adam Beattie (@beatts94) and David Comerford (@Dave_Comerford) discuss Liverpool's January need, who should be a target and the current 'ideal' midfield selection.
How concerned will you be if Liverpool don't sign a midfielder in January?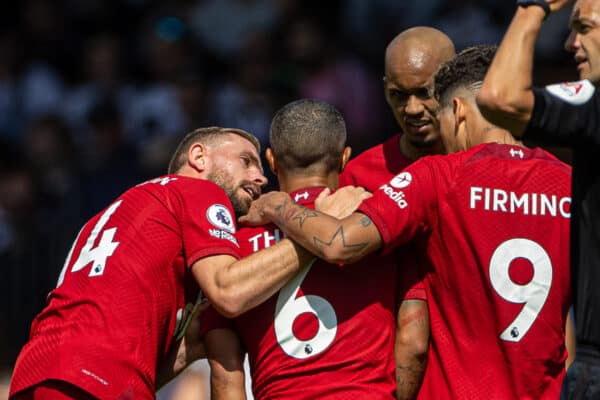 JOHN: I would be horrified if Liverpool don't sign a midfielder in January. It is easy to exaggerate when talking about football, what with all the emotions attached to fandom, but the need is abundantly clear.
Tactics and playing philosophies are rendered moot without energy in midfield and —
after years of neglecting that department of the team, with Thiago the only new engine room signing since Fabinho in 2018 – the midfield looks comatose at the moment.
Years of huge volumes of football, with its associated physical toll, the lack of new blood to keep things fresh and maybe the impact of coming so close to footballing immortality with a quadruple last season could all be contributory factors in the steep decline.
However, you dice it up, though, they need to sign a midfielder – or two – if they have any aspirations of playing Champions League football next season.
ADAM: As you say John, the lack of movement in that area of the pitch over the past 18 months or so has meant that we've left ourselves with a lot to do, and traditionally January isn't always the best time to try and do it.
I do think we're going to find it tricky to get the sort of player we want, but if we get to the end of the window without taking the plunge on someone it's a huge risk to take given what's still at stake.

My instinct is that there's not been enough noise around one particular player to convince me that we're going to get one in this month, but as we've seen in the past with the likes of Gakpo and Fabinho these things have a habit of coming from nowhere.
Top four is hugely important and if we can add a body who offers us something different, and preferably someone a bit younger than our current starters, then that could be a big tonic for us to kick on towards that.
DAVID: When the season paused for the World Cup in November, it looked like the solution to Liverpool's issues this season would be twofold. On one level, Klopp needed to press the reset button on the training ground but on the other, he needed funds to strengthen the midfield in January.
But now that we've seen little to no improvement in terms of either performances or results, it's becoming increasingly clear that the answer lies in the market. It seems there's little Klopp can do.
Liverpool may have won four of their last five in the Premier League but when you look at how they're actually playing, it's pretty clear that this team is ill-equipped to finish in the top four without midfield reinforcements. That, of course, could have long-term effects.
Klopp may publicly claim otherwise, perhaps to protect his players, but the lack of midfield protection is quite obviously the team's most debilitating weakness.
Who do you think is a realistic option that Liverpool could sign?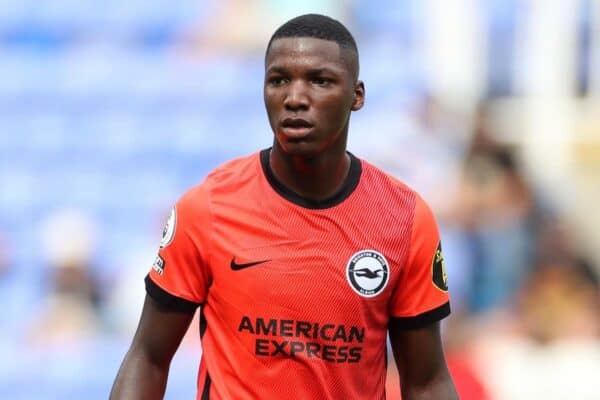 ADAM: Moises Caicedo feels like a feasible one for me. He's a player we've been linked with for a while and his positional versatility is something that could be extremely useful for us.
The talks of figures around £70 million seem a bit steep for a midfielder with that level of experience, but if we can knock that down a bit then I think we could have a real player on our hands.
His ability to operate as a defensive midfielder is particularly attractive given the recent struggles Fabinho has faced and Henderson appearing more effective further forward, and at just 21 years of age, his ceiling is there for all to see.
Of course, the one we're all still dreaming about is Jude Bellingham, but that one appears to be more viable in the summer and Liverpool need reinforcements for the here and now in order to salvage something positive from this season.
JOHN: Agreed, Caicedo would be the dream signing. He profiles well for the Gini Wijnaldum role of previous seasons, but with Brighton under no pressure obligation to sell – plus with the spectre of Chelsea looming large with their stupidly deep pockets – a deal in January for could prove prohibitively expensive.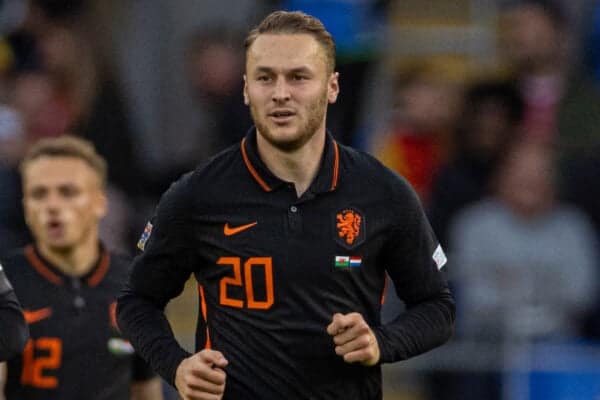 DAVID: Every time a player is linked there seems to be some sort of problem that emerges, though. Even this week, interest in Teun Koopmeiners emerged, only for Atalanta to rule out a move because they've already let one midfield player go in January.
There are also players who seem to be more interested in joining other teams instead, with Liverpool losing some of their appeal.
Beyond that, clubs are refusing to sell players midway through the season or demanding a hefty premium. Let's not forget, Liverpool are in a weak negotiating position here because of where they are in the table and their urgent midfield need.
I'm actually going to be bold with my choice in that this player hasn't really been linked so far this month. I'm wondering, late in the window, whether Liverpool compromise on a cut-price deal for Premier League-proven Youri Tielemans, who is in the final six months of his deal at Leicester. More setbacks could force a panic.
JOHN: Adding to that, if we do take those rumours of Liverpool wanting to sign Bellingham in a money-spinning deal next summer at face value, then their capacity to spend big – especially after the arrival of Gakpo, which, incidentally raises more questions about priorities – in January may be hindered somewhat.
If that is the case, maybe someone like Manu Kone of Borussia Monchengladbach – recently linked with RB Leipzig, which in and of itself is a testament to his abilities, thanks to their brilliant scouting network – or Khephren Thuram of Nice could prove shrewd acquisitions.
Both players, especially Thuram – in the image of his father, Lillian – possess the physical and technical qualities that Liverpool need.
It's not that we need just one new player in the position – ideally, how many do Liverpool really need before next season?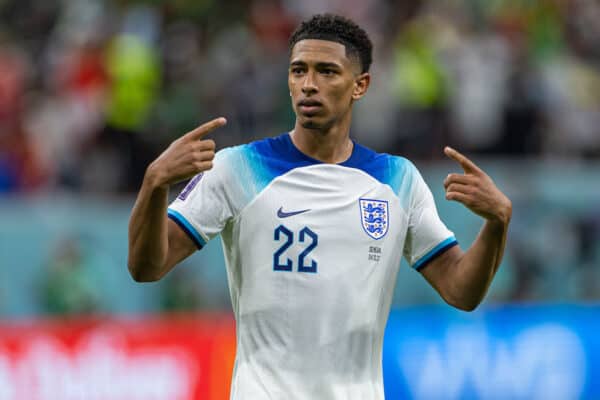 DAVID: Well, if we break it down, we can safely say four of Liverpool's existing options will leave – Arthur at the end of his loan, then Milner, Keita and Oxlade-Chamberlain at the end of their contracts.
That leaves us with six midfielders – Henderson, Fabinho, Thiago, Jones, Elliott and Carvalho. Morton may return to the fold too after a promising loan spell, but still, the absence of peak-age players is still glaring.
And Liverpool would still need a specialist back-up to Fabinho at long last, a player who can carry out the role of Thiago when he's injured or fatigued and a long-term solution in the RCM position. We all know the player in mind for that last vacancy.
I realise, though, this is very much in the realms of an ideal world where Liverpool are both ambitious and ruthless.
JOHN: With those players you've mentioned David all likely to move on, for me, Liverpool could do with three midfielders coming in.
However, with Milner playing so infrequently, it could be a case of the Reds signing two high-calibre midfielders – say, for argument's sake, Bellingham, Enzo Fernandez and or Caicedo – and having Morton become part of the first team picture in place of the 37-year-old.
It may be the case, as we have seen at times this season, that the Reds move to a formation with two midfielders in a double pivot – a 4-4-2, 4-2-4 or 4-2-3-1 – and this may mean they can get away with signing two midfielders.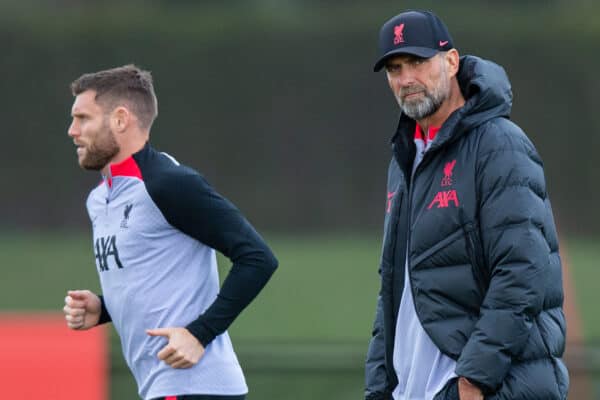 ADAM: I'm not overly confident it will happen but I honestly believe we also need three before the start of 2023/24, which accentuates the need for at least one in January.
There are mixed feelings around the futures of Oxlade-Chamberlain, Keita and Milner, but if you lose all three of those in one go you end up very light on numbers before you even get into the age profile of the others.
Klopp asks very specific things of each of his midfielders and if we are experiencing a transition phase within the squad then it is vital that we get these signings right.
In an ideal world you'd go and get yourself Bellingham, a defensive-minded midfielder and then perhaps your next Wijnaldum, it's a lot to do and I'm glad I'm not the one in charge of sorting it!
And as of this current moment, what is the ideal midfield three? Or would you want to see Klopp change formation?

JOHN: At this current moment, my preference for a midfield three would be Fabinho, Keita and Thiago.
Technically, this is the best trio by a distance and, thanks to not playing as regularly as others due to injury, Keita appears to have more energy than the others, which is a feather in his cap.
Plus, the Guinean may see this period as a shop window to secure a move elsewhere. The source of his motivation doesn't matter to me so long as he performs.
ADAM: For me, in a must-win game where everyone is fit, I'd still go with Fabinho, Henderson, Thiago.
That feels like the set-up that offers us the most balance and I'm not fully sold on the 4-4-2 we've seen at times this season.
The age of that midfield three is clearly a concern, particularly given the physical demands of playing in a Klopp midfield, but the options underneath that are at the other end of the spectrum and getting a huge amount of minutes.
I'm Harvey Elliott's biggest fan but I'm not sure whether centre midfield in this system suits either him or us and, frankly, we have placed more responsibility on teenage shoulders than is reasonably fair at this point.

DAVID: I agree with John, Fabinho-Keita-Thiago.
This has changed for me a couple of times already this season, though Fabinho and Thiago have always been the two constants.
I initially backed Elliott, and I do think he can develop into a competent defender with time, but Liverpool can't really afford him to be learning on the job right now.
I then leaned towards Henderson but the reality is his decline is evident most of the time he sets foot on the pitch. So now I'd look to restore the 'NFT' midfield we used periodically last season.
Keita has had some encouraging cameos recently and, while he isn't quite the physical presence that we require after his endless succession of injuries, I saw enough in his performances in the second half of last season to give him a proper run in the side (for however long he lasts).