It's been two-and-a-half years since Liverpool secured the signing of Thiago from Bayern Munich, and the Spaniard has now revealed the main incentive behind his "big decision" to leave Germany.
The move came just after Thiago had won the Champions League with the Bavarians and Liverpool had won the Premier League under Jurgen Klopp.
Thiago had one year left on his Bayern contract at the time and was initially expected to extend his stay at the club, but stalled on a new contract after it emerged that Liverpool were interested.
The deal was done for an initial £20 million, with the midfielder establishing himself as one of the Reds' key players in recent years.
Speaking while featuring on BT Sport's What I Wore, Thiago said he made the move to Anfield for a new challenge, and believes the opportunity to join the club represented "a perfect match."
"It was a big decision," he said.
"The German league is awesome, but we won it for eight years in a row, so I said 'okay, come on, something more challenging'.
"The biggest one in that moment, and now, is the Premier League.
"What are the teams that are, for me, the most iconic in the Premier League? Which one has a better project, a better coach? Liverpool was perfect for that.
"I think it was a match from the first day."
As part of the show, Thiago was asked to pick out a host of his favourite football shirts from his career, having grown up watching his father play for Brazil, before joining Barcelona's La Masia academy as a youngster.
Many expected him to stay at Camp Nou for most, if not all of his career, but in 2013 he made the decision to follow Pep Guardiola to Bayern Munich.
"I was facing legends beside me in that time," he said when asked to explain why he left Barcelona.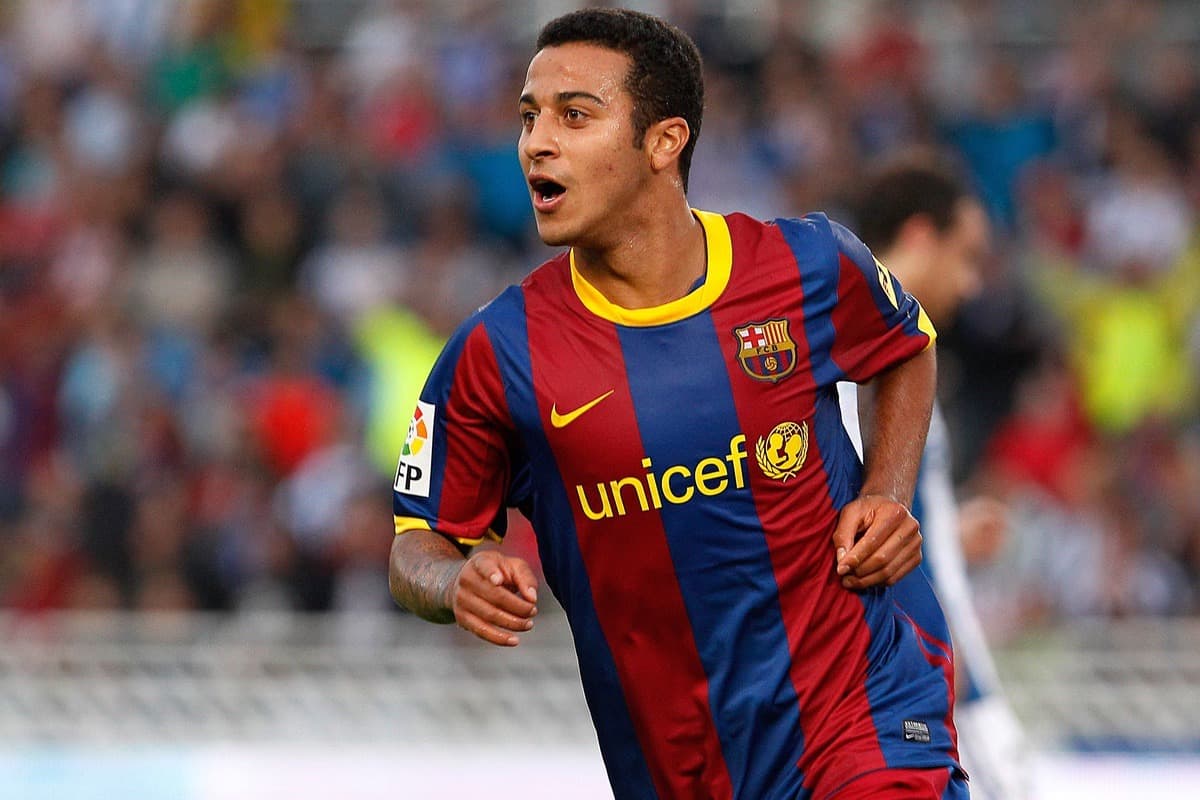 "It was difficult for me to get the minutes that I wanted to play.
"Guardiola just left the club, he moved to Bayern. He called me to go there and I said 'why not?'
"The leading force was that I needed minutes. Bayern were the recent Champions League winners. It was a great challenge. They won it, and I wanted to win it again."
When asked to choose two of his favourite jerseys, Thiago picked out an iconic Brazil shirt that his father wore when he won the World Cup in 1994, as well as one of the white away shirts from his time at Bayern.
To date, Thiago has won the Carabao Cup, the FA Cup and the Community Shield with Liverpool. Let's hope he'll be making plenty more memories in red in the years to come!