Perhaps the most telling quote from Jurgen Klopp's post-Brighton press conference was singling out "a couple of boys" for their poor body language.
Liverpool slumped to another low on Sunday afternoon as they lost 2-1 to Brighton in the fourth round of the FA Cup.
It was a predictable display from the Reds in a tragic season, though there were at least positive signs early on from the likes of Harvey Elliott, Stefan Bajcetic and Cody Gakpo.
The problems really began to arise when Klopp turned to his bench, and the more experienced likes of Fabinho, Jordan Henderson and James Milner.
Milner replaced Trent Alexander-Arnold on the hour mark, and the right-back's reaction to being brought off was alarming, shown visibly frustrated on the bench afterwards.
Though he did not name any players in particular in his post-match debrief, Klopp did point to the body language of "a couple of boys" as he targeted improvements.
"We have to improve. We have to do better," he told reporters.
"Body language, a couple of boys have to be much better. Defending in the formation has to be better from a few.
"But then, I think the last game here, we couldn't have won. I think this today, nobody would have been surprised if we'd won this game.
"It's not that [people would say] 'oh my god, how did that happen?'. So that's good.
"But for today and for the competition not good enough, and that's why we're out."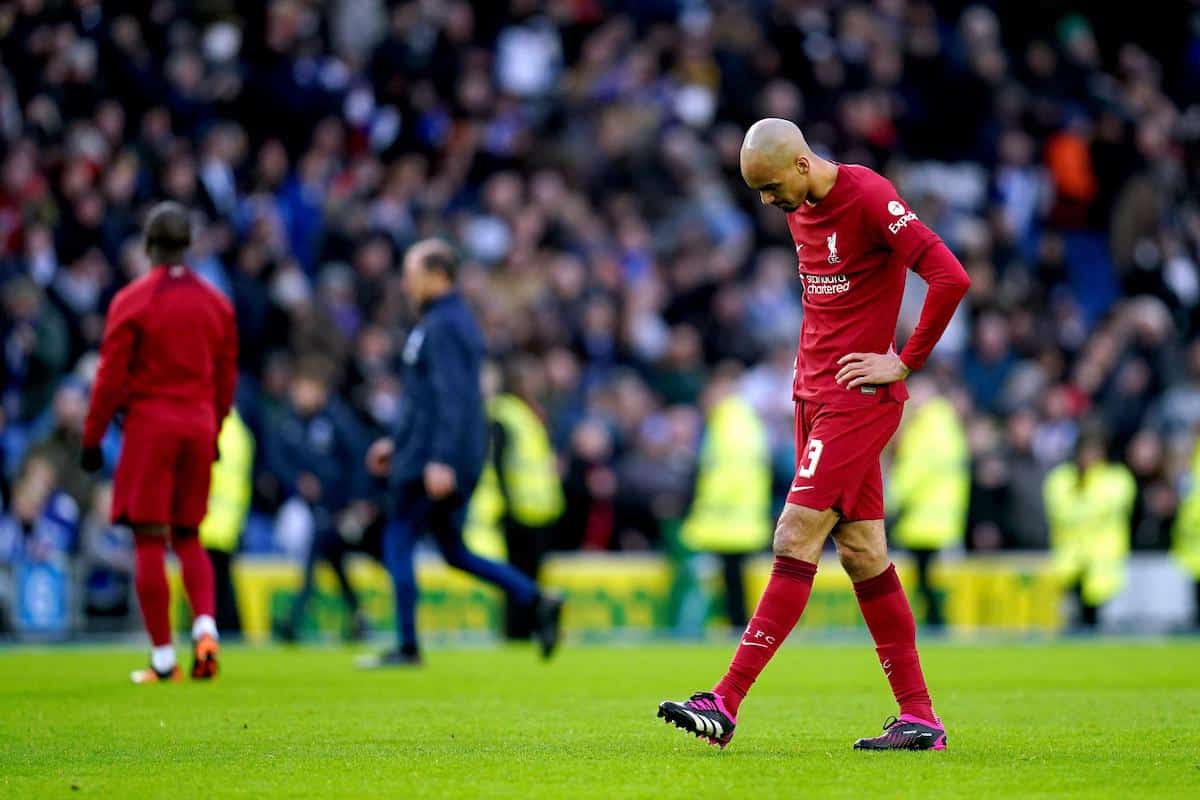 Klopp, who would not be drawn on whether Fabinho should have been sent off for an awful challenge on Evan Ferguson, was asked later on to elaborate on his comments on body language.
The manager gave an unnecessarily surly response, saying: "Better body language – what else is there to say?"
"When I speak about body language, it wasn't OK, next time it should be better. There's nothing left [to say]," he insisted.
"Look, I'm not over the moon about this performance. But, again, the only thing that happened really is we lost against a good side who we lost two weeks ago to in a horrendous game.
"Today was much better. With the performance from today two weeks ago, that would have looked different as well.
"There really are steps.

"I understand, 100 percent. I don't sit here [and think] 'what are they talking about?'. You're not happy with the game.
"I understand 100 percent where you're coming from. It's just the situation we are in.
"There's no other way – and you know it as good as I do – than to fight through.
"You never hear a manager sitting here in a situation like this and [saying] 'by the way, we change that, then you will see against Wolves – that's it'.
"It doesn't go like this, and that's why we keep working 100 percent."