Jurgen Klopp was asked in his post-Brighton press conference whether his title and Champions League-winning side is now reaching its end – something that supporters certainly feel is true.
The question was put to Klopp after he withdrew the stalwart trio of Jordan Henderson, Fabinho and Joel Matip in a quadruple sub in the 68th minute of the 3-0 defeat.
That trio are among Klopp's 10 most-used players in his seven seasons in charge at Anfield, but at ages 32, 29 and 31 respectively, they are struggling to continue or reproduce previous form under the boss.
There is a growing feeling among Liverpool supporters that this team, the one that has won every trophy possible during its time together, has reached the end of its cycle and a rebuild is required.
Before this season even began, there was a lot of talk of it being a 'transition' season and it's now playing out to be that and worse.
Klopp's response to the question was fair and quite telling, not completely throwing his players under the bus, but equally accepting that it's a fair question in the current environment.
The journalist asked: "The changes, in particular with Henderson, Fabinho and Matip coming off, who have been so integral to all the success that you've had, it sort of feels like that team is something of the past now and you have to build something new."
Klopp's response: "It's our fault that you can ask this question. I understand it, but the changes had nothing to do with that. I cannot change offensive players because I don't have [any] really. So
"[We ask] in midfield, is everything not good? that's why we changed there. We are slightly limited.
"But our fault that you have that impression."
? Journalist: Henderson, Fabinho and Matip were withdrawn. Is that team a thing of the past now and you have to rebuild? pic.twitter.com/lYkBCGx1z4

— This Is Anfield (@thisisanfield) January 14, 2023
Journalist: "But neither Fabinho nor Henderson have had their best season this year have they?"
Klopp: "And some others. Yeah, true. No, probably not. Who had their best season for us? Difficult yeah.
"Yeah, that's the normal thing coming up, when you open the door for these kinds of questions for these kinds of thoughts.
"I understand that, but we have to make sure that you can't ask this question any more and that's obviously our job."
A recent stat from journalist Andrew Beasley uncovered that "Teams in the Premier League have had an average of 68 per cent of their midfield minutes from players aged between 22 and 28 this season."
For Liverpool, the only midfielder qualifying in that prime years age range is Naby Keita, who has played just 118 minutes in the league this season.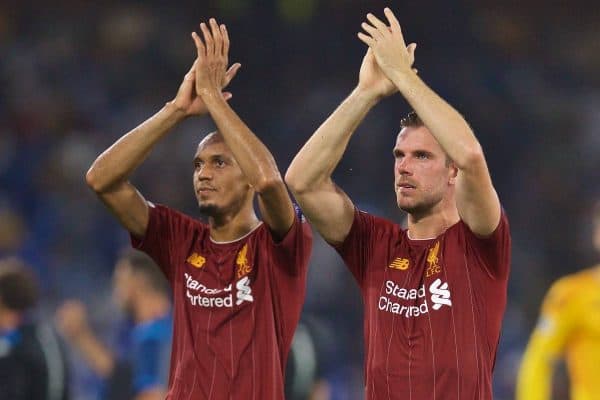 Klopp's squad is without doubt among the oldest in the Premier League, with an average age of the starting XIs this season of 27.6 years being the third-oldest, behind only West Ham and Fulham.
Of Klopp's 10 most-used players, all 10 remain at the club and are aged: 37 (Milner), 32 (Henderson) 31 (Van Dijk, Firmino, Matip), 30 (Salah, Alisson) 30 (Fabinho) and 28 (Robertson).
Clearly, the future lies with the likes of Luis Diaz, Ibrahima Konate, Darwin Nunez, Cody Gakpo, Harvey Elliott and Fabio Carvalho. But of the current squad, only Diogo Jota is in what would be deemed as their prime years for a footballer.