Liverpool's running stats are down from their usual relentless levels under Jurgen Klopp. We take a look at some numbers behind his ever-present players during his time at Anfield.
The spotlight is well and truly on Klopp and his team after a turbulent 2022/23 campaign to date, with the red machine needing more than just an oil change to get back up and running.
Klopp asks a lot of his side, in the words of the club's former head of medical services, Andy Massey, "Jurgen's philosophy is very much that we've got to run further, run faster, run quicker than every other team because if we can do that then the skill will take over."
It's a demand that has been in place since the German arrived in 2015 and we're now starting to see a drop-off in the statistics that make this Liverpool side tick.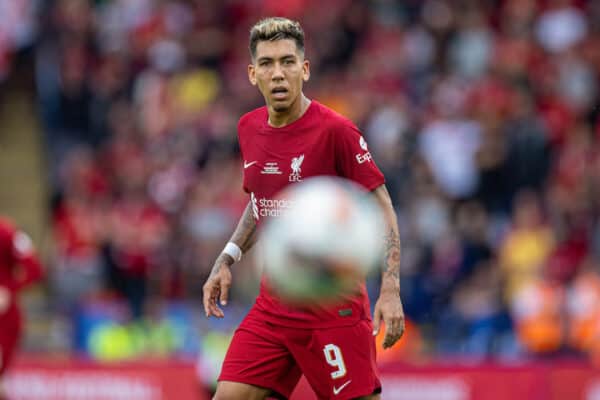 Intensity is meant to be Liverpool's identity but, as per the Times, their Premier League ranking for distance covered (14th), sprints (16th) and high-speed runs (11th) has dropped considerably from last season and has followed a downward trend.
It's not entirely surprising when you consider at least eight, if not nine, of Klopp's most-used players throughout his tenure (current players only) remain first-choice starters.
The manager's top 10 for minutes played under his tutelage now have an average age of 30.3 years and have been in the squad, on average, for 6.6 seasons under Klopp.
Without regeneration, tired legs only get heavier.
Klopp's top 10 most-used Liverpool players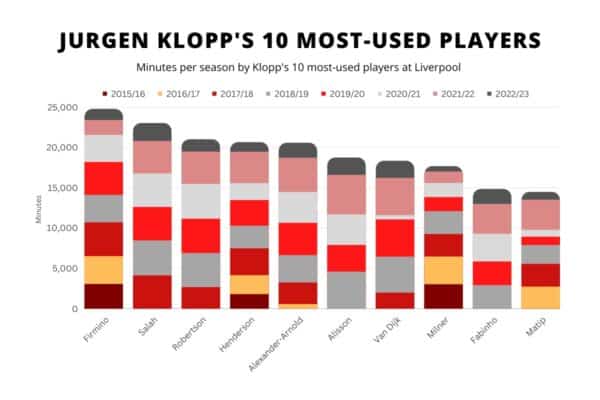 1. Roberto Firmino – 24,760 minutes (341 games)
2. Mohamed Salah – 22,993 (280)
3. Andy Robertson – 21,013 (245)
4. Jordan Henderson – 20,665 (281)
5. Trent Alexander-Arnold – 20,635 (250)
6. Alisson – 18,775 (208)
7. Virgil van Dijk – 18,376 (205)
8. James Milner – 17,670 (300)
9. Fabinho – 14,805 (195)
10. Joel Matip – 14,539 (179)
*From when each player joined until present day
In the red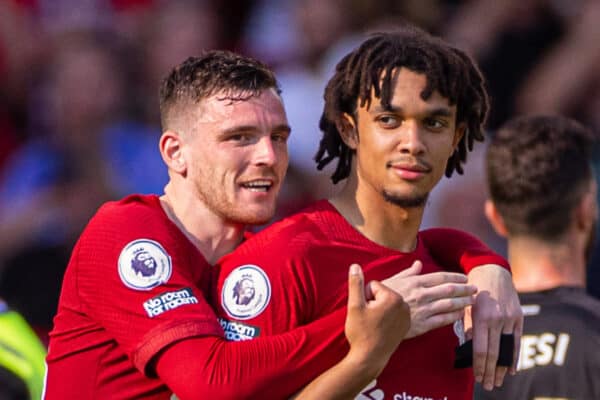 Residing comfortably in the top five are Andy Robertson and Trent Alexander-Arnold, Liverpool's creative hub from full-back, both of whom are imperative to the Reds' success.
But their numbers are a stark contrast to Klopp's warning from 2020, when he said: "Robbo and Trent, let's say, they cannot play every season 50-something games—it would limit their careers, to be honest."
If anything, while Robertson's average minutes per season are steady until 2021/22 (as seen below), Alexander-Arnold's trend remains on the rise and this season he's comfortably in the Reds' top four most-used players.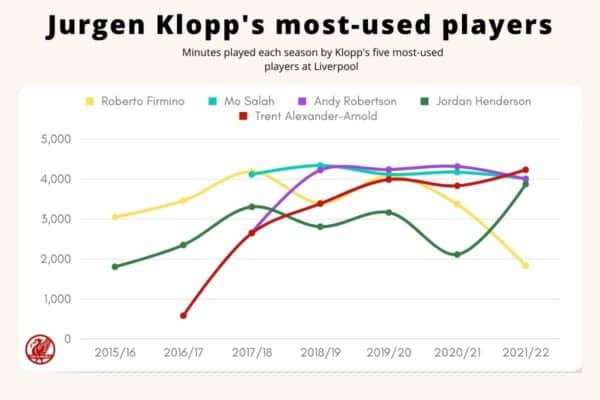 The reliance on the duo has not wavered despite Kostas Tsimikas' arrival to deputise for Robertson, while Calvin Ramsay has yet to get into his stride to offer cover for Alexander-Arnold.
At 24, Alexander-Arnold is at risk of Klopp's warning, with only nine players younger than the right-back playing more in the Premier League last season (2,854 minutes).
Neither the No. 66 or No. 26 have consistently hit the peak of their powers in 2022/23 and they are but just two examples of the demands catching up to them, as the same could be said for nearly all of the top 10 listed above.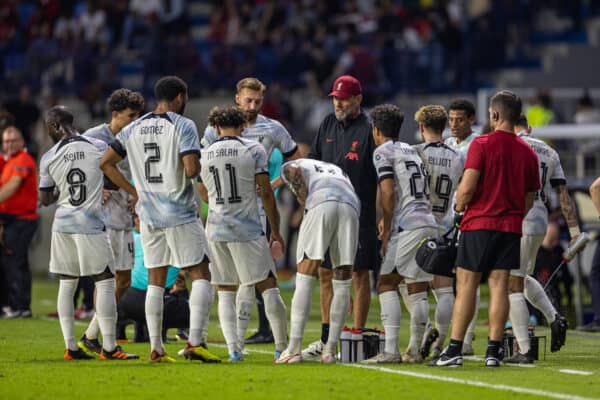 We only considered the top 10 that remain at Anfield but it is only Sadio Mane (269 games) and Gini Wijnaldum (237 games) that would otherwise have qualified, the latter of whom was never adequately replaced.
It is not unusual to have a core group of players retained for so long, Klopp prefers it that way, but it is that the majority remain first-choice players and to sustain the German's philosophy longevity must always be considered.
In midfield, for example, the club have not signed a senior midfielder since Thiago in 2020, with the Spaniard's arrival the last since Fabinho and Naby Keita signed four-and-a-half years ago.
Liverpool's identity is intensity, but the same group of players cannot sustain the demands to the levels required and refreshing the engine room is paramount to carry on the standards Liverpool remain capable of.