James Milner is now entering the final few months of his existing Liverpool deal, but Jurgen Klopp has revealed the 37-year-old is keen to "keep playing."
Liverpool handed Milner a one-year contract extension at the end of last season, with the Reds vice-captain continuing to prove he still remains one of the fittest and most professional players in the game.
Milner is working towards his coaching badges, but Klopp has been clear in his view that he still has plenty of offer on the pitch.
He started Liverpool's FA Cup third round replay win at Wolves on Tuesday, and when asked whether the club had plans to keep Milner at the club after he hangs up his boots, Klopp implied that Liverpool's No. 7 could still at least have one more season in him.
"We have different plans for Milly, but Milly wants to keep playing," Klopp told reporters.
"When you see him playing the other night, I think everybody would understand that. You can't judge him because of his age or whatever.
"He's 37. It doesn't look for a day like this in training. He's there, full throttle. He's an incredibly important player, and in this game we saw that on the pitch as well.
"It's not that Milly expects himself to play 64 games a season, but in 64 games a season Milly could be extremely important, that's how it is.
Having started his career with boyhood club Leeds United, Milner went on to enjoy long spells with the likes of Newcastle, Aston Villa and Man City.
But having been at Liverpool since 2015, Milner has now played more games for the Reds than any other side.
Klopp believes such loyalty to the club proves that Milner should consider Liverpool as "his club," and suggested Liverpool will look to take advantage of his skills off the pitch, presumably in a coaching role, in the years to come.
"Even a player who has had a few clubs can end up, in the end, at his club. And I would consider Liverpool as his club, and that means that I'm pretty sure the club should use this character and mindset, because it's really special.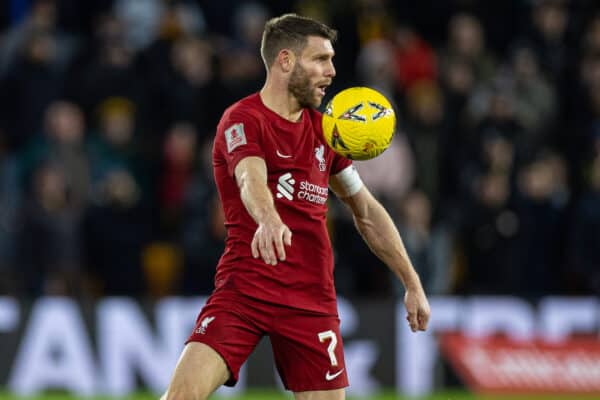 "There might be more fancy players out there, but nobody with a similar mindset, and that makes him incredibly valuable for us."
Before moving on to the next question, Klopp wanted to add one more thing!
"And it's not because I'm too loyal! It's just a fact," he said after a long answer on that topic earlier this month.
Milner, along with Naby Keita and Alex Oxlade-Chamberlain, is among three Liverpool midfielders whose contracts are due to expire at the end of this season, but it may well be that, despite his age, Milner is likeliest to extend his stay at Anfield.