A switch in system, which was scrapped at half-time, couldn't help Liverpool as they lost heavily to Brighton on a day when the Reds were outplayed all over the pitch.
Brighton 3-0 Liverpool
Premier League, AMEX Stadium
January 14, 2023
Goals: March 46′ 53′, Welbeck 81′
Brighton moved above Liverpool in the table as the Reds fell to a fifth away defeat in the Premier League this season.
The Reds were outclassed on the south coast as they lost an away game to Brighton for the first time since 1961. A quadruple substitution in the second half did little to change the team's fortunes and leaves Liverpool seven points off Newcastle in fourth place.
Solly March's two goals were deserved after a dominant first half and, when Welbeck scored the third, Liverpool knew they were beaten.
With Champions League qualification now a difficult task, fans reacted to the result and performance…
Liverpool overran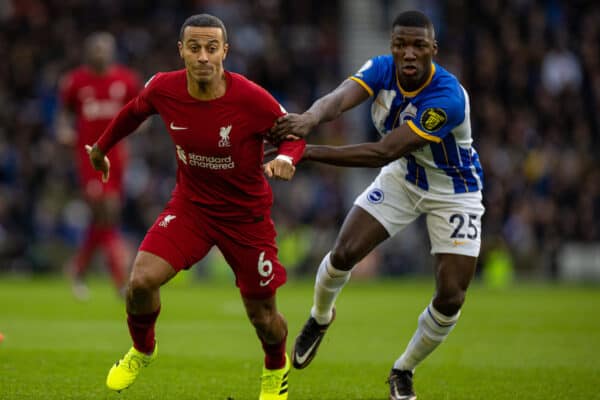 Liverpool's midfield has come under pressure in recent weeks but are they really the only issue?
Liverpool unlucky with injuries but no midfielders bar Melo are injured. Klopp consistently picks Henderson & Fabinho despite them playing poorly all season. How that pair came our second half God only knows. Klopp has doubled down on a broken midfield & moans when asked why.

— Neil Docking (@NeilDocking) January 14, 2023
What gets me is we all knew we'd get beat by Brentford and Brighton. Anyone who is strong and can compete in midfield wins against us.

We lauded them when they were great, they can wear this. #LFC

— Graeme Kelly (@GraemeKelly1) January 14, 2023
"This team does not just need a complete midfield overhaul it needs a complete team overhaul." – David Coe in the This Is Anfield comments.
Comprehensively outplayed, outfought and outclassed in every area of the pitch. Just as expected.

— Joel Rabinowitz (@joel_archie) January 14, 2023
This is easily the worst we've played under Klopp. Outplayed, outfought, utterly fucking useless all over the pitch. Can't even play basic passes let alone do anything else. We're getting worse instead of better. Shocking.

— The Liverpool Way (@theliverpoolway) January 14, 2023
Unacceptable performance. Out thought and out fought. Tore apart. Mauled. Embarrassed. No desire and no threat going forward. Midfield and defence non existent, again. Nowhere to hide, we're shite. End of an era. Half the squad needs replacing. Klopp has to address it, and fast!

— Scouse Republic (@ScouseRepublic) January 14, 2023
A rapid descent

Nothing shocking about this result – Brighton are simply a better team than Liverpool. And that won't change without further signings and players coming back from injury because Klopp just isn't mitigating for the fact his current options can't do what he's asking them to.

— David Lynch (@dmlynch) January 14, 2023
This is sad to watch. Greatest Liverpool team of my lifetime has been reduced to a shadow of it's former self. Sadly, this just looks like our level now. Major investment needed or else we've wasted Klopp imo.

— Green Scouser (@Green_Scouser) January 14, 2023
This isn't rock bottom. We're gonna get there soon – but we're on a big slide down. Have said it so many times this season, but they're cooked. Our great players aren't great anymore, sadly.

— Jordan Chamberlain (@Jordan_AC90) January 14, 2023
"How did we trade places with United since the start of the season? They were a laughing stock from top to bottom. Now it's us. The whole club seems to be in turmoil." – Kloppsided in the This Is Anfield comments.
Liverpool being 180 minutes away from winning the quadruple to six months later languishing in 8th having just been convincingly beat by Brighton is one of the strangest things ever.

— Andy Grant (@AndyGbootneck) January 14, 2023
Jurgen Klopp consistently speaks about needing more time to prepare his team for matches.

He's had a week to prepare them for this one.

He had 6 weeks to sort things during the World Cup.

2 weeks no game due to Queen's death.

More training time has only made them worse.

— Matt Ladson (@mattladson) January 14, 2023
In Klopp we trust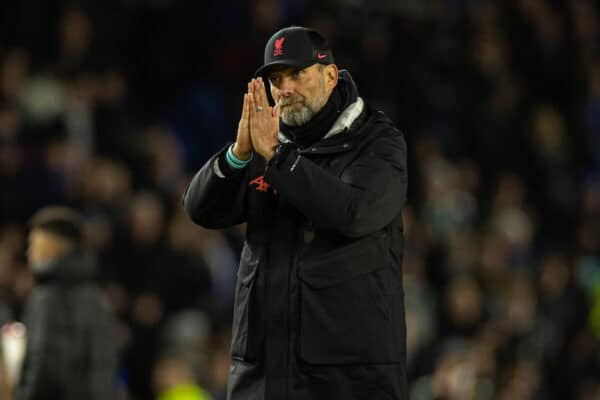 Sad to see, he looks broken ?

He's worked miracles. No other manager wins what he's won with FSG's system. If you turn your back on him now, you're a joke. He needs the owners to back him so we can rebuild. And a rebuild is necessary, but will take time.

He'll fix this ?? pic.twitter.com/4O0hKHJOI9

— Scouse Republic (@ScouseRepublic) January 14, 2023
IMO: Either the owners need to invest immediately or update us on the sale and what's happening.

I've been pro-FSG but Klopp has saved their bacon so much, he deserves a bit of support from them. It's obvious he won't call them out, but needs new players to salvage this season.

— Jay ? (@ScouseCommie) January 14, 2023
Jurgen imo is still the best thing at our club. Love him. But he needs better support from the club interms of transfers and better advice from staff (or better staff) to see his own blindspots and overcome stubborness. He doesn't need yes men. He needs to find ruthlessness. https://t.co/Q6d8iopFEV

— Red (@TaintlessRed) January 14, 2023
Jurgen's right we can't buy our way out of the injury situation with the attackers, you just have to get through that.

BUT, the point is, even with all of our midfielders fit, there's still the huge issue that the quality level isn't there. That's a different story entirely.

— Ste Hoare (@stehoare) January 13, 2023
What now?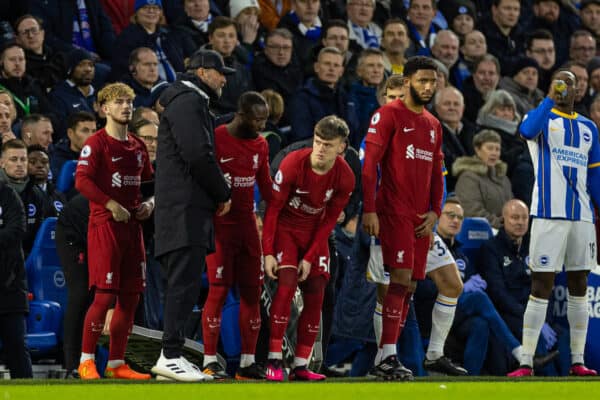 There has to a reaction to this. Forget about Bellingham. Pay whatever premium Brighton will rightly add to the Caicedo price tag and get him in this month.

— Sam McGuire (@SamMcGuire90) January 14, 2023
Serious questions have to be asked.

– Who is setting up this Liverpool side tactically?
– How can you not learn from games earlier in the season?
– Why isn't something drastically being changed?

Not seen a Klopp side play without any of his identity until now for 60 mins. Awful

— GaGs (@GagsTandon) January 14, 2023
"We must remove sentiments and face reality. If you're not up to the job anymore, you park and go…. Period" – Analyst Obinna in the This Is Anfield comments.
#LFC need to win this seasons Champions League to be in it next season… quality midfield players won't sign…right now they can't beat the likes of Brentford Wolves Brighton with Real Madrid on the horizon

— OneCoffeeADay (@lunnyJ65) January 14, 2023
?we're so broken right now but we need to get behind Jürgen and the boys. It's clear we didn't have the belief to win this game and that was evident in our woeful performance.This is horrible but we need to stick together right now and help the boys fight through it??#LFC #YNWA https://t.co/uva6xZCn2I

— Laura Lee (@lauramillz88) January 14, 2023
---
Defeat is beyond disappointing, but when there's a consistent shortcoming in the performances, that's worrying. Liverpool need to show some fight, starting against Wolves on Tuesday.
A run in the FA Cup and Champions League will keep the atmosphere around Anfield sharp and keep the supporters on their toes. But that seems exceptionally unlikely.