While the wider football media seem to be eager to cast Darwin Nunez as a flop, Liverpool supporters are sticking by the Uruguayan
In the increasingly repulsive world of football 'banter' online, Nunez is the current target of social media accounts that should know better, including those who are official broadcasters of the Premier League.
Thankfully, Liverpool fans aren't giving up on the 23-year-old and after the win over Leicester last week it was his name that the Kop chanted post-match.
Such loyalty from the fans has previously paid dividends, as explained by former striker Peter Crouch recently.
The Englishman arrived from Southampton in the summer of 2005 for £7 million but went 18 appearances without a goal for his new club.
"What was so amazing was that Liverpool fans stuck with me," Crouch explained on the Diary of a CEO podcast.
"That's something that I'll never forget, because I swear to you, any club in the world, having just won the Champions League in one of the best finals we've ever seen in Istanbul, they signed me and I turn up and I don't score in 18 games.
"I don't think there's a club – a top club – in the world that tolerates that as a fan base apart from Liverpool fans."
Crouch eventually broke his duck against Wigan in December, one of the strangest goals you'll ever see, via a massive looped deflection that some said was actually an own goal.
"They stuck by me," recalled Crouch. "It was like a siege mentality; everyone else is attacking him but he's one of ours and we're with him. It felt like every time they were willing me to score.
"When I eventually did, you can see the footage, the camera's shaking, it's like we've won a European Cup final; people wanted me to score that much.
"I'm thankful to this day that they did stick with me, because I managed to turn it around after that.
"It was a special moment at a special club."
Crouch scored another, a perhaps more legitimate, goal in that same game and ended the season with 13 goals in all competitions.
Leaving Liverpool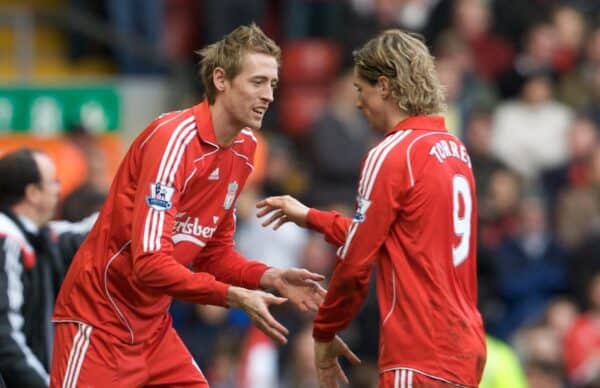 Crouch scored 18 goals the following season, but the arrival of Fernando Torres in 2007 saw him depart the Reds the following summer.
Asked if he regrets leaving Liverpool, Crouch admitted: "Yeah, I do a bit.
"I had a great time at Portsmouth though, some of those memories will stay with me forever. But leaving Liverpool is a difficult thing to do.
"I was playing for England at the time, and I was loving playing for England, playing well. I just thought, we signed Fernando Torres and I'm pragmatic, I understand my role as a player: he was better than me.
"So what do I do now? He was always going to play, [he] formed a great partnership with Steven Gerrard, he was on absolute fire.
"I still believed in myself, still believed I could play for England, still a very good player, just not on Torres' level.
"He just wasn't getting injured the whole time I was there. So then I left and he was sold quite quickly [after] to Chelsea. I saw players who were playing; Andy Carroll, Voronin, Ngog, players that I felt like I could have played [ahead of]."

"At Liverpool, I don't look back and think 'ah I should've played there for 10 years'. It would've been nice, but I still cherish the moments I had with Liverpool.
"It's the one thing I look back on and think 'could I have stayed and been at a top, top club for longer'. But I enjoyed my time at Portsmouth as well."
Previously, Rafa Benitez has explained that the decision to leave was Crouch's, with the player clearly understanding his role behind Torres in the pecking order and desire to play more regularly to keep his England squad place.
Crouch left Anfield with 42 goals and 17 assists to his name in 132 appearances.