Liverpool are sh*t. That's the summation of our attempt to "bounce back" after being terrible against Wolves and worse against Brentford. The Reds lost 3-0 at Brighton and were lucky to get nil.
Brighton 3-0 Liverpool
Amex Stadium, Premier League
Saturday 14 January 2023
Goals: March 46′ 53′, Welbeck 81′
---
A change of shape, but not of fortunes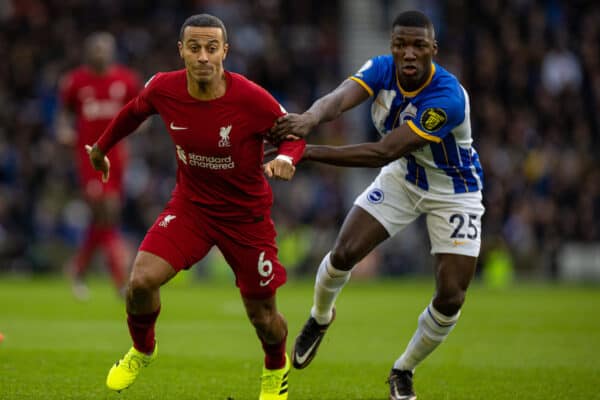 More of the same is what it seemed like when the line-ups were announced pre-game, but Jurgen Klopp did make a slight alteration to the team shape, if not the personnel.
In possession, the Reds were more of a double pivot in midfield and with Thiago pushed higher behind the front line, a flip of the usual midfield which was presumably to have better connection between middle and final thirds and, judging by the first few minutes, an ability to press high.
Neither worked out with any regularity.
As the game went on we were also treated to a somewhat muddled four across the middle in defensive phases too: Jordan Henderson slightly right, Thiago back in alongside Fabinho, Alex Oxlade-Chamberlain supposed to be dropping left – and regularly being shouted at by an increasingly exasperated manager for missing a challenge or not being in place.
Liverpool had absolutely nothing to offer here, desperate and ragged defensively and without invention, consistency or belief in attack.
There are players missing, for sure. The issue is nobody missing can be pointed to as having season-altering brilliant form before they were away anyway.
It has all gone horribly, horribly wrong.
Champions League, you're having a laugh

Right from kick off, this match looked every bit Champions League regulars against bottom-half has-beens. Except, not the way round it has been for years.
Liverpool were dismal, yet again. It was lifeless stuff from a team who stood off and dropped deep, had little answer to the physical or technical approach of their hosts and didn't have an out-ball of their own when winning possession.
It took a quarter of the game for the Reds to have a shot of any kind, just shy of half an hour for a meaningful attack with buildup play worthy of the name and 56 for a shot on target…the dribbling, bobbling, glancing header from Ox. It took 89 minutes to win a corner.
By half time the Reds had amassed just 35 per cent possession, with new signing and centre-forward outlet Cody Gakpo having 11 touches in that 45 minutes. One of those was right from kick-off, as he won a header from our first launched diagonal.
It was shamelessly second-class and fans would have spent the break hoping for Klopp giving the squad a rocket, but more likely feeling resigned to another 45 minutes of an utterly abject showing.
Two minutes later they had their answer.
There was no fight, no determination, no tenacity or increase in tempo or desperate flinging forward of players or change in approach or in fact anything whatsoever that would ideally be on show from a struggling team.
This was the worst of the season, not on scoreline or league position of the opposition but on the basis of the Reds being so woefully, totally outclassed.
Mistakes, mistakes, mistakes

It was a terrible team performance first half, no doubt. That said, three players above others were well out of sorts again.
Oxlade-Chamberlain, short of sharpness and skipping out on more than one early challenge; Henderson, a passenger in midfield and offering nothing in either box; and Joel Matip, caught out so often by Kaoru Mitoma's runs off the ball, Ferguson's strength and any passes in behind him.
It was the latter two who contrived to gift the opener between them – Matip caught on the ball, Henderson not alert or balanced enough to receive play or make a challenge – but this goal was just the latest in a string of errors from the Reds.
Henderson, Andy Robertson, Alisson, Ibrahima Konate – they've all been at it in recent weeks, adding individuality to a dreadful lack of cohesion on a team level.
It surely has to be time for the boss to admit and accept that too many are just way below the level required, right now if not for the long term, and remove them without remorse.
The less said about the third goal the better.
Scraping the barrel

We best try and pick out some positives, at least.
Thiago was largely good. His defensive work was strong, his passing the usual, but there was a disappointing lack of options for him.
Beyond him, Konate's first-half showing was pretty imperious, given the sheer volume of defensive work he had to get through.
Considering he was our left-sided centre-back, it's incredible how many times he had to cover behind the right-sided pairing, using his pace and power to speed across, cut out a ball or make a challenge. Sadly, second half he was far closer to the team average.
And Klopp, having picked the same predictable – and clearly wrong – XI to start the game, made four subs past the hour mark to at least make clear how poor they'd been, even if the same mass alteration can be seen as not placing specific blame anywhere.
The subs made no difference to the game.
Genuinely, that's as good as it gets. What a terrible performance.
Up for the cup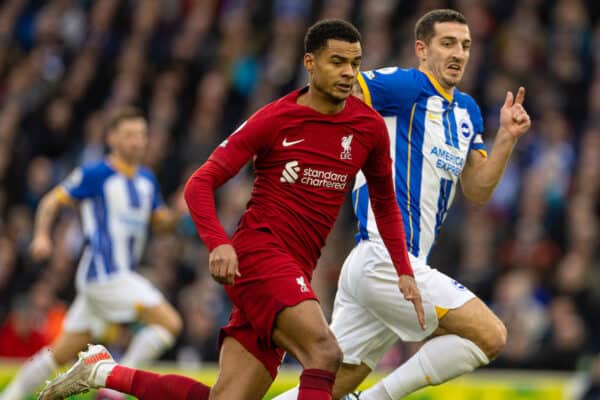 The old cliche is that after a defeat, the best thing is to have another game quickly. Unfortunately, all Liverpool's Tuesday night FA Cup replay feels like right now is a probable occasion to make it four without victory.
Last time out the boss went strong, in name at least, and wasn't rewarded by the level of play.
As such, he needs to take this as a chance to rip up the established order and replace big names if necessary, those who have served him well for years, and hand opportunities or changes elsewhere. And if it works, stick to it.
The upcoming run of games is pretty horrific for a team in bad form: Wolves, Chelsea, Wolves, Everton, Newcastle, Real Madrid.
Right now it's hard to see where goals come from, never mind wins, and a massive mental reset is required. Three days, and straight back into it.