Stefan Bajcetic was "shocked" when he was told he was making his first Premier League start against Chelsea, but for Jurgen Klopp, it was "not a big call" to make.
After two starts in the League Cup, one in the FA Cup and six appearances off the bench this season, Bajcetic was handed another milestone in the draw against Chelsea.
His first start in the English topflight was a position he earned after a composed performance at Wolves just days prior, with the 18-year-old not looking out of place despite his tender years.
It was a no-brainer for Klopp to reward the teenager at Anfield, who spoke glowingly of Bajcetic to BT Sport before the match: "I liked everything, it was not a big call, he deserves that.
"He would've played before but he was injured for two games. He's made massive steps, he's a smart kid, a really good footballer.
"Imagine I wouldn't have played him today [vs. Chelsea]! Imagine that.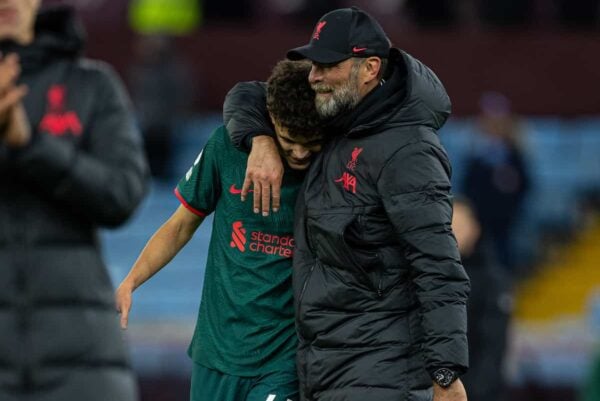 "What do you have to do as a footballer apart from play outstanding, and then the coach tells you 'that was good my friend, but back in the cupboard!'"
Despite Klopp's words of affirmation, which was a "great feeling" to hear post-match, Bajcetic had been shocked to learn he was in the XI when told the news on the eve of the clash.
"I didn't hear it [Klopp's comments], but it's obviously a great feeling to hear the boss say that," Bajcetic told LFCTV. "I'm just trying to bring as much as I can and give my best.
"I found out [in the XI on Friday]. Obviously, we prepare for the game the day before and I found out, I was a bit shocked because I played the other day.
"I'm so happy to be here and to play and to help the team."

The 18-year-old has plenty of supporters in his corner and Thiago sits among them. Their fathers once played together and now the next generation are doing the same.
"He's always trying to help me, on the pitch he's always talking to me, encouraging me," Bajcetic said of Thiago. "It's amazing to play with him and so easy as well."