Liverpool lost 5-2 to Real Madrid in the Champions League on Tuesday, with supporters left stunned by the Reds' worst-ever result in Europe.
Anfield hosted a mammoth occasion, as the Reds looked to gain revenge for last season's final defeat in Paris.
A breathless opening 45 minutes saw Liverpool go 2-0 up through goals from Darwin Nunez and Mohamed Salah, only for two goals from Vinicius Jr to level the scores.
Madrid then obliterated the Reds in the second half, with Eder Militao heading home and Karim Benzema burying a quickfire double.
It was a humbling evening for Liverpool and supporters were quick to provide their honest thoughts on social media after the game.
This was a major reality check for Liverpool…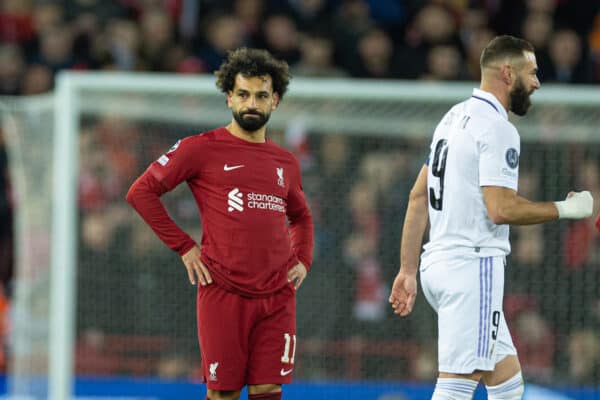 The Reds started so well, but the events that followed showed the real gap in quality between them and then reigning European champions:
A brutal defeat.
End of the cycle confirmed in the most emphatic possible way #lfc

— Dan Kennett (@DanKennett) February 21, 2023
That was too easy for Madrid. And we spotted them two goals ?????

— OLSC Raleigh (@LFCRaleigh) February 21, 2023
Chastening nights like tonight for a club like Liverpool must accelerate change. The Reds have got the right manager for the rebuild, now he needs the necessary financial support to acquire the players who can create a new era #LIVRMA #ChampionsLeague #LFC #UCL

— Chris Mac (@chrismackop) February 21, 2023
Think the definition of 'sobering' in the dictionary should just be a photo of this result.

— Henry Jackson (@HenryJackson87) February 21, 2023
Still, at least we won't be facing Real Madrid next season.

— Dan Wilcox (@LfcDan) February 21, 2023
If you'd said a couple of weeks ago that #LFC would lose heavily to Real Madrid in this game few Liverpool fans would have been surprised. The last couple of games had given fans hope but clearly this Reds side is way below the quality of this Madrid side.

— Jim Boardman (@JimBoardman) February 21, 2023
"When does this season end man?"
– Maninder Singh in the This Is Anfield comments
Truth be told, this is probably the 1st time in a long time, I've been at easy with us going out of the CL (which it looks like we will be) I just want the season over, so we can rebuild an go again.

— Karl (@KarlThyer) February 21, 2023
Real Madrid were a class apart, a pleasure to watch. There will be ample time to scrutinise Liverpool's failings and fallibilities but to watch Luka Modric play football and Vinicius Junior show why he is one of the world's coming greats was a privilege.

— Dominic King (@DominicKing_DM) February 21, 2023
Many have now lost patience with the error-strewn Joe Gomez…

Joe Gomez had a particularly difficult second half, with some questioning why he was given the nod to start alongside Virgil van Dijk again:
The biggest mistake was starting Joe Gomez over Joel Matip tonight.

— Rebekka (@rebekkarnold) February 21, 2023
We're just chaos and vibes FC until the next season.

Liverpool need 6 new players and 6 out of the club (one of them is Gomez)

— Winnerpool (@WinnerpoolLFC) February 21, 2023
"Maybe it is time to sell Gomez and/or Matip for better players"
– Abyss in the This Is Anfield comments
Henderson and Gomez looked a mile off any standard Klopp previously set at Liverpool tonight

— The Tactical Times (@Tactical_Times) February 21, 2023
Trent Alexander-Arnold & Virgil Van Dijk are two of Liverpool's most important players but both – generally – play better when Ibrahima Konate is in the side.

Keeping the French international fit is key to Liverpool's second half of the season.

— Talking Tactics (@TalkinTactics) November 6, 2022
How could this affect Liverpool's top-four chances?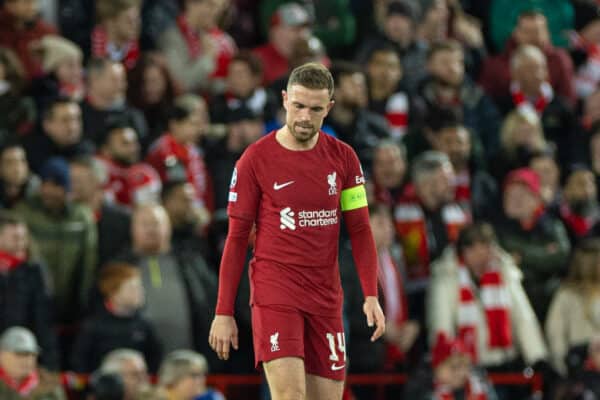 The fear for some supporters is that such a disappointing result could have an impact on Liverpool's pursuit of a top four Premier League finish:
Just got to hope that humiliation doesn't kill their confidence so badly that it carries back into the league.

— Joel Rabinowitz (@joel_archie) February 21, 2023
That was humiliating to be honest.

— Green Scouser (@Green_Scouser) February 21, 2023
People who still think we'll get top 4 after that are delusional to the highest degree

— LIAM (@lfc826) February 21, 2023
---
It's now time for Liverpool to focus on Saturday's important Premier League clash with Crystal Palace at Selhurst Park – and an enormous response is needed.