Liverpool have been heavily linked with a summer move for Wolves midfielder Matheus Nunes and the Reds have already been treated to an up-close example of what he's capable of.
Not for the first time in 2023, and almost certainly not for the last, Jurgen Klopp's team came up against a player who was both a) a potential upgrade and b) far more physical and "up for it," as they say, than any of those he faced.
In the previous two matches the Reds and Wolves had played out this term, Nunes had started none and only featured for a little over an hour, but in the Premier League, he was unleashed to full and fairly devastating effect.
Having joined in the summer, Liverpool's visit marked only his 16th Premier League start for the club and he is yet to score in a Wolves shirt.
The 24-year-old has had a good impact on the team all the same, though, and his career – whether that takes him to Liverpool next or not – looks set to continue the rapid trajectory seen over the past few seasons.
It's only four years since Nunes was at a local side, Ericeirense, who play within the Lisbon district. They've only ever once been in the third tier of Portuguese football and that division folded a decade ago – which tells you plenty about the standard he was playing at as a teenager.
Again: it's a very rapid rise.

One half-season at Estoril in 2018/19 was enough to hint at his talents at a much higher level and Sporting paid half a million for him that January, with manager Ruben Amorim's willingness to give youth a chance soon seeing him break through the following year.
His first full campaign as a top-flight player, therefore, was as recent as 2020/21.
Two terms there and Wolves paid £42.2 million for the Brazilian-born player who was by now a full Portugal international, with 11 caps to his name thus far.
From a Liverpool perspective, the evidence is there he can handle a step up; the big question is whether he'd help fix the mess we're in and where he would fit to do so.
Strengths

He's not an incredibly rare find in terms of his skillset, he's just extremely good at the things he's supposed to be good at – something which a few players in Klopp's squad could do with being reminded of at present perhaps. And that's not only aimed at midfielders by any stretch.
Passing, control, a first touch, vision, the ability to use both feet, some aggression, drive to get forward from deep, determination to get back and help out defensively.
In short, Nunes can do most things you would expect most central midfielders to these days, and to a high level.
And yet, against Liverpool at Molineux on Saturday, Nunes didn't precisely play central midfield – certainly not in the conventional sense.
Wolves were fluid and well-drilled, four across the midfield out of possession and flicking to a rather narrower three when on the ball. Nunes' role was left of the quartet, most certainly not a winger but filling a vital role in tandem with Matheus Cunha.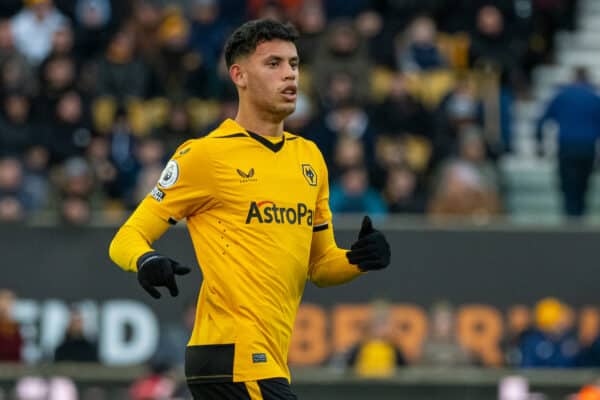 Rather than touchline-tight, his defensive position was in the left Wolves channel: stationed between Trent Alexander-Arnold and Naby Keita, nominally anyway, and always quickly in place to close out passing lanes, stop Liverpool being able to pass through that side of the pitch and (again with Nunes) forcing the ball back along the defensive line towards Joe Gomez.
It showed the other sides of Nunes' game: positional discipline, tactical awareness and selflessness for the team – particularly in the 20-minute spell at the start of the second half where Wolves barely touched the ball and his only job was constant shuttle runs to close players down.
The 24-year-old did it, relentlessly, and then still had plenty in the tank for the final 20 when they seized control once more and ran rings around their visitors.
Where can he improve?

That same spell in the second half against the Reds showed the limitations of Nunes more than aspects he can improve, as such.
This is because they might be seen as physical, which can't always be surpassed: he's never going to be a lightning-quick outlet, for example.
His way of playing out of danger is brave, his feet are quick enough to avoid a challenge and he can ping passes on the diagonal to give his team a route out, but he is not going to be the player capable of dragging the ball 40 metres upfield himself, nor sprint into space 30 metres behind a defender to launch a counter.
Nunes is the conduit of midfield, not the carrier – which isn't to say he doesn't like to take players on.
He absolutely loves a dribble, but here we're talking more about the beating of a player one-on-one in close quarters and with immaculate control and a great capacity to consistently move into space, rather than the nudge-and-run of a pace merchant who might surge past two or three.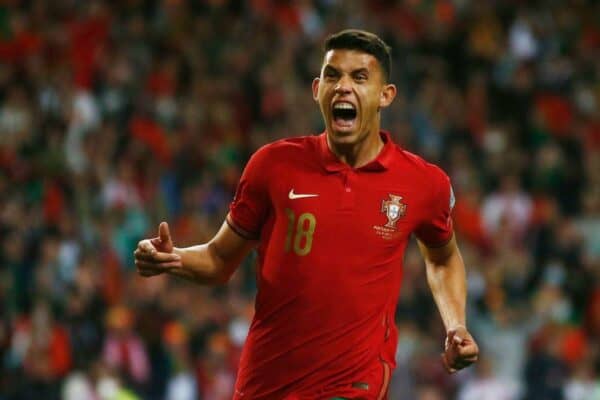 In terms of technical progress, there's undoubtedly something to be said for the improvement of all players when better teammates are around them, but he is remarkably well-rounded on that side of his game.
Drastic improvement there shouldn't be expected, but some improvement defensively will be required.
He's game for a challenge, but not always precise with them. His positional play is good to stop the opposition, but he can switch off at times too when play runs behind him.
Not that we saw any of that against Klopp's side, of course.
Who does he play like?

There are aspects of his game which look more like he's an aggressive, high-pressing forward rather than a midfielder of the scheming and controlling variety – at least as far as Liverpool's recent squads are concerned.
Early on he won the ball following a Reds' throw-in and set up Sarabia for a chance; soon after he robbed Joel Matip of a bouncing ball and powered through to shoot – saved by Alisson this time.
They were opportunistic, aggressive, quick-reaction moments designed to disrupt and create at once.
Both were far more reminiscent of, say, Sadio Mane than any of Liverpool's midfield collection under Klopp, with the exception perhaps of a fully-fit Alex Oxlade-Chamberlain.
But in his midfield play, his centre-of-the-park control is absolutely nothing like Oxlade-Chamberlain's style.
Several occasions at the weekend saw him easily evade Keita on the turn, very calm under pressure and able to manipulate the direction of both ball and body with a quick swerve and change of angle.

In that regard he's much more Thiago-like from the current crop, switching play on the move and looking to create short angles for give-and-gos around opponents.
Opening the field wider, similarities in his middle-third game can be seen with the likes of Barcelona's Pedri, Newcastle's Bruno Guimaraes or new Chelsea addition Enzo Fernandez.
While some of that aggressive, forward-looking play in the higher third can be compared with aspects of Bruno Fernandes, Mason Mount or Bayern's Jamal Musiala.
In truth, Liverpool do not have – and have not had – an exact match for his style of play moving from deeper areas and into the final third.
Where would he fit?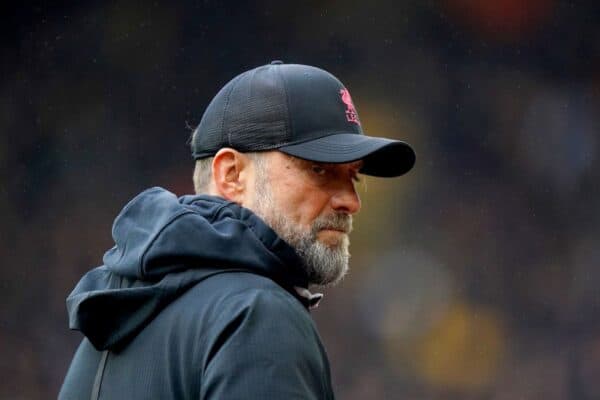 Despite left-midfielding Liverpool to death, the assumption is he'd still be a central midfielder, one of three for a Klopp team.
His controlling game to help Wolves pass around Liverpool's double pivot after the late Harvey Elliott substitution was great to watch for the ole-ing home fans, but desperately demoralising for those of a red persuasion.
As such, he'd probably fit either of the two No. 8 roles in the current set-up: more controlling on the left, more adventurous on the right.
It's the latter which possibly gets more out of him, given his ability to press and win the ball back, nip in for a challenge and quickly play a pass…but then it's also very much dependent on what Liverpool are next year.
A 4-3-3 team, who press high? A build from deep side who control games? A change of shape, a change of requirement from the midfielders?
At the moment they are not much of anything, which makes it all the more difficult to predict who would fix what and precisely where they would do it from.