Jurgen Klopp has hinted that he will make changes to the Liverpool lineup to face Crystal Palace on Saturday evening, with "some knocks" after the defeat to Real Madrid.
Presumably, the manager was referring to physical knocks rather than the psychological blow of Tuesday's thrashing at the hands of the Spaniards, updating on injuries within the squad.
The sight of Ibrahima Konate back in training was certainly a welcome one, but Klopp hinted that Saturday's match might be too soon for the Frenchman.
"Ibou is near but had two sessions with us after a long injury," explained the boss.
Konate, then, is unlikely to be risked from the start and Joel Matip is therefore more likely to come into the side in place of Joe Gomez, who was withdrawn with a potential hamstring injury against Real Madrid – although no update was provided on the Englishman.
Diogo Jota and Roberto Firmino have made substitute appearances in the two games this week, along with Virgil van Dijk returning to the starting XI, but Klopp knows that these players are "not at their best right now."
"They need the minutes, everything will get better," he said.
"We're not sure if all the boys could play again after Madrid because of some knocks here and there, so we have to make changes (vs. Palace), we want to make changes and we will make changes anyway.
"But it's not that you come back after a long injury and it just clicks again. We have the situation with Bobby, Diogo and Virgil as well.
"Everybody expects Virgil is always like a robot, pretty much. He played the most games last year, played every game at the World Cup. Came back, played for us from the first second, got injured, comes back and plays, plays, plays. That's not perfect but it's what we have to go through it."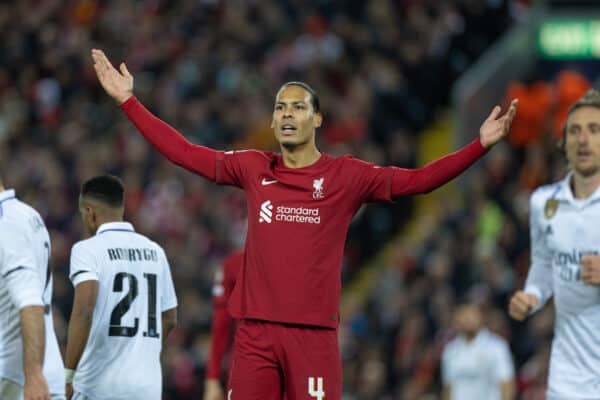 Klopp does, at least, have options for the lineup vs. Palace, which is far cry from recent weeks and months.
Harvey Elliott could come into midfield, while Jota or Firmino could start if deemed fit enough to play 60 minutes or more.