Jurgen Klopp admits no Champions League football would "not be helpful" but insists that Liverpool could not allow that to have an impact in a "summer we have to be in the market."
The boss has also rejected the theory that he has been more involved in the decision-making on recent transfers, saying that "I always have the same say."
"It's not helpful," Klopp said on transfers in light of uncertainty over the club's Champions League status. "Money always has an impact.
"But this cannot be that much of an impact, let me say it like this.
"Of course, it is influential but it is a summer where we have to be in the market, definitely.
"I'm sorry that I cannot guarantee Champions League in this moment but we will fight for it, it's not done yet so we don't have to talk about it like it's not possible.
"We have to start doing work earlier before we know where we will end up position-wise and European competition-wise. These things are clear."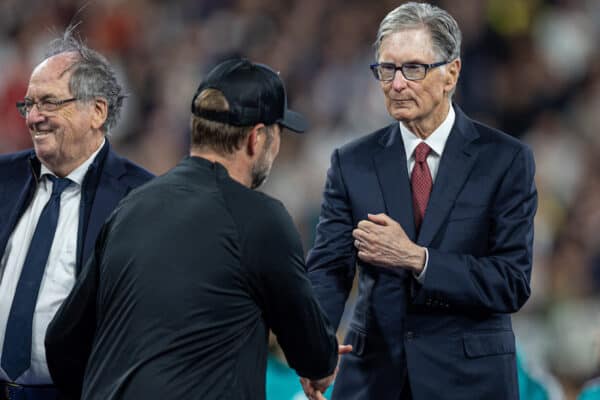 On the growing theory he has become more prominent in transfers, Klopp added: "I have more say? I always had the same say and not say.
"I cannot decide at all about money, not about one penny.
"It was always the same. I'm not sure if the old school manager maybe had a budget and could work with this but it's not like this.
"[The process of identifying players is] exactly the same."
The importance of getting the next transfer window right is abundantly clear, with Liverpool's needs seemingly growing by the day.
And yet it is all unfolding without a new sporting director having been appointed and FSG's search for minority investment still ongoing, the latter of which is out of Klopp's hands.
"I'm not in the search for investors. Not yet," the manager said with a wry smile. "That would be funny.
"My job is to make sure we make 100 percent clear what we need from a sports point of view, and then other people are responsible for giving us the resources.
"I have nothing to do with that, how could I? I think we played five seasons in a row in the Champions League which is massive, and went to the final three times, which is massive from a money view.
"Yes, we built a stand and a training ground, the club is in a really good place. Around us, obviously, a few people [clubs] are speeding up a little bit, we cannot ignore that.
"But it's still about finding the right players, it's not about bringing in a lot, it's about the right [players].
"Thank god in the world of football there are a lot of right players, not all of them are affordable or want to come, but a lot of really good players out there."