Remember that dreadfully dull 0-0 with Chelsea not long ago? The Champions League last-16 first leg was the exact opposite, except with an outcome which was ultimately worse.
Liverpool 2-5 Real Madrid
Anfield, Champions League last 16 first leg
Tuesday 21 February, 2023
Goals: Nunez 3′ Salah 15′; Vinicius Jr 20′ 32′, Militao 47′, Benzema 56′ 67′
---
Alisson Becker – 5 (out of 10)
Presumably he felt bad for Courtois? Not much else excuses the madness to belt the ball straight at Vinicius Jr when he had passing options right and left. And that came after he'd already been beaten by a worldie, and tipped another one very similar wide.
The Kop quickly backed him, but who knows how the game goes without that lead disappearing before the break? A short-range header and a deflection left Ali with no chance after the break, before he was sat down for the fifth.
Disspiriting.
Trent Alexander-Arnold – 5
He certainly wasn't poor or at fault here defensively, at least directly, yet Vinicius – as befits one of the world's best forwards – did threaten to tear Liverpool apart by himself at times.
Didn't stop his run for the free-kick, was naturally run off a lot of times by sheer acceleration and didn't quite have his delivery boots on at the other end.
Joe Gomez – 4
Perhaps a little harsh, but didn't get close enough to Vinicius Jr for his first goal. Covered several times very well behind everyone else in the first half, his pace being key to a couple of counters.
In the search for "what on earth happened" on goal number two, Gomez's pass back wasn't exceptionally weighted, though is hardly the biggest issue there. However he bundled over Vinicius for Real's third, the ball deflected in off him for four and he was totally out of place for five.

Virgil van Dijk – 5
Very strong defensively at times, very much not there at others – unfortunately that's to be expected after an injury absence and this is only game two back.
Held off Vini really well one-vs-one until Gomez arrived, made some important clearances from crosses and had a couple of big headers too – yet several of the goals bypassed him as much as everyone else.
Andy Robertson – 5
A very busy first half of chasing back Rodrygo, chasing beyond Carvajal and chasing overhit crosses which went right-to-left. Not quite as much end delivery as he would have liked, but still always an outlet.
One magical clearance at the far post was vital – Real were ahead at the break without it.
Didn't matter much, as it turned out.
Fabinho – 4
Decided to go on a couple of first-half rampaging runs, a bit like the old Fabinho but about 10mph slower.
There were a few good passes. A couple of necessary fouls. One or two tackles, even. But for the most part he was just passed around, run past and utterly found wanting by a midfield with movement, tenacity and athleticism. Looks done at this level.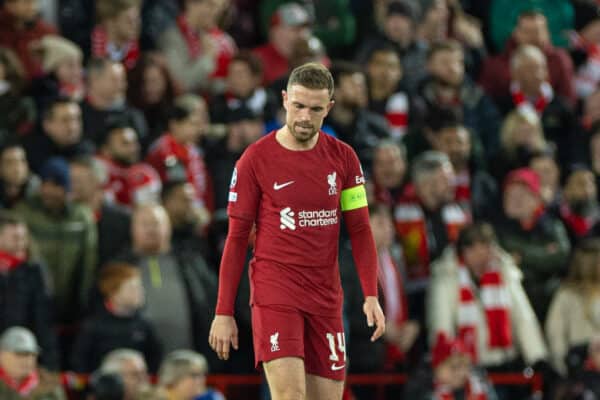 Jordan Henderson – 4
Another culpable for Real's first goal as he left his man, but three times more in the first half got back to tackle and halt counters as Real threatened to burst forward in numbers.
Like his midfield partners, was overrun and mauled and looked like a relic as soon as Real upped the tempo of their passing in central areas.
Stefan Bajcetic – 4
The great and the obviously young were both on show. He's a class act, but needs to learn he can't show that every minute of every game.
For each excellent moment of ball-winning and switching play, there was a turn into trouble – including to give the ball away for their second.
Now, the goal naturally isn't down to that moment, but it doesn't get close to happening if he plays it the way he's facing after winning back the ball.
Absolutely swamped second half and simply had to foul his man for the breakaway fifth.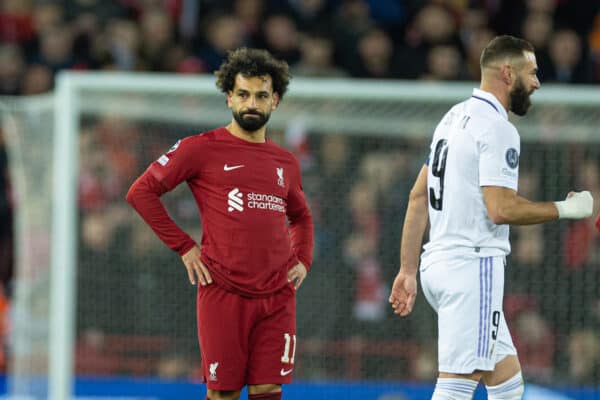 Mohamed Salah – 6
For half an hour this was Salah back to untouchable Egyptian King mode – he was slick, superb in link play, making countless runs and having two great chances to score; one put wide on a great move, the other netted after the keeper's gift.
But as Liverpool's midfield and suppply line failed, Salah was naturally marginalised. Fouls on him went unnoticed and second half he was anonymous.
Cody Gakpo – 5
First 20, excellent. Next 40 or so, nowhere near enough from him off the ball.
In his role, forward or not, it has to be accepted that he needs to drop more as an extra blocker at times but also be an outlet the other way. Worked really hard, won the ball in challenges and created plenty – but only for a condensed period. Left Militao for the third too.
Darwin Nunez – 6
Much like Gakpo, he was truly excellent for a short burst and then offered a lot less when the rest of the team broke down.
Magical goal gave the night a proper European thriller feel, and a great clearance at the other end was important too, but ultimately faded.
Substitutes
Roberto Firmino (on for Gakpo, 64′) – 5 – Not a lot on offer.
Diogo Jota (on for Nunez, 64′) – 4 – Terrible touch in a promising position.
Joel Matip (on for Gomez, 73′) – 5 – Couple of recovery runs.
James Milner (on for Henderson, 73′) – 4 – Ran around and passed the ball out of play a few times.
Harvey Elliott (on for Bajcetic, 85′) – n/a – Last few minutes. Booked for being frustrated after the ref failed to give two obvious handballs.
Subs not used: Kelleher, Adrian, Tsimikas, Carvalho, Keita, Oxlade-Chamberlain, Jones, Phillips
Jurgen Klopp – 5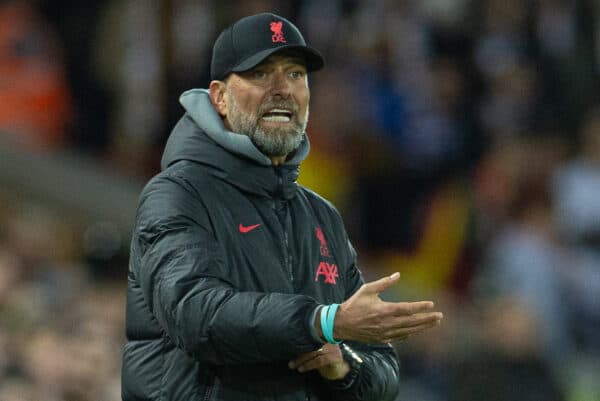 The lineup was pretty much as expected and it's hard to argue against the preparation, given the start.
But when things started to go… less right, let's say, there was as usual no reaction, no change in approach, no alteration in system or personnel or method of defending spaces.
Liverpool – and thus Klopp – don't have the midfield to cope right now, clearly, at this level. That's not his fault today specifically, a but a club failing including his for the season as a whole.
But the subs were default reaction with default changes, not really altering the flow of the game and certainly not stopping Real's attack. They also made Liverpool's attack a lot worse.
Perhaps after the lead was established, pragmatism should have been the watchword, but it's very easy to say after the fact.