Liverpool's blue neighbours did not offer a stern test at Anfield but we saw signs of a way out of this rout, and the next task at hand will tell us more.
So, as I mooted a few weeks ago, prior to the sacking of Frank Lampard, Everton came to Anfield armed with Dycheball, vaguely upbeat as they were on the back of their victory nine days earlier over Premier League leaders, Arsenal.
Home, back across Stanley Park they went, however, our Blue cousins nursing yet more anger and resentment, this time that they couldn't overcome a Liverpool that haven't even looked a pale shadow of itself of late.
This isn't the first time that Liverpool have indulged in a winter rut. Usually, when we have found ourselves amid the type of blizzard where we can't see our hand in front of our face, we have often begun to emerge around mid-February, just as the knockout stages of the Champions League lumber into view.
In this respect, you could have set your watch by our latest success in the Merseyside derby.
Will the derby be missed?

A couple of weeks ago I took part in a podcast with one of my favourite Blues, the author Paul McParlan, a Goodison disciple who was most receptive to the concept of a new variant of Joe Royle's 'Dogs of War' being headed by Dyche.
Annual desperate times calling for annual desperate measures as Everton sacked yet another manager, only to hand his successor less than a week to magic up some of his own signings before the transfer window slammed shut.
This time around, Everton reached out to a cluster of players, only for them all to opt into the battles against relegation of other clubs dotted around the country instead, Dyche even failing to secure the services of a free agent.
I get the concept of Dyche for Everton, as opposed to Marcelo Bielsa in the short-term, but I think they missed an opportunity in failing to coax the expansive thinking Argentine to the training pitches of Finch Farm.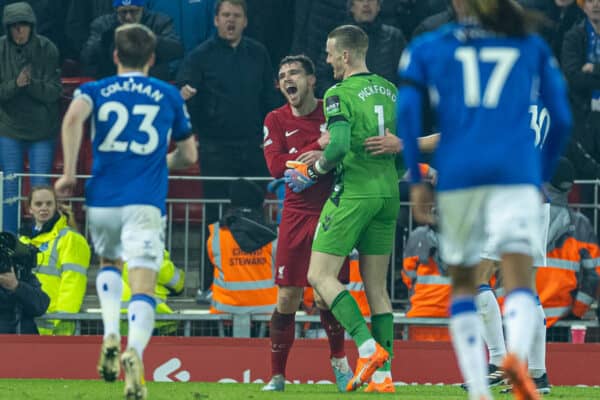 Under Bielsa, they might not have been able to fend off the spectre of relegation, but he would have had them playing some hypnotic, if flawed football next season, in whichever division they find themselves in.
It would have also given their supporters the chance to embrace a new way of footballing life, dropping the growls and snarls in favour of a more bohemian and outward-looking persona. They might have even been able to fall in love with the game again.
It's Dyche instead though, a man who will aim to give them hope of sticking their elbows out and brawling their way to midtable sanctuary, rather than simply keeping their head above the Premier League waterline. Yet, even if he does keep Everton up, you know that Groundhog Day will come around once more next January, where he'll be sacked, to be replaced by Jesse Marsch, or Nathan Jones.
"Last trip to Anfield," the Kop bellowed, along with the more textbook taunts of "going down." Will we really miss our age-old – yet toxic – encounters with Everton, if this time it is the real deal?
As much as I would feel for the small collective of utterly sound Blues that I know, as a wider entity I wouldn't miss the club at all, despite the feeling that their Premier League exile would stretch on and on, rather than it being a temporary phenomenon.

If Everton, as a club that excels in showing the rest of football how not to do things, are looking for a long-term template to being a club of historical repute and top-flight longevity that finds themselves cut adrift from the big time, then they only need look at the recently returned Leeds and Nottingham Forest.
They respectively embraced 16 and 23-year Premier League exiles before coming back, inclusive of a drop into the third tier for both.
You could even take a glance in the directions of Blackburn and Sheffield Wednesday, whose combined time now spent in exile from the Premier League stretches to 34 years, and four relegations to League One.
With a new stadium in construction, acute financial problems, a want-away owner, a clueless chairman, no strikers of substance to speak of, and their most potent goalscoring threat being a central defender, added to by a goalkeeper with little arms, we might never see Everton back again in our lifetimes, should they drop into the Championship.
With so much against him, if Dyche does pull off the great escape, then he probably deserves the Manager of the Year trophy.
That's more like it

For Liverpool, in times of turmoil, February has usually been the month of regeneration, the point of the season where 3pm kick-offs end in daylight, rather than darkness, and the knockout stages of the Champions League begin.
Lately, we have indulged in our own version of introspection, with even questions about Jurgen Klopp's future seemingly fair game, which has been a ludicrous concept, obviously.
I've mused on an article-to-article basis about our current/recent inability to do justice to the very basics of football, but it doesn't mean I want the manager out. Very much the opposite. Through good times and bad, there is nobody I would rather see at the helm of my football club.
This is and has been a collective malaise, and it will take the collective to pull away from the rut we've found ourselves in. This made the events of Monday night so pleasing to see, as it wasn't just about picking up a much-needed three points, it was that the players involved lifted their output as a collective.
This wasn't a win that relied upon a couple of all-action heroes, amid a sea of continuing dysfunction.
Yes, this was a victory over a poor team, but it was still our local neighbourhood spat, against opponents off the back of a morale-boosting win over the team at the top of the table, armed as they are with a manager who has 'got them' for nine days.
This was a Merseyside derby that was to be won or lost by the team that could manage their fragilities best. A Joel Matip swing and miss, and James Tarkowski guiding the ball against the post produced a couple of sharp intakes of collective Anfield breath, but beyond that Everton reverted to what they are. A patchwork quilt of a team that is badly out of their depth.
As the ball bounced back off Alisson's post down at the Anfield Road End, it was then prodded past the peculiarly positioned Jordan Pickford in front of the Kop by Mohamed Salah, just 13 seconds later.
Darwin Nunez was the drive behind Liverpool's opening goal, and Salah gave us that reassuring Zen-like facial expression in celebration, the one that suggests he has the appetite for a goal spree in the weeks ahead.

For the second goal, just after the restart, the spring was back in the collective step.
Nunez – later denied the goal his performance deserved – was tracking back into the left-back area, Andy Robertson was power and drive from our own half, Jordan Henderson played the pivotal pass, Salah was the intermediary, Trent Alexander-Arnold sprinted into a vast acreage down the right and provided the low cross for the much-improved Cody Gakpo to claim his first goal in a Liverpool shirt.
There were many pleasing facets to this win. Stefan Bajcetic excelled once again, in a midfield where the chemistry with Henderson and Fabinho seemed to work better than most envisaged it would prior to kick-off.
There was greater balance and endeavour in the front three than has been evident of late, with Nunez bludgeoning down the left, Salah back in the groove, and Gakpo looking something like the World Cup version we were all impressed with.

Before the evening was over, we had even welcomed the returns of Diogo Jota and Bobby Firmino.
To St James' Park we now head on Saturday, to face a Newcastle team that will likely be the one we need to target should we claw our way back into the chase for a Champions League place.
Unbeaten in the Premier League since we overcame them in uproarious circumstances at the end of September at Anfield, Eddie Howe's team have only lost once in the league yet have drawn half of their fixtures; they have the meanest defence but have narrowly scored fewer goals in the league than we have.
With our hosts a week away from them taking part in their first cup final for almost a quarter of a century, for Liverpool to win on Tyneside they will need to replicate the spirit shown against Everton and lean on Newcastle's subconscious.

None of their players will want to pick up the injury that will mean them missing out on Wembley, and potentially the biggest day in their history in nearly 70 years.
Saturday will also represent a massive test of the new Newcastle, offset against our lingering fragilities, in what will be a Champions League six-pointer. A Liverpool win would put us within six points of the black-and-white town, with an added game in hand, while if they beat us, then they realistically remove us as a top-four threat.
It will be a bit of a cup final, to be honest.